Best Dog Food for an English Mastiff: 2022's 8 Must-Buys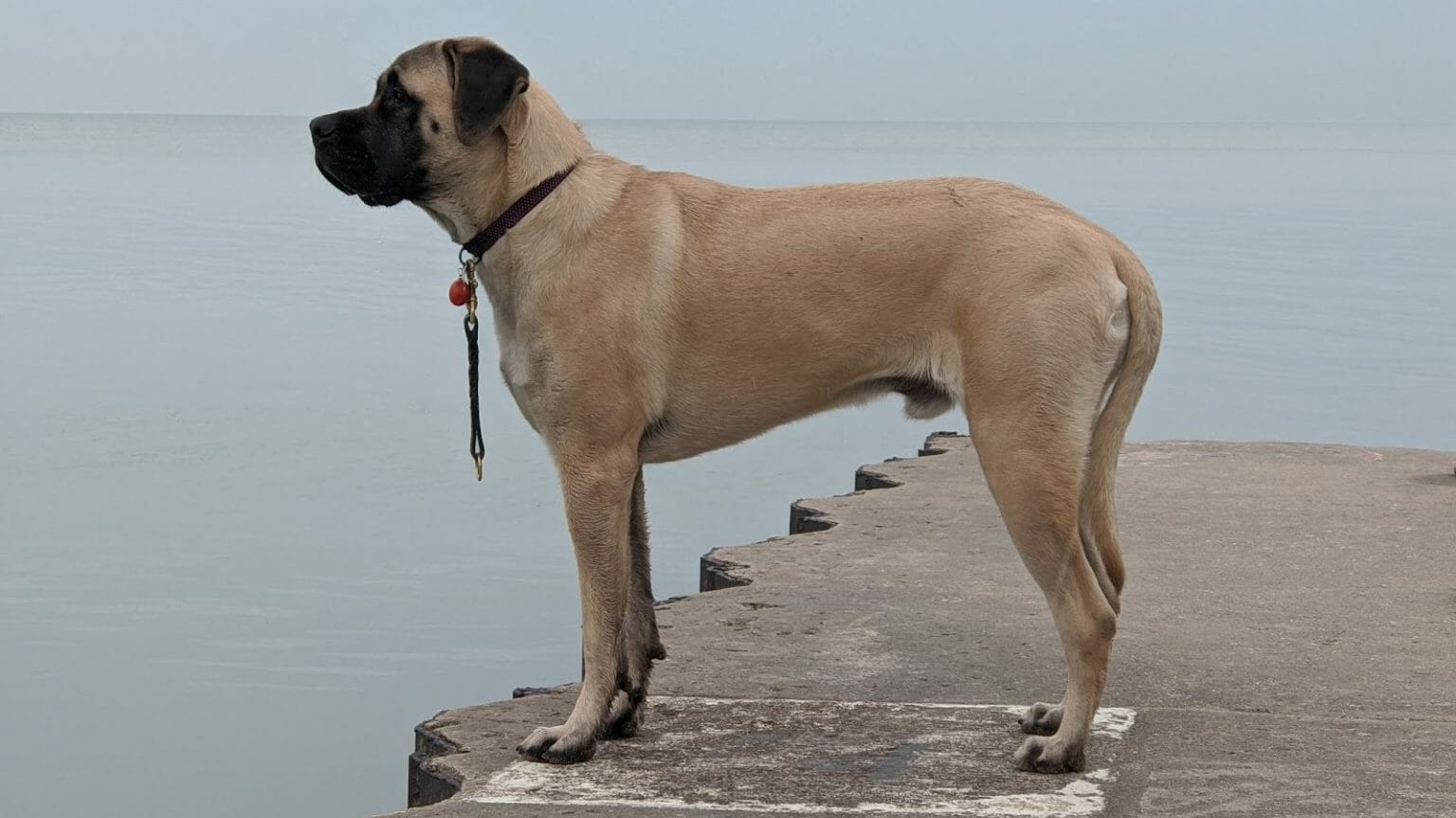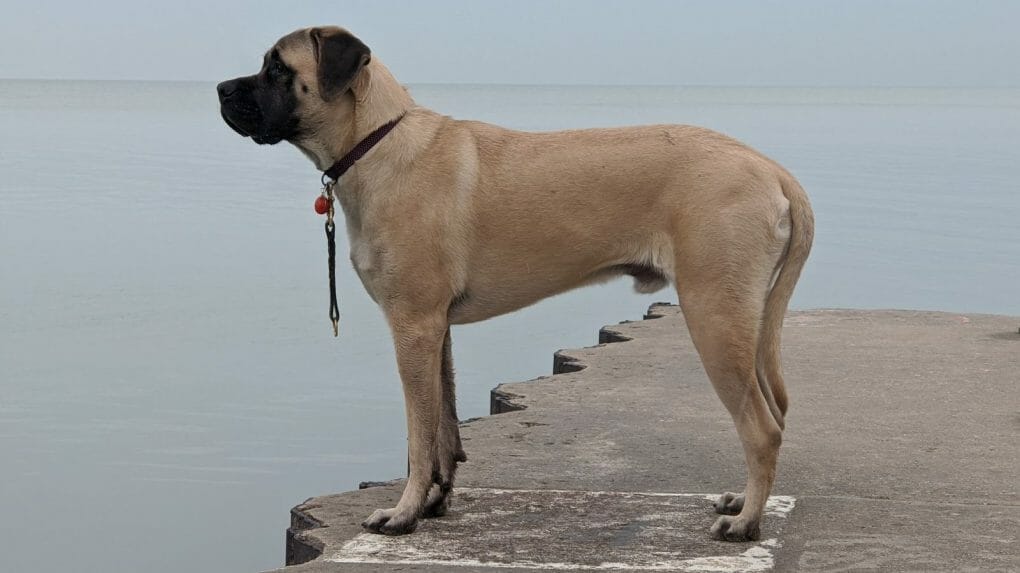 English Mastiffs take around 18-24 months before they grow out of their puppy phase. As a large dog breed, they need to eat the right dog food to help them grow and develop.
As they slowly transition in age and size, the same thing should happen when it comes to their food. However, finding what works best for them is no easy task. 
This is because a few dog food brands have been recalled recently, and some have caused major dog issues like vomiting and fever. 
With that, I have compared some of the reputable commercial brands and found out what the best ones are among them. You won't have to take any chances when it comes to your English Mastiff's food anymore.
I've considered nutrition, food quality, price, and more. 
Learn what makes them exceptional!
A Quick Ranking of Our Best Dog Food for English Mastiffs
8 Best Dog Food for English Mastiffs
1. Eukanuba Adult Large Breed Dry Dog Food – Ideal Pick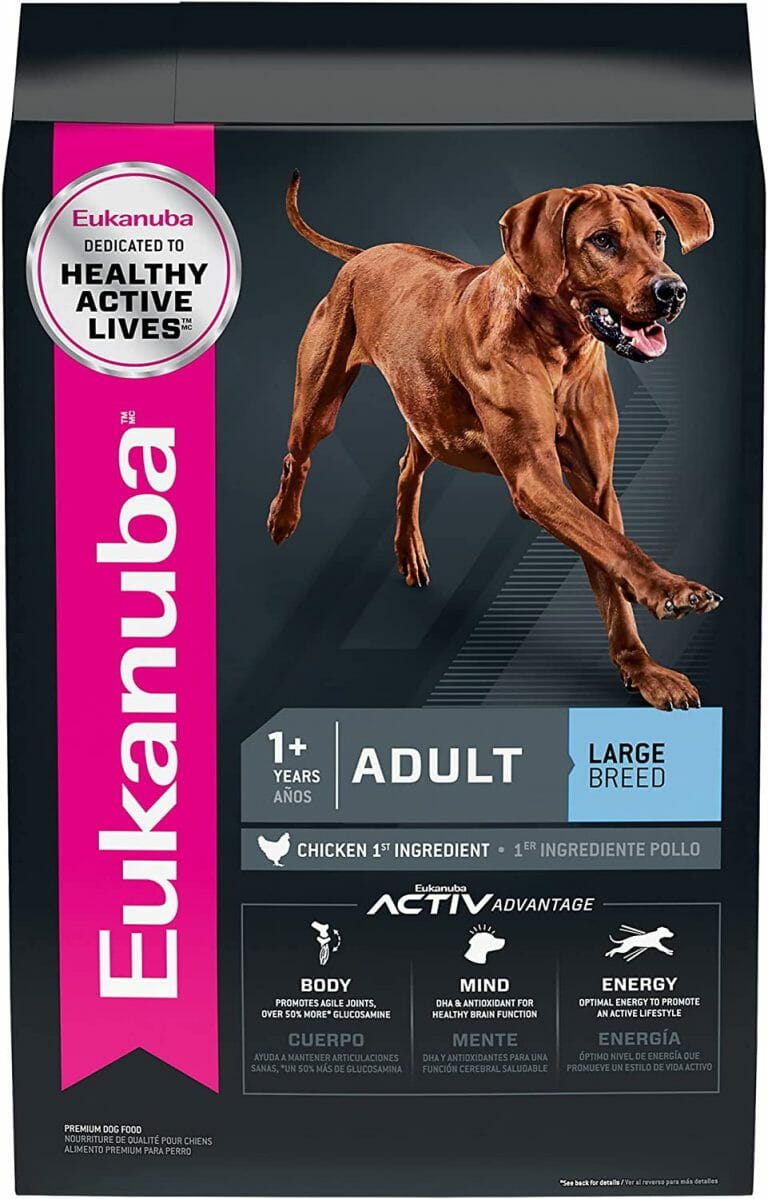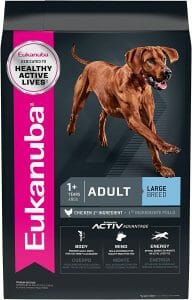 Why We Like It:
A complete package for big dogs that have massive nutrition requirements
Specs:
Weight: 16-33 lbs
Flavor: Chicken
Added benefits: Added vitamin E for healthy brain functions with glucosamine and chondroitin for joint health
English Mastiffs are prone to hip dysplasia and other joint issues. This deformity around the hips starts when they grow as puppies with loose joints. This is why my top choice is Eukanuba dog food.
It's enriched with vitamin E, which is vital in reducing bone fracture and promoting healthy bones. Added are glucosamine and chondroitin sulfate. They are responsible for improving your Mastiff's lean body weight.
Though your dog is huge, they still require moderate exercise. Being fed high-quality Eukanuba dog food will give them high energy levels to last the day.  It contains optimal levels of fats as well as carbohydrates to encourage them to move without finding their weight a burden.
Further, no English Mastiff will say no to this brand as it's made from chicken. On top of this nutritious meal, your dog also gets DHA and antioxidants for healthy brain function.
Pros
Contains vitamin E for healthy bones

Improves brain functions through DHA

Provides high levels of energy that lasts

Contains plenty of antioxidants to fight off free radicals and to slow down the aging process
Cons
May not click with picky eaters

Contains chicken by-products and corn
2. Nutro Natural Choice Dog Food – Ideal for Growth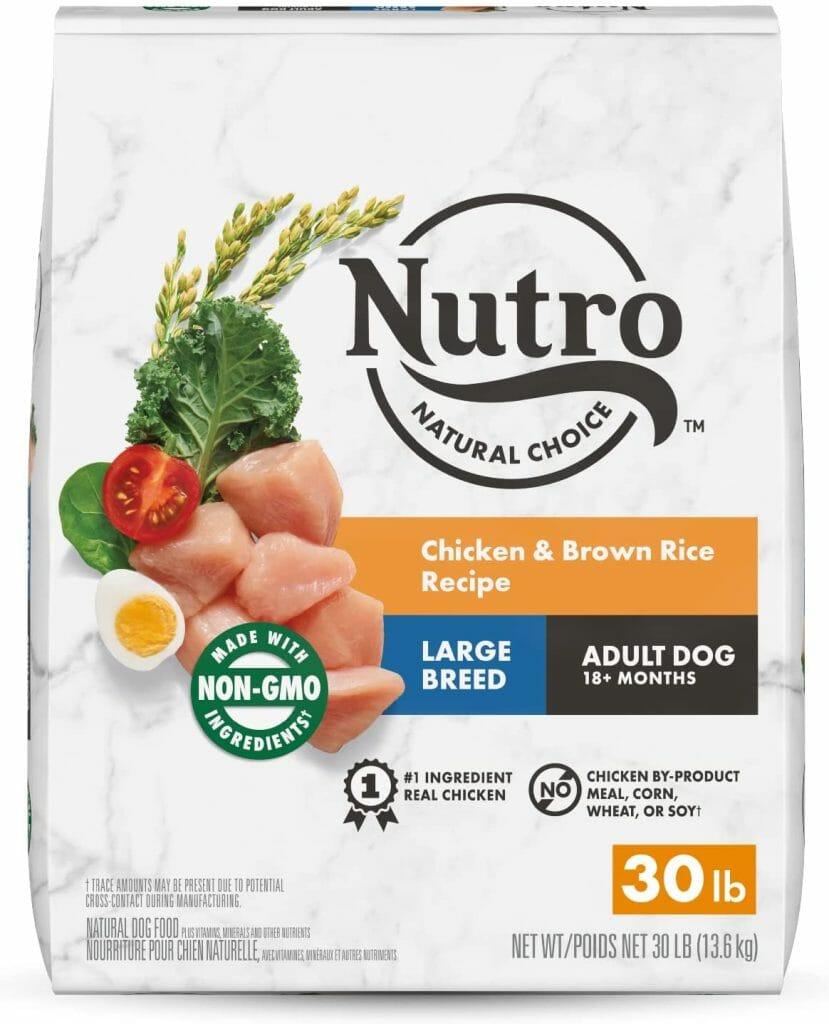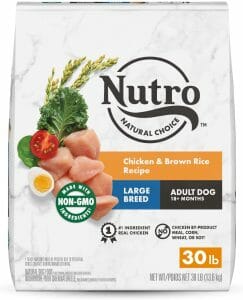 Why We Like It:
The go-to dog food for slow and steady growth
Specs:
Weight: 13-40 lbs
Flavor: Chicken
Added benefits: Contains natural sources of glucosamine, chondroitin, and antioxidants
The English Mastiff can easily put on excess weight as a giant breed. This is why experts from PetMD recommend that you let them grow slowly and steadily. One way to achieve that is to try out the trusted Nutro Natural Choice dog food.
In every serving, your dog will experience the flavor of real chicken. Along with each bite are essential vitamins, nutrients, and fiber from oatmeal, whole grain brown rice, spinach, pumpkin, and more.
It's proven to provide only the best health for your English Mastiff. This brand guarantees that it is free from preservatives, chicken by-products, and artificial colors. Fillers are also not included as they'll only make your dog's stomach full without any entailing health benefits. 
This is one of my top dog food brands when it comes to promoting a healthy weight for any large dog.
Pros
Contains no fillers

Complete in nutrients

Tastes like real chicken

High-quality ingredients
Cons
Hard to find in physical stores

The formula can be inconsistent 
3. Blue Buffalo Life Protection Formula – Ideal for Good Health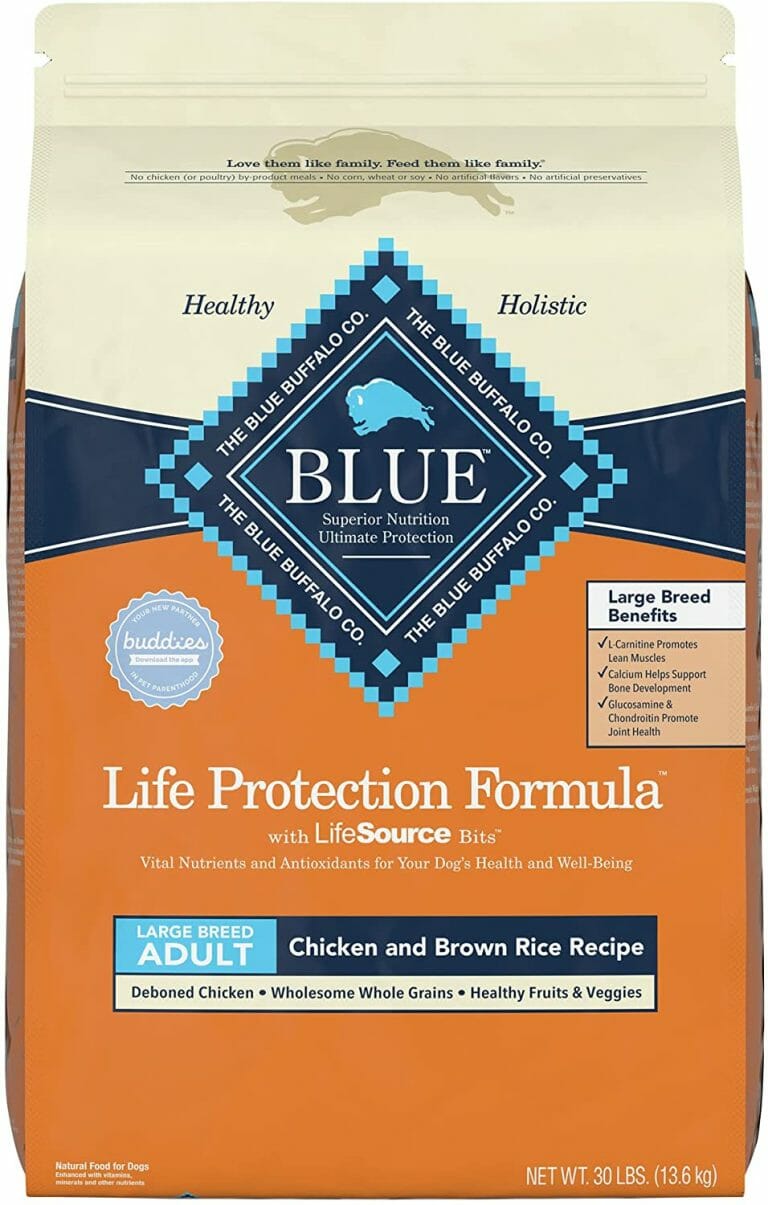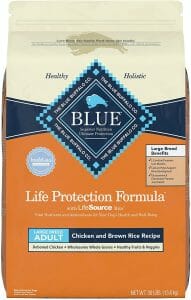 Why We Like It:
A complete source of vitamins and minerals for a complete and balanced diet
Specs:
Weight: 15-34 lbs
Flavor: Chicken & brown rice; lamb & brown rice; fish & oatmeal
Added benefits: Rich in antioxidants, L-carnitine, and Omega-3 and 6, with essential nutrients
Your English Mastiff will surely love Blue Buffalo because it has different flavors. There may be a need to test out which flavors they like the most before you can buy them in bulk for their food supply.
Regardless of the incredible taste in every kibble, Blue Buffalo is a favorite among various dogs, including Mastiffs. It's made only from natural ingredients, which are enhanced with vitamins, minerals, and other nutrients, keeping each bowl complete and balanced. 
The formula's making started with the help of veterinarians who carefully selected the ingredients. This results in Blue Buffalo supporting your English Mastiff's immune system's health, life stage requirements, and oxidative balance.
You're getting a lot from such an affordable price. This formula supports joint health, lean muscle development, strong bones and teeth, and healthy skin and coat. 
Pros
Incredible in taste

Reasonably-priced

Made from natural ingredients

Improves dog's immune system
Cons
It can get messy when eaten due to the powdery, crumb-like substance
4. Wellness Natural Complete Health Dog Food – Ideal for Digestion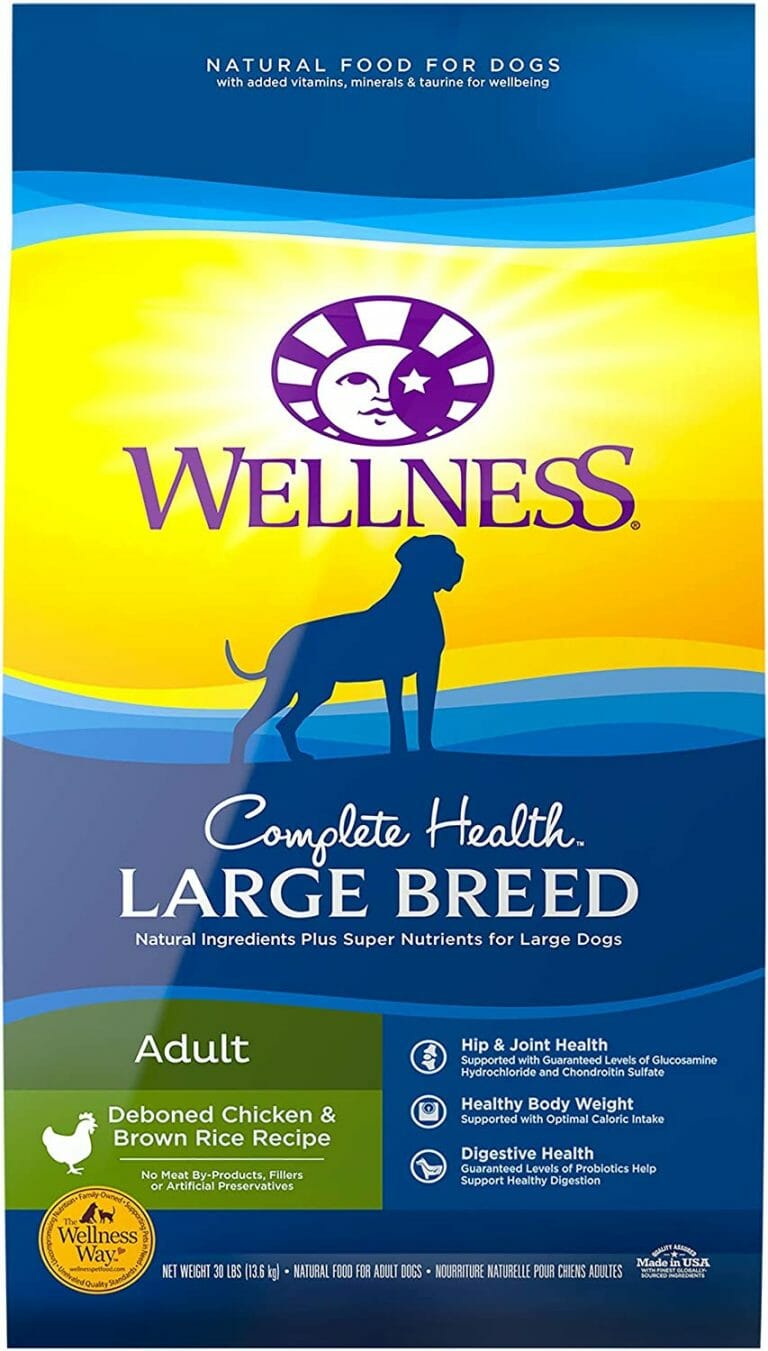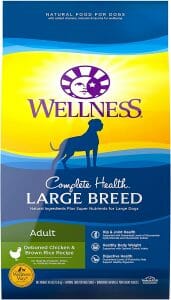 Why We Like It:
Improve digestion through the presence of good bacteria in the guts
Specs:
Weight: 15-30 lbs
Flavor: Chicken & brown rice
Added benefits: Contains probiotics as well as glucosamine and chondroitin
High-quality dog food is a wise health investment for your English Mastiff. And, often, they come with a costly price. It's better that way than to pay a huge vet bill. So, another dog food I highly recommend is Wellness Natural Complete. 
What makes it a great pick is its prebiotics component. The live microorganisms help in promoting healthy digestion as well as quickly absorb all the vitamins and nutrients from their every bite. Also, based on research, probiotics help with diarrhea. 
The health benefits don't end there. Wellness Natural Complete also has sufficient traces of Omega-3 and 6 for the coat and skin. Select fats and carbohydrates are incorporated, too, for energy. Meanwhile, the eyes, teeth, gums, and immunity are all improved by vitamins A and E.
Pros
Has prebiotic components

Improves skin and coat health

Provides maximum levels of energy

Takes care of bones, eyes, gums, and immunity
Cons
More expensive than other brands
5. Holistic Select Natural Dry Dog Food – Ideal for Energy Needs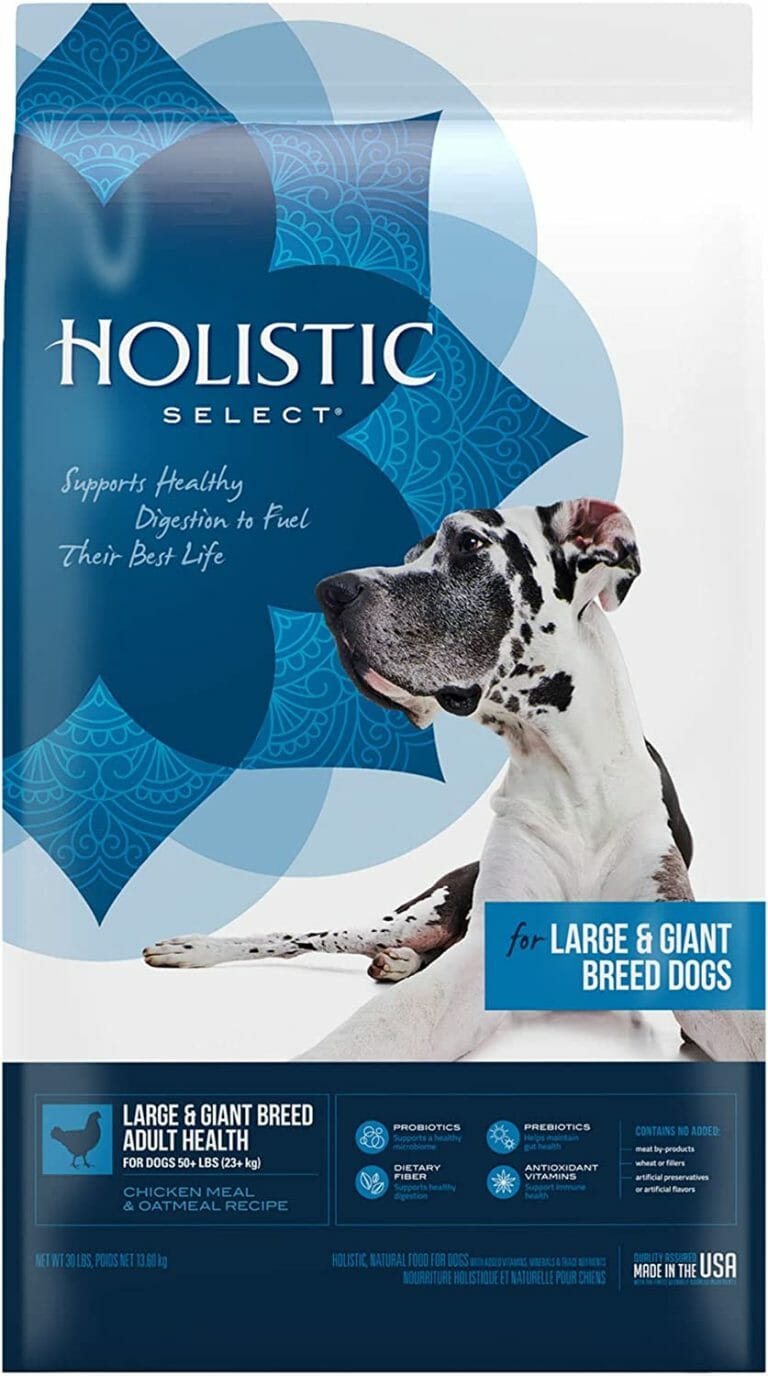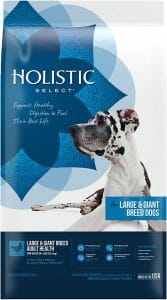 Why We Like It:
Puts a stop to your English Mastiff's sedentary lifestyle
Specs:
Weight: 15-30 lbs
Flavor: Chicken & Oatmeal
Added benefits: Packed with probiotics, prebiotics, dietary fiber, and antioxidant vitamins
Of course, having a healthy Mastiff is still attainable through choosing affordable yet high-grade commercial dog food. Many English Mastiff owners swear by the goodness of Holistic Select.
This is specifically formulated for large and giant dog breeds as the ingredients ensure that the recipient develops strong and healthy bones. What's more is that your dog won't become prone to bloats, gassiness, and stomach discomfort, thanks to the natural fibers present in this recipe. 
It's potato-free as well. It only uses highly digestive carb sources when it comes to your Mastiff's energy levels. 
For healthy bones and joints, optimal levels of calcium, phosphorus, chondroitin, and glucosamine are added. These are the ultimate support for their huge hips and heavy bones.
Pros
Improves bone strength

Helps with hip dysplasia and joint issues

Specially designed for large and giant breeds

Relieves stomach discomfort through natural fibers
Cons
Relatively expensive

Kibble size can be too small for large breeds
6. Merrick Backcountry Raw-Infused Dog Food – Ideal for Sensitive Stomachs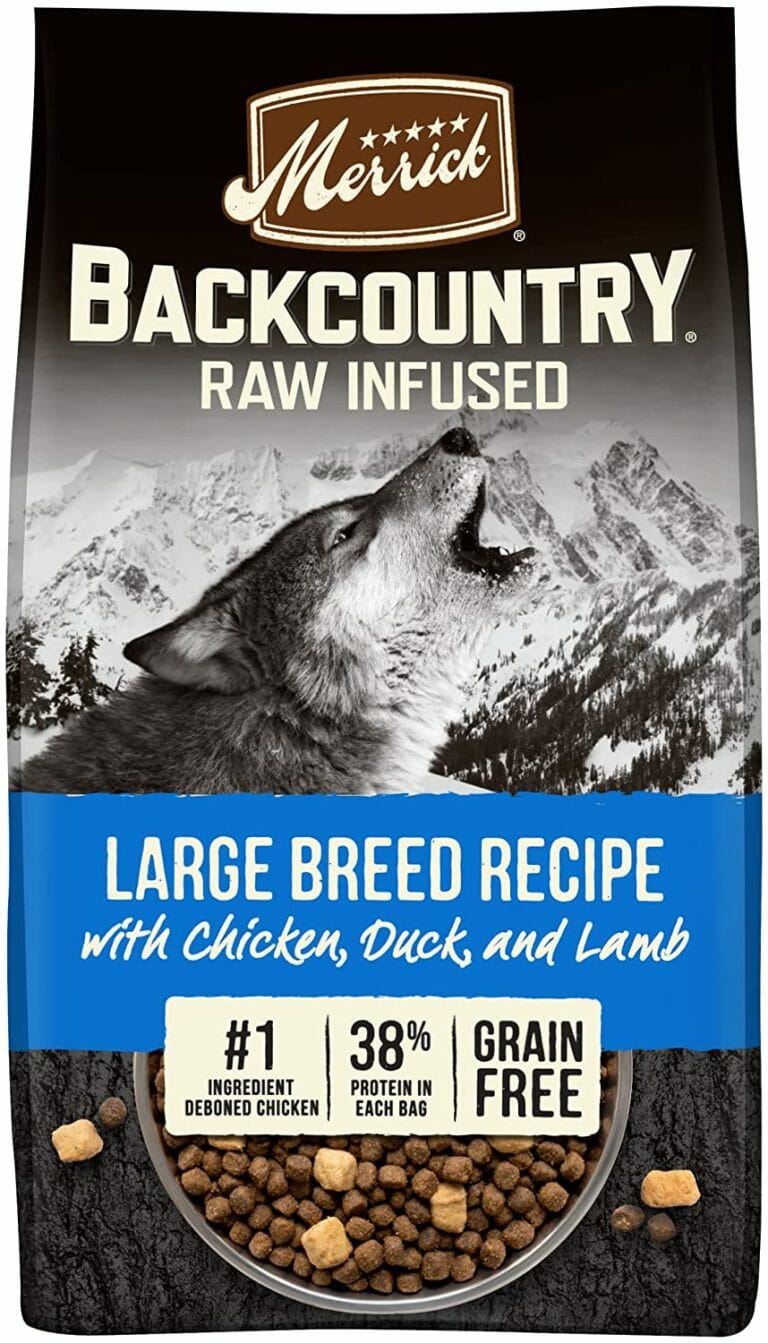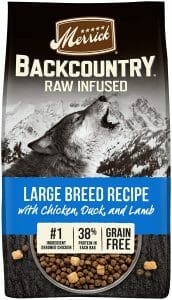 Why We Like It:
Worry-free for allergic dogs thanks to this grain-free recipe
Specs:
Weight: 10-20 lbs
Flavor: Chicken
Added benefits: High in protein, grain-free, and with good levels of chondroitin, glucosamine, and Omega fatty acids
Let's face it, some dog foods, no matter how well known the brand is, just don't work the way we expect. That can be worrisome as you scout the market for the best dog food for your English Mastiff. 
Good news, though, as you won't have to look elsewhere, as Merrick Backcountry Raw-Infused dog food would satisfy your English Mastiff's nutritional needs. It's even a better choice if your dog has grain allergies as the brand offers a grain-free formula. 
Since this is rich in protein, you have to consult your local vet to find the perfect amount to give each day. On another note, what makes this exceptional is its rawness. Every kibble is freeze-dried and raw-coated with preserved raw pieces to satisfy their natural canine cravings when it comes to food.
Additionally, the recipe is infused with high levels of chondroitin and glucosamine to prevent hip dysplasia. Omega-3 and 6 are also present to show inner health through physical appearance.
Pros
Raw flavor in every bite

Suitable for dogs with a grain allergy

Rich in nutrients that help with dysplasia
Cons
More expensive than other brands

It can be too much in protein for some Mastiffs
7. Wellness Core Natural Grain-Free – Ideal for Heart Health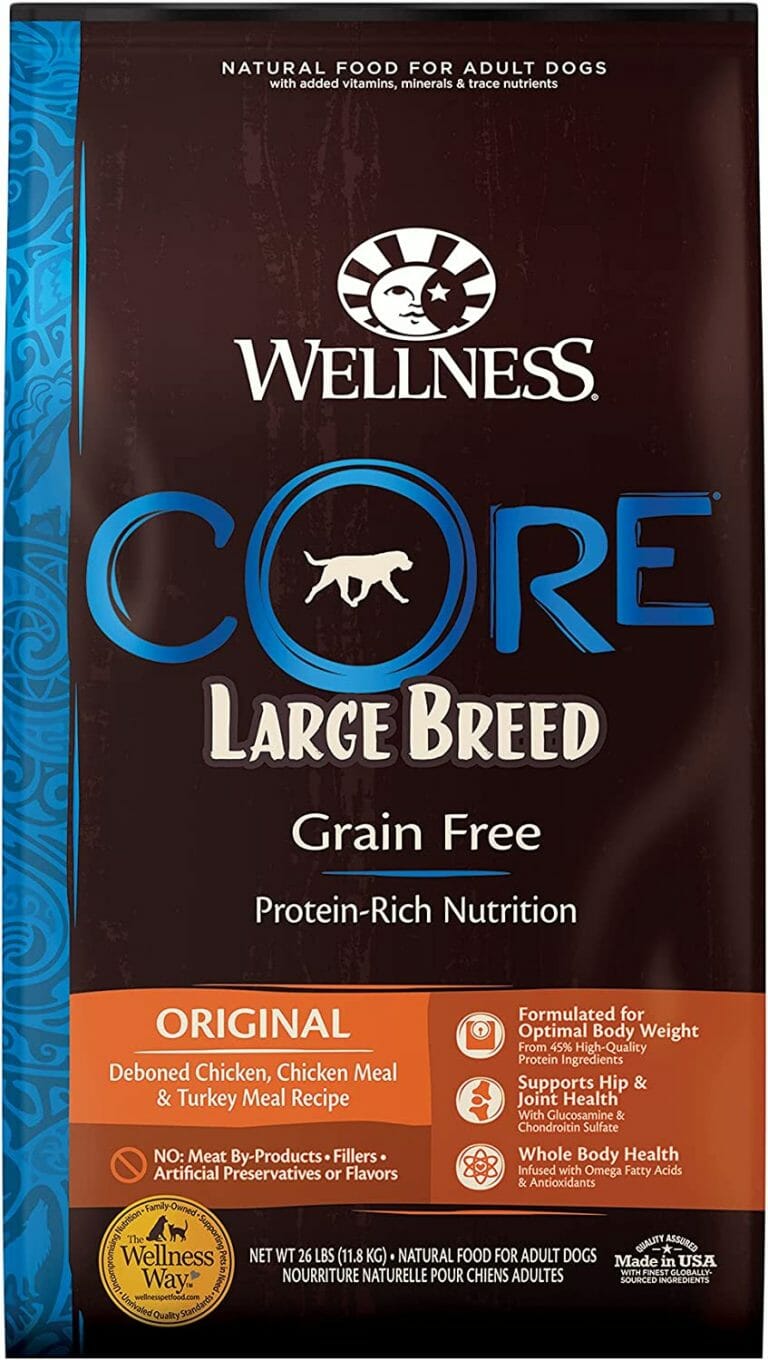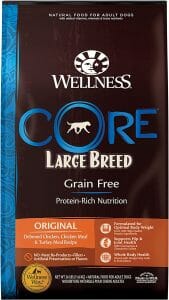 Why We Like It:
Never compromising when it comes to heart and overall health
Specs:
Weight: 24-26 lbs and 4 oz.
Flavor: Chicken and turkey
Added benefits: Protein-rich with antioxidants, Omega fatty acids, chondroitin, and glucosamine
Most dogs won't benefit a lot from grain-free diets. However, Wellness Core is my top pick if your English Mastiff needs to shy away from formulas containing grains. 
The amount of protein present is expertly balanced with other superfoods, so your giant dog gets what they need to grow healthily. Assuredly, the protein comes from fresh meat and not from by-products. Healthy levels of taurine are infused in the formula to take care of your dog's heart, keeping them from complications. 
Other remarkable additions are the flaxseed and salmon oil for their overall skin and coat health. The entire recipe is made only from wholesome, non-GMO ingredients making each penny worth paying for every bag of Wellness Core.  
Pros
Great for skin and coat

Protein comes from fresh meat

Made from non-GMO ingredients

Adequate levels of taurine for heart health
Cons
Requires stool monitoring

Kibble size may not suit dogs with large mouths
8. Diamond Naturals Dry Food – Ideal for Nutrient Absorption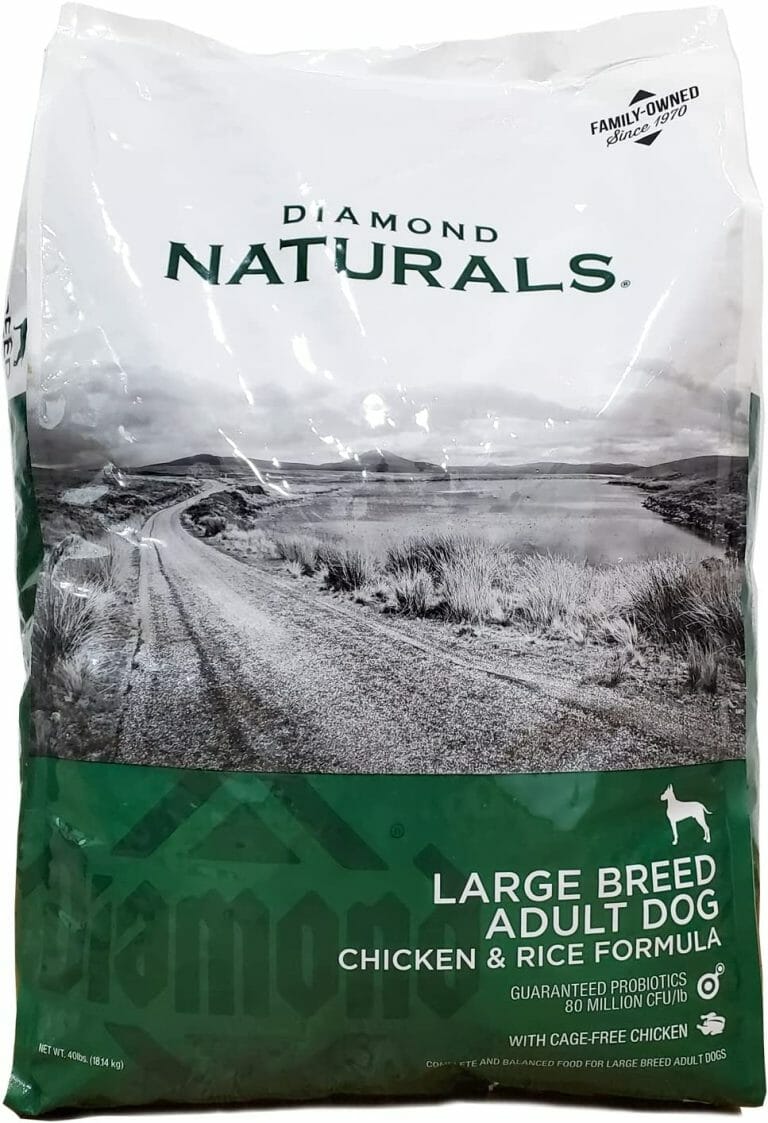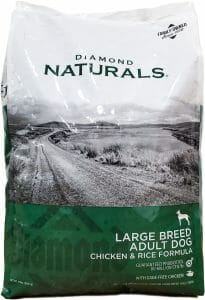 Why We Like It:
An excellent choice to maximize nutrient absorption through probiotics
Specs:
Weight: 6-40 lbs
Flavor: Lamb, puppy-lamb, or chicken
Added benefits: Contains amino acids, probiotics, and essential nutrients
No English Mastiff will ignore a chicken-flavored meal. Diamond Naturals is made from cage-free chickens, which are optimized with amino acids to help your dog grow with a lean muscle mass. 
To ensure that they get and absorb all the needed nutrients, around 80 million probiotics CFU per pound are present. They help digestion and take all the vitamins and minerals, maximizing even more, the benefits from this chicken formula. 
Since Diamond Naturals only want to produce top-notch quality dog food, their ingredients come only from trusted sources worldwide. There are no fillers as well, such as corn and wheat, since they provide no value at all. 
It's a real superfood at a very low cost, and thousands of people approve of it.
Pros
Affordable

Contains no fillers

Made with real chicken

Optimized with amino acids

Includes 80 million probiotics CFU per pound
Cons
May not click with picky eaters