Best Dog Litter Boxes [13 Recommended Indoor Potty Equipment]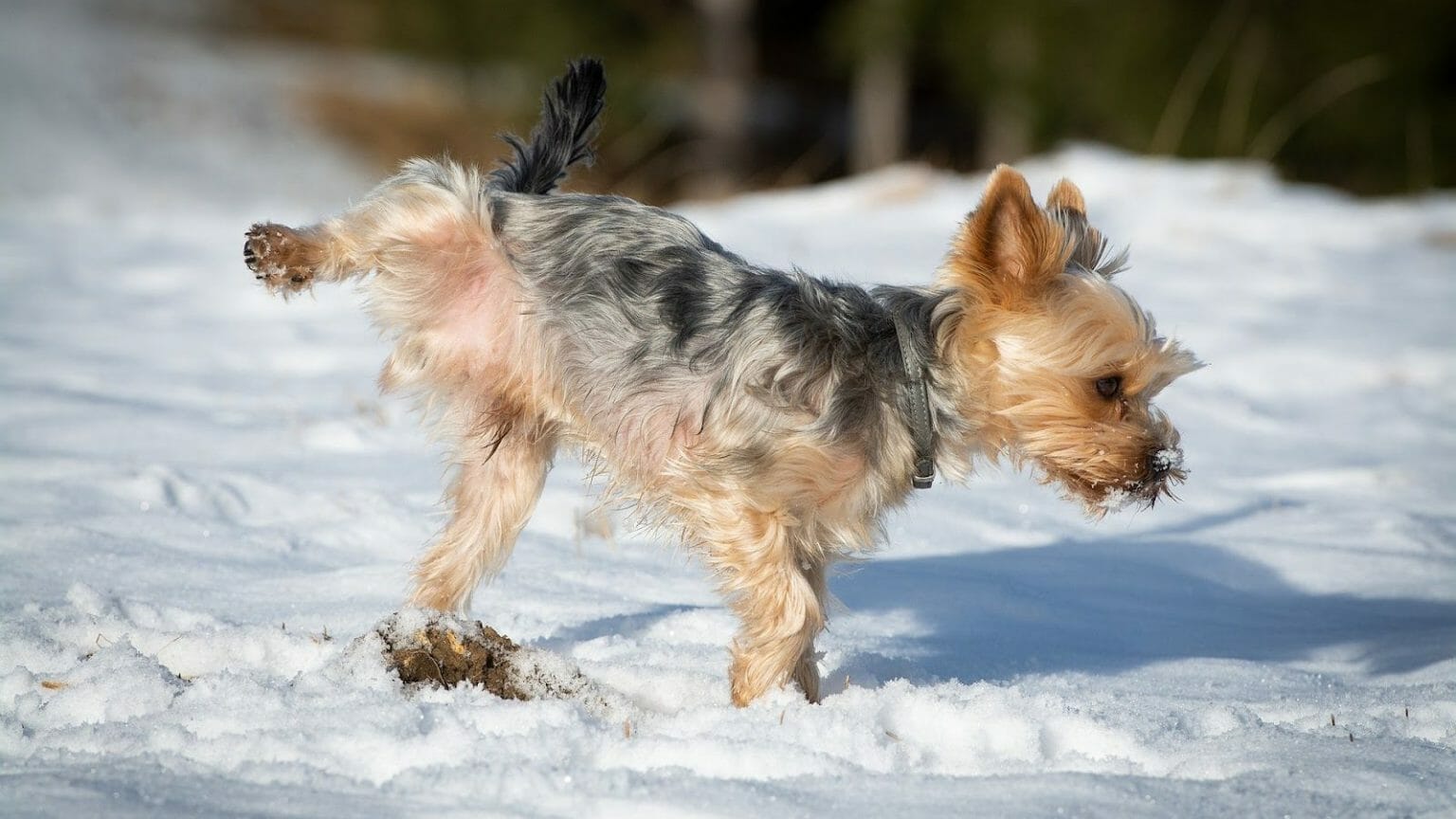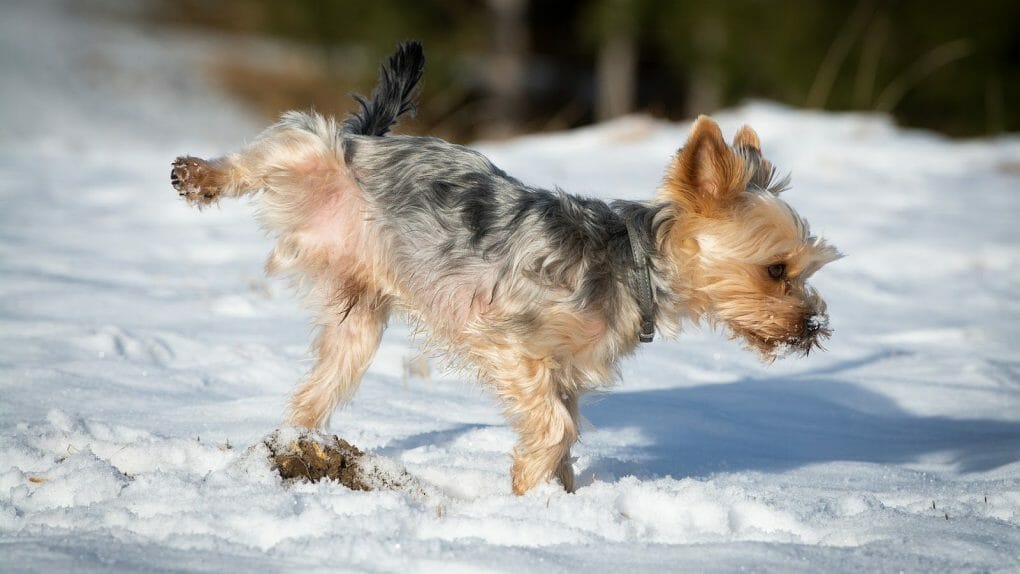 It's not always that dog owners can take their dogs outside so their pets can urinate. While litter boxes are often marketed for cats, there are also a variety that are specially designed for dogs.
While these products are a great solution to maintain the cleanliness of your home, training your pooch on how to utilize one is essential. Also, it's important that you carefully choose which dog litter box suits your Fido the best so it fulfills its duty well.
An excellent dog litter box has to be big, absorbent, easy to clean, durable, and more. We are introducing the 13 recommended best dog litter boxes that embody all these essential features to keep you from spending hours looking for the best toilet for your furry companion.
A Quick Ranking of Our Best Dog Litter Boxes
13 Best Dog Litter Boxes: Our Top Picks
1. PetFusion Litter Pan – Best in Traditional Design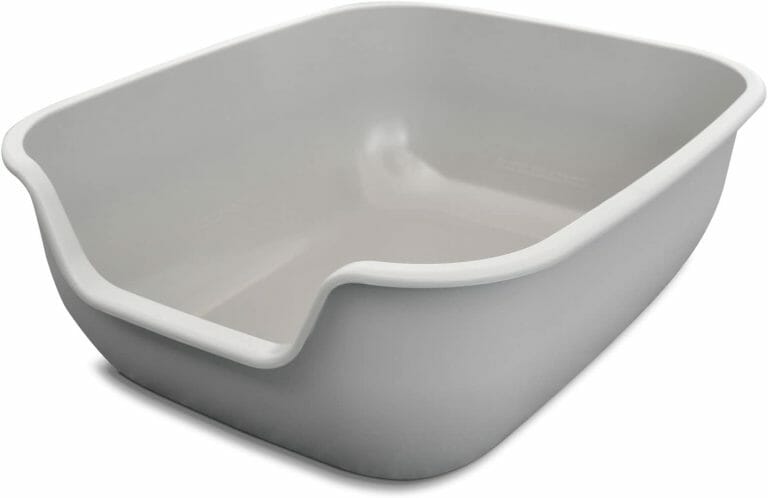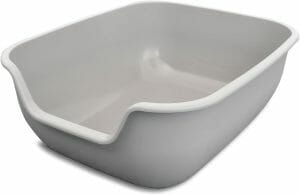 Why We Like It:
Promotes a mess-free clean-up thanks to its non-stick feature
Specs:
Size: Large
Dimensions: 22.6 x 18.1 x 8.1
Material: ABS plastic
PetFusion Litter Pan's design may cater to the exact needs of a cat, but this is also useful for puppies. It has a non-stick coating, so any matter won't adhere to the product, making it easier for owners to dispose of the dirt. 
What makes this a top hygienic litter pan is its feature that repels odor, so your home stays smelling fresh. Its high sides are designed to keep it from leaking, especially if the litter box is full. 
Scooping dirt and matter in this litter box also comes easy thanks to its curvy corners. Wherever your dog decides to squat in their toilet, a scooper won't find it difficult to get it removed. 
On another note, with its price, dog owners can save a lot compared to other brands. 
Pros
Easy to clean

Has a non-stick coating feature

Made from durable ABS plastic
Cons
Not recommended for diggers as the non-stick feature can be damaged
2. PuppyGoHere Dog Litter Pan – Best for Puppies


Why We Like It:
The best aid for puppies or dogs with joint issues
Specs:
Size: Small to extra large
Dimensions: 24 x 20 x 3
Material: Polypropylene
Another traditional litter box dog can use is the PuppyGoHere Dog Litter Pan. It has lower sides, making younger dogs feel less daunted. Those suffering from joint issues can also find relief using this litter box as it wouldn't require jumping on it just to urinate or poop. 
Since it comes in small to extra large, you have to select which one is the most suitable for your dog. If they are predisposed to medium or large sizes, it's recommended to go for those sizes instead of basing it on their puppy proportions. 
With this at your home or apartment, you'll no longer have to deal with soiled areas at your place. It's useful, especially if you aren't at home and no one is there to take your pooch out to go potty.
This litter pan is also advantageous to the environment as it's made from recycled plastic.
Pros
Ideal for apartments

Made to be sturdy in construction

Great equipment for potty training
Cons
The inside of the litter box is smaller compared to its outer dimensions
3. Skywin Dog Puppy Pad – Best Disposable Pad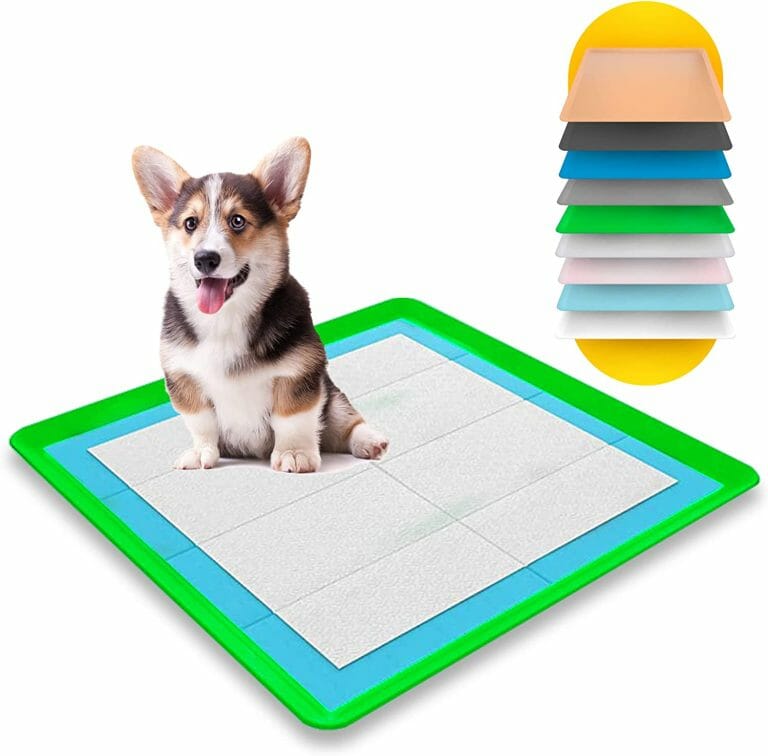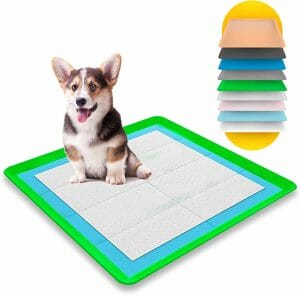 Why We Like It:
A convenient disposable alternative in the market
Specs:
Size: Small
Dimensions: 13.66 x 8.31 x 2.91
Material: Silicone
Look no further than the Skywin Dog Puppy Pad if your pooch needs a place indoors where they can appropriately urinate. You just have to simply place this on an area you desire and lead your dog to it every time they have to take a leak. 
You can replace each pad easily once used and guarantee that your floor stays well-protected from wetness and dampness. This is also ideal for potty training. This convenient option won't have to make you wash the product but rather just dispose of it properly.
Though the material is flat, rowdy and raucous dogs won't find themselves slipping into this pee pad. The training pad has a static hold, keeping it entirely in place when used even by the clumsiest puppy you own.
This isn't an ideal long-term product for potties, but the Skywin Dog Puppy Pad is undoubtedly a great aid during your travels with your canine. 
Pros
Great equipment for potty training

Features great drainage for urination

Controls urine and easy-to-wash potty pads
Cons
Reusable pee pads can be shredded easily by rowdy dogs
4. GoldOuya Pet Potty Grass Mat – Best Faux Grass Alternative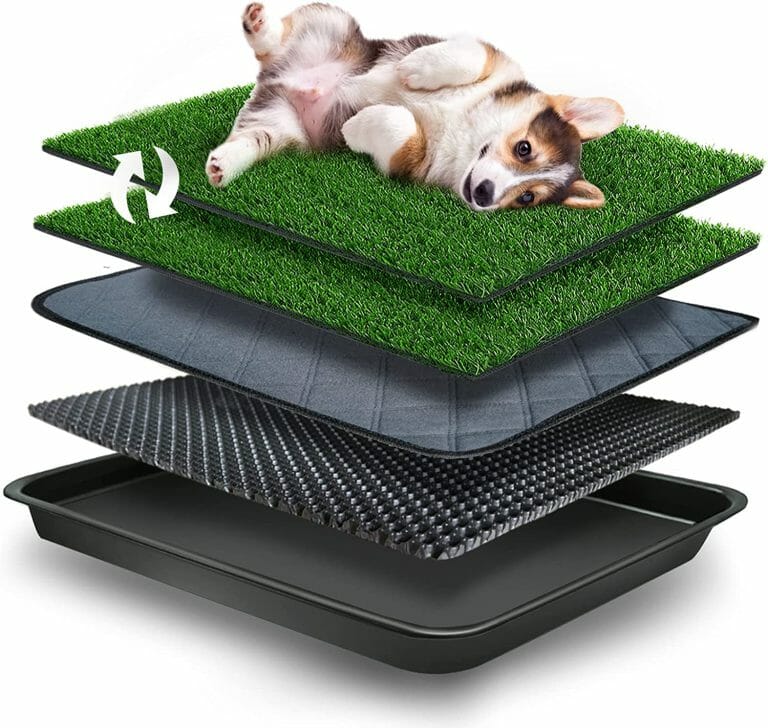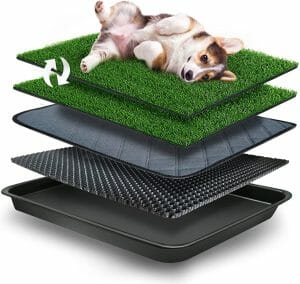 Why We Like It:
Mimics the grass so well, that your dog wouldn't know the difference
Specs:
Size: Small
Dimensions: 23 x 19 x 1.4
Material: Rubber
According to an article published in McGill University, a dog's urine contains several nitrogen compounds that can burn the grass and make it appear yellow. It's certainly not a great sight in your yard if this is where your puppy frequents for their potty. 
Hence, the GoldOuya Pet Potty Grass Mat would be a great alternative. It features fake grass, so your dog won't notice the difference. You can either place this indoors or outdoors, whichever is more ideal or convenient for you and your dog. 
The grass mat has a drainage system, so the pee doesn't stay on the surface. 
Additionally, this brand includes two artificial grass mats so that you still have something to use while the other gets washed. It remains fire-retardant, lush, and permeable throughout its use. There are also added non-slip features to avoid mishaps if you have quite an excited small dog.
Pros
Extremely affordable

Has an anti-slip feature

Ideal potty pad for travels
Cons
Not recommended for chewers
5. MEEXPAWS Dog Grass Pee Pads – Best for Large Dogs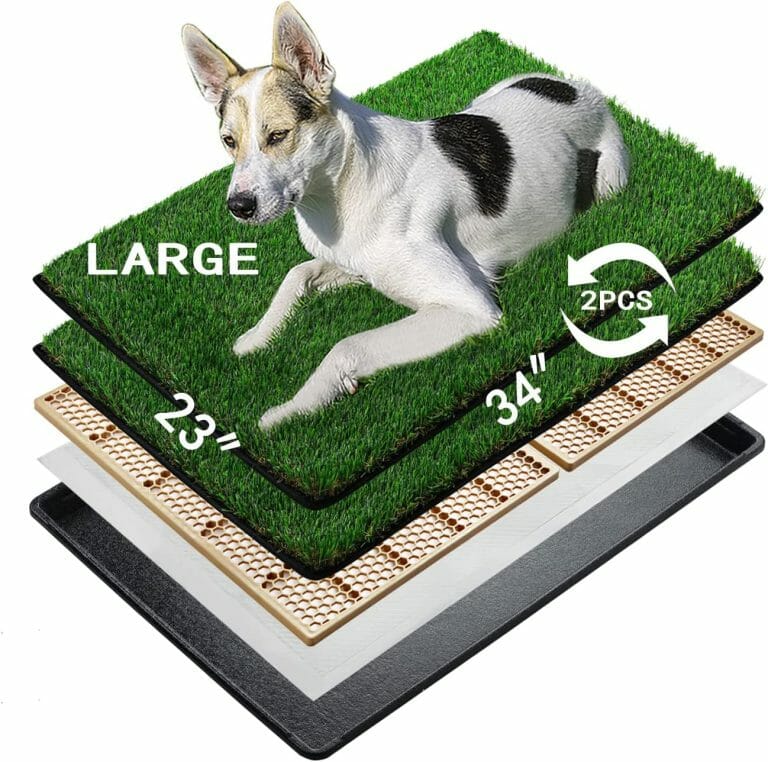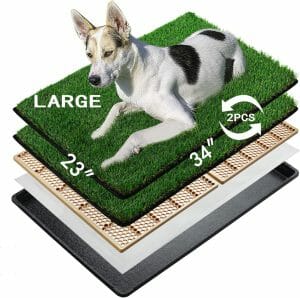 Why We Like It:
Any dog owner's ideal pick, no matter the breed of dog they own
Specs:
Size: Extra small to extra large
Dimensions: 17 x 13 x 1.6 to 44.88 x 33.86 x 1.97
Material: Plastic
Meexpaws has artificial grass mats that cater to small to extra large dogs. Three layers comprise the whole product: the grass, the pee pad, and the tray. 
There are several holes underneath, so the urine doesn't stay on top, and the tray effectively catches all the liquid from above. It needs to be emptied based on how often your dog uses it and how much they pee. 
If your grass pad needs replacement after using it for a long time, you can purchase a new one on Amazon by searching "MEEXPAWS pee pads." Anyhow, there's a big chance that the grass mat will last longer than expected as it can withstand the wear and tear your pet may cause. 
Pros
Suitable for most dogs

Includes an extra pad of grass

Absorbent and leak-proof training pads
Cons
The turf fibers may shred, so this requires delicate care
6. PS KOREA Indoor Dog Potty Tray – Best for Small Dogs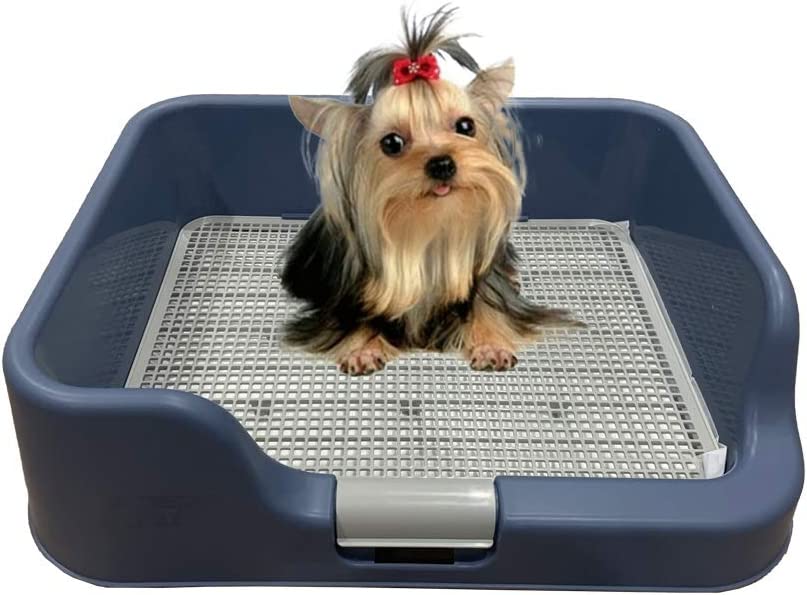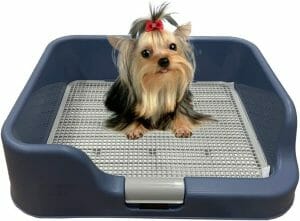 Why We Like It:
Tiny but functional; great for apartments
Specs:
Size: Small
Dimensions: 22.6 x 17.77 x 6.1
Material: PP material
PS KOREA Indoor Dog Potty Tray is made from eco-friendly and durable PP material. It is non-toxic for pets and the environment, making it a safe choice for meticulous pet owners. This potty tray is basic in design but undeniably useful in every way. 
The tray with holes acts as a divider to keep your pooch from soaking in their urine. It's placed securely, so it doesn't wobble if your dog is on top of it. Though the tray is enough to hold your dog's pee, you still have the option to insert a pee pad underneath, so it'll absorb the liquid.
This is a perfect choice, especially if you're potty training your dog or if it rains outside and your pooch cannot dash to the yard for a quick leak. A well-trained pooch will no longer have to soil your carpet, rug, or floor if this one sits around the corner, ready to deal with dog urine. 
Pros
Easy to clean

Perfect for small dogs and pets

Made from eco-friendly and durable PP material
Cons
Only comes in a small size
7. Pet Awesome Dog Potty Tray – Best for Apartments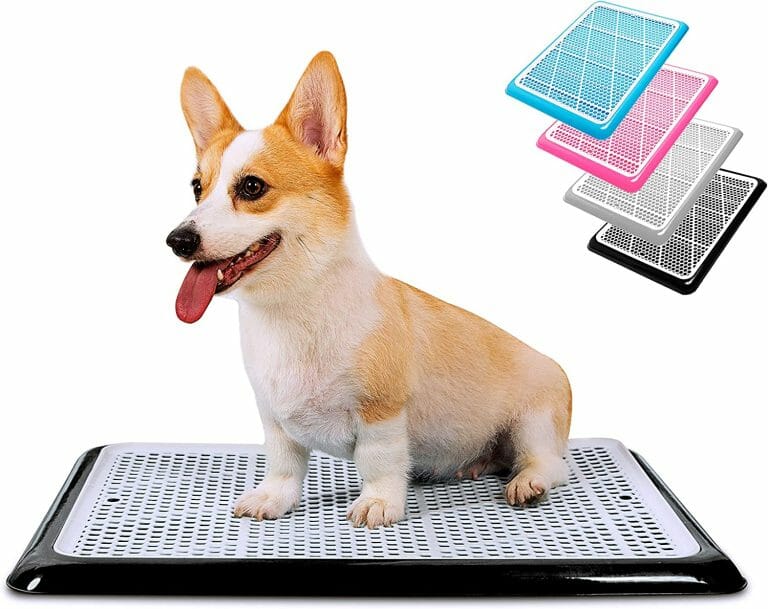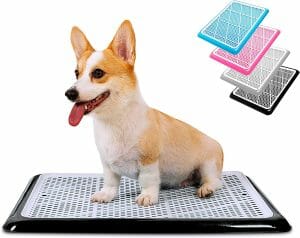 Why We Like It:
Totally practical, but only for urination
Specs:
Size: Small to medium
Dimensions: 25 x 20 x 1.2
Material: Mesh grate
For a more lightweight option for potty trays, Pet Awesome has one for you, and it's available in several colors, like black, pink, blue, and gray.
It has a netted tray on the surface, where your dog can sit to urinate, and the design is ideal for female pooches. This is so since male dogs tend to pee all over the place as part of their territorial behavior while females simply squat, according to PetMD. 
The fast drainage system keeps your dog's paws clean and dry, and the pee pad you can insert underneath won't get torn by your dog's scratches. 
It's an innovative potty tray that makes all the potty mess a thing of the past. As the tray is reusable, this option will save you a lot of cash as you only need to purchase disposable pee pads. 
This is ideal for apartments, homes, and outdoor or indoor use. Place this in a consistent spot, so your dog will get used to it over time.
Pros
An economic option

Classic design and easy to use

Perfect for apartments and any type of homes
Cons
Can be challenging to clean
8. PetSafe Pet Loo Portable Dog Potty – Best Overall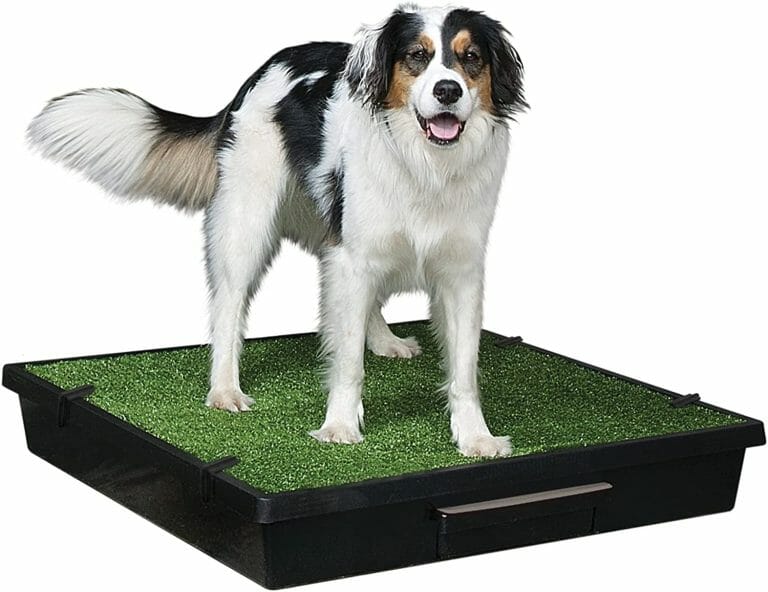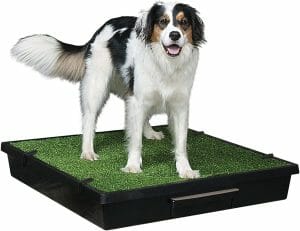 Why We Like It:
It has everything you need from a dog litter box!
Specs:
Size: Small to large
Dimensions: 20.75 x 17 x 4.5 to 5 x 33 x 33
Material: Sponge
The PetSafe Pet Loo Portable Dog Potty would keep you away from worries and concerns if you left your dog at home or in your apartment. It caters to small to large dogs' needs and acts as an incredible indoor toilet for your furry buddy. 
With its grassy surface, your dog will find it comfortable to do its thing on this potty tray. They'll feel less anxious about using it as it's like the spot where they're usually allowed to pee. This tray is portable and can be brought during your journeys with your Fido. It's leak-proof, efficient, and perfect for Chihuahuas, Shih Tzus, and Golden Retrievers, to name a few. 
There's a pee-pod inside, a disposable one, so cleaning up the product won't make too much of a mess. There's also a wee sponge absorbing powder that effectively deals with odor and dog mess. They're sold separately but won't burn a hole in your wallet.
Pros
Ideal for small to large dogs

Leak-proof and extremely portable

Has several features, such as the pee-pod and the wee sponge
Cons
The pee-pod and the wee sponge need to be bought separately
9. Keygarzon Dog Grass Pad with Tray – Best for Male Dogs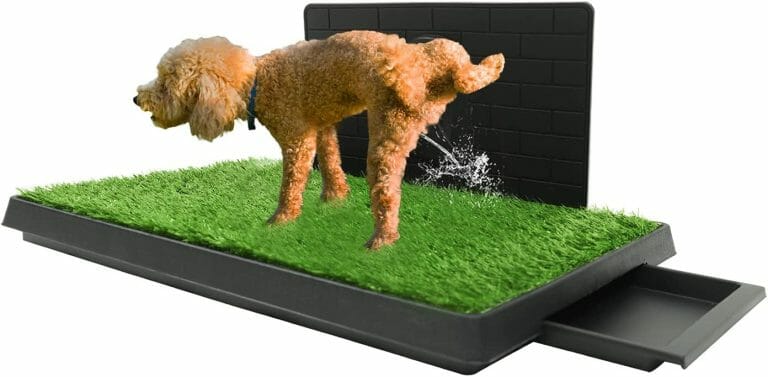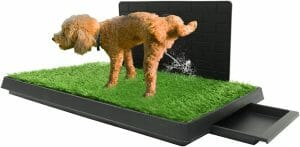 Why We Like It:
The ultimate choice for dogs that pee messily
Specs:
Size: Small to large
Dimensions: 20 x 30 to 30 x 20 x 11.6
Material: Straw
The Keygarzon Dog Grass Pad with Tray is a great choice for owners who have male dogs. There is a wall on the side where their pooch can lean on when they pee, keeping it mess-free whenever they do their necessities. 
Worry no more about any splash or spills they might make as the structure effectively keeps them from making any. There's also a high-quality grass mat their paw pads can feel, making it easy to adjust from peeing in the yard to peeing indoors using this litter box. 
In detail, there are 3 layers to expect from this tray; the fake grass, the middle grid tray, and the bottom collection box. The removable tray, which you can slide in and out on the side, makes housework easy for you. Plus, the materials used are non-toxic for pets and generally soft and comfortable to step on. 
To maintain its odor-free quality, cleaning this tray each day is recommended.
Pros
Non-toxic for pets

Ideal for male dogs

Features 3 layers for a mess-free urinating experience
Cons
Not recommended for chewers
10. Puppy Pan Dog, Cat & Small Animal Litter Pan – Best for Short Dog Breeds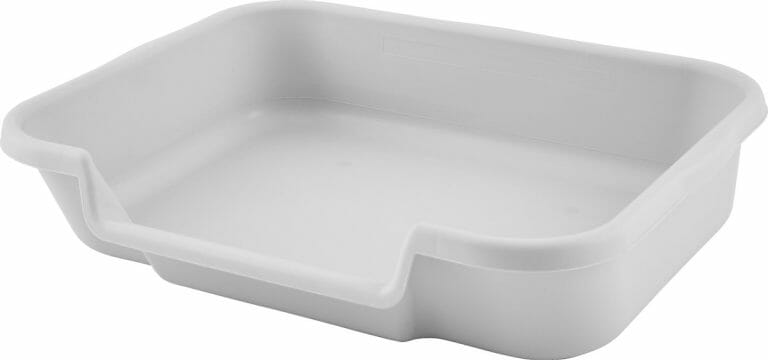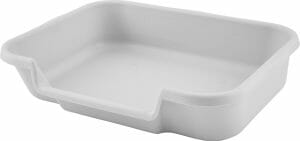 Why We Like It:
Doesn't induce anxiety, especially for puppies that are still getting potty-trained
Specs:
Size: Small to large
Dimensions: 24 x 20 x 5
Material: Plastic
The Puppy Pan Dog is specially designed for small dogs and other small pets, with convenience and comfort as its top priority in design. 
The wide, low opening is ideal for dogs like Dachshunds or any breeds with similarly short legs or those that suffer from joint issues like arthritis. They can relieve themselves without feeling anxious, especially when you're not home. 
Overall, this is the alternative if you live in places where there isn't much grass. Since it's Made in the USA, the plastic material is proven durable. 
On another note, the small pan is best used for dogs that weigh up to 6 pounds, while the large counterpart is great for pets up to 20 pounds in weight.
Pros
Best used for dogs with joint issues

High-quality and durable materials are used

A great alternative for places with fewer greeneries
Cons
The surface can be challenging to clean
11. SincoPet Washable Dog Pee Pad – Best Used for Travels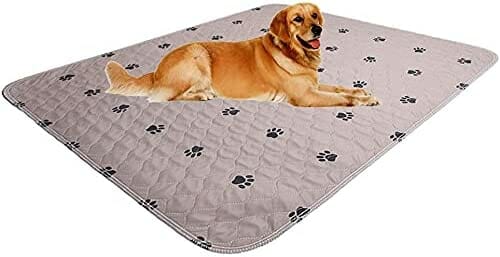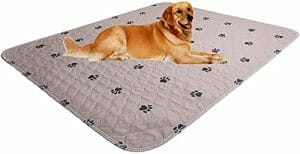 Why We Like It:
Foldable, practical, and efficient in every way
Specs:
Size: Extra small to large
Dimensions: 18 x 24 to 72 x 72
Material: 100% polyester knitting fabric with anti-slip silica gel bottom
If you don't like the idea of disposable pee pads, then what's recommended for you is SincoPet's Washable Dog Pee Pad. This is exceptionally lightweight for travels as you can just fold and store it away until it's necessary to be used. 
This reusable pet pad has a comfortable surface made from knitted polyester, a super absorbent, high-density second layer, and a breathable waterproof PUL inner layer. Underneath is an anti-slip silica gel bottom so your dog won't have a slippery experience using it. 
Although it's washable, the quality remains top-notch with proper care. The pee pad remains extremely absorbent, which is why there are over 18,000 ratings made on this incredible product. 
This is great protection for your floor, car seat, or furniture, and it can hold a huge amount of urine, ensuring that what's underneath it stays dry. 
For a mess-free experience, should this pad need to be washed, it has to be lifted on all four corners while also supporting the bottom to prevent leaks.
Pros
Highly absorbent 

Washable and reusable

Easy to store and carry for travels
Cons
Needs to be washed thoroughly to eliminate odor
12. Ottomanson Indoor/Outdoor Tray with Reusable Grass Pad – Best for Potty Training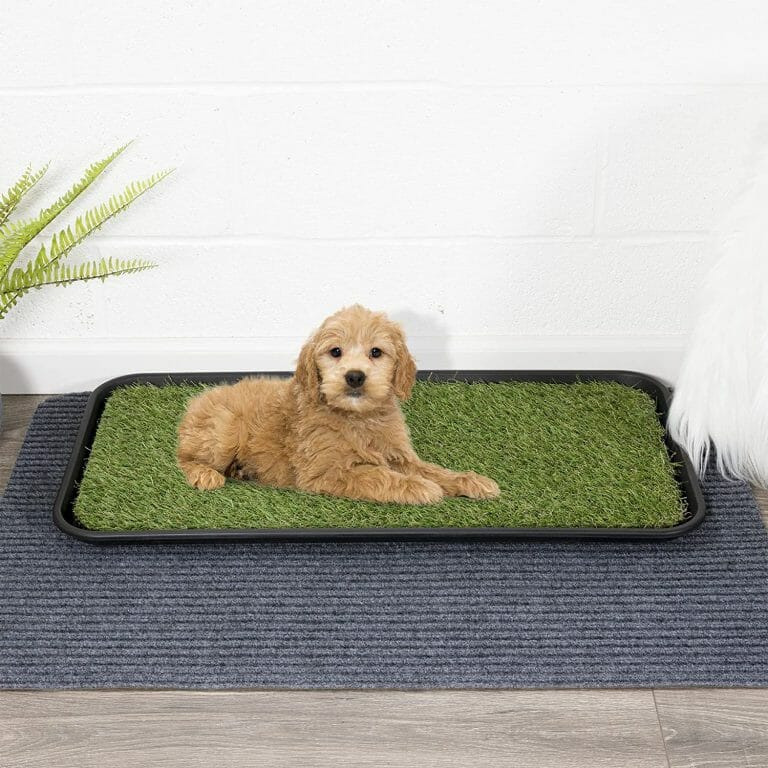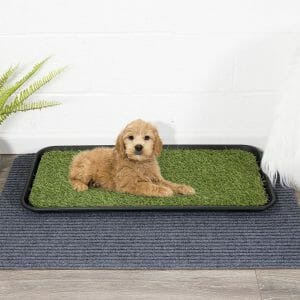 Why We Like It:
Your basic dog litter box at an affordable price tag
Specs:
Size: Small
Dimensions: 30 x 15 x 1.2
Material: Polypropylene & rubber
Sometimes, a piece of the tray and a grass mat would be enough to teach dogs the proper places to urinate. 
The Ottomanson Indoor/Outdoor Tray with Reusable Grass Pad withstands the test of time, and it's initially made of rubber and robust PVC, making it last longer no matter the weather conditions if this is placed outdoors. 
It has a 1-inch tray height to avoid spills and is easy to clean. You can spray water on it directly from the hose, and it's ready to be used again for your dog's business. 
Pros
Easy to wash

Ideal for potty training

Made from quality rubber and robust PVC
Cons
Requires pee pads underneath the grass to reduce the mess
13. TAOAT Fake Grass Pee Pad – Best Versatile Potty Grass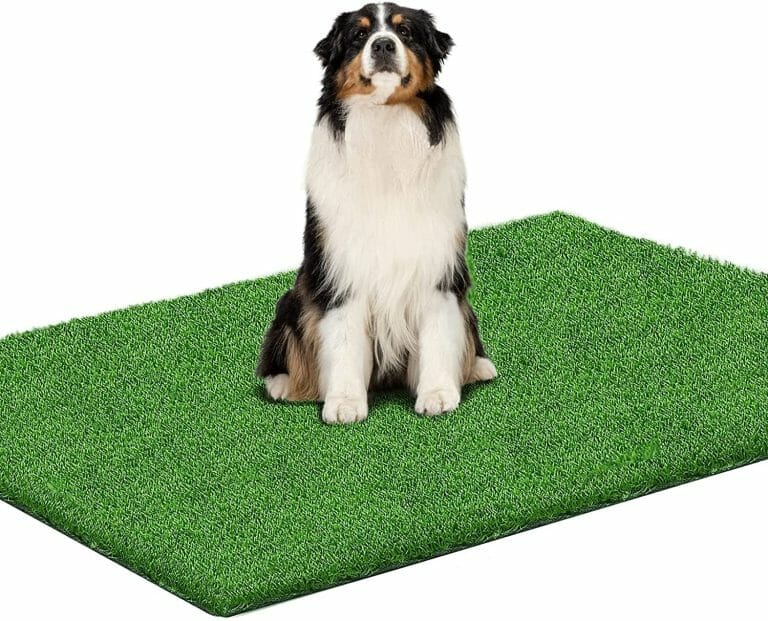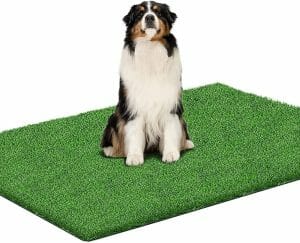 Why We Like It:
Made not just for your dog but as well as for the aesthetics of your home
Specs:
Size: Large to XXL
Dimensions: 39.4 x 31.5 to XXL:59 x 40
Material: High-quality PE + PP Material
The TAOAT Fake Grass Pee Pad can cover a great dimension from large to XXL, so no matter what breed of dog you have, it will surely be enough to keep you from dealing with a stressful mess. 
There are drainage holes underneath to give way for the pee. This may require a large tray to catch the pee. Nonetheless, aside from making use of this as your dog's pee pad, this can also be used for your patio, garden, as a bathroom mat, and more. 
It's easy to clean, dries fast, and doesn't absorb odor that easily. Use a pressure hose to keep it looking new, and it's ready to be used again for whatever purpose you find fit for this flexible product. 
Pros
Can be used in many different ways

Easy to clean, dries, fast, and doesn't absorb odor

Caters the needs of even the largest dogs like the

Mastiffs