Best Dog Crates [14 Reviewed and Approved Dog Crates]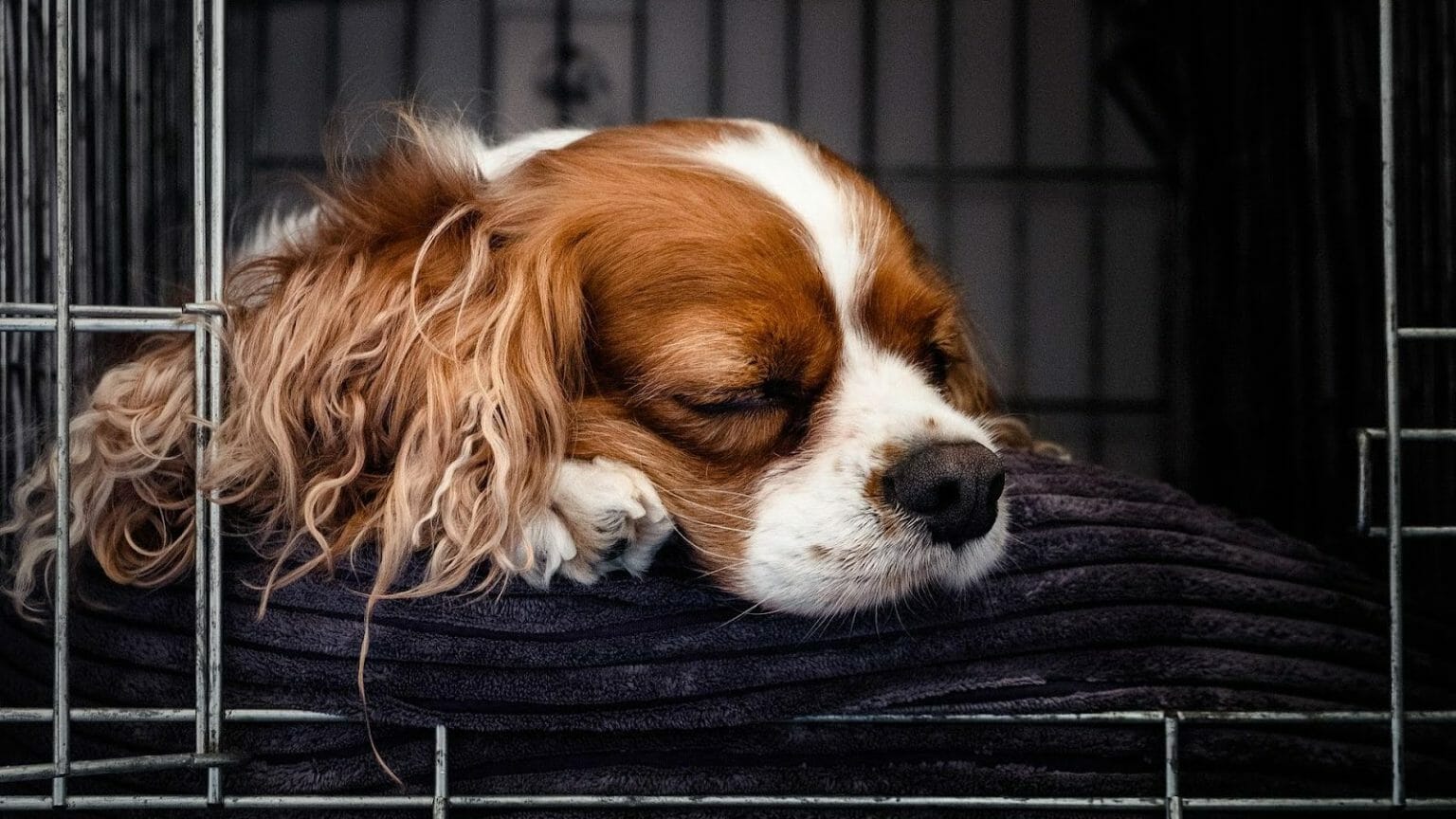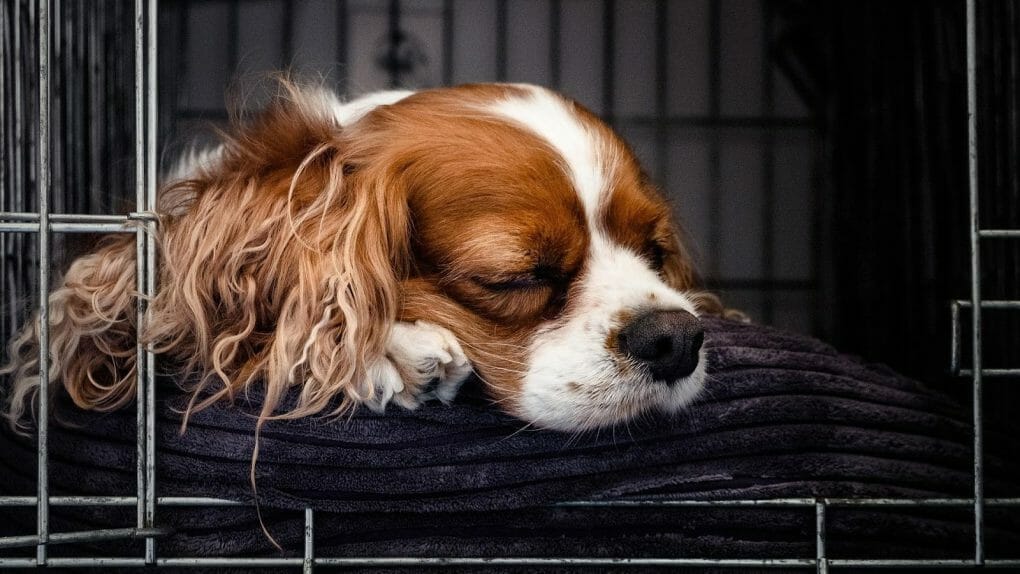 As mischievous as most puppies can be, dog crates keep them sequestered safely when you cannot monitor them. It's pet equipment you need whether you're flying with them across the country or abroad, transporting them to the vet, or simply want to keep them secured inside your home. 
A dog crate mimics a dog's den, providing them with a sense of comfort and protection. The right crate is usually easy to assemble, clean, and comfortable for your dog. 
But how do you choose the right one? Considerations such as its materials, construction, purpose, and size are just a few of what to look for. With myriad options in the market, we have wrapped up only the most approved and best dog crates that exactly fit your dog's needs. 
A Quick Ranking of Our Best Dog Crates
14 Best Dog Crates: Our Top Picks
1. Diggs Revol Dog Crate – Best in Minimalist Design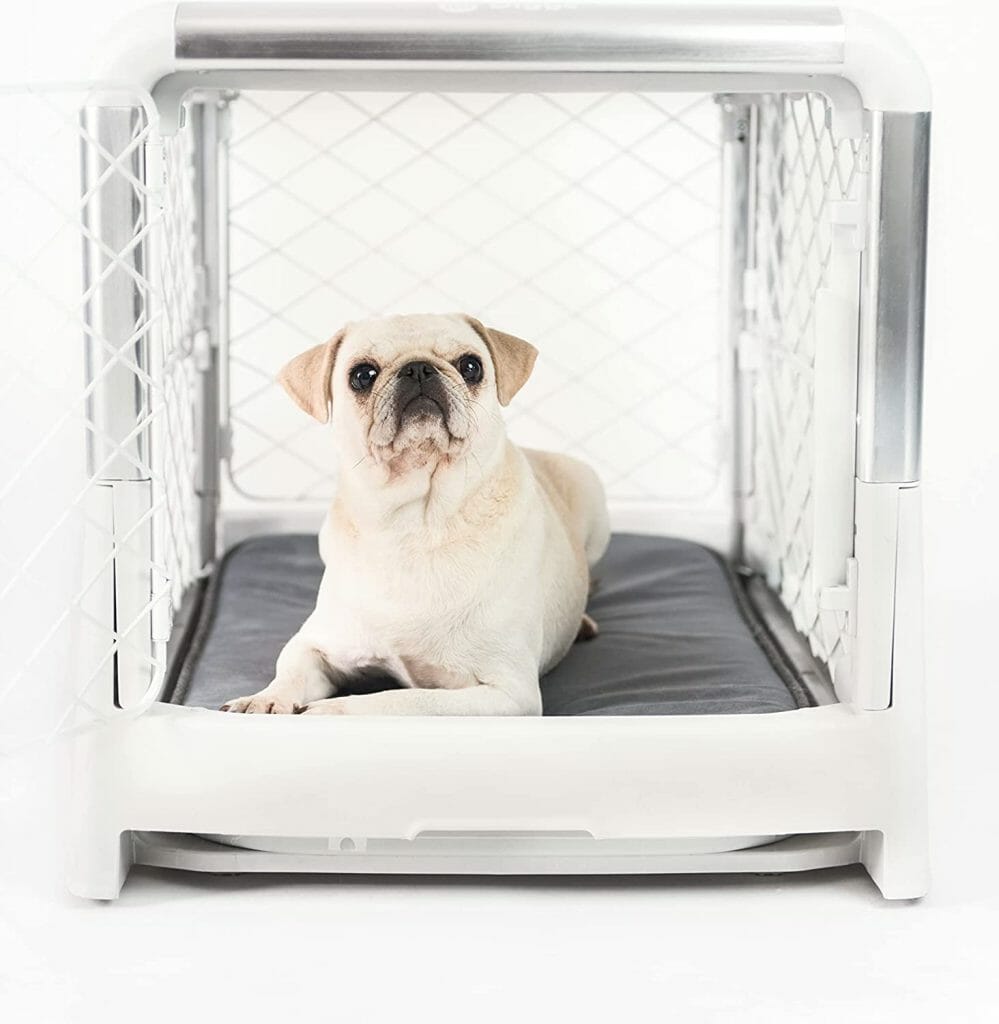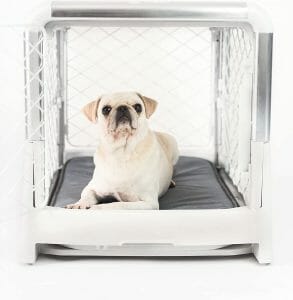 Why We Like It:
Its celestial appearance fits any home interior effortlessly
Specs:
Size: Small to medium
Color: Ash, charcoal, pine
Material: Aluminum
Diggs Revol dog crate is made to fit any home environment with its minimalist design. But, it's not just the appearance that makes it one of the bestsellers in the market. The features that start with its diamond mesh wire are ideal for preventing any injuries to your dog's jaws or paws. 
On top is an easy, convenient opening in case you want to check how your doggy is doing or should you want to hand them their occasional treats. There's also a removable tray underneath, which is easy to clean, no matter how messy.
You can fold the entire equipment with ease and structure and just drag it to the corner if it's not being used. 
Pros
Suitable for puppies

Ideal for travels and transportation

Made with durable, high-grade materials
Cons
Expensive compared to other brands
2. MidWest Homes for Pets Single & Double Door iCrate – Best Traditional Crate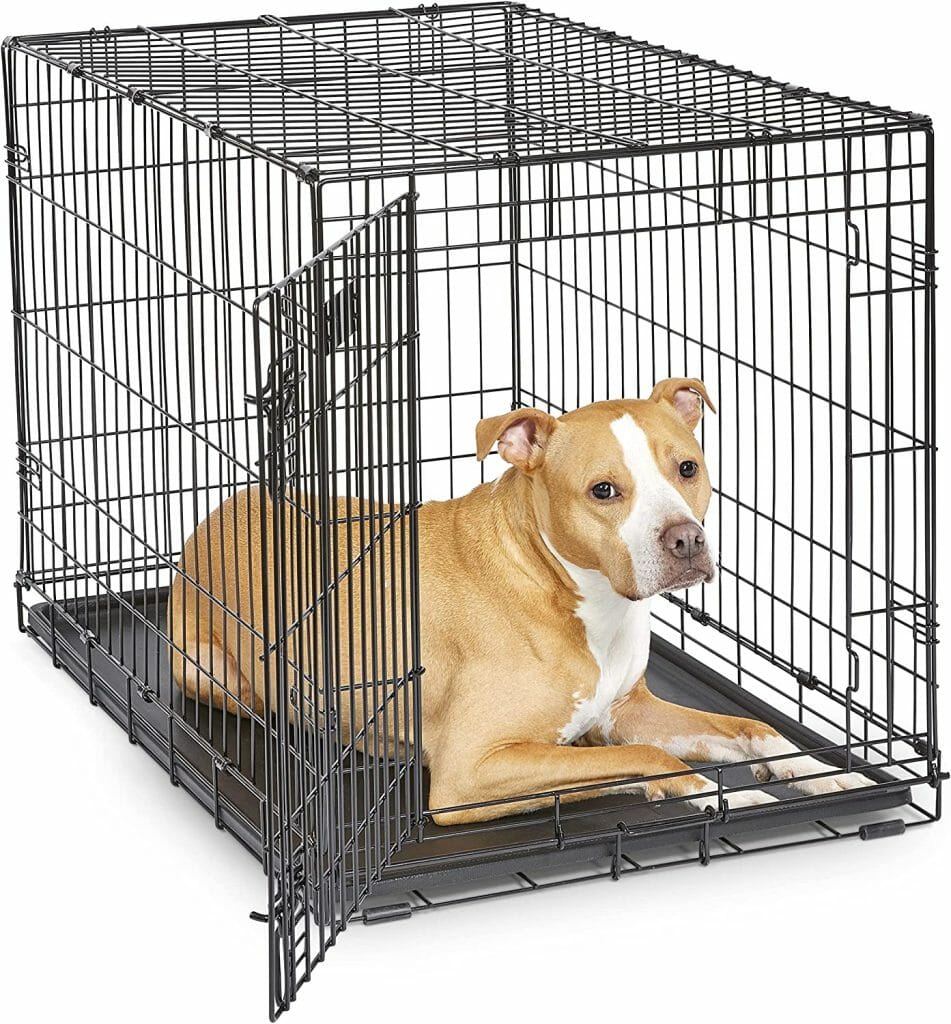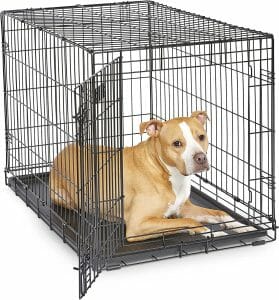 Why We Like It:
Fulfills its function dutifully, making it a universal preference
Specs:
Dimensions: 36L x 23 x 25 inches
Color: Black
Material: Metal
Hundreds of dog crates come in a traditional design, but the MidWest Homes for Pets iCrate is a product that speaks of quality, durability, and convenience. It's not easy to bend or break, not even by any notorious chewer. 
Aside from it being foldable, assembling the entire dog den is easy. Plus, it has security features around the corners to prevent it from collapsing unexpectedly, preventing unwanted accidents. Though the whole look is simple, the space allows you to style it according to your dog's needs. 
A plush mattress can be placed inside or a food and water bowl if there's a remaining space for such. This crate is typically for dogs that weigh around 40 to 70 pounds, but if they go beyond, then it requires upsizing. 
On another note, this doesn't slip easily, and the pan underneath is leak-proof. 
Pros
Added security features

Durable and high in quality

Portable and easy to assemble
Cons
The corners at the end of each wire are sharp and need to be filed down
3. Calmbee Wooden Dog Crate Furniture – Best Aesthetic Crate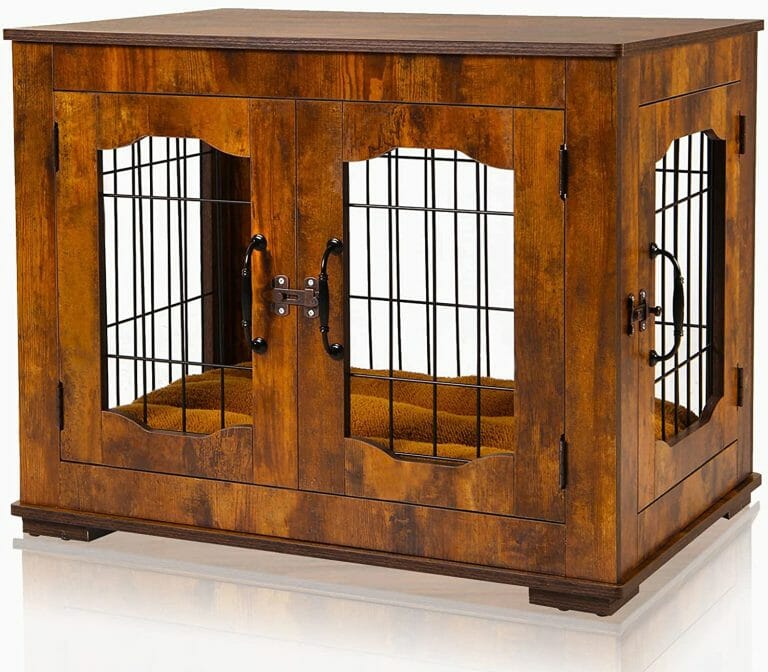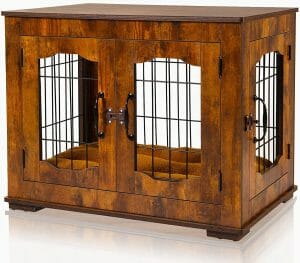 Why We Like It:
Holds your favorite decorative pieces while serving as a dependable dog den
Specs:
Size: Small to medium
Dimensions: 32″L x 23″W x 27″H
Color: Mahogany
Material: Wood and metal
You're getting a crate and a piece of furniture for the price of one if you go for Calmbee wooden crate. Getting this placed inside your home wouldn't instantly make your guests notice that this piece of furniture is intended to be used by your dog. 
It screams practical as it elevates the beauty inside your home. At the same time, it performs well its intended function, acting as your dog's den. Though this isn't the most suitable crate for traveling, it remains excellent when used at home. 
Since it's made with wood fibers and metal, you're guaranteed that this will last long. It's spacious inside, too, accommodating any type of blanket your dog prefers. There are 2 doors so that you can place it in any corner. Its closure comprises latches, spring locks, and magnetic locks, so they secure your dog more, especially when you're not around. 
Pros
Aesthetic and decorative

Recommended for chewers

Comes with a removable cushion
4. MidWest Homes for Pets Dog Crate Kit – Best Covered Crate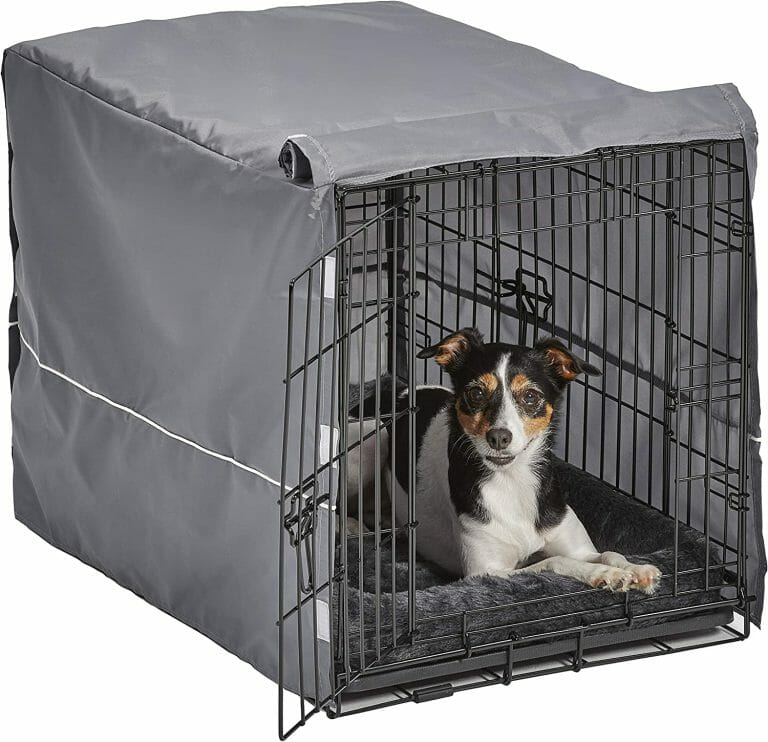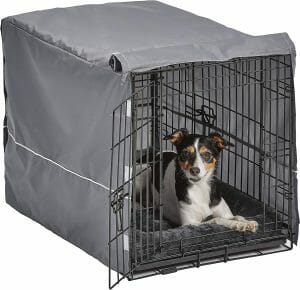 Why We Like It:
Superior in practicality without compromising quality
Specs:
Size: Small to extra large
Dimensions: 30L x 19W x 21H
Color: Black and gray
Material: Polyester and metal
In the world of practicality, the dog crate any new dog owners need doesn't have to be grand. The simplest can be enough for a dog's need for protection, comfort, and security if they must be transported somewhere with you. 
MidWest Homes for Pets has manufactured a 3-in-1 product that includes a 2-door dog crate, 1 dog bed, and 1 crate cover. It's a great choice for small to medium dog breeds that weigh approximately 26 to 40 pounds. 
A rubber protects the bottom to prevent skid marks from forming, and a waterproof tray lays convenient underneath.
Overall, the bolstered bed and the crate cover provide a perfect den for dogs, especially when they want some sense of privacy in their space. It's also great protection from the sun if you bring this along to camps, beaches, or other hot and humid places.
Pros
Comes with a crate cover

Includes a waterproof tray

An ideal kit for new dog owners
Cons
It comes with a cushion that is not recommended for teething puppies
5. 2PET Foldable Dog Crate – Best Easy-to-Carry Crate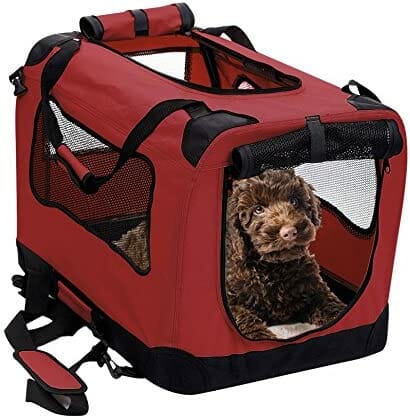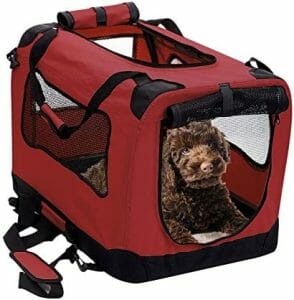 Why We Like It:
Convenient for travels, lightweight, and durable for any type of pet
Specs:
Size: Small to extra large
Color: Rawhide red
Material: Fabric and alloy steel
Looking for a lightweight dog crate? 2PET offers a foldable one made out of fabric and mesh. It's neither flimsy nor lacking in structure as alloy steels support every needed corner. Plus, it can be removed if the whole thing needs a wash.
There's a designated handle on both sides, too, for an easier way of carrying this equipment. The visible mesh allows your pet to be aware of their surroundings every time they're transported during vacations or vet visits. 
Outside are holders for your dog's water bottle and food bowl. The zipper in the front is also added as a feature, and it ensures your dog inside wouldn't be able to have access to it. 
If the area is secure, you can roll up its entrance and let your pooch enter and go out freely on their own. 
Pros
Washable and durable

Functional and foldable

Provides perfect ventilation
6. New Age Pet ecoFLEX Pet Crate – Best Modern Crate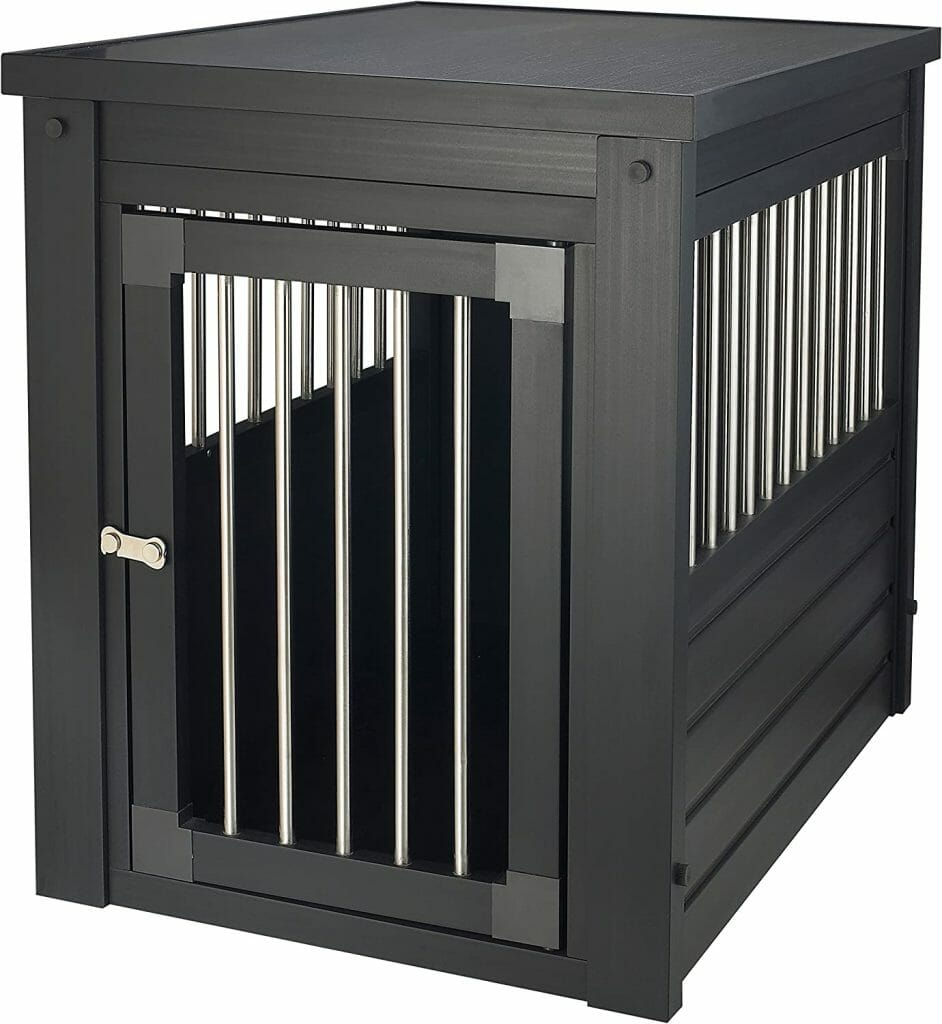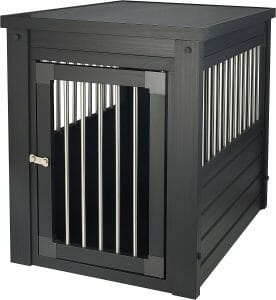 Why We Like It:
Superb in structure, design, and purpose for your dog; upgrades any corner of your home
Specs:
Size: Small to large
Dimensions: 26.8L x 17.7W x 20.9H (Interior)
Color: Espresso
Material: Plastic-wood polymer composite material
The New Age Pet ecoFLEX Pet Crate fits modern-day homes. It's not a crate for traveling, considering its non-existent handles, but it remains an excellent item for dogs at home. This crate has an upgraded look, is furnished in appearance, and is suitable for well-behaved dogs. 
The non-toxic recycled plastic-wood polymer composite material or ecoFlex won't easily warp, crack, or split, giving more value to your money. The whole material doesn't also absorb moisture, stains, and odor, promising a consistent quality throughout its usage.
With its total features and design, this pet crate exhibits a safe hangout space for your dog. This is ideally made for crate-trained dogs and those that do not suffer from separation anxiety.
Pros
Modern in appearance

Made from non-toxic materials

Doesn't absorb smell, odor, and stains
Cons
Not convenient for travels
7. Petsfit Portable Soft Dog Crate – Best for Small Dogs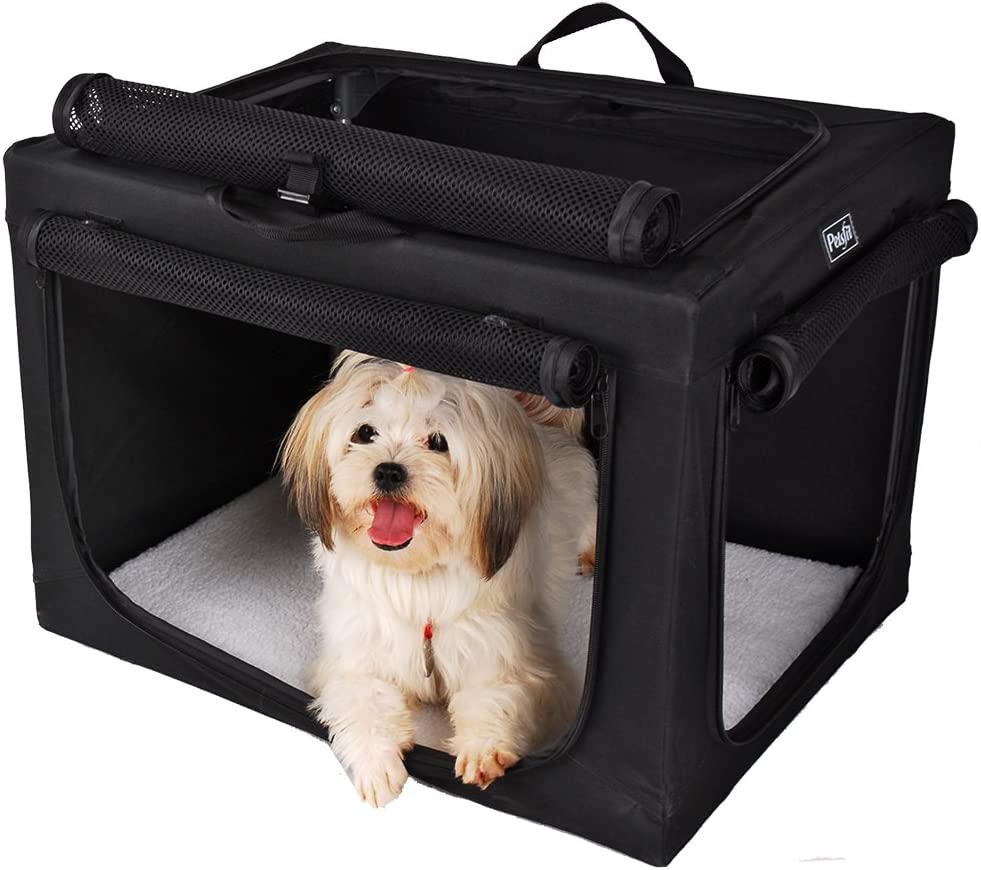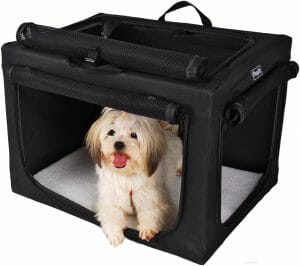 Why We Like It:
Your small pet's haven when it's vacation time
Specs:
Dimensions: 24L X 18W X 17H to 39.5L X 25.5W X 24.5H
Color: Black and gray
Material: Variety of fabrics
The Petsfit Portable Soft Dog Crate is another lightweight, portable, safe crate you can use for small dogs. With its design and structure, you can use this for traveling or you can also transform this equipment into a convenient dog bed. 
You can place a soft pad or a thick mattress inside for ultimate comfort during your Fido's nap time or clean bowls for food and water if they feel anxious to go out of this space (this applies to new dogs still trying to adjust to their new home).
There are several entrances and openings; two on the sides and one on top. It also boasts of its solid steel frame, which grants a structure to prevent it from collapsing. The bottom is also incredibly waterproof, requiring you only occasional washes. 
If your pooch is quite zestful, the non-slip mat proves to be useful. They can rush into their den without causing you any worry that their crate might cause them accidents.
Pros
Ideal for small dogs

Has three entrances for your convenience

Doesn't collapse easily and has waterproof features
Cons
Not ideal for persistent escape-artists
8. Petsfit Collapsible Dog Crate – Best Space Saver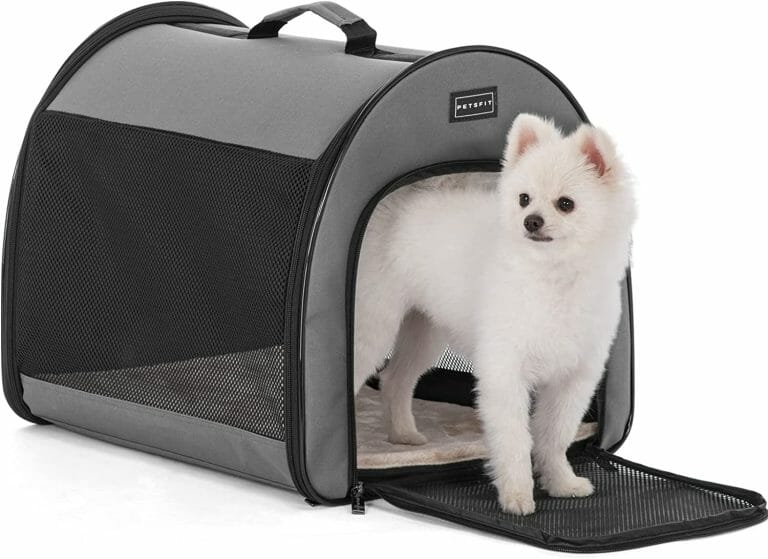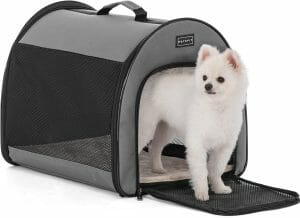 Why We Like It:
Requires little space for storage yet spacious when assembled
Specs:
Dimensions: 16L x 19W x 16H to 22L x 30W x 25H
Color: Gray
Material: Fleece and metal
Some dogs are natural escape artists. However, the right crate will keep them from going out of their space, no matter what type of material it's made of. One that impresses a lot of dog owners is no other than the Petsfit Collapsible Dog Crate.
The arch design is formed by memory rods, and they don't easily deform during use. You can also use this for your pet cat or rabbit, whichever furry companion you have.
Meanwhile, the wide see-through sides allow you to check on your pet during travels without opening this crate. You just need to peek on either side and see if your Fido is doing okay.
Ventilation is excellent, too, as it's not closed. One durable handle is designated on top should you carry your pet from one place to another. Its materials are definitely not for giant breeds, but it's a good choice for lightweight pooches. 
Pros
Non-collapsible

Well-ventilated design

Easy to carry during trips
Cons
Zipper quality can be inconsistent 

Not ideal for persistent escape artists
9. Leisure 4-Door Pet Crate – Best Crate for Comfort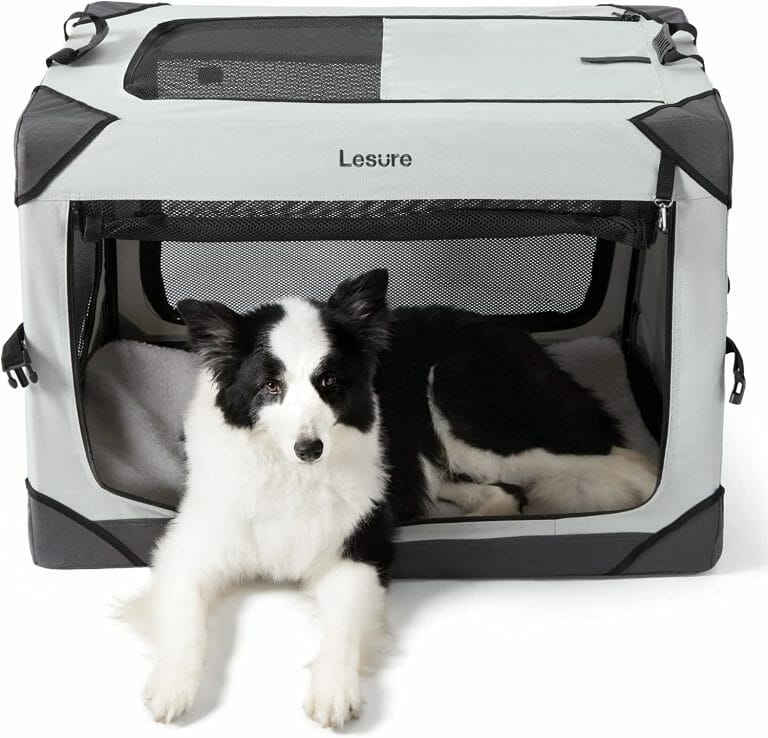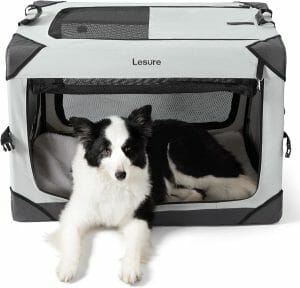 Why We Like It:
Sturdy in form and cool enough for your resting puppy
Specs:
Size: Extra small to extra large
Color: Charcoal gray and light gray
Material: Alloy steel and mesh
While we did feature 2-door crates on the list, we also have a 4-door crate delights thousands of dog owners in the United States. The Leisure 4-Door Pet Crate can be accessed on whichever side you want, which is convenient, especially during hectic travels. 
The sides are extremely soft yet so supportive; it's even used for large dog breeds by many. It can be folded when unused and doesn't take up too much space, whether you store it in the garage or inside your car's trunk. 
There are carrying handles on the side and pockets to keep your dog's treats handy. An inner leash is also added to ensure they're in place, and the zippers are made to be heavy-duty to prevent your dog from forcing its way out. 
Since it's also made of PVC material, any stains and spills can be wiped off in seconds. The mattress inside is also machine-washable, making its general maintenance an easy task for every pet owner. 
Pros
Easy to clean and maintain

Made from durable materials

Has pockets to carry dog treats
Cons
Not ideal for rambunctious dogs

Zipper quality can be inconsistent
10. Petmate Traditional Crate – Best Travel Carrier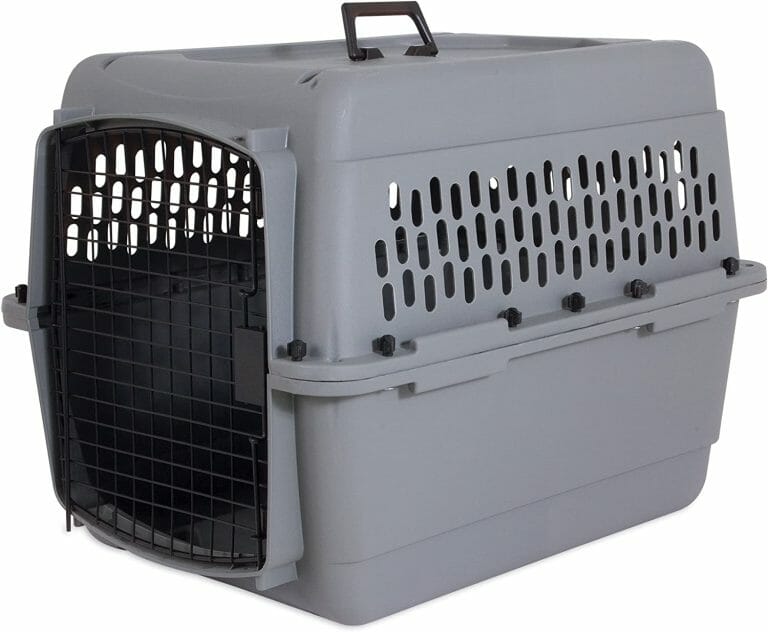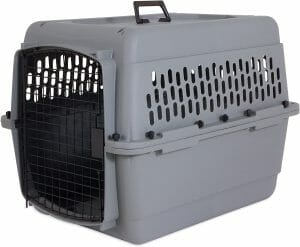 Why We Like It:
Typical in looks but impressive in features and quality without breaking the bank
Specs:
Dimensions: 24.25L x 18.25W x 19.5H
Color: Gray
Material: Plastic and metal
The crate you can take with you wherever you can is no other than that which Petmate makes. Its sturdy construction allows any dog to feel secure, relaxed, and comfortable.
Simply put, it gets the job done. You can depend on this crate as it's not easily destructible. You can place them in the back of your car easily, and they are made with high-grade materials, assuring you of long-lasting performance. 
Though it's partly made of plastic, the atmosphere inside isn't hot and humid. There are holes and generous ventilation to get the air inside. 
Pros
Not easily destructible

Allows cool air to get inside

Made with high-grade materials
Cons
May need a food holder airports require for dog travel crates
11. Smonter Heavy Duty Strong Metal I Shape Dog Crate – Best Movable Crate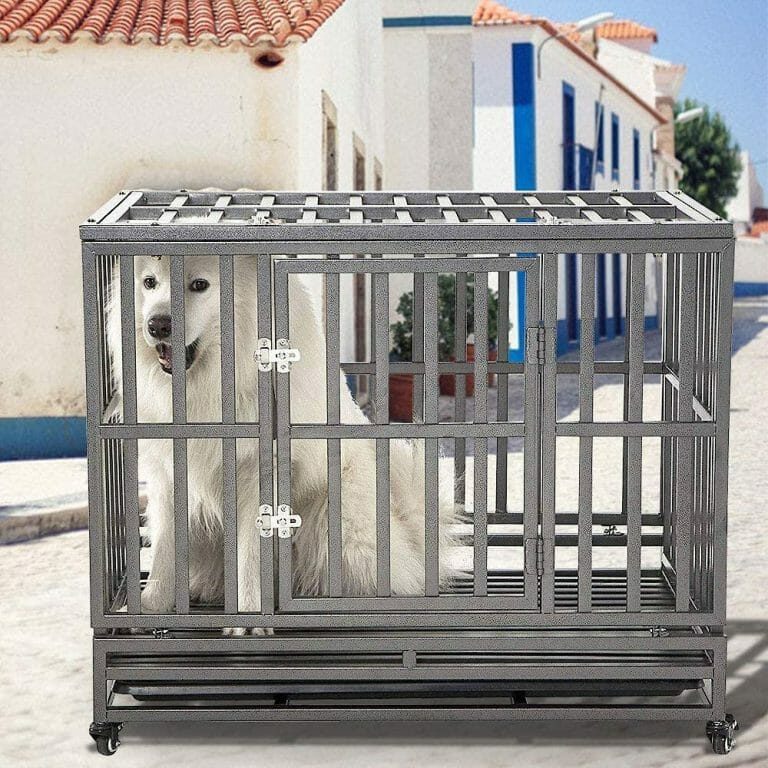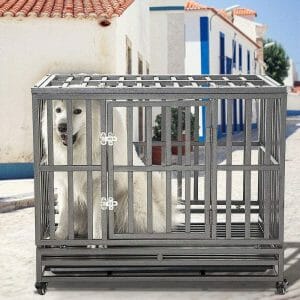 Why We Like It:
Only requires you to push it in a direction if it needs to be moved
Specs:
Size: Medium to large
Dimensions: 38 x 26 x 32
Color: Dark silver
Material: Stainless steel, metal
Some crates for large dogs can be hard work to move around, but not if you use Smonter's heavy-duty dog crate. It has wheels, so you only have to push it in a direction without lifting this heavy pet equipment. 
Even though it's made of metal, its non-toxic coat prevents it from getting rusty that easily. The quality is not to be underestimated, and it's ideal for rambunctious or strong dogs. Underneath is a plastic tray that catches all the dirt and messes your dog may make. 
With its construction, Smonter's dog crate can be used indoors and outdoors. Its well-ventilated structure also allows them full visibility, adding more comfort while being inside. 
Pros
Ideal for large dogs

Long-lasting and heavy-duty

Coated with non-toxic materials
Cons
Needs to be appropriately assembled as the locks don't line up correctly
12. Pet Dreams Brushed Twill Dog Crate Bumper – Best for Special Needs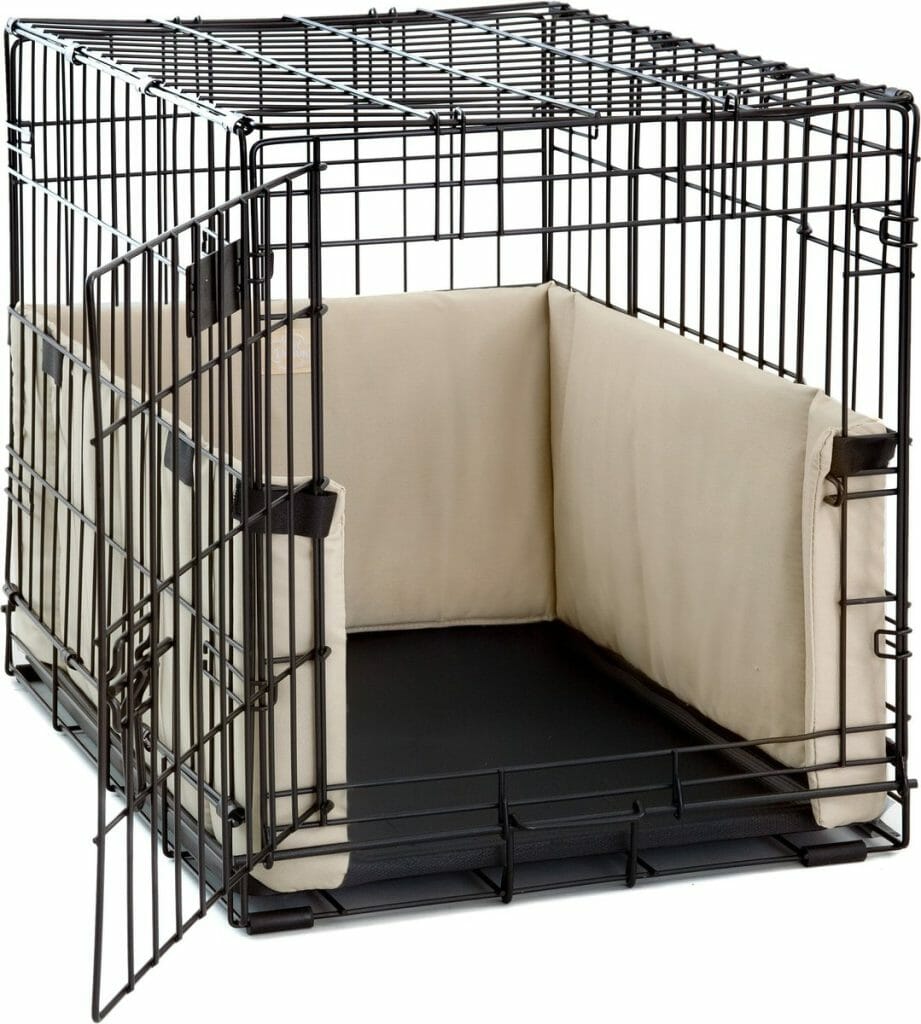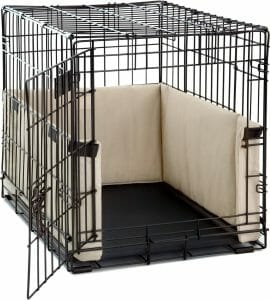 Why We Like It:
The safest choice for dogs that need extra care
Specs:
Size: Small to extra large
Color: Khaki tan and denim blue
Material: Cotton, polyester, natural fabric, synthetic fabric
Noticeably, there are bumpers around the inner sides of the Pet Dreams dog crate. This has been part of the design, catering to dogs with special needs like those with loss of vision.
The bumpers keep them from hurting themselves, especially if they often get their heads to bump against the corners. The soft material is like a safety net that keeps them away from injuries. Moreover, since it's made of metal, the cushion will protect your dog from it in case it gets too hot. 
Just note that the bumper is sold differently and can fit just about any type of kennel or crate. Putting it on would only require sturdy velcro to keep it in its desired place. 
Pros
Easy to assemble and foldable

Secure and doesn't collapse unexpectedly

Provides added comfort and safety to dogs with special needs
Cons
Bumpers need to be purchased separately
13. Frisco Ultimate Metal Single Door Dog Crate – Best for Large Dogs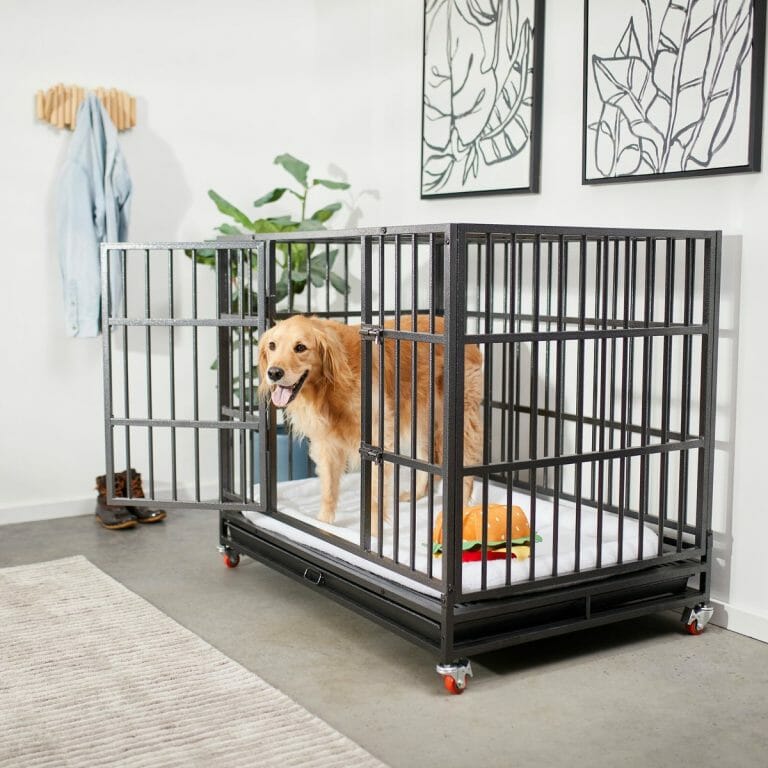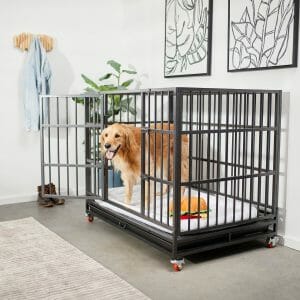 Why We Like It:
It's simply what most massive dogs need, and it's usually hard to find!
Specs:
Size: Large to giant
Dimensions: 48.2 x 33.35 x 41.34
Color: Dark gray
Material: Coated metal, metal
Frisco's Ultimate Metal Single Door Dog Crate is out, so dogs like Mastiffs, St. Bernards, and others of the same proportions (90 to 110 pounds) can have their dens at home. 
It's extremely heavy-duty, weighing around 100 pounds. Two people are needed to carry this or get this assembled completely. With its metal material, no tough canine can find its way out of here. 
However, it remains necessary that you crate-train your dog, or the crate's purpose will be defeated. This, along with many other types of crates, have to provide comfort to your dog, especially those that suffer from anxiety. 
Pros
Escape-proof 

Ideal for large to giant dogs

Can be placed indoors and outdoors
Cons
Requires two people to lift or assemble
14. Siivton Expandable Dog Crate – Best Expandable Crate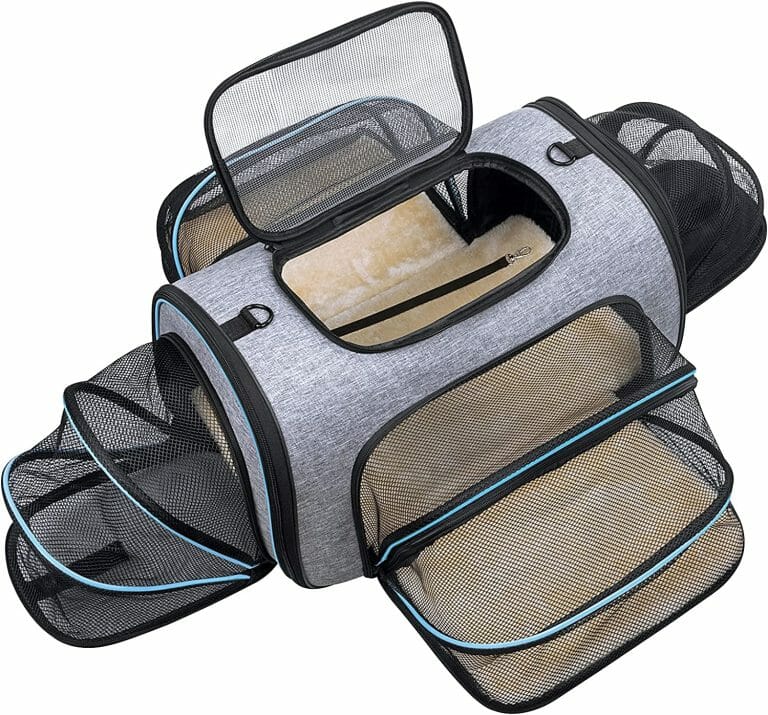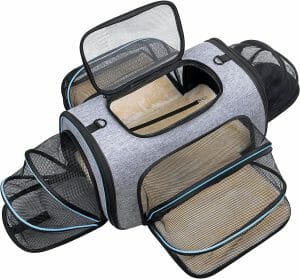 Why We Like It:
Innovative and creative; spacious enough for any dog that needs wandering
Specs:
Size: Large to extra large
Dimensions: 18L x 11W x 11H
Color: Gray
Material: Polyester
Granting your dog a wider space won't mean letting them out of their crate, not especially if you're both in the middle of your outdoor journey. Siivton's Expandable Dog Crate is exactly what you need if your dog needs more room for a stretch.
All sides can be extended, and having them all expanded grants a spacious area. The smaller the dog is, such as a Chihuahua, the more area they'll enjoy. 
The structure doesn't collapse, nor do the metal rods bend easily. To sum up all its advantages, you're paying for quality space, durability, shape, and other useful features such as its pockets for dog essentials.
Pros
Expandable

Made from quality materials

Has all the needed features for a crate
Cons
Zipper quality may not be consistent