Dog Crate Ideas: 11 Crate Designs You'll Love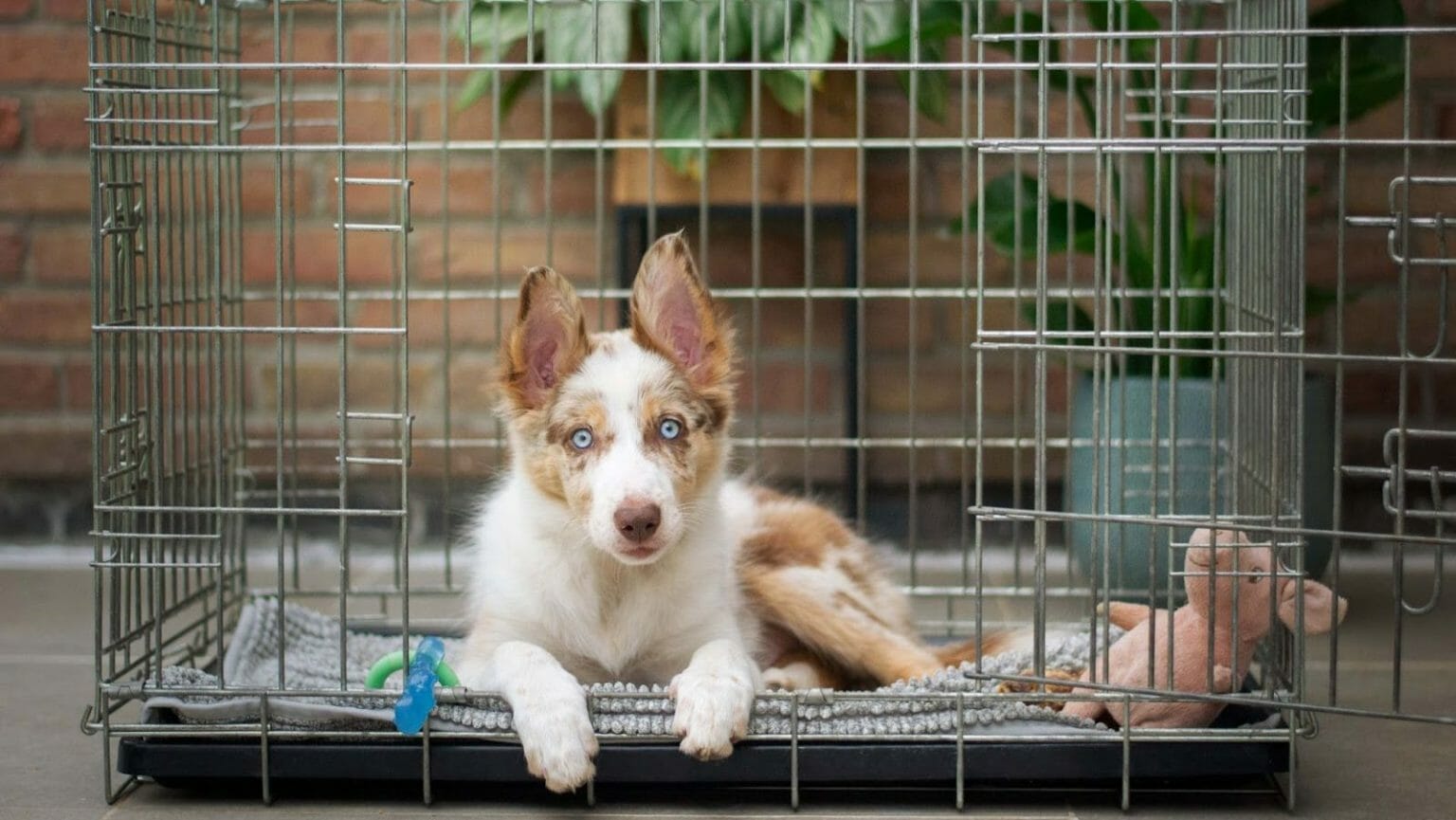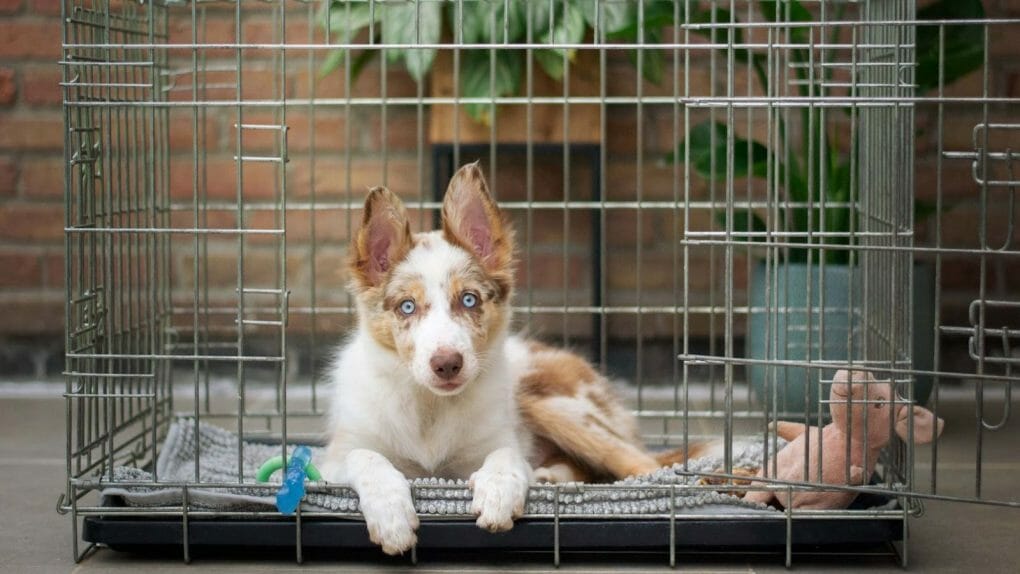 While you may resort to your bedroom sanctuary whenever you feel stressed, tired, or in need of relaxation, your dog would also need a spot of their own to decompress. A crate serves this purpose, and it's a must-have item for any dog parent. 
It shouldn't have to be generic in the looks, so if you're searching for something that's eye candy, these 11 crate designs may just perfectly pass the visual criteria. Of course, any other factors that make up a crate aren't compromised. Let's get on to number 1.
1. Lightweight Wooden Crate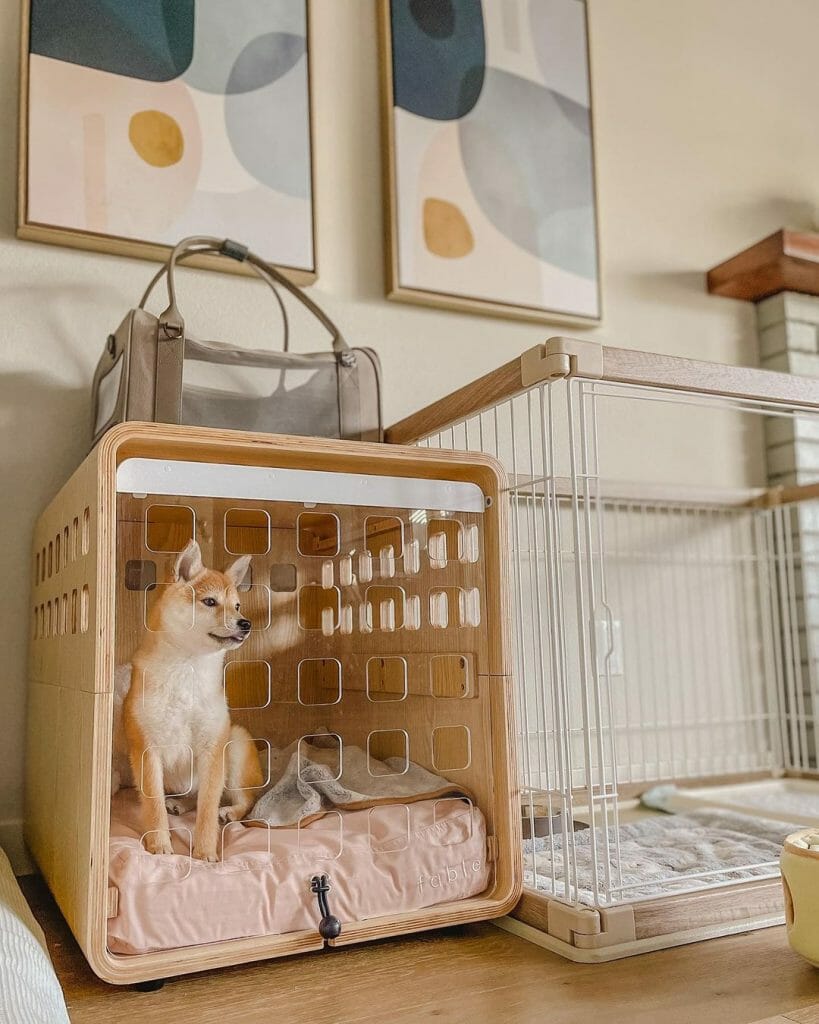 Lightweight wooden crates are easy on the eyes. Their naturally neutral tones can fit into any type of home interior, and it's also tough enough to last a long time. You can usually buy this online or get a custom-made dog crate so you can include other features you like for your dog's particular needs. 
A thick, plastic, yet transparent door allows your puppy to see their environment, and the shape of this would mean you can use it as a mini table where you can put small items on top like your car keys, purse, or phone. 
2. Escape-Proof Metal Crate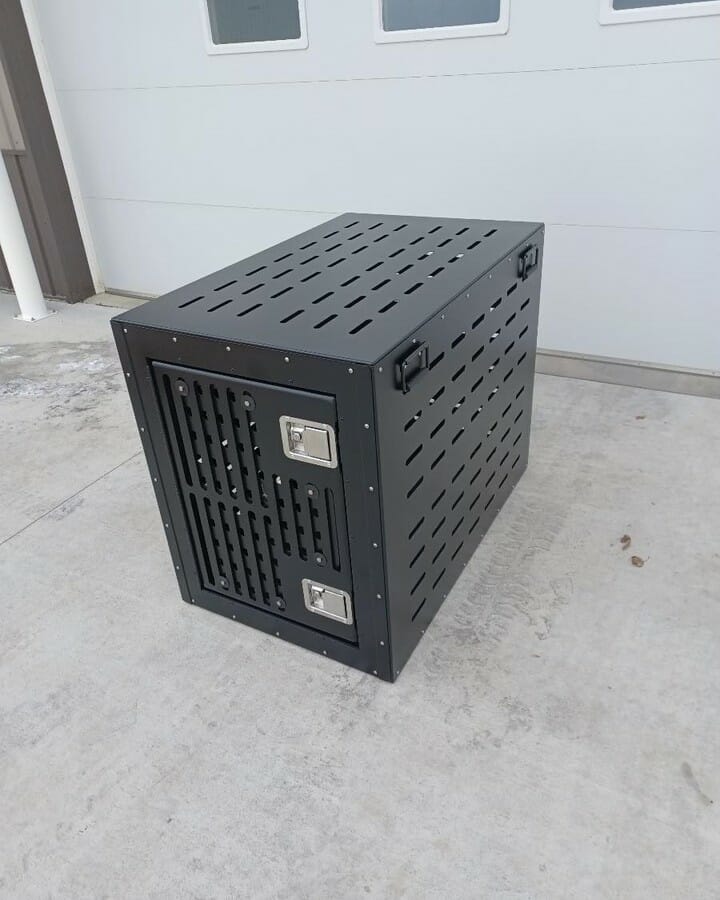 Is your dog an escape artist? This traveling crate won't allow your pooch to wander anywhere anymore as it's the ultimate escape-proof item you can find. However, this isn't the best choice as a crate for home use.
But yet again, this metal crate promises impressive longevity, and it's undeniably an excellent match for dog breeds that are strong, tough, and powerful. Metal crates may just need regular maintenance to keep them from getting rusty.
3. Blackpink-Styled Crate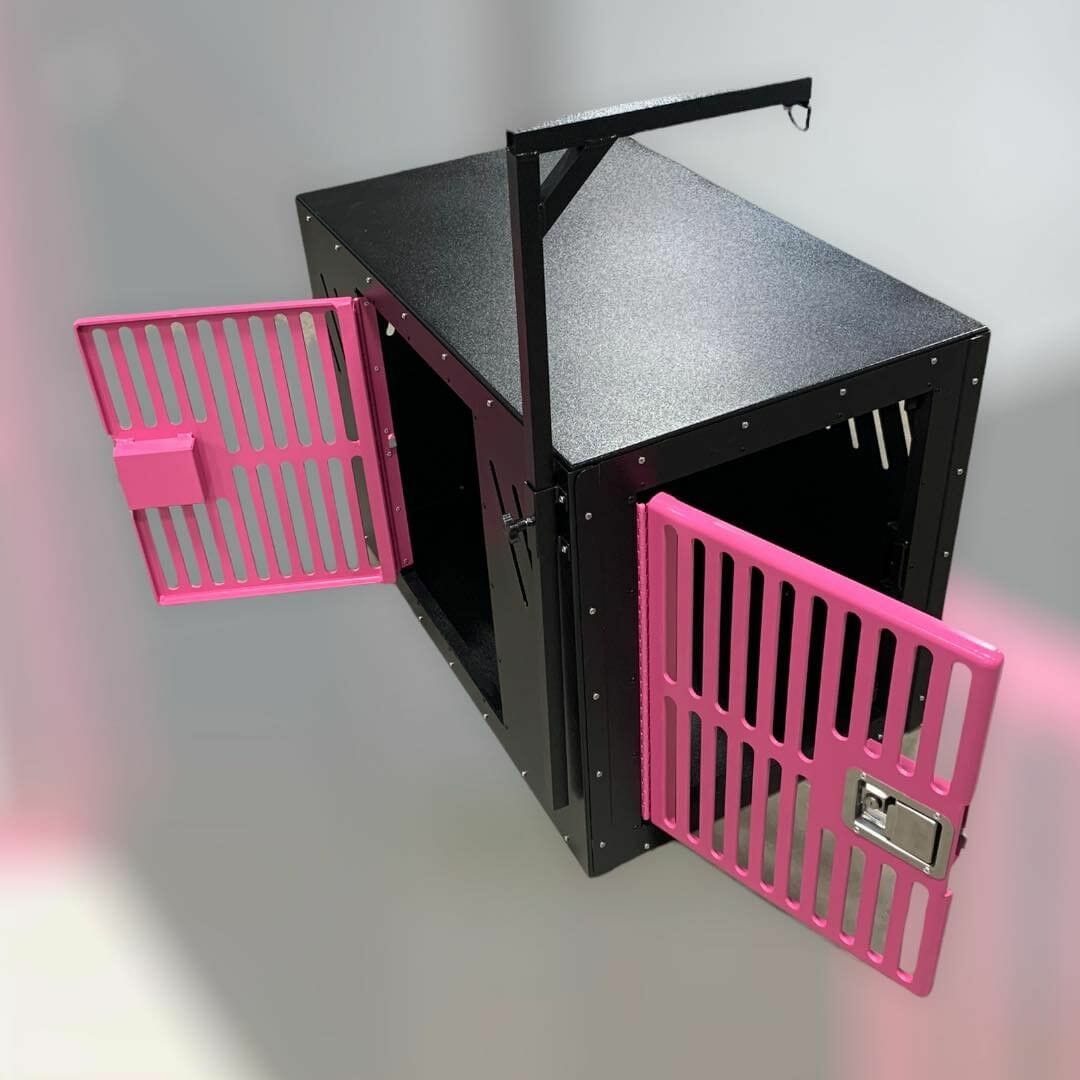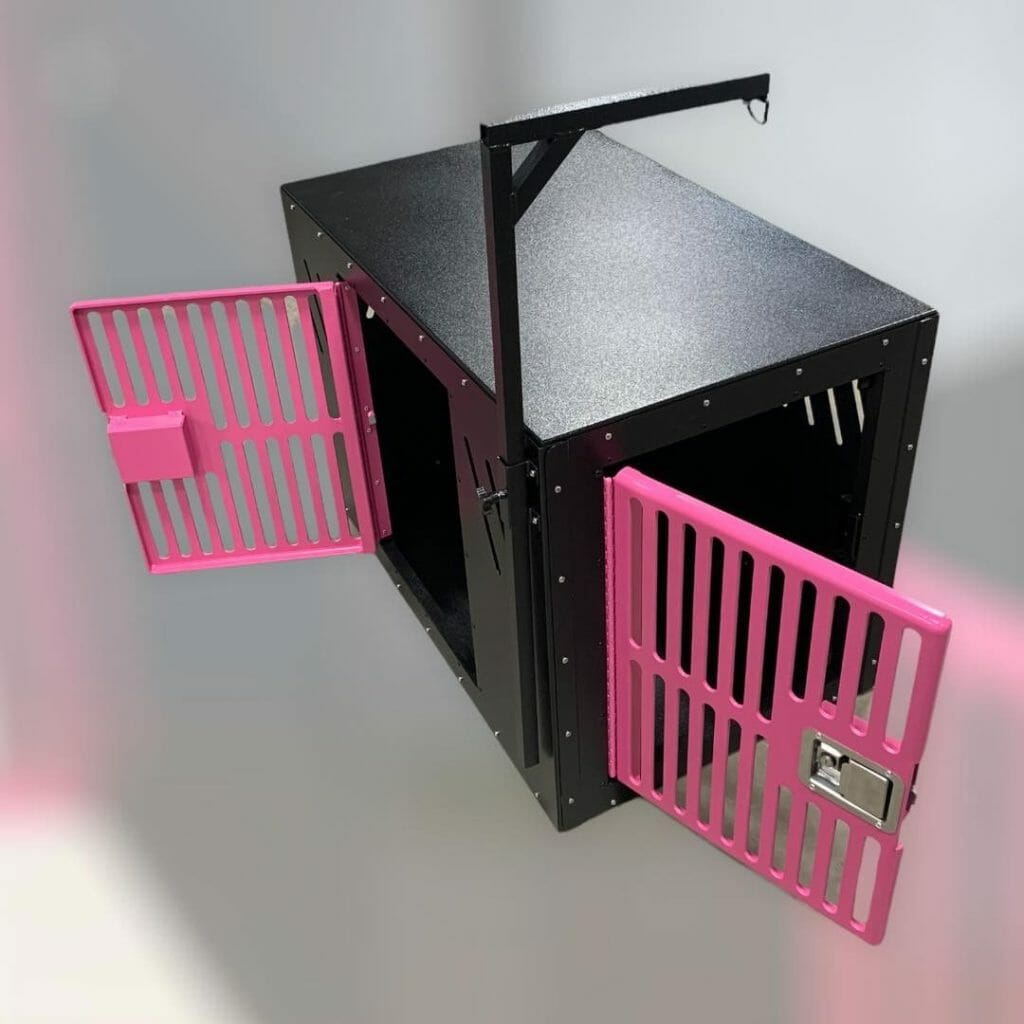 Are you into K-Pop? Then this dog crate might click to your taste. This Blackpink-styled crate is simple in features yet the choice of colors is what makes it worth noticing.
You can go for any other colors you find fit and relaxing for your pup. Notice there are 2 doors in this type of crate. This helps concerning placements. If you put this in a specific corner, you can easily angle it in without having any entrance issues. 
4. A House Crate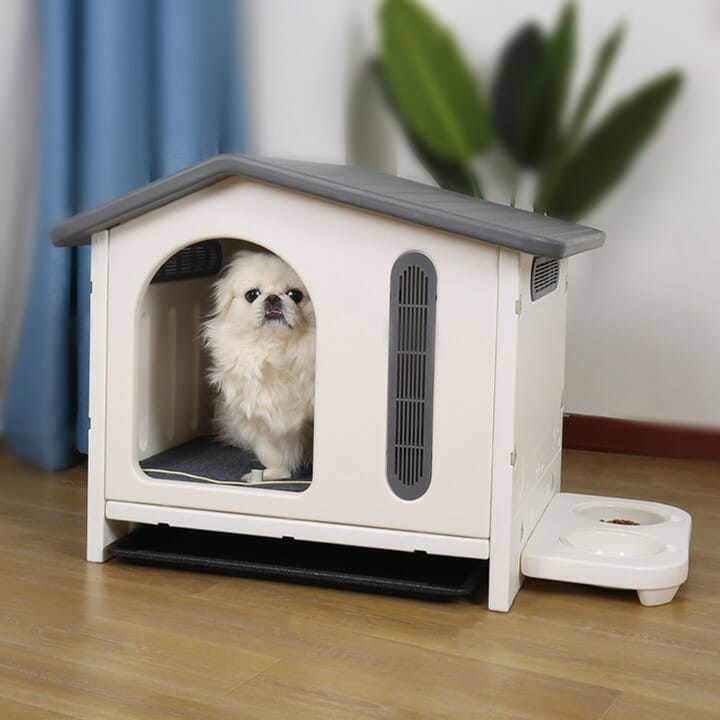 Another appealing option would be this house crate. If you have a small dog such as a Pomeranian, Pug, or Chihuahua, the crate doesn't have to be that massive. It's an adorable sight at home, especially if it comes with feeders attached to the side. 
Get it painted in colors that match your home's internal designs or make it look pop with its attention-grabbing hues. Of course, this is a crate you can carry with you anytime, anywhere. Whether you and your dog visit another city or transfer to another home, this one is undeniably portable for your convenience.
You might also want to read: Dog House Ideas: Indoor and Outdoor Protection for Your Dog
5. A Tent-Shaped Crate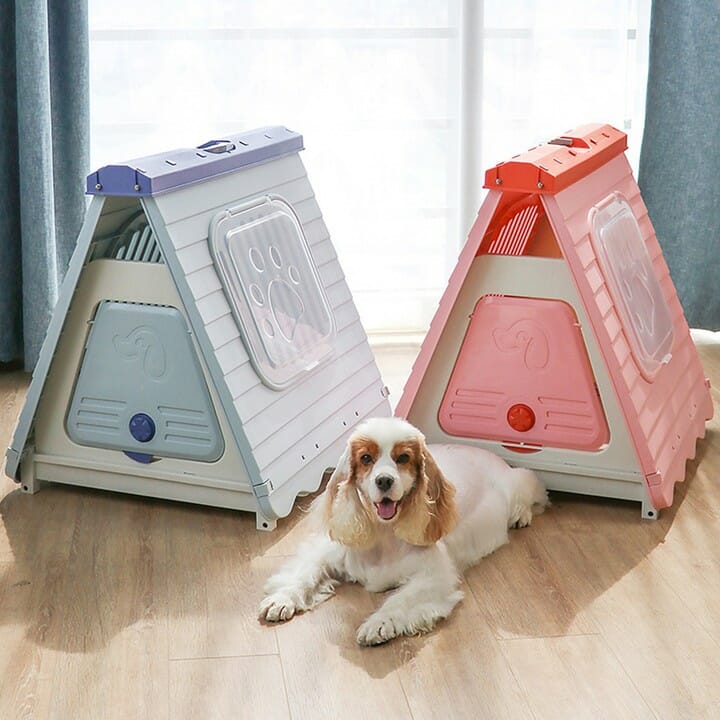 Crates come in different forms, shapes, and sizes. You might even fancy these tent-shaped dog crates, which come in different colors unless you don't go for commercially made ones and instead hire a carpenter to build one for your dog.
Such a crate may take up little space in your house, and it's going to be a spot your canine will love. Every time you have to go outside for an errand, a well-trained dog will proceed to their special space. So, make sure it's comfy, cozy, and warm inside. Throw in a blanket so they can nap while you're gone.
6. Indestructible Monochrome Crate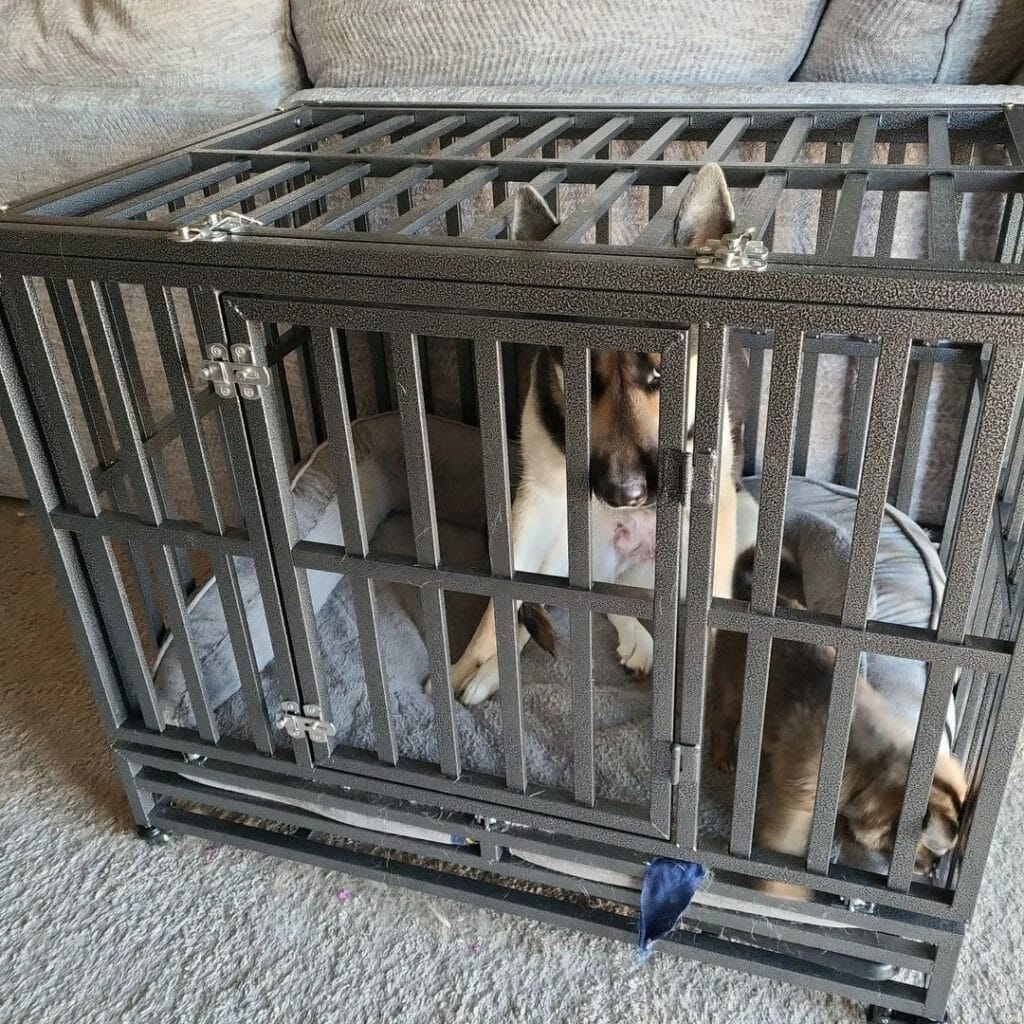 Go monochromatic with your dog's crate, from the interior to the inside beddings. Gray is a personal favorite, but you can also go with white or cream. However, take note that these colors may look dirty in a jiffy.
This type of crate is sturdier than your standard wire crate. It's thick in panels and quite heavy. The door should be massive so that your dog can get in without any problem, no matter the size of the breed. 
7. Military-Inspired Mesh Crate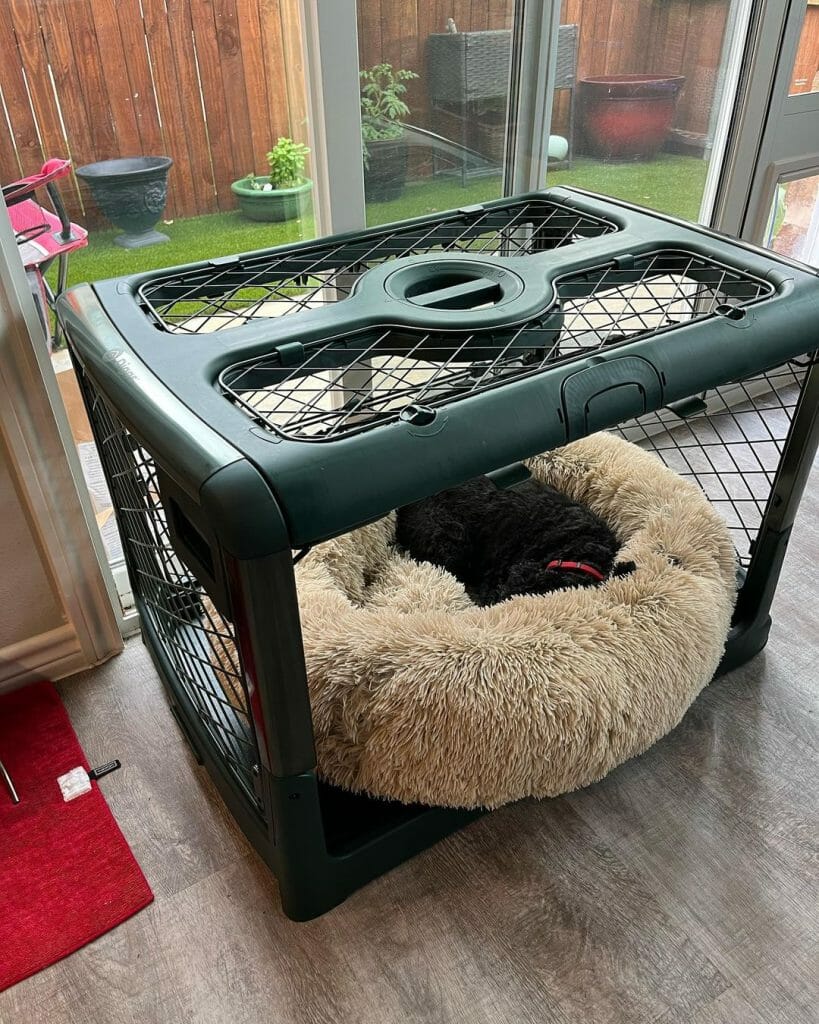 The mesh crate that's military-inspired is another theme you might like. This usually comes in forest green, while others bear the camouflage patterns. If you can't find one online, hiring an artist can help you achieve such a look.
Inside your dog's crate, you can go full out as well. Their feeding bowls can have the camo print, while their beddings come in plain military green color. Add other more features until you complete your dog's crate theme's set-up.
8. Forest Theme Crate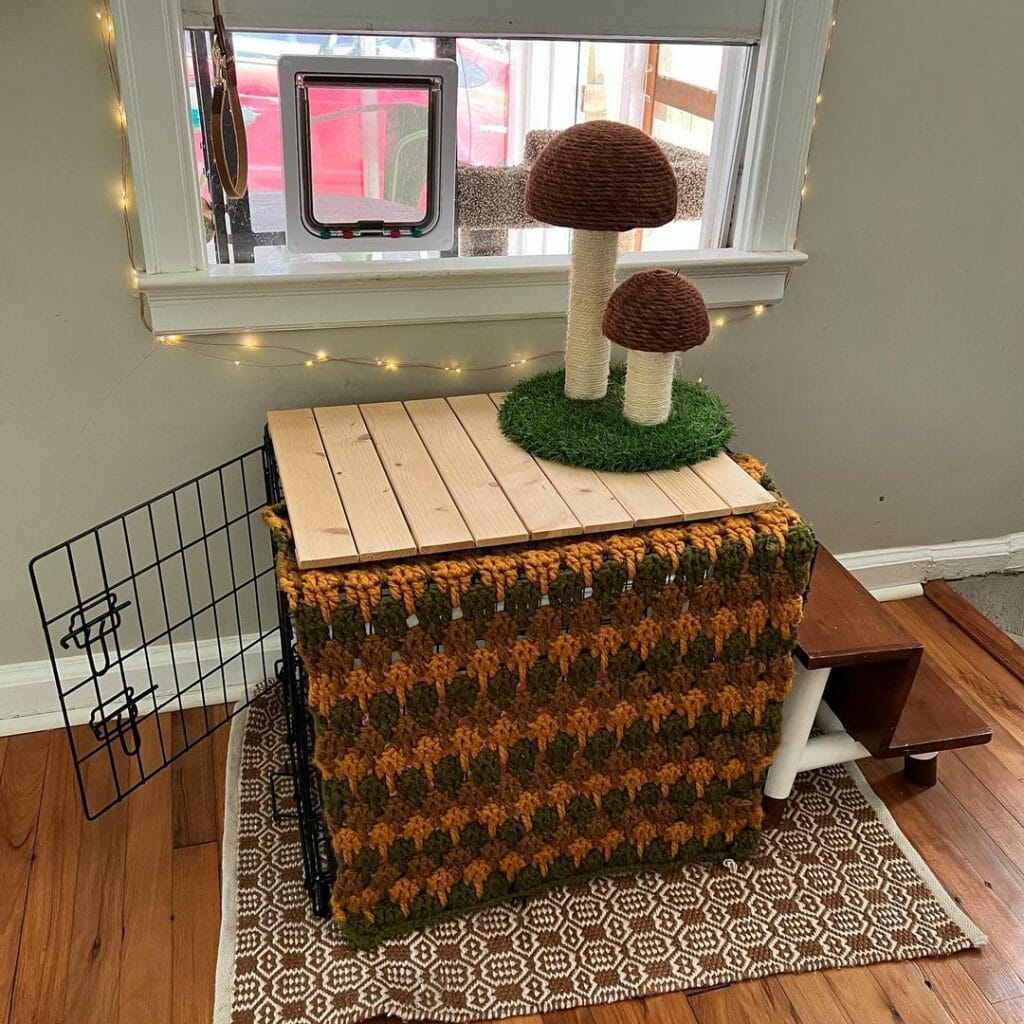 This one is pretty simple. In fact, it's so easy to achieve that you won't have to purchase custom-made crates. Your dog's standard wire crate needs a specific makeover, like a knitted rug in forest tones to cover one side of it.
To make it look even more attractive, place your cat's scratch post, provided it matches the theme, on top of the crate. Place a wooden board first before you do so. Inside your dog's haven, pillow trees and blankets in certain prints can be thrown in. 
9. Personalized Metal Glass Crate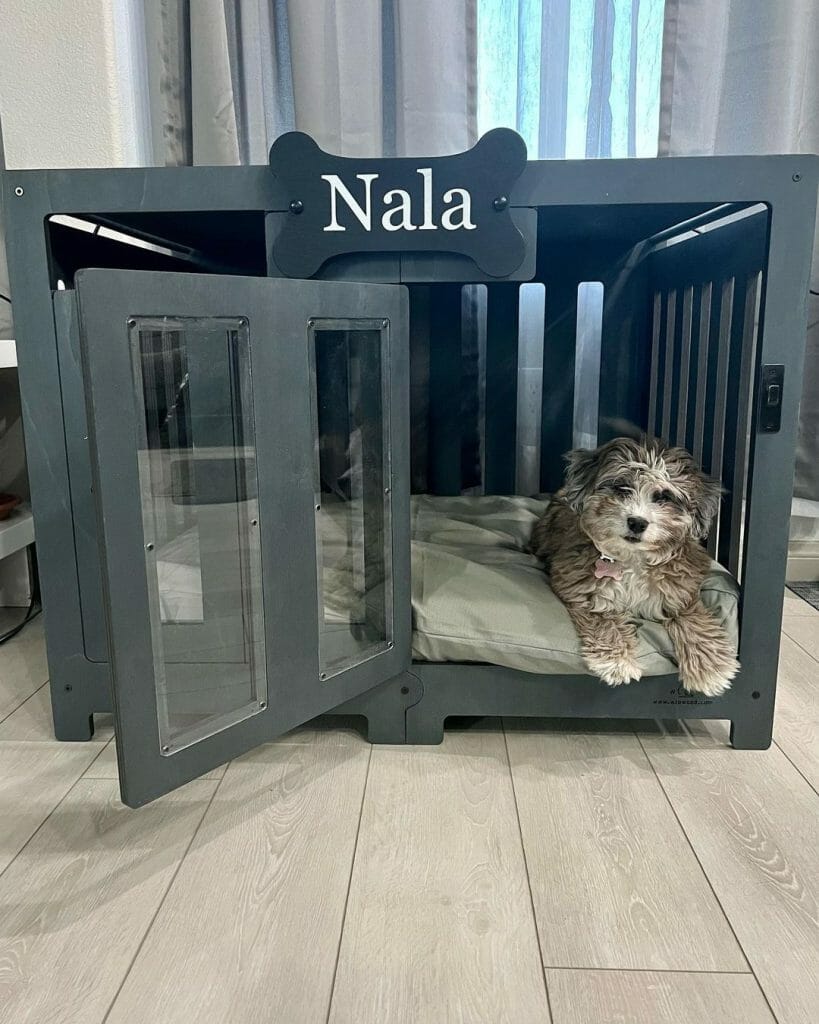 The metal glass dog crate should be robust but not too heavy. Always check the weight of a particular dog crate before buying it so it doesn't defeat the primary purpose of this item. Such a crate can be handmade, or you can look for available ones online.
With the glass, however, regular cleaning is a must. Don't wait until it looks cloudy, so ready your dog's wipes. Make this sanctuary feel even more personalized by placing their name board on the door post.
10. Trendy Crate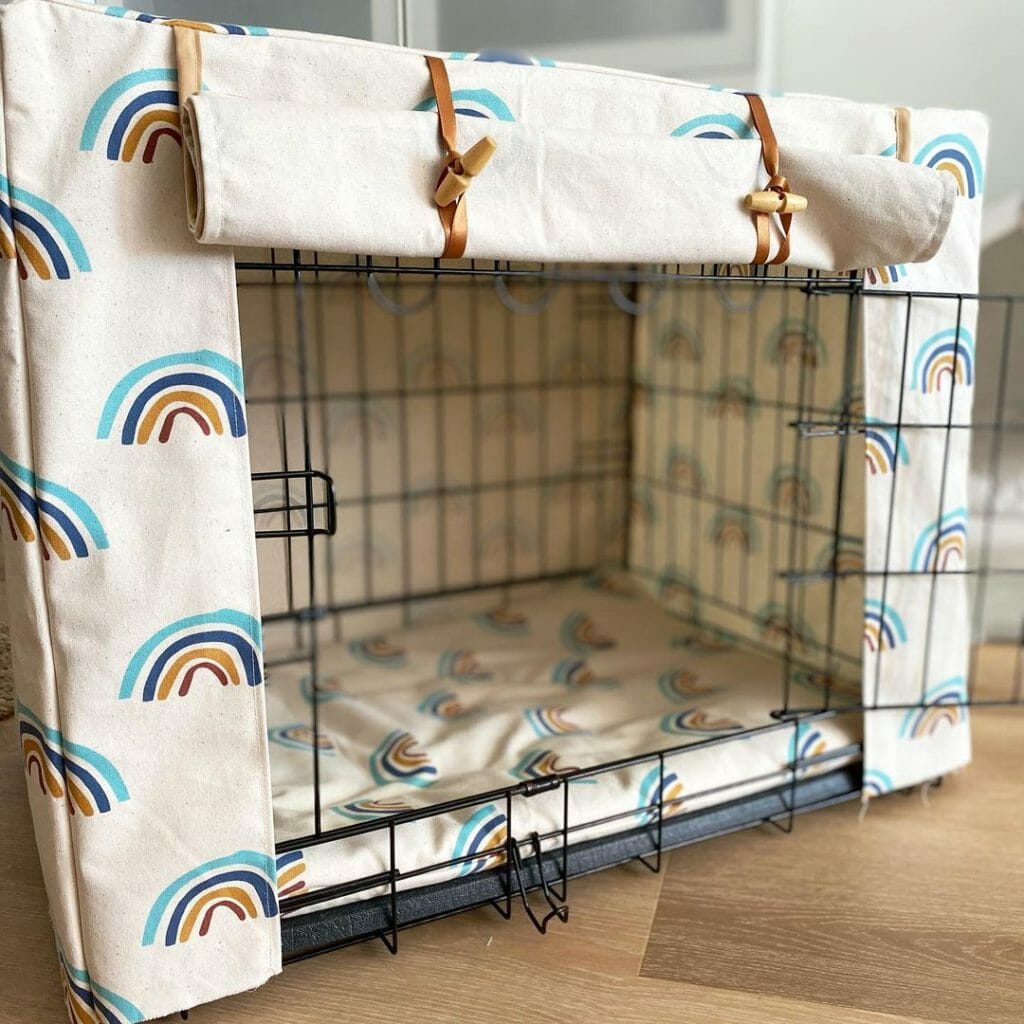 There are various crate covers you can collect and alternately use. The good news is that they're not costly at all. You can have five or seven ready in your drawer to make your dog's space filled with adorable prints and colors, especially when you both go traveling. 
This idea is the most simple of all and, at the same time, favored by many dog parents as well. They're not that hard to wash as you can simply toss the covers in a washing machine. Make it look even chicer by matching the cover and the blanket. Rest assured that your dog will feel at more ease when inside this crate. 
11. Dual Purpose Dog Crate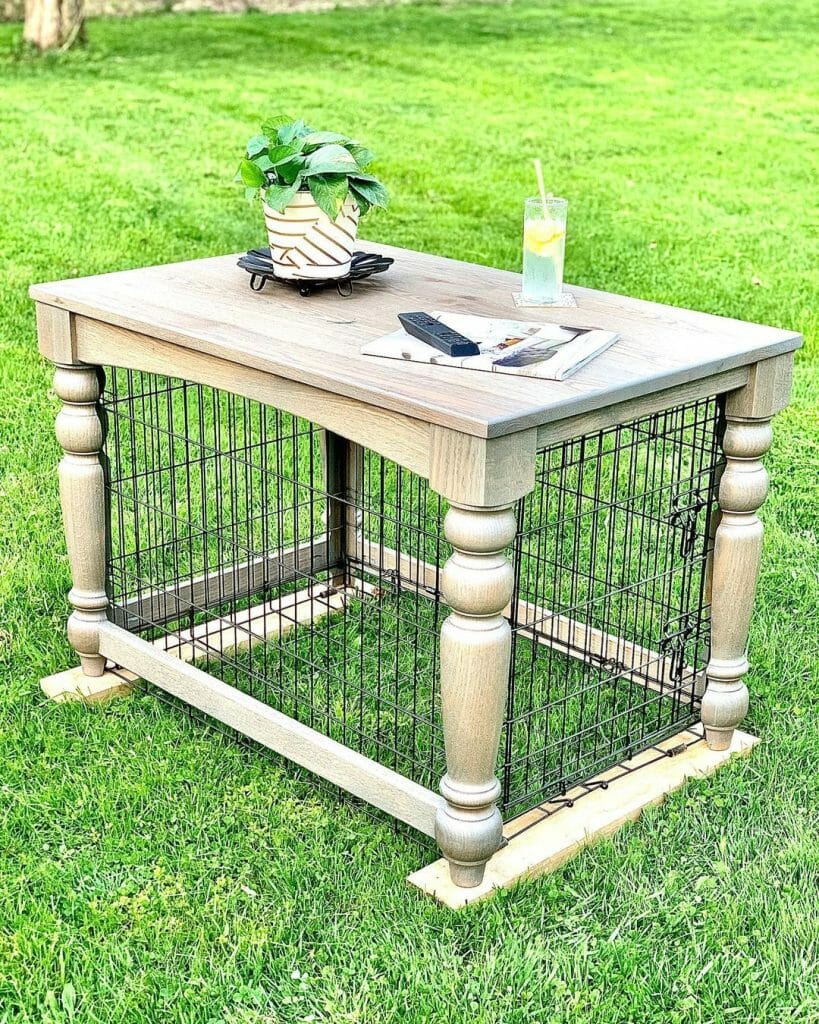 Dog crates can be multi-purpose. If you have one designated for home use and another for traveling, then the one your dog uses at home can be redesigned into something that's even more useful. Take this one, for example. The crate has been turned into a table!
What has been done here is that the regular wire crate has been measured and a table has been crafted and fitted in the borders. The way the wood is designed is all up to your preferences. Now, you can enjoy reading a book and sipping a cup of freshly brewed coffee with your dog underneath, snoozing quietly.
7 Things to Consider in a Dog Crate
Dog crates prove helpful not just for owners but, most notably, for dogs. This provides a sense of protection and safety, more so if your pooch suffers from separation anxiety, given only if they're crate trained, so make sure you give time for them to understand what the crate is for.
Meanwhile, any dog crate can be perfect for your pooch, yet you have to choose which one is right carefully. Here are 7 things you must consider before you ultimately buy the crate you're eyeing for. 
1. Size
The crate's size is based on your dog's breed. If your pooch is predisposed to fall under toy, small, medium, or large, then their sanctuary has to match their proportions.
Don't primarily base it on age, as puppies grow quickly, but instead learn about their height and weight. On another note, it's not always best to think that the bigger the crate is then, the better. This will only encourage your dog to soil in unused spaces, and that can be an issue you'll have to deal with. Instead, crates should come in the correct size with no excess rooms. 
2. Durability
While some dogs are calm, relaxed, and chill when inside their dog crate, others become destructive. If your pooch exhibits such behavior, then a durable sanctuary is much needed.
Plastic-made crates are far from ideal as they can be easily chewed and gnawed on. It's the same case for the wooden types and wire ones. Instead, go for metal crates, as they're proven to be efficient in holding down your dog.
3. Multiple Entrances
Dog crates with multiple entrances help you in deciding which corner to put your dog's area in. It won't be hard work to find the right angle. If the other door faces the wall, the crate still has another entrance in an open space.
This is an optional feature, though undoubtedly necessary in some instances. Dog trainer Jesse Sternberg highly recommends this.
4. Convenience in Cleaning
Plastic and metal crates are the easiest to clean, so accidents like spills and food crumbs sticking inside won't pose a challenge for any dog owner. If your pooch is still mastering their potty training, the same can be said.
To minimize your cleaning time, consider getting crates with a pull-out tray at the base. 
5. Portability
Dog crates are what you use for your dog whenever you have to visit the vet or go for a vacation. That means the crate has to be conveniently portable. It shouldn't be too heavy and too massive to fit in the car. 
6. Use Crate Training Aids
Keep your dog from feeling bored while inside their hub. Throw in some chew or puzzle toys to keep them preoccupied. After all, boredom can cause a series of destructive behaviors. Training aids will prevent this from happening.
You might also want to read: How to Teach Dogs Not to Destroy Toys: A Guide to Proper Behavior
7. Comfortability
Most importantly, dog crates have to be comfortable. After all, this is intended to be seen as your dog's haven, sanctuary, and safe space. The floor has to be soft for resting, and the entire thing has to be clean and odor-free. 
This creates a positive atmosphere and experience, which prevents your dog from feeling scared whenever they're led inside.
Read next: Dog Pen Ideas: 14 Inspos You Can Follow