Dog Corner Ideas: 13 Best Concepts + 5 Tips to Follow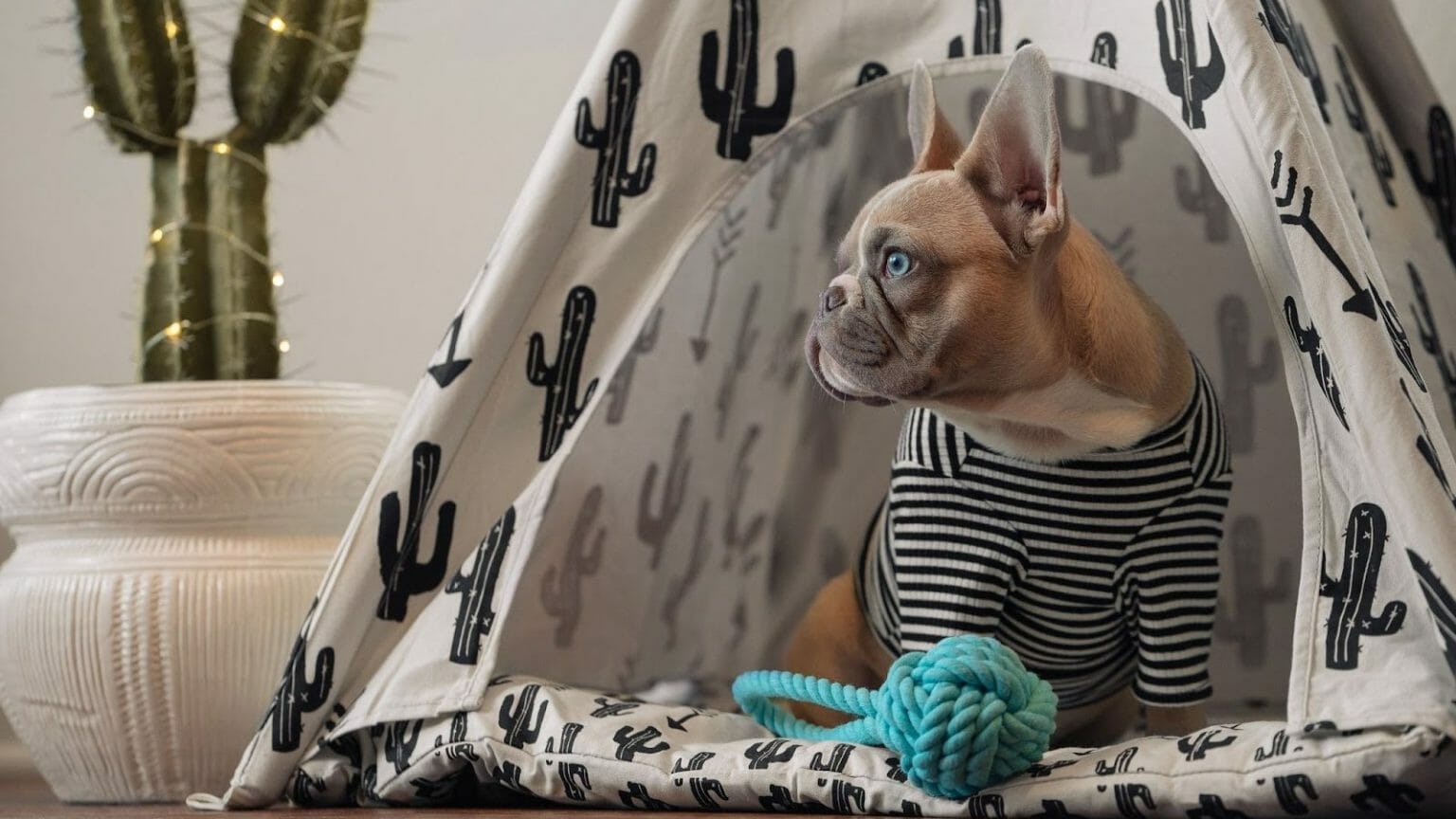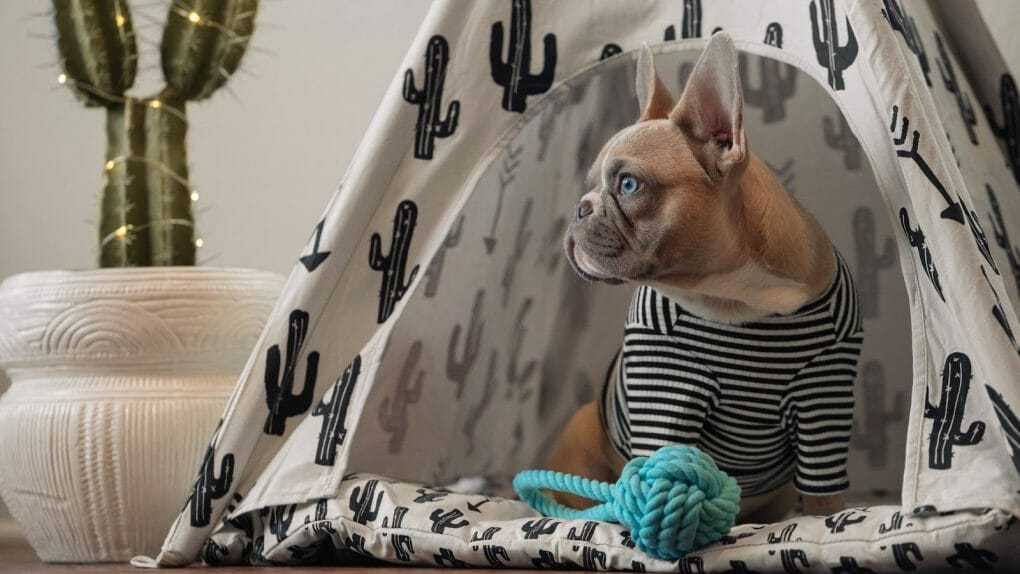 Dogs mean the world to every canine lover. Giving them food, shelter, and other necessities may be enough, but others are unhesitant to go beyond those. Hence, dog corners are evident in most homes in the United States.
Your puppy would appreciate having their own space where they can chill and relax from time to time. The corner will look gorgeous and adorable with certain items meant only for them. Creativity is the key to a beautiful puppy corner, and we have the 13 best concepts you can find inspiration from. Let's check them out. 
1. A Lavish Dog Corner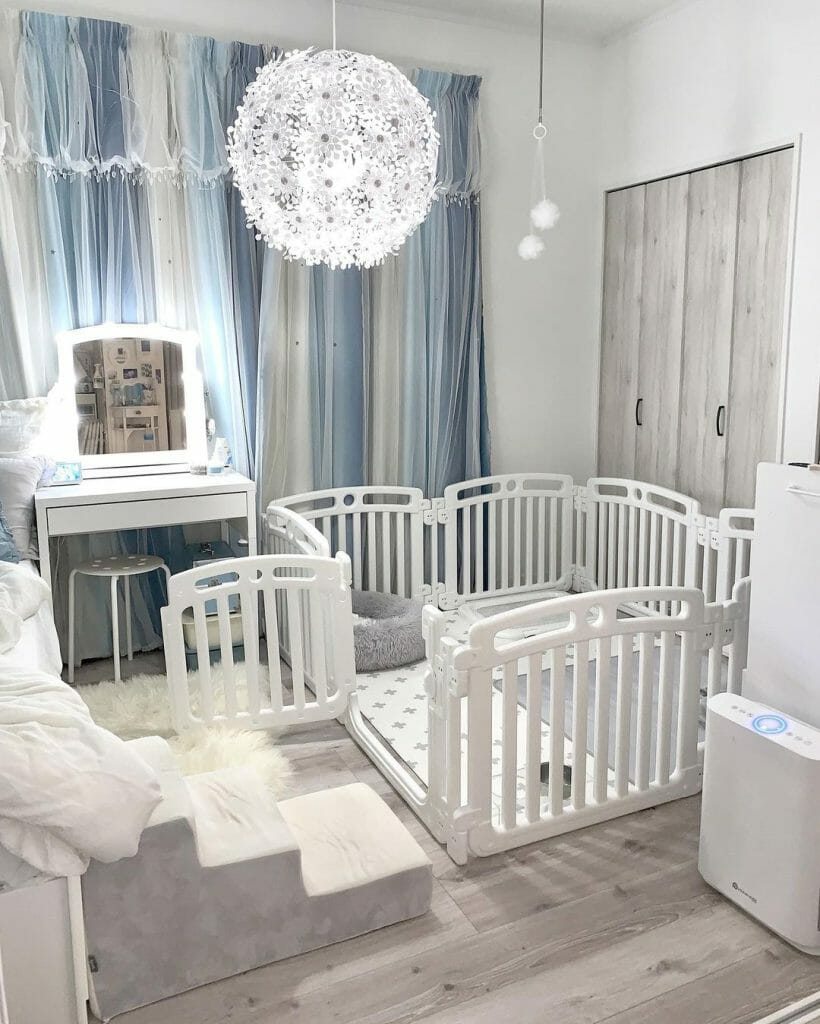 A lovely dog corner grants beautiful dreams. Get your dog visually satisfied with this vibe. For the ultimate experience, fill their area with all the needed items from pillows down to blankets to make every space soft and comfy to sleep in.
A chandelier will add a touch of glamor to the ceiling, an Instagram-worthy aura you and your dog will love. Gray, white and blue shades are excellent combinations, but you can choose other matching colors. 
2. A Cozy Pup Wall Interior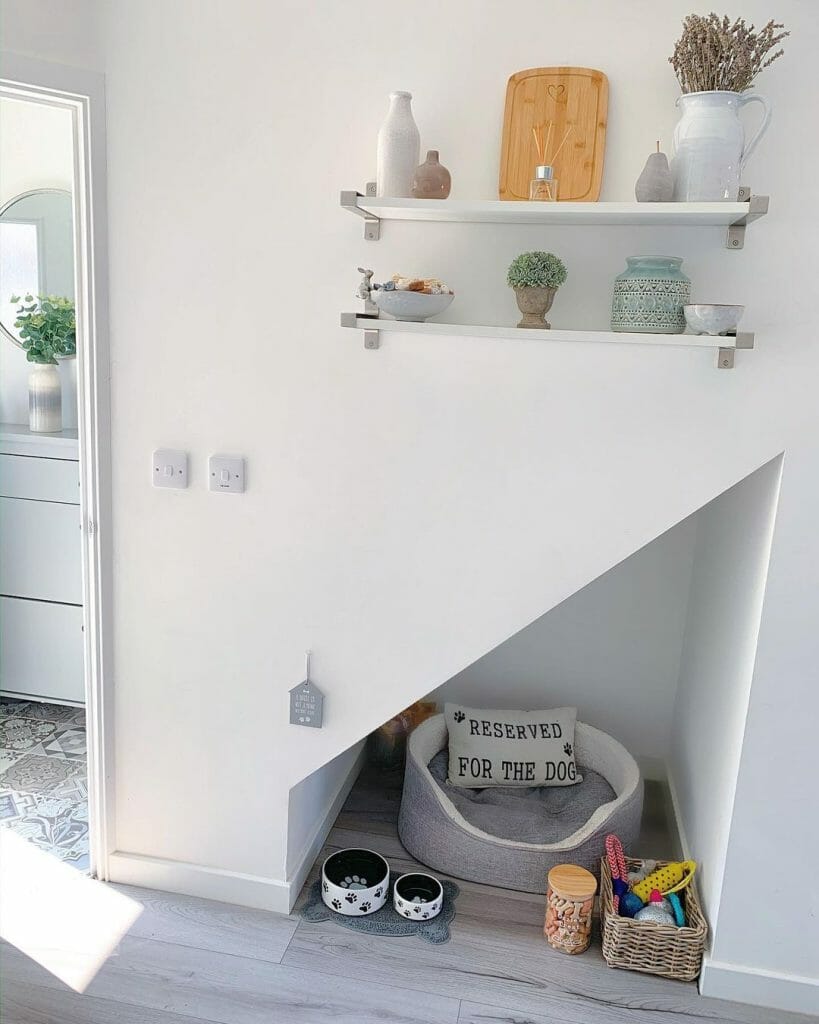 A wall interior for dogs is practical in all senses. You certainly won't have to look for any other space when there's one that's built-in inside a wall. Make use of it and transfer your dog's essential items inside.
Dog beds, toys, food and water bowls, and treats are some of the things you should place there. Of course, the size of your pooch matters a lot. See first if they can rest comfortably inside. Ideally, small to medium-sized dogs will surely fit effortlessly in this little space. 
3. A Custom-Made Dog Area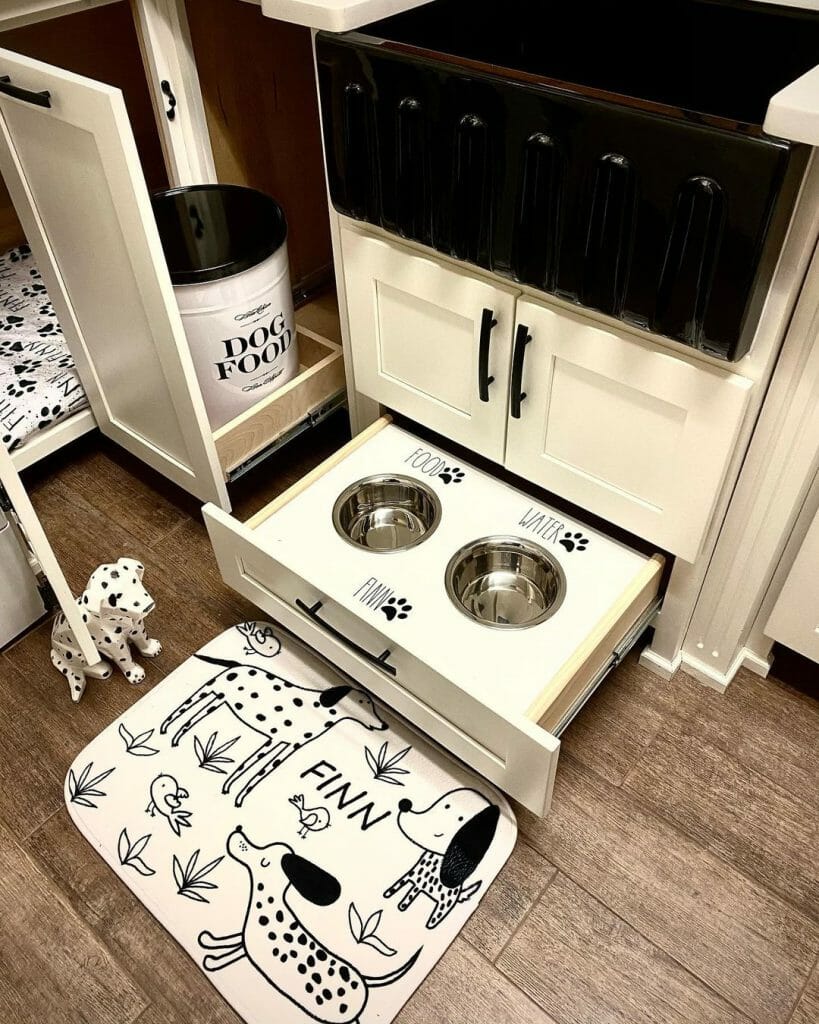 Some empty cupboards can be renovated and redesigned. Meanwhile, other dog parents intentionally order a piece of custom-made furniture that features a lot of uses for their pooch. This would include dog bowls located in the lower drawer while the upper ones contain treats.
The other cupboard can be utilized as your dog's resting spot. Just tuck in a warm, thick blanket inside so they'll feel cozy throughout their sleep. Make use of the other available spaces, too. Place the dog food in a large and secure container and store it near their food bowls.
4. A Dog Pampering Section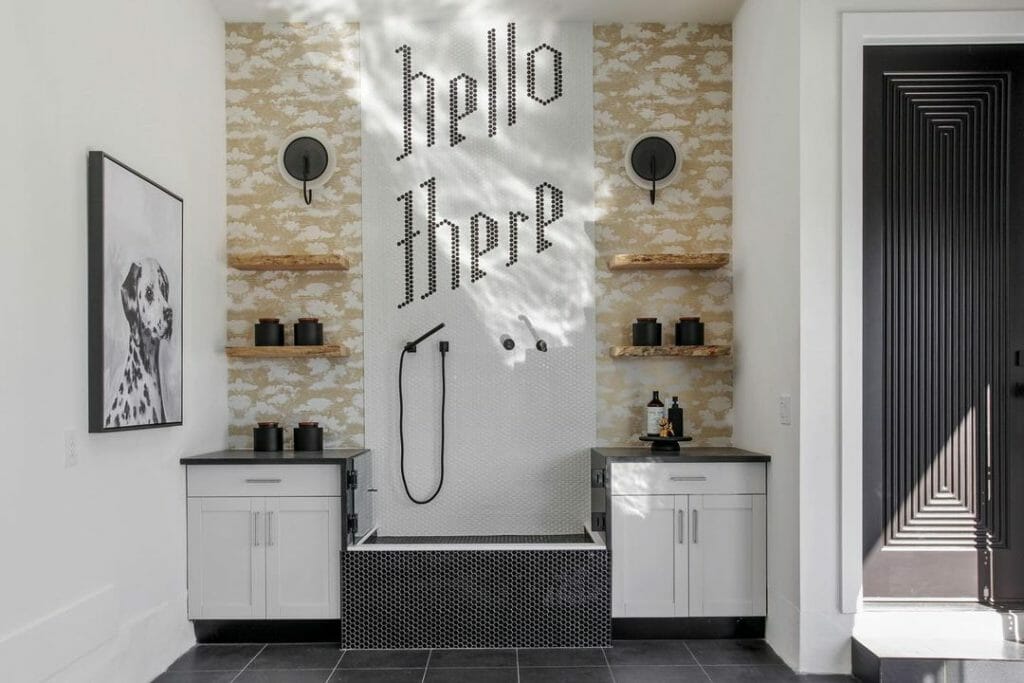 It certainly is a good thing to have a pampering station for your dog in the comfort of your home. There's no more need to visit the grooming salons as you can just DIY it. If your bathroom is large and spacious enough, designating a small shower area for your dog is thoughtful, to say the least.
You can place all their dog products near the sink, including the dog towels they can use every after they shower. To make it look even more appealing, put a giant portrait of your dog on one side to make it look personalized.
5. An Organized Doggie Room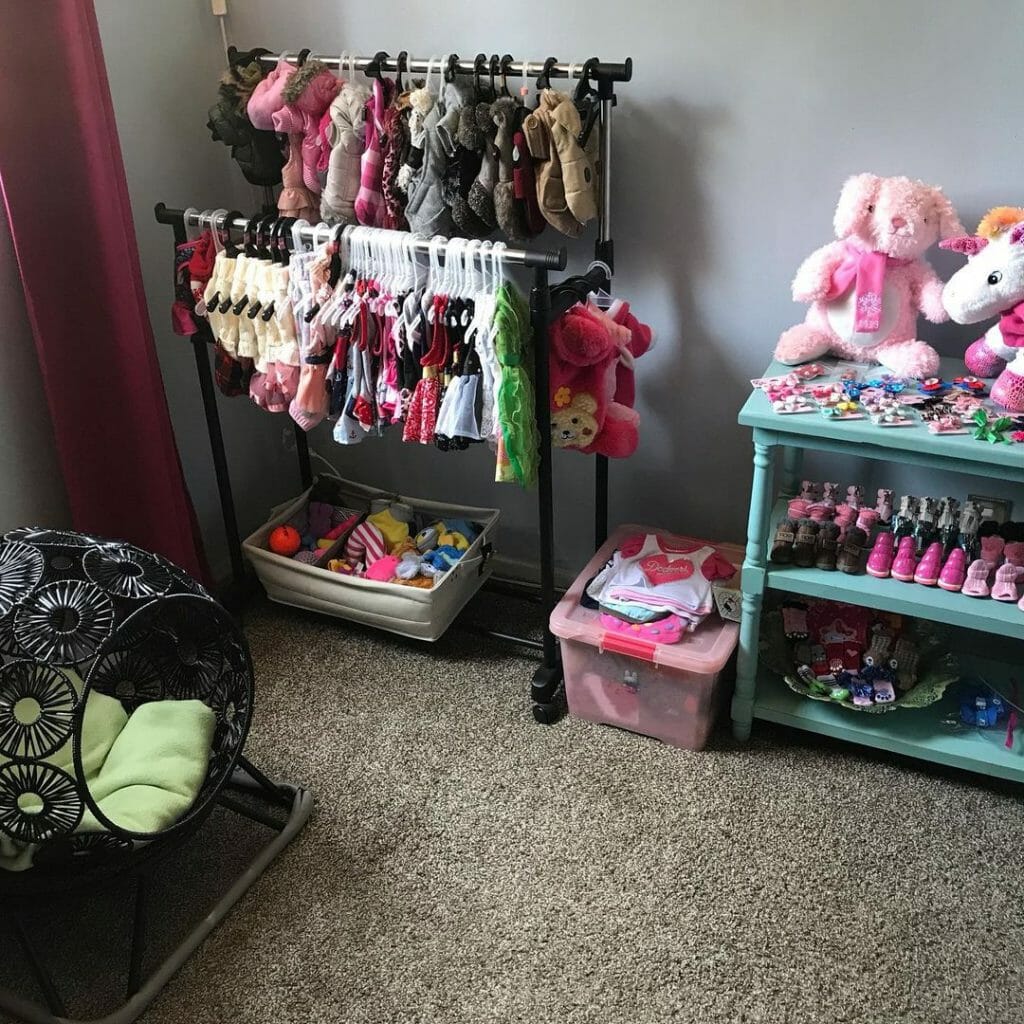 A dog room doesn't have to be significantly large. A corner is enough for a dog. After all, they're not that picky; they can literally fall asleep anywhere in the house, like on the couch, in the bathroom, or under your bed. But, you can certainly make their life more enjoyable by granting them a spot of their own.
Purchase a dog rack online and hang their clothes in an organized manner. Do they have shoes too? No problem, as a dog cabinet can properly store them for your pooch. Place a dog bed near their stuff as well. But, do so only if your dog isn't a chewer. 
6. A Chic Mini-Tent Corner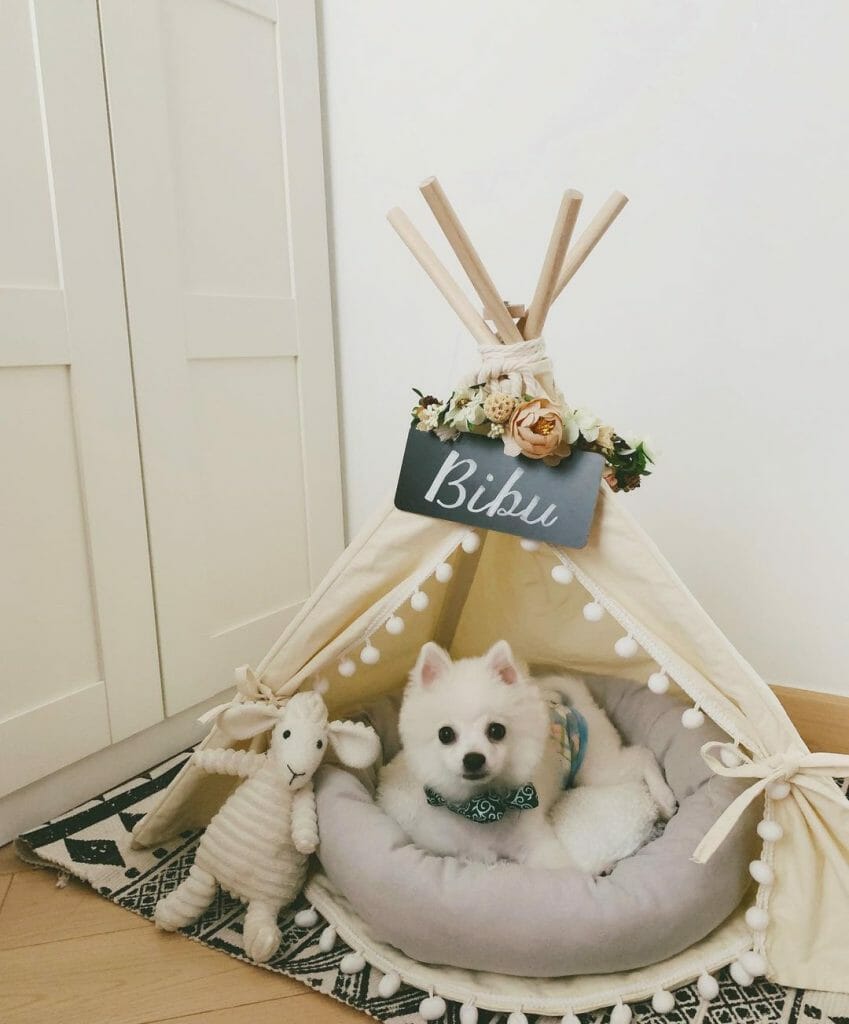 Dog corners don't necessarily have to ruin the look of your home's interior. You can go for neutral shades if you're out, picking a mini dog tent. Place it in one corner and place their dog bed inside. Throw in their favorite toy so they'd feel safe and at home in their new, chic space.
You can hang dog photos on the wall, too, with fairy lights for an upgraded look, but make sure your pooch won't be able to reach them. Mini-tents are an ideal concept primarily for dog parents who own small dogs. 
7. A Trendy Hallway Dog Corner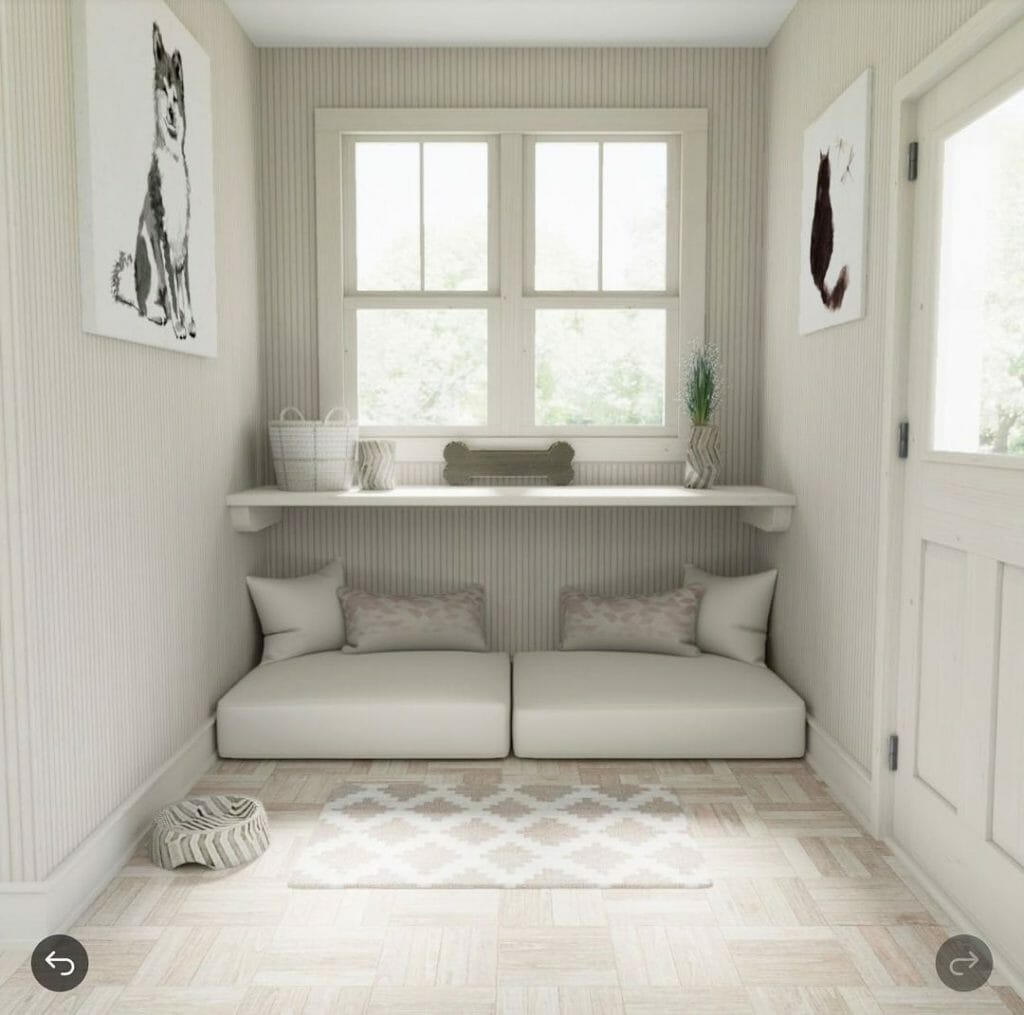 Your guests would love to be greeted by your furry friends. And where's a better spot to build a dog corner than somewhere in the hallway? Get it to match the atmosphere of your home, or go for something that will make your dog's corner pop with colors and unique designs.
This one is a favorite as it's neutral, clean, and simple. A minimalist design is timeless, plus you're saving yourself from constantly tidying up a bunch of mess every time your dog is using their personal space. If you have a cat, as long as your pets are on good terms, then they can share the corner. Just add a basket to the window so your feline can observe the outside environment. 
Their portraits on the wall would make this concept complete.
8. A Professional Doggie Set-up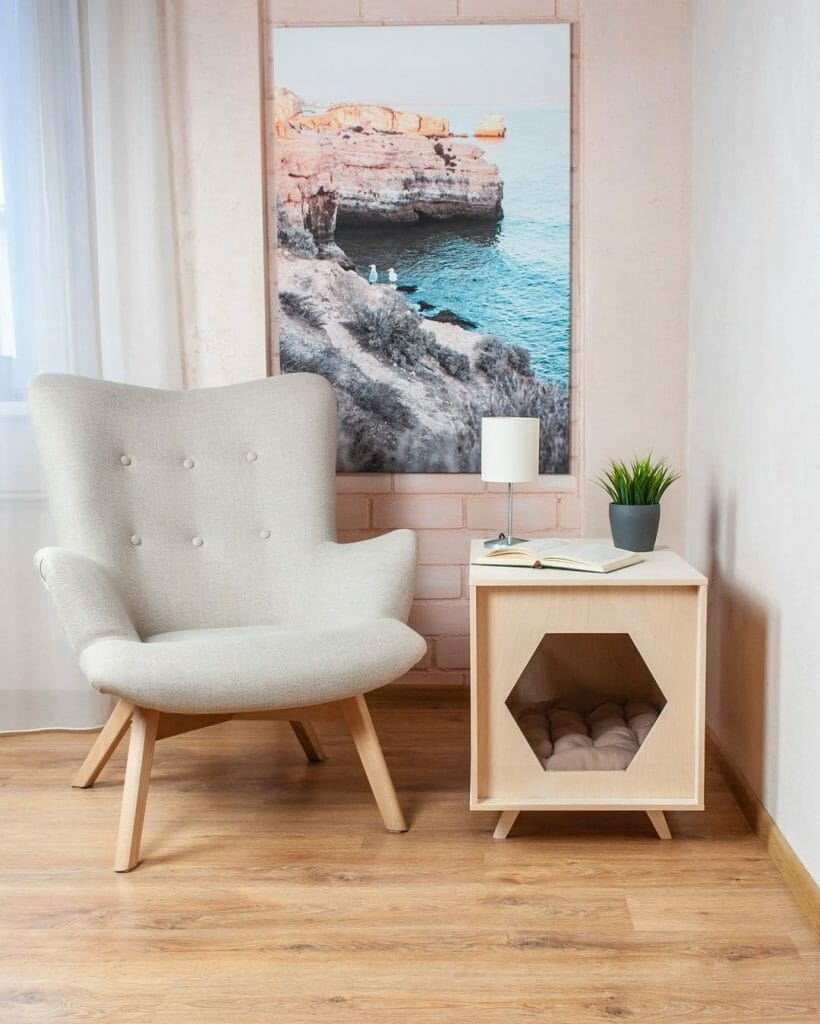 Sometimes, dog parents just prefer having their dog around wherever they are inside their house. While others just have to bear with their ultra-velcro pooches who want to be with their owners all the time. Whatever the case is for you, this concept would be the way to go.
Wherever your favorite spot is, for example, in the office or your study room, a table can be reused and converted as your puppy's nesting space. With that, you'd be able to continue your task without being bothered by your clingy dog since they already have a designated spot to lay on instead of wanting to be in your lap. 
9. A Stylish Feeding Station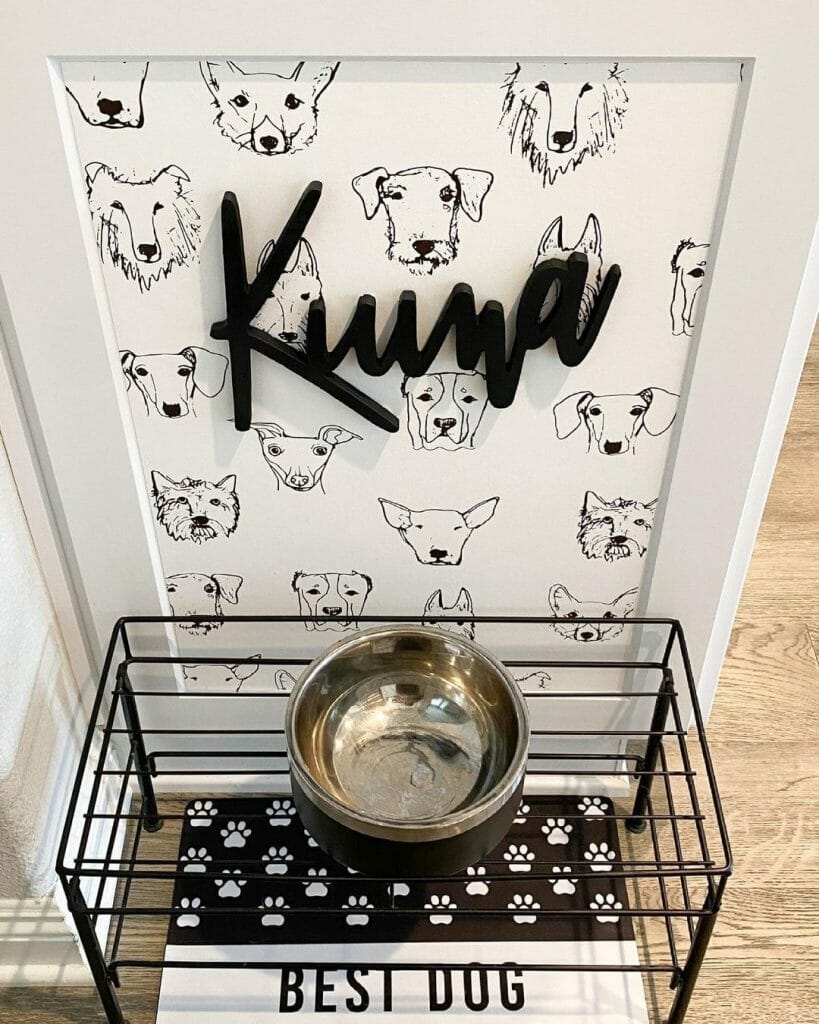 Aside from the dog beds and dog lounging areas, the feeding station might also be your furry buddy's favorite spot. If you can, go all out with this dog corner idea. Make it look like something your dog will love hanging out in. Place stickers throughout the wall of their corner and a stylish mat underneath to catch the drips and dibs during mealtime.
The space doesn't have to be large. Complement it with your dog's size, and don't forget to check out the height of the feeding rack so your pooch can eat appropriately without overstretching their neck.
10. Under the Stairs Haven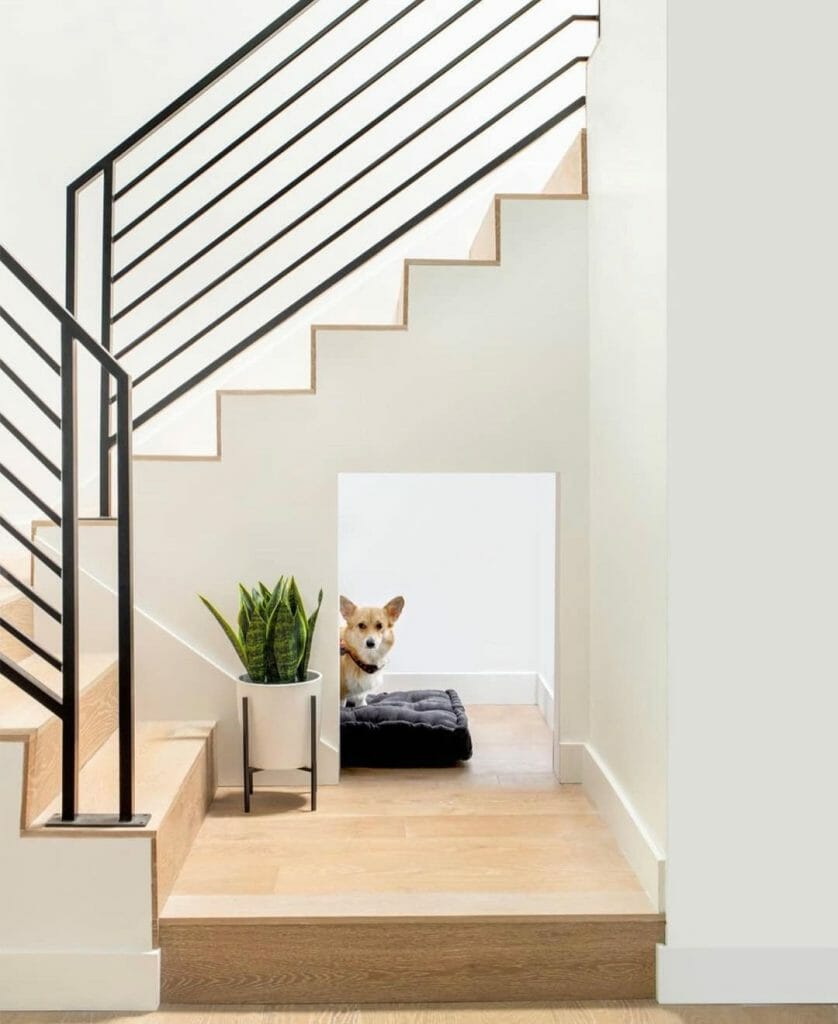 Another space you can make use of is this one which is under the stairs. Preferably, without the door, so your lovely pooch can go in and out freely. Place their dog bed inside and other items such as a blanket that can help keep them warm during the night, especially during the cold season.
It's a truly remarkable sight to see your dog sleeping every time you go upstairs. Walk gently through, or you'll wake them up.
You might also want to check out: Does My Dog Need a Blanket at Night? 4 Reasons Why They Do
11. A Luxury Doggie Apartment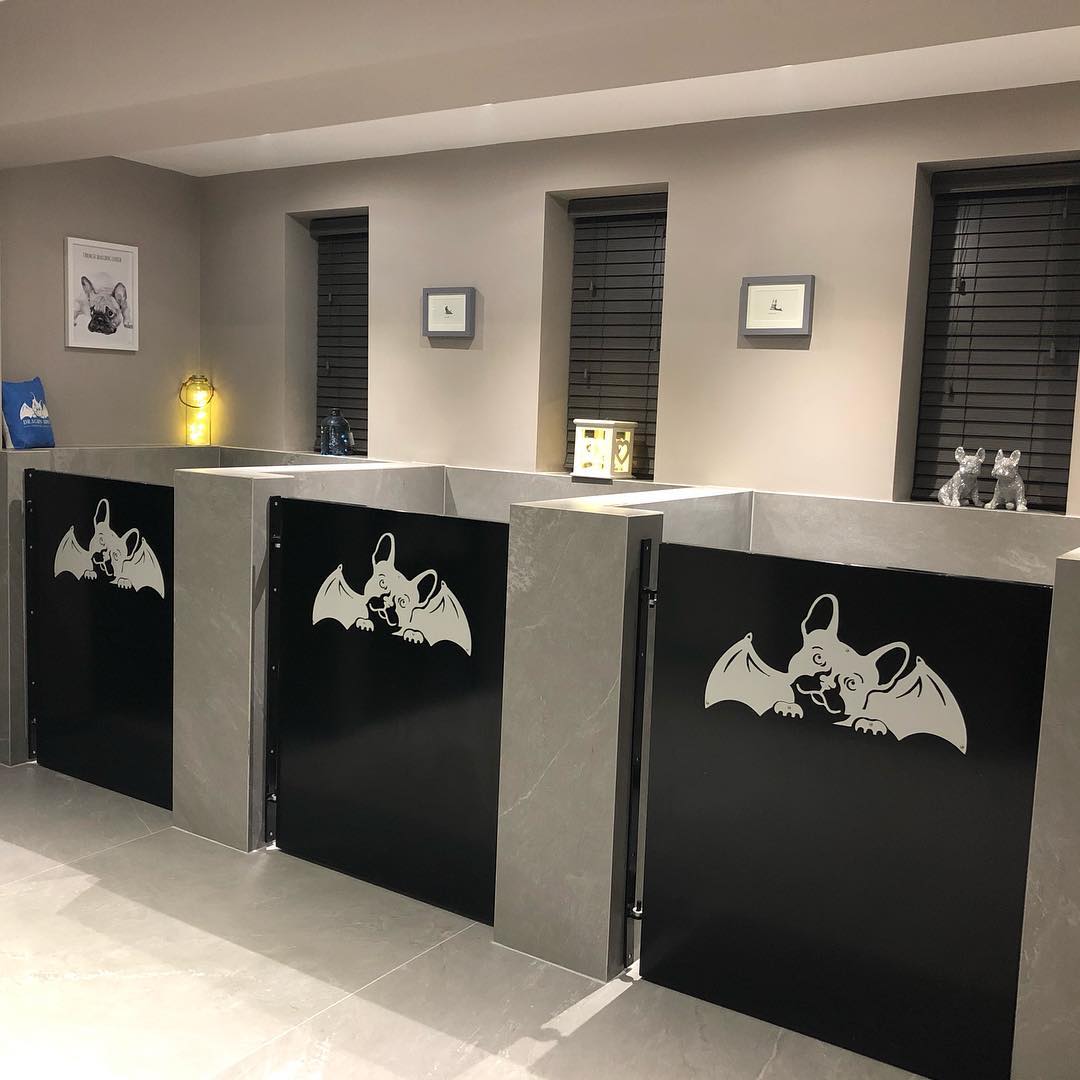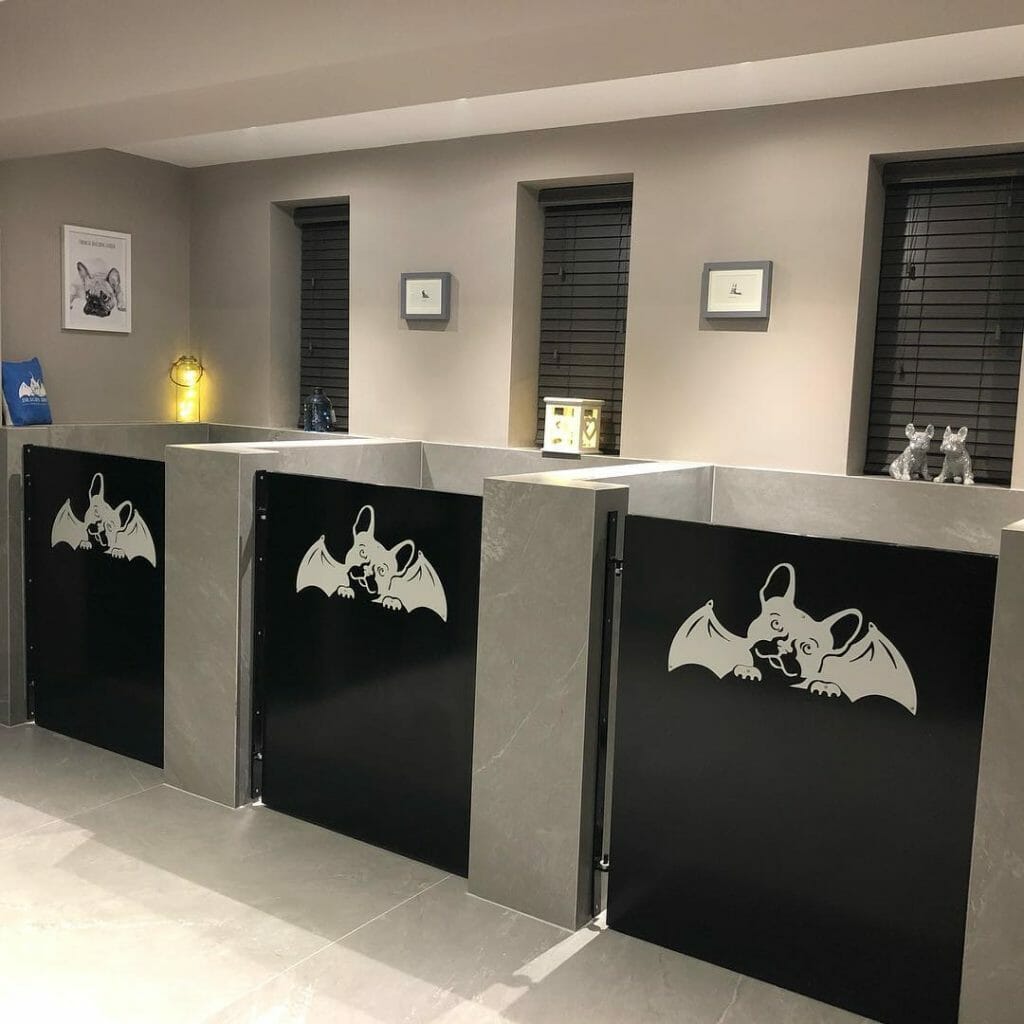 This concept might not require a simple corner but a grand one. You can definitely go for this if you own more than 1 or two dogs. Build them their mini apartment with personalized doors.
It needs not to be said but ensure each pooch gets enough room inside, more so if you got giant dog breeds in the house. You'll end up frequenting this dog corner whenever you need a break or a sort of a stress-reliever. 
12. A Dog Crib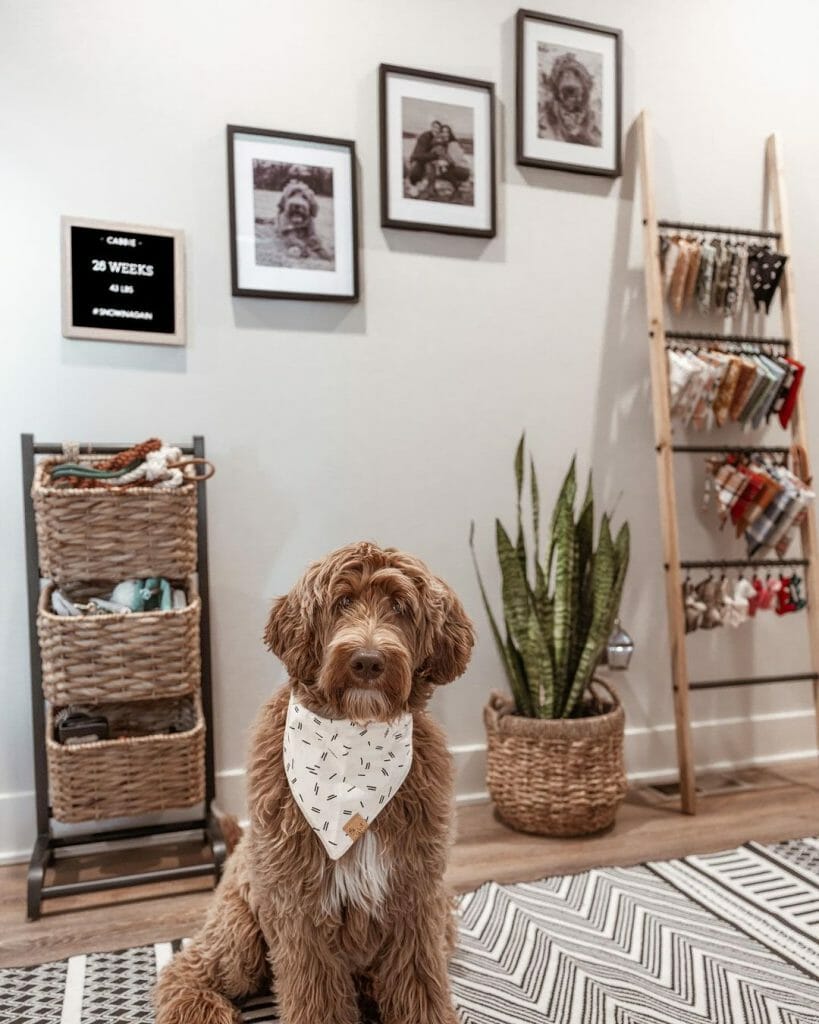 Next up is a dog crib. Get a corner fully designed and dedicated to your loyal dog. Purchase certain items that can store your dog's stuff, like baskets for their bandanas, a rack for their sweaters and jackets, and containers for their yummy snacks. Small dog frames with pictures from a photo shoot can be hung on a wall to make it seem like the area belongs to your friendly canine.
This dog crib should have all the stuff your dog owns, so you won't have a hard time finding certain items like the leash for your regular walk in the park.
13. A Mini-Resting Spot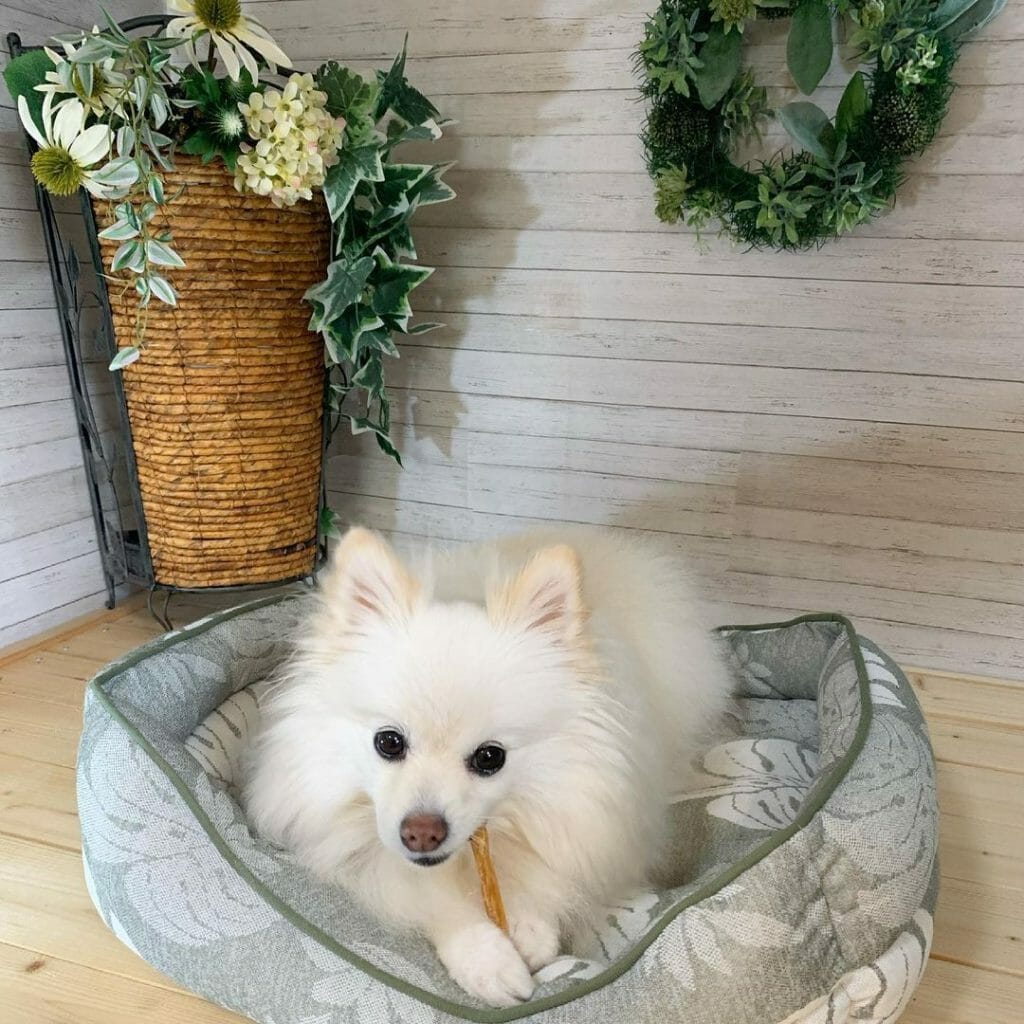 Provide a mini-resting spot for your dog too. This applies in the kitchen or in the bathroom. This is because some dogs love to go wherever you are, like when you're busy cooking in the kitchen; they'd patiently observe and wait for you until you're done with your thing. 
Instead of making them lay anywhere on the floor with a possibility of you accidentally tripping or stepping on them, training them to stay in their resting spot would save you a lot from particular hassles. Plus, it won't be a bad deal for your dog since they can still stay in the same place with you; they just have to sit still in their assigned kitchen corner. 
Read next: Dog Pen Ideas: 14 Inspos You Can Follow
5 Tips to Remember 
Dog corners need essential planning to make sure your dog actually enjoys and appreciates them. To make it a homely space they'd love, follow these 5 simple yet helpful tips:
1. Invest in a comfortable, soft bed. Dogs love to feel and experience the good things in life too. A warm and soft bed helps them get the best rest so that they can play the next day with full energy. Of course, you shouldn't get just any dog bed. Get it customized with your dog's name engraved on it.
Also, AKC suggests you consider your dog's age, size, coat, and breed before choosing a dog bed as they come in several structures, materials, and shapes. 
2. Buy personalized dog bowls. To elevate your dog's corner vibes, a customized dog bowl will add more character to it. Forget about the primary metal feeders. Instead, go for decorative and elegant ones with practical and non-harmful features.
3. Use wallpapers. To really make your dog's corner stand out, a wallpaper would help. The spot will look more differentiated, and guests will instantly notice the evidence of your dedication toward your pet.
4. Grant them a corner in your bedroom. Some dogs prefer to sleep near their owners, more so those who have separation anxiety. Designing a hub for them in your bedroom is a kind gesture to ease their stress. 
5. Place a mat underneath the feeder. Protect your floor from the crumbs and spills your dog may commit during mealtime. A rug makes it easier for dog parents to clean the mess.
You might be interested to read: Dog Room Ideas About Decorating Your Pooch Bedroom & Pet Proofing the House