Dog Photoshoot Ideas: 11 Shots You Can Try + 9 Tips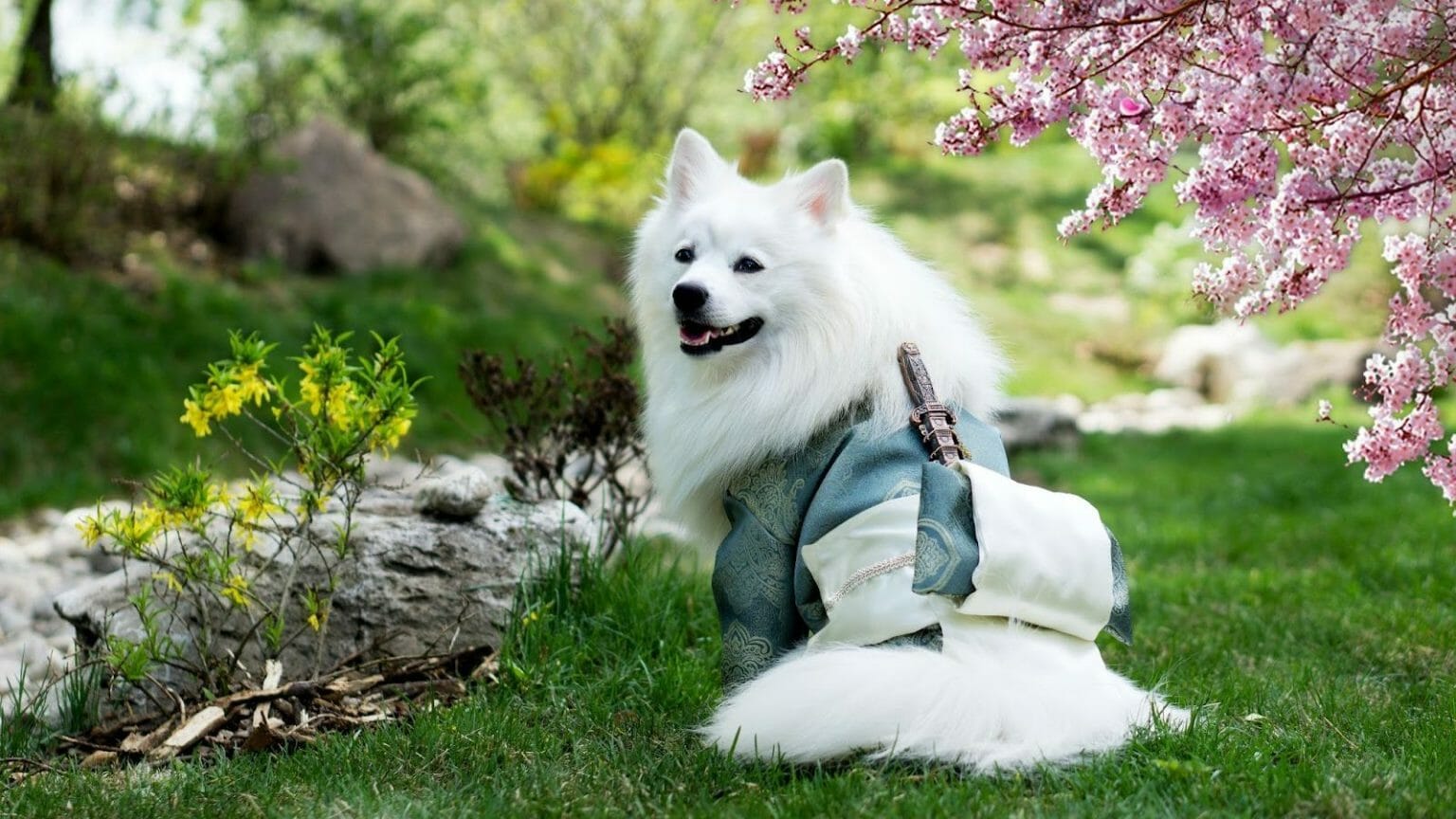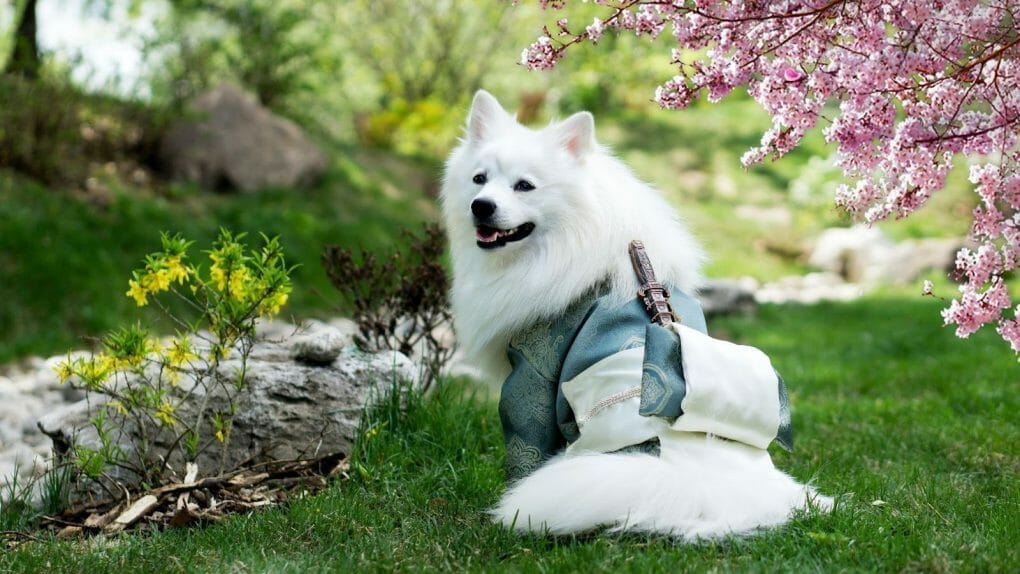 While it's nice to take camera-worthy shots of your dog, not all of these precious memories are frame-worthy. Booking a photoshoot session will capture some of the best quality snaps of you and your dog, and you won't ever regret doing so.
However, if you got yourself a high-grade camera, there's no need to hire a photographer. Doing the dog photoshoot yourself will enhance your camera skills and, at the same time, increase your bond with your furry dog. 
Not sure what theme to take on or what idea to follow? Here are 11 photoshoot suggestions you can try.
1. A Dramatic Shot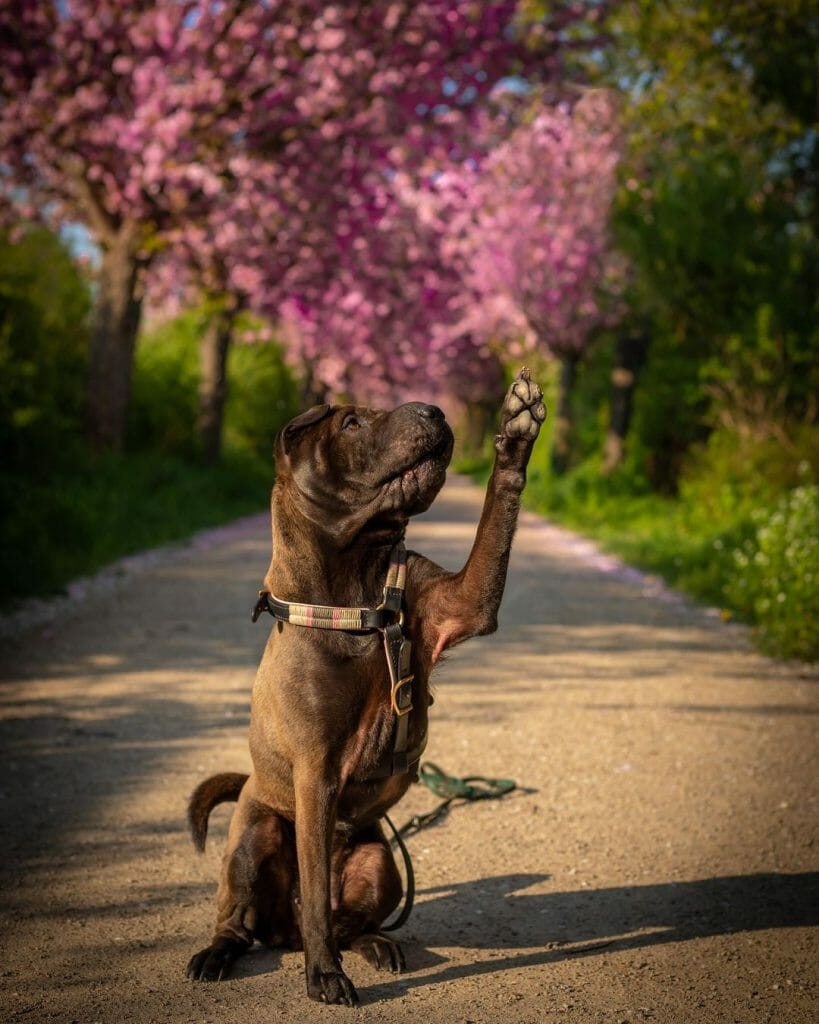 Some dogs can be natural drama queens and kings. They know how to let out their emotions, and some do it flawlessly. From their soulful puppy eyes to their melodramatic way of whimpering, every dog parent must get their camera ready at any moment.
There's no exact place for this idea. The perfect shot could happen even during your regular walk in the park. With butterflies or bees fluttering everywhere, it's almost always impossible for any dog not to take notice of these little insects. Little do they know, their dog's parents are already clicking the shutter button.
2. The Flowery Backdrop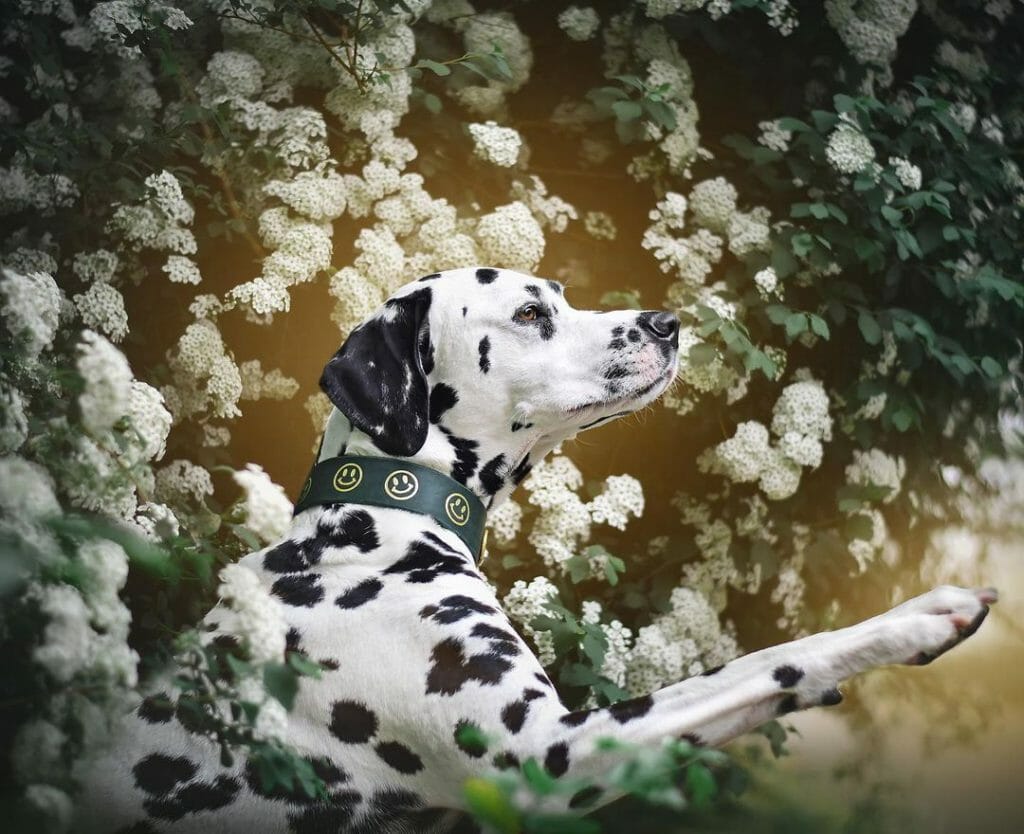 Backdrops are essential in certain photoshoot events. You may need to invest in one, and you can easily order it online. The design all depends on your preferences, and there are various options to choose from. After all, the sky's the limit. 
Of course, you can also avail yourself of using the actual designs. Flowers, baskets, toys, and whatever props you think would make your dog look majestic, silly, or charming will all do. Make this photoshoot even more fun by joining in! Let someone else take the shot or make use of a tripod.
3. A Candid Snap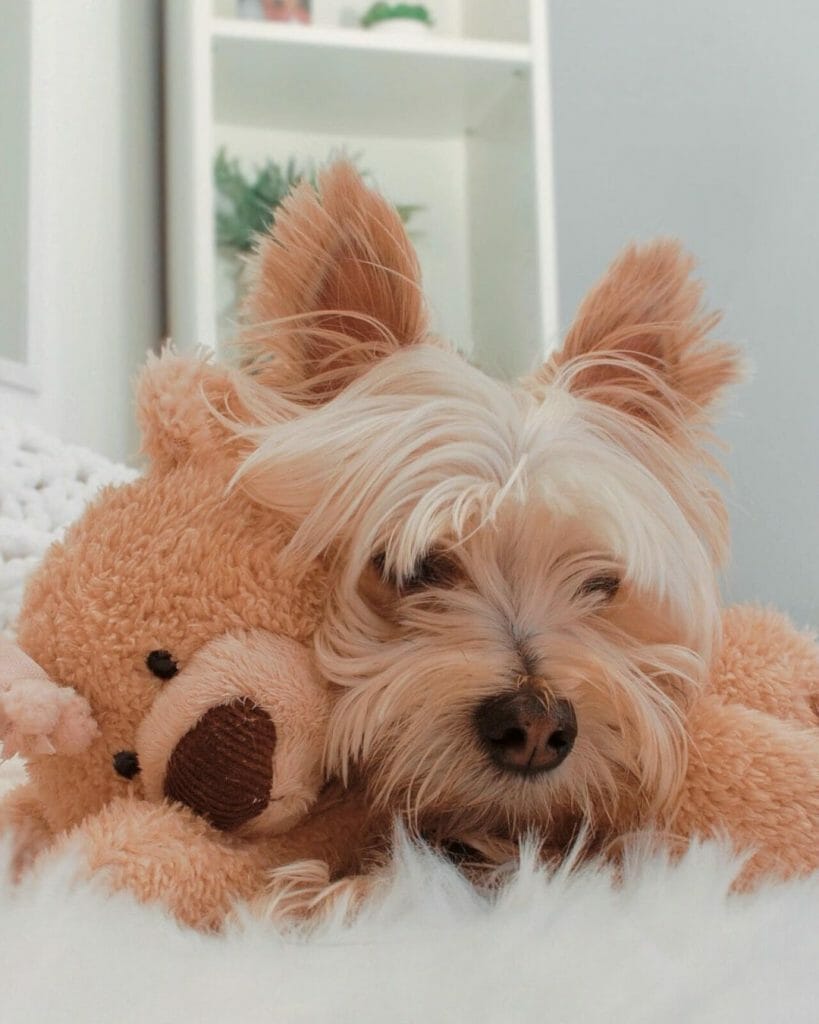 Snoozing dogs are irresistibly cute. Their love for sleep paves the way for an adorable photoshoot session, but be careful not to wake your furry buddy up. Add in some of their favorite stuffed toys and throw in some fluffy blankets to make the atmosphere warm, cozy, and relaxing.
Do a few touch-ups on your dog and start looking for their best angle. Snap several shots, as many as you can, and make sure you don't miss a single doggie moment!
You may be interested to read: Why Are Dogs So Cute? Know if They Are Using It to Your Advantage
4. Make Use of the Doggy Park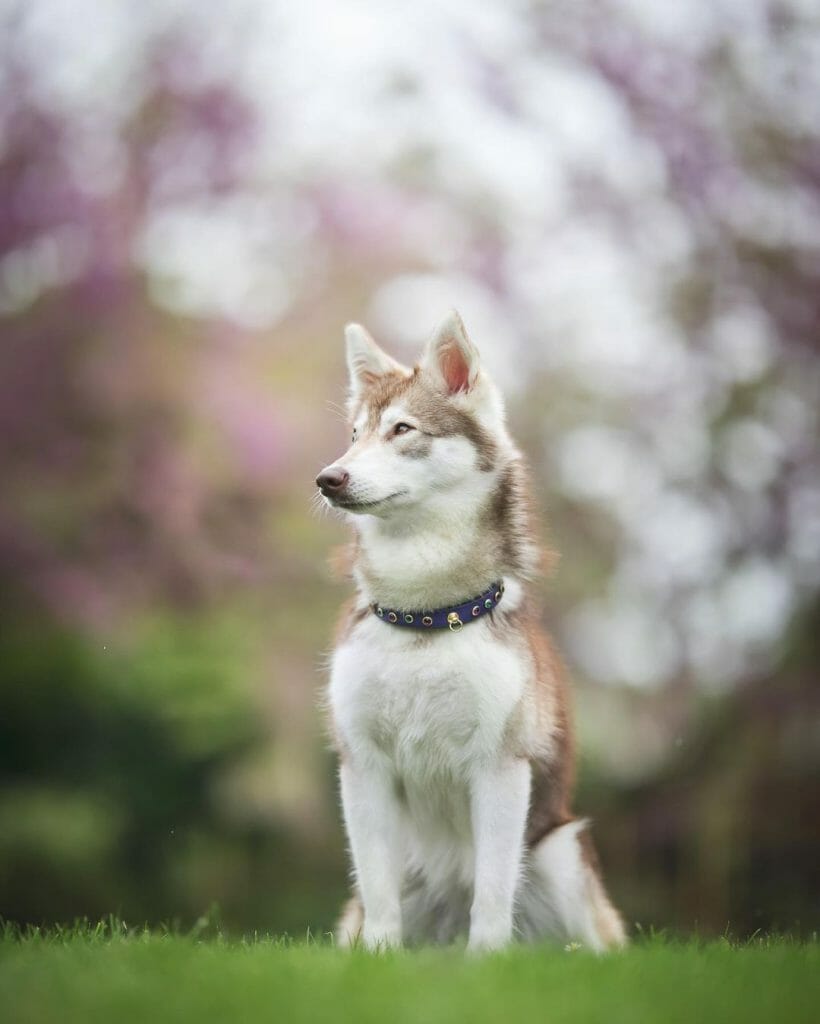 The view of most doggy parks is immaculate. Dogs love the natural scenery of the environment, and they also look great in it. The next time you both go out to breathe fresh air, ready your stuff and bring a camera with you. Don't forget to bring some treats as well as they'll come in handy.
You can make your dog sit, stand, or do anything through your verbal commands. Click with precision and reinforce this with a delicious snack. Letting them play with other dogs is an excellent idea, too, only if they're inside a fenced area.
5. Triple Trouble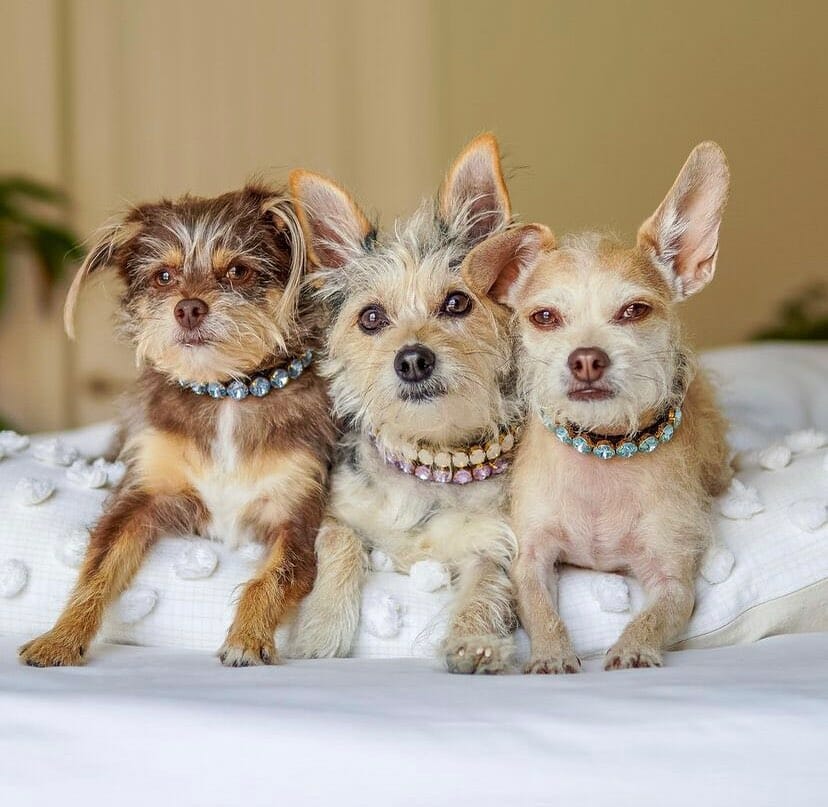 This might fancy your interests for dog parents who have more than one dog in the house. Get your puppies bejeweled in gems or anything glittery to make them look glamorous for a pictorial.
Make them look like your mansion's prince and princesses and get them laying or sitting on white pillows. An extra helping hand would be necessary if you have three baby dogs as they can move around a lot and not stay in one place. Get their attention through a toy or a treat and be quick to capture the moment.
6. Trendy Fashionista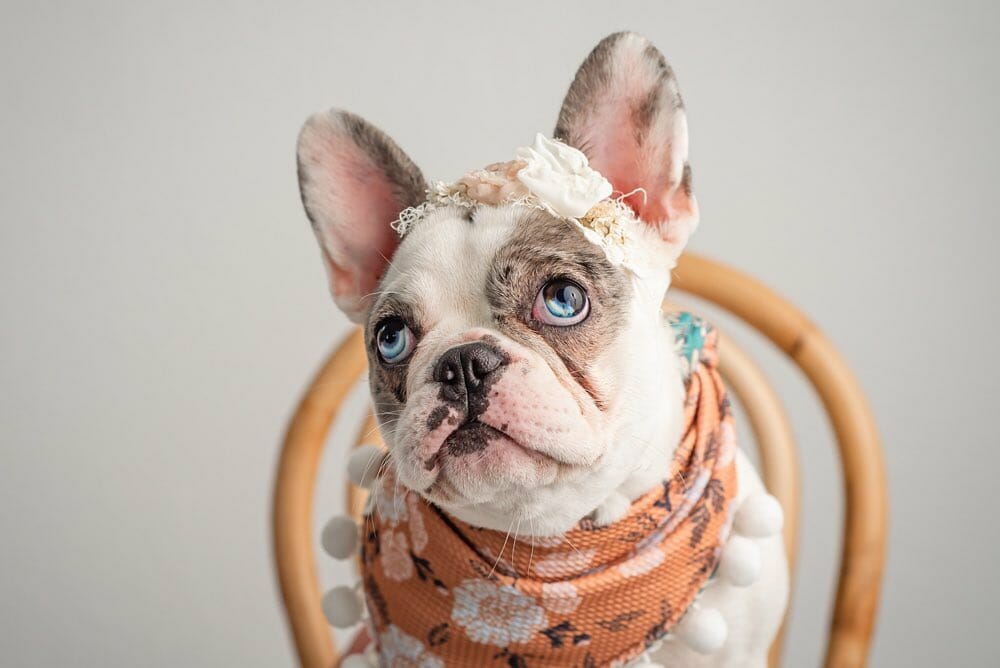 Do you like dressing up your pooch? Making your dog fit the garments isn't enough whenever the new doggy clothes arrive. Instead, get them to wear every outfit and don't let them leave the room without the quality shots for new pictures to put in the dog frames.
Style them well, from bandanas to headbands or even clips if your pooch has a fringe to tame. It's a no-brainer that you should make sure your dog feels comfortable throughout this sesh. Have loads of patience, and the day will end with loads of quality photos and memories.
You can also check out: Top 15 Dog Costume Ideas for Any Occasion 
7. Celebrating Milestones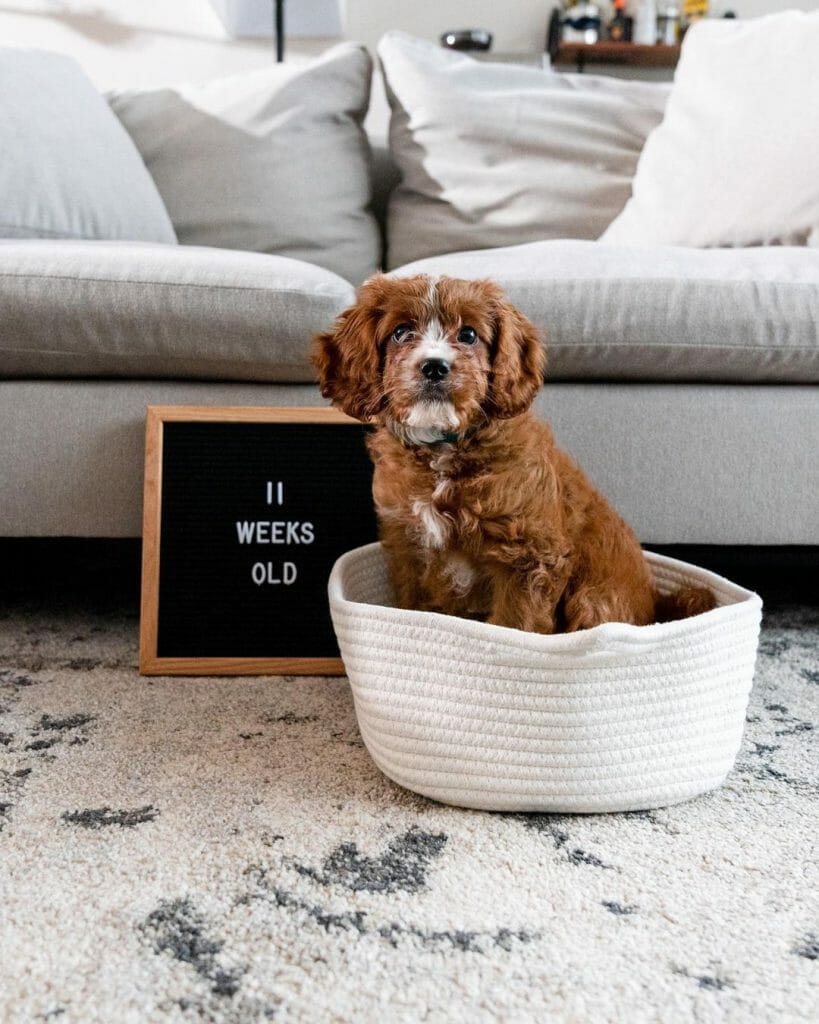 Another photoshoot idea you can go for is celebrating milestones. Observing your dog's progress can be even more enjoyable if you have photos that go along with it. Your puppy adds more height and weight for every week that passes by with a few other physical changes. 
Make sure you have a remembrance of how your dog looks when they're 8 weeks old or so. Be religious in taking snaps at every set period, get them developed, and place them in your dog's album. 
8. Basking in the Sunset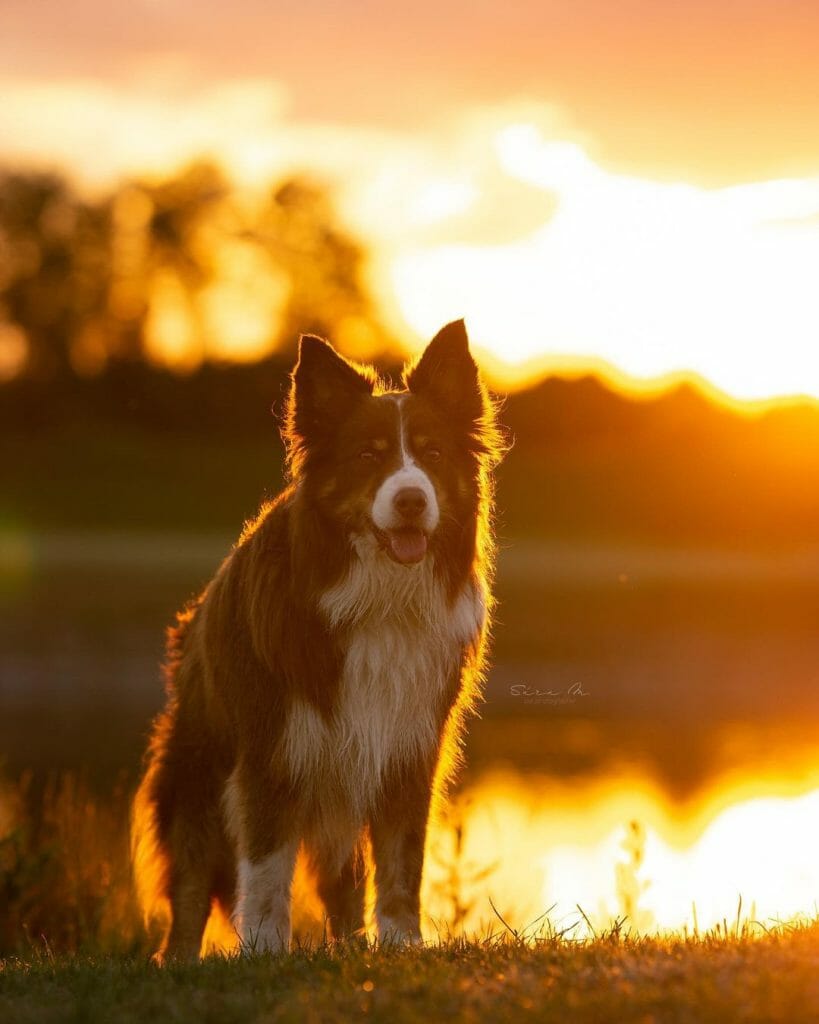 A sunset photoshoot won't disappoint you. The warm, dim, and yet somehow bright sunny light casts amazing shadows and vibes that look incredible in a camera. This photoshoot won't be regrettable whether you and your dog are beside the river, on a beach, park, or top of a mountain. 
You can even get a silhouette shot of your dog or wait until the golden rays strike their face so that you can capture and look into the mesmerizing eyes of your loyal four-legged friend. The lighting isn't harsh but relatively soft and glorious, making every angle worthy of a snap. 
9. A Playdate Pictorial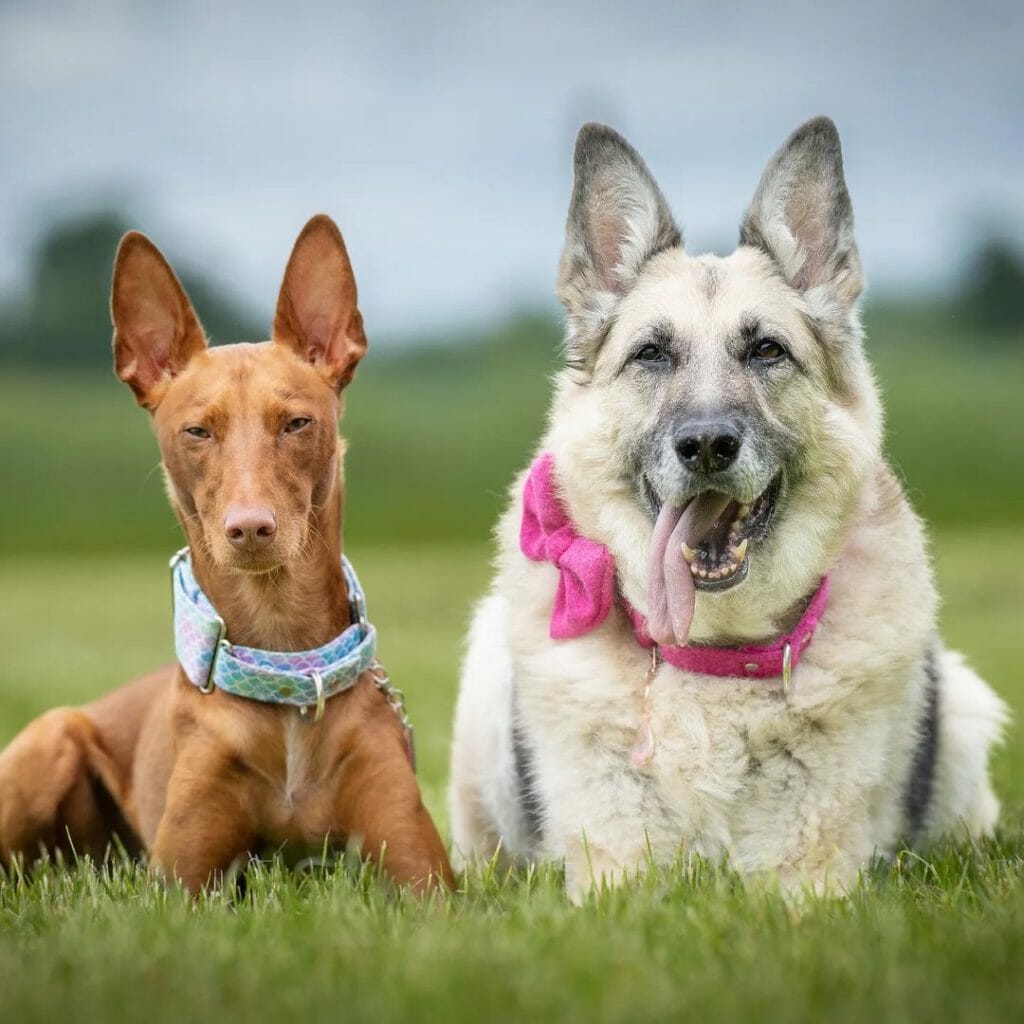 Playdate photoshoots are another reference you can follow. Does your dog have a best friend? Collaborate with your mate and make both of your dogs sit still for a pictorial. A grassy landscape would look stunning, or you can also mimic a restaurant set-up. 
Use props as deemed necessary, but be mindful of what items you include in this photoshoot. Some dogs can be easily distracted, so minimize the presence of objects around them if their attention is no longer on the camera's lens. 
10. Parties and Confettis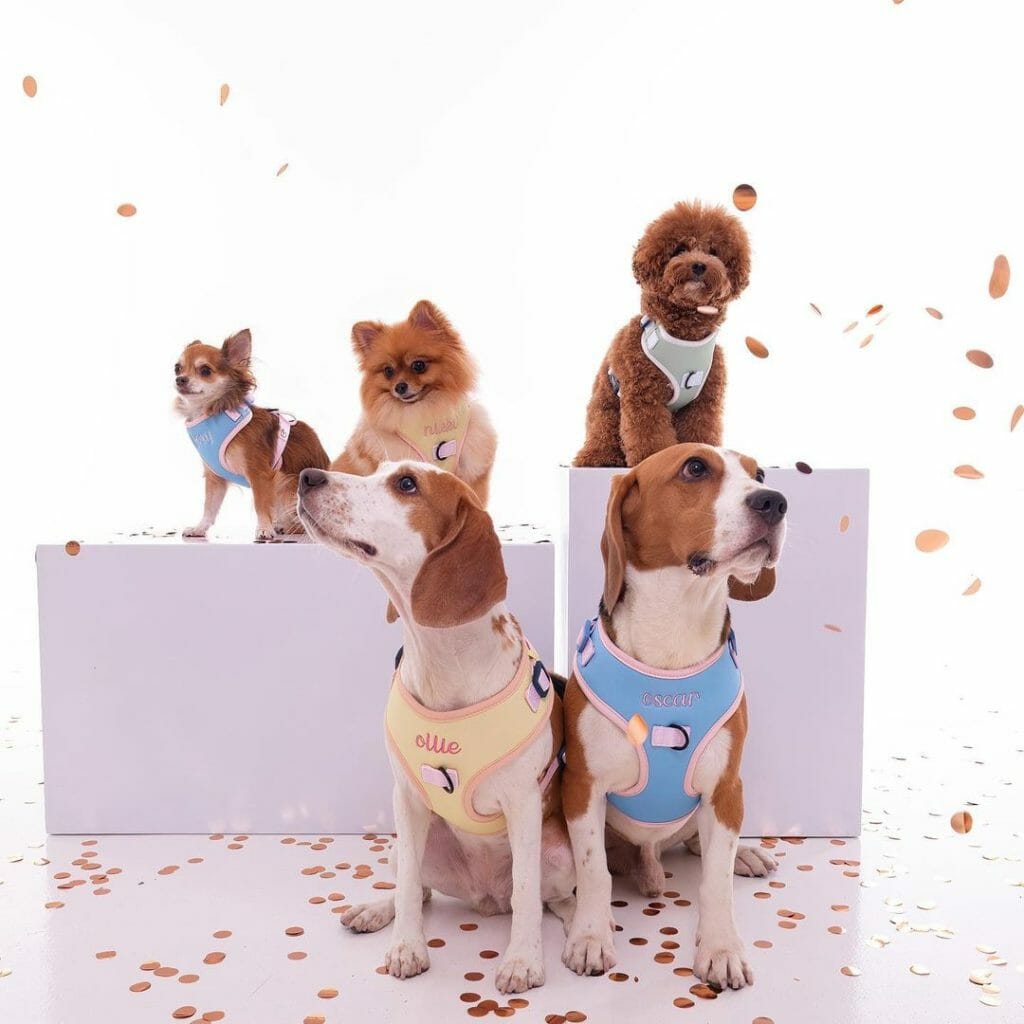 Dogs may also love celebrations! Organize a small studio set-up party and lead your pooches in. You can make them wear party hats and sunglasses or wear party outfits to complete the vibe. 
Once they're all settled, hand-throwing some confetti will add a stunning effect. Avoid confetti cannons as the sound may surprise your dogs and cause the entire scene to become chaotic. Now, start clicking and capturing their emotions and actions throughout the party.
11. Treats Diversion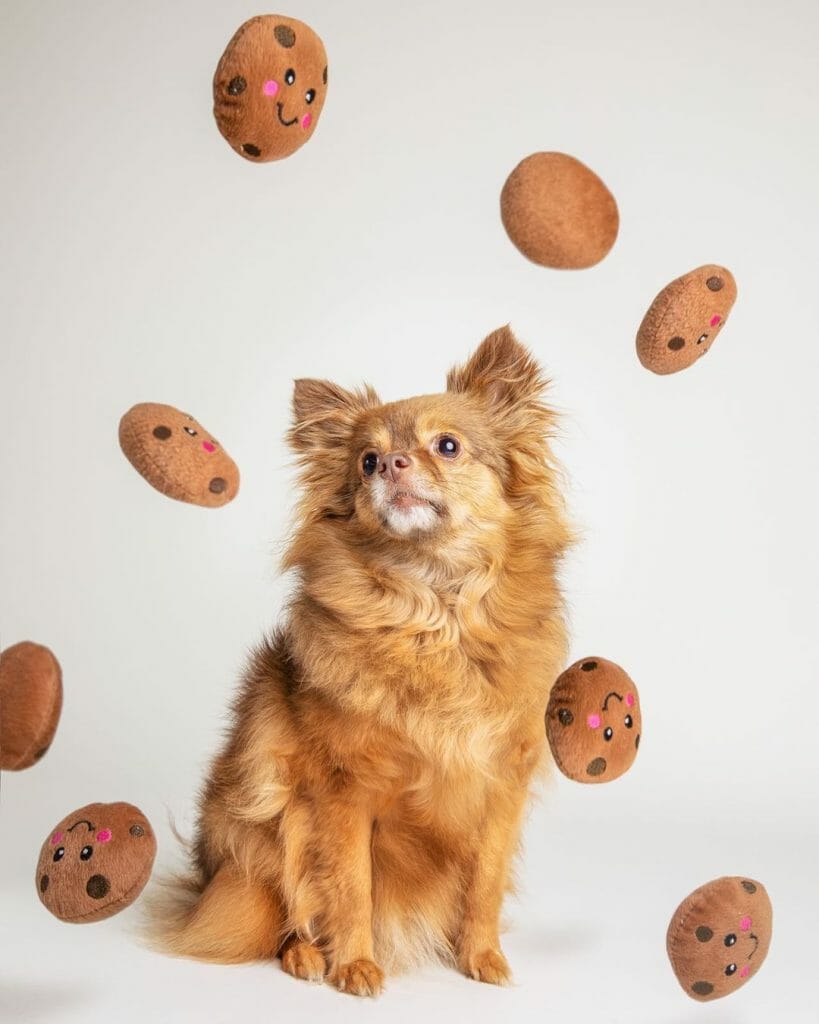 A photographer named Christian Vieler became famous for this dog photoshoot idea. He threw in some treats to every dog and captured their reactions, and attempted to catch the delicious treats.
This hints that you can try and do the same thing with your food-loving dog. Don't throw in the entire contents of the package, though, as you won't know when the perfect photo comes in. An alternative to the treats would be stuffed toys that look like cookies. 
You might also want to check out: Dog Treats That Are Bad For Dogs and 8 Natural Healthy Treats You Can Give Them
9 Tips to Capture the Best Moment of Your Dog
You may be all set and ready with the props, background, and lighting. Your dog may be in the corner playing and waiting for the pictorial to start. However, before you begin, you should already know by then these 9 tips so you can capture the best photos of your dog:
1. Use DSLR cameras. Cameras that support several lens types can aid you in taking breathtaking photos, whether it is a moving subject or not. Go professional with your equipment by trying out Canon EOS Rebel T6i Digital SLR or Canon EOS 5DS R. They are both easy to use, even if you're a beginner.
2. Make use of natural light. Take several photos of your dog several times a day. The best periods would be dawn and dusk, as the sky emits vibrant golden rays. Meanwhile, broad daylight can cause overexposure.
3. Use a reflector. You don't have to have complete equipment for your dog photography session. Be prepared with the basic requirements to achieve a good photo, and you're set. A reflector will get your dog exposed just right on the camera without awkward, unproportionate shadows on some other areas. 
4. Prepare your dog. Ensure your pooch is clean and well-groomed before the photo session. Use some items too to make their appearance look even more striking. Bows, hats, collars, sunglasses, and ribbons are some of the props you can utilize.
5. Go for natural poses. Sometimes, dogs won't just participate in a photo shoot. No matter how many treats you try to bribe them with, they won't budge. So, instead of forcing them to look at the camera, why not capture their natural poses? That way, the photo would look more genuine.
6. Know when it's right to start the photoshoot. It's terrible timing to conduct the session at a time when the dog must already be asleep. Also, be updated with the weather. If you've planned for a pictorial summer vibe and the gloomy sky comes in, then it's best to reschedule it. 
7. Emphasize the eyes. Dogs have splendid eye shapes and colors. Get the camera to capture their stately vision medium, but keep a distance to avoid it from looking awkward. Get ready to witness an impressive shot of your dog whose eyes are filled with emotions and depth.
8. Interact with your dog. Whether it be you, a kid, or a toddler, interactions make every photo more meaningful and authentic. The natural expressions that come with bonding with four-legged canines are worth taking shots.
9. Hire a professional photographer. For the best quality pictures of your dog, hiring a professional photographer is the way to go. They are already experienced in such a field, and they have the knowledge and equipment to capture the excellent and remarkable moments of you and your ever-loyal doggie.