Dog Christmas Photo Ideas: 12 Archived Inspirations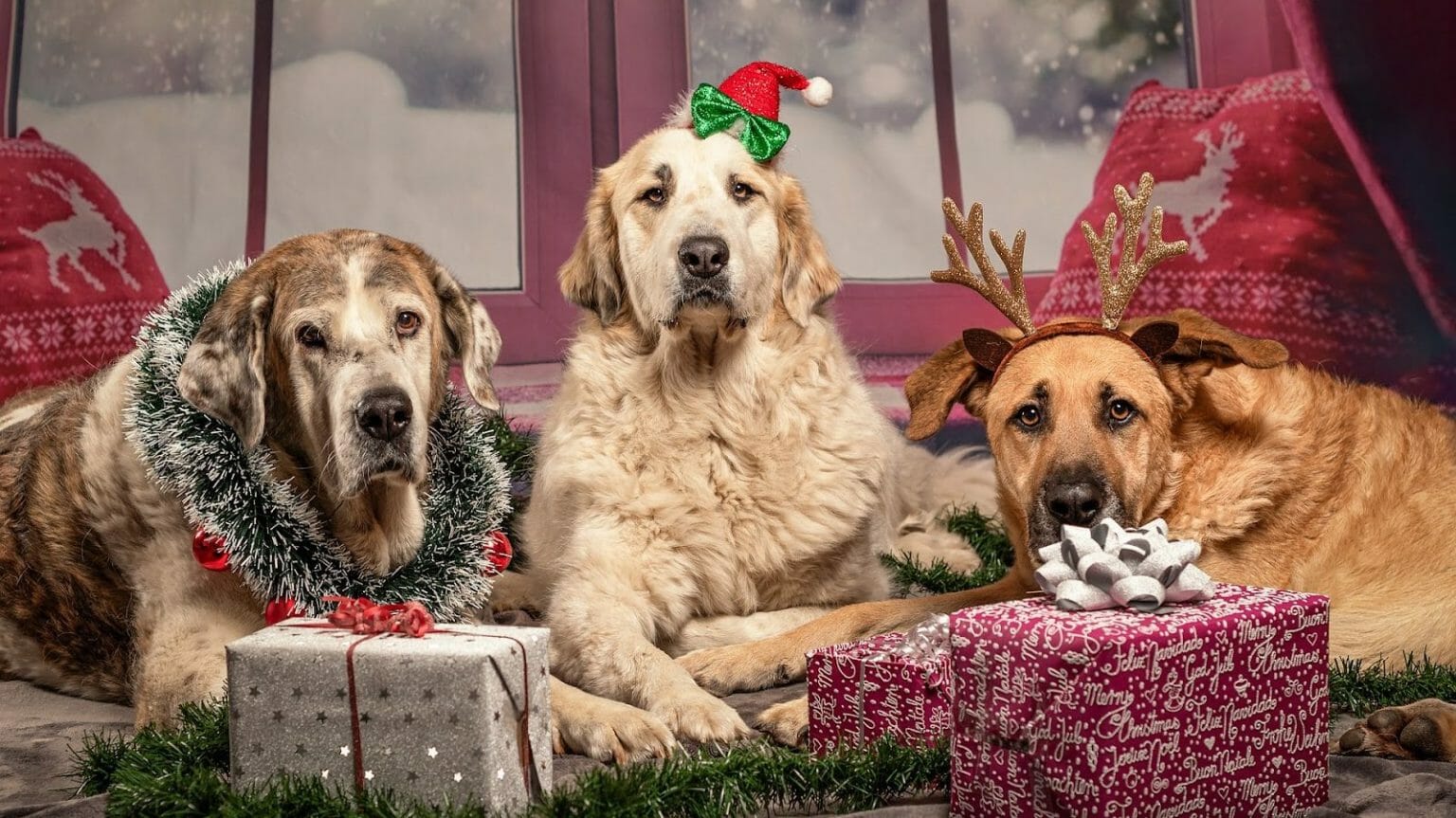 Include your dog in every holiday celebration! Christmas is a season enjoyed by countless people worldwide. If you have a dog in the family, make the moment remarkable by snapping several photos of them under the Christmas tree, on the dinner table, or with Santa Claus.
These photos will fill up your photo album and be used for greeting cards. Wondering what the best shots are? We have 12 archived inspirations just for you.
1. With a Christmas Tree in the Background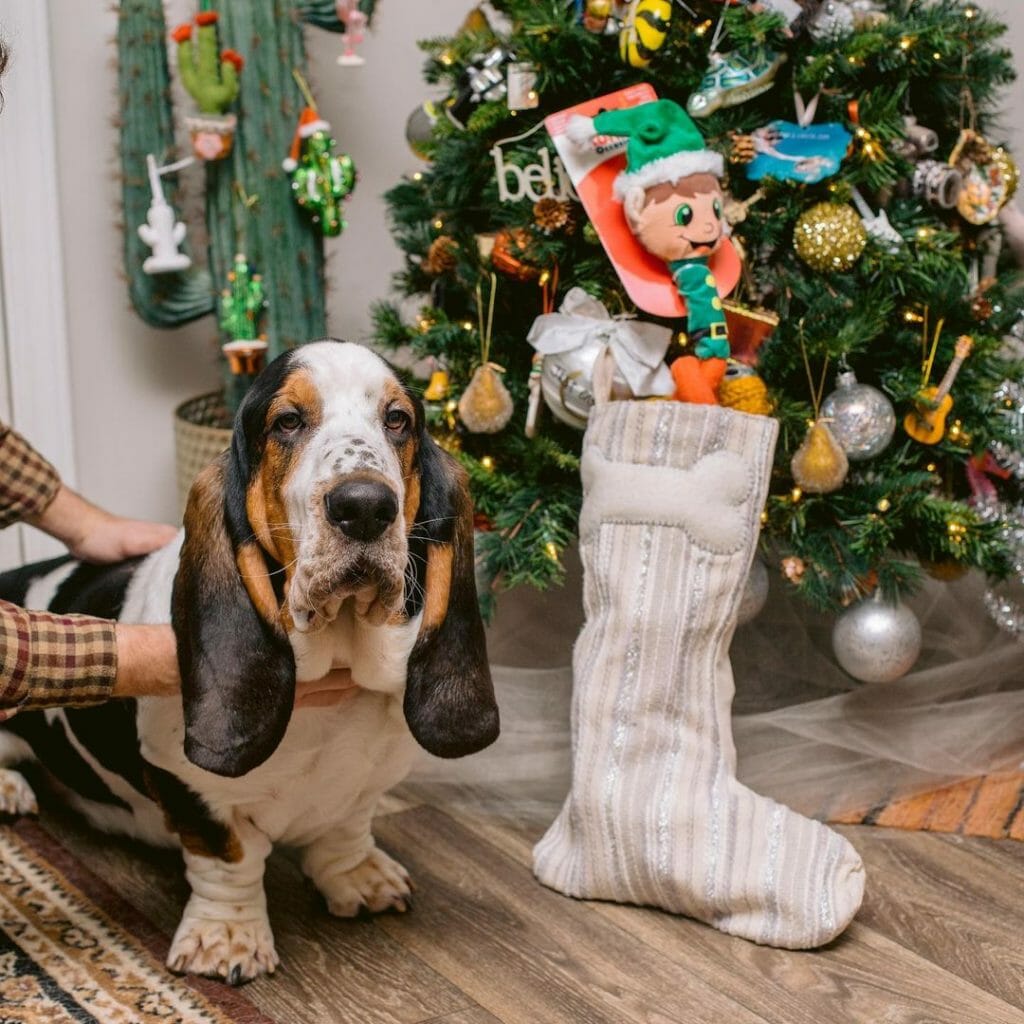 Christmas trees can be decorated in various ways depending on the theme you're going for. You can go all silver with the Christmas balls, candy canes, and even lights, or go genuinely festive with the colors. No matter what theme you're going for, a Christmas tree is undoubtedly an excellent background for your dog's portrait.
Get your pooch to sit, pose, or stand at the front, along with the gifts under the tree. Be quick to snap the best shots and bribe them with small treats to get them to stay interested. Mind the lighting as well. If the Christmas lights are on, there's not much need to turn all of your lights on the ceiling to avoid overexposure. 
You might also want to read: Dog Treats That Are Bad For Dogs and 8 Natural Healthy Treats You Can Give Them
2. Get Them to Show Off Their Presents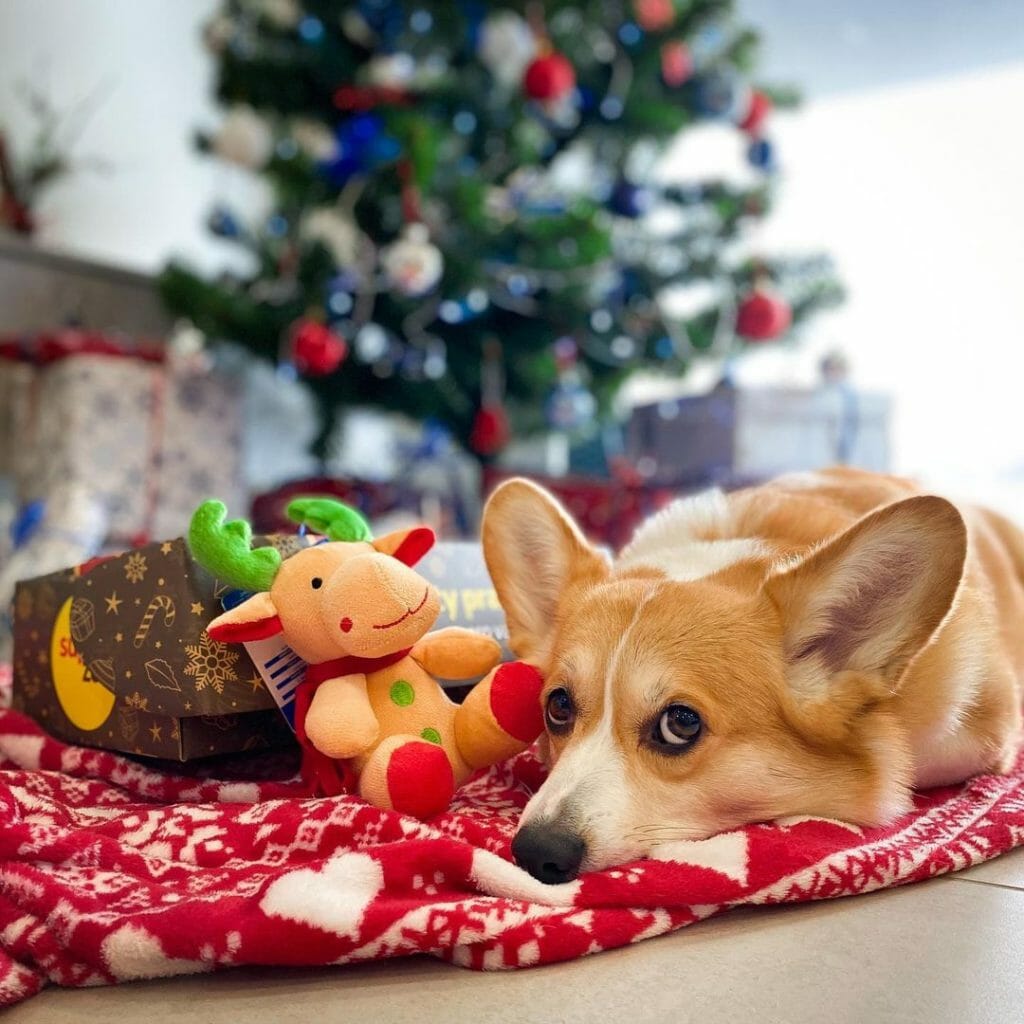 Your dog enjoys receiving presents as much as any kid does. Their gifts may contain new toys, puzzles, treats, or accessories in fun prints and colors. After taking part in the unwrapping session, why not let them show off the presents they received?
Put the camera's focus on their expressions and the particular items they got for Christmas and look for their best angles. After the quick pictorial, it's time for them to try out their toys!
3. Be Held by Santa Himself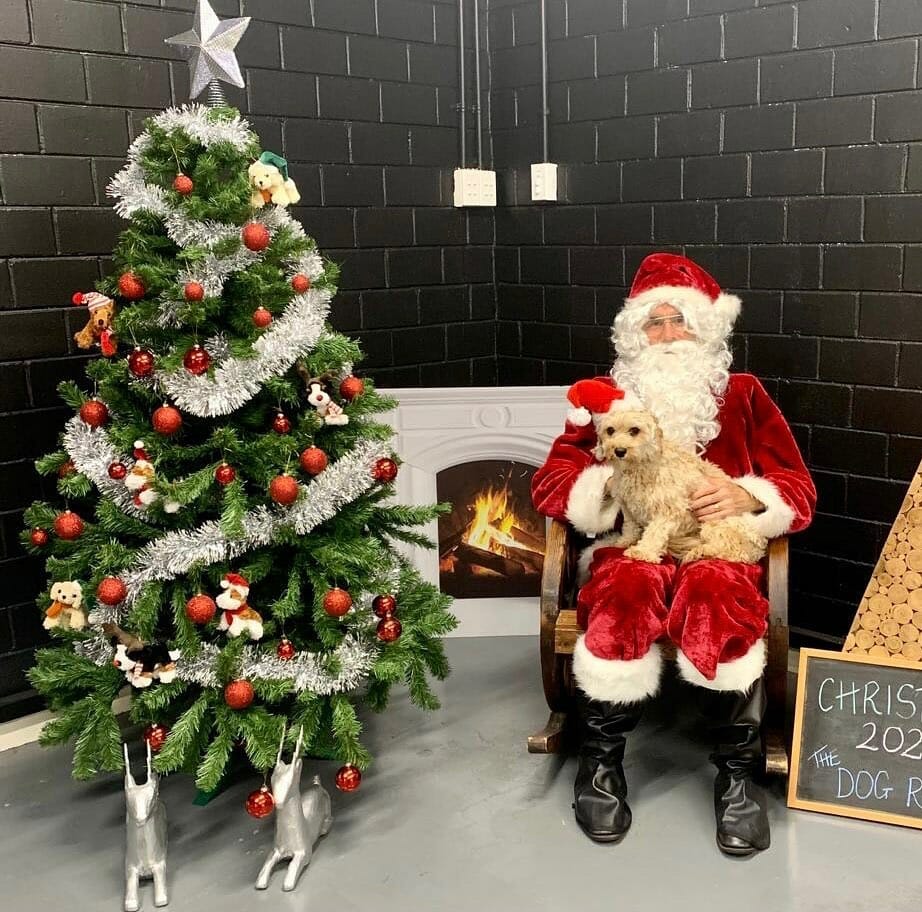 Do you have Santa in the house? As long as your pooch is friendly, a quick photo session with the bearded guy is possible. Think of the best pose for your dog. If they're large, getting them to sit beside Santa is ideal. Meanwhile, small or medium ones can be carried in the arms or laid down on the lap. 
Wondering what the background should be? The fireplace with a Christmas tree near it is effortlessly splendid in sight. Place a grand chair on the other side where Santa and your dog can pose. 
4. Dress Them up for the Season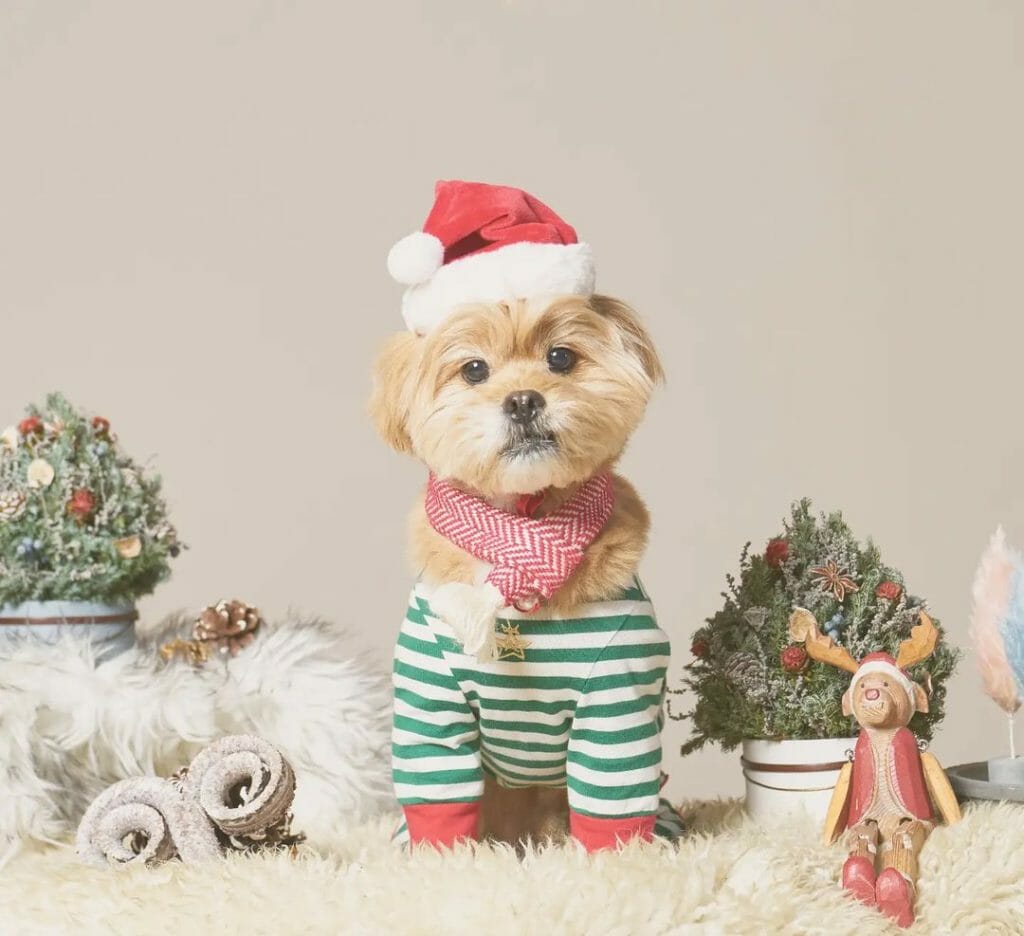 Nothing is cuter than seeing your dog dress up for a festive holiday. It completes the mood, vibe, and spirit of Christmas! An elf hat and a sweater are two clothing items you need. Perhaps you can also make them wear a star necklace and a scarf since it's winter season anyway.
Lay down a shaggy carpet that will imitate the snowy ground and place Christmas toys and teddy bears on the side. Small pine trees can be used for decorations, but you can also use your small indoor plants. A white background is perfect for this photo idea.
You might be also interested to read: Top 15 Dog Costume Ideas for Any Occasion
5. Lift the Christmas Spirit Using Lights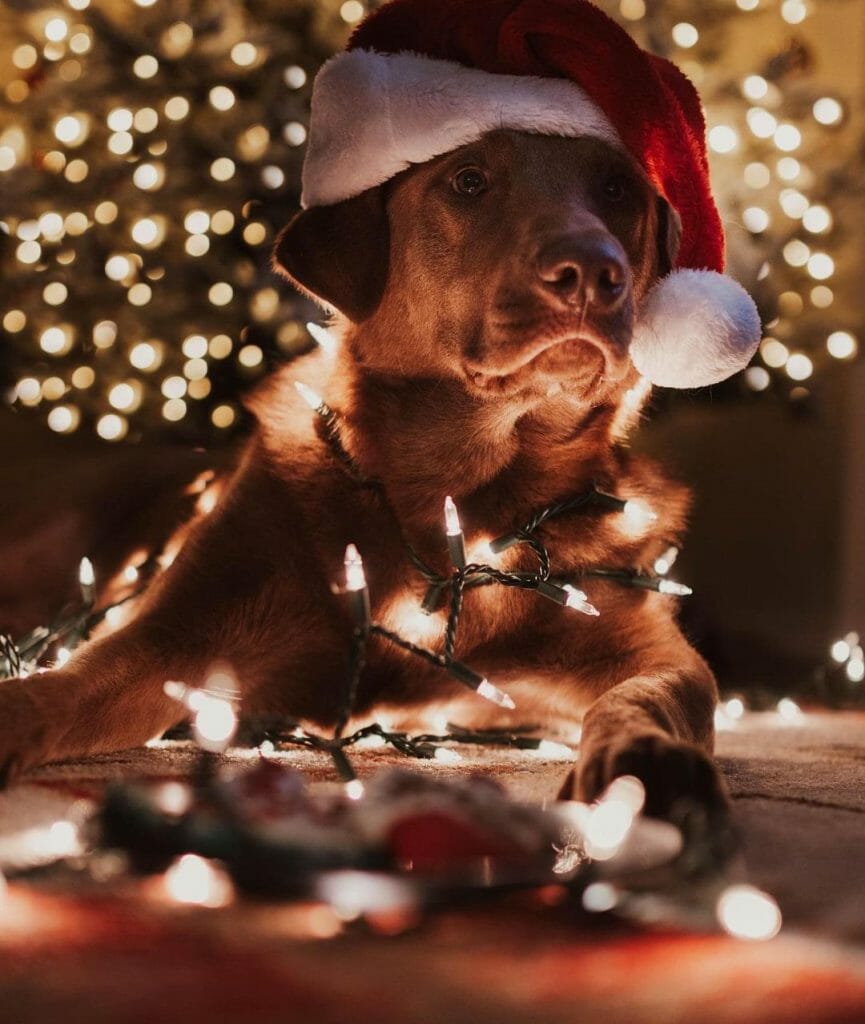 Your home's Christmas decoration won't be complete without Christmas lights or fairy lights. They add sparkles, shines, and warm brightness inside your home, which are pretty much the same descriptions you can use for your dog. 
Turn off your lamps but leave these tiny bulbs glowing. Make sure they have no open wires before placing them loosely around your pooch. The shadows casted add more character and authenticity, making your pooch glow and take up the center stage in one photo.
6. Snap a Candid Shot in the Snow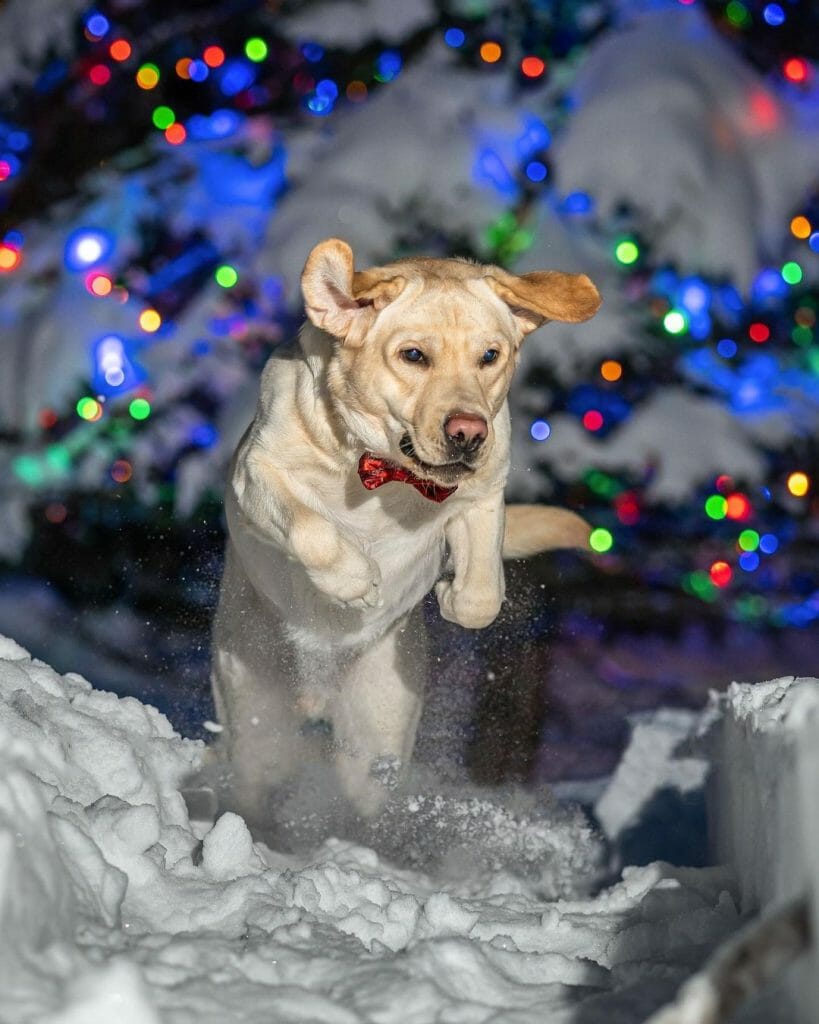 In some parts of the world, Christmas happens during winter, and dogs love playing in the snow. They'd scratch the door to let you know they want to go outside. The feeling of being in a cold yet soft environment is indescribable for dogs. This calls for fun and playtime. 
Ready your camera and capture the candid moments. Since they'll be moving and running around a lot, it's best to use a professional camera like the Canon EOS R5 so the results stay fantastic and you get to take the shots you want for your pooch without the awkward blurs. 
7. Include Yourself in the Frame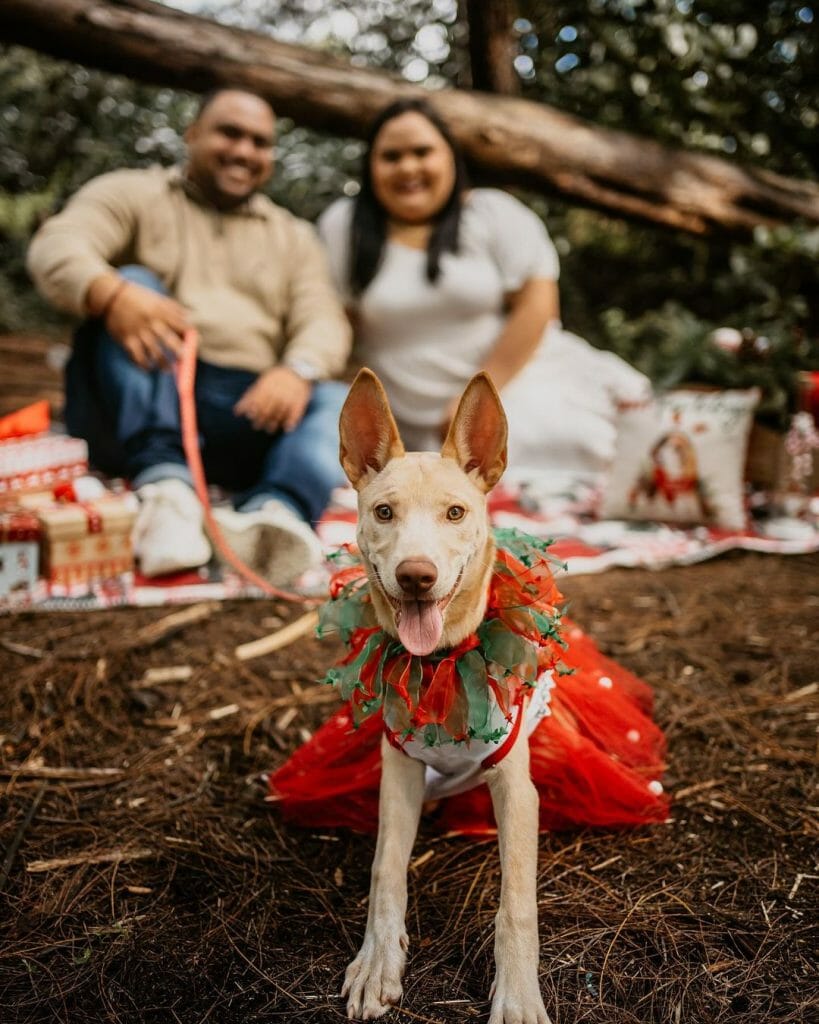 Christmas is best spent with friends and families. Of course, your dog is part of that, and a family picture should happen before the year ends. Plan out a picnic and get all dressed up for Christmas. Ready your dog's outfit and accessories as well. 
Though tripods are helpful, hiring someone to take the photos is more convenient. Professional photographers would also be able to help plan the setup and use the best equipment. Creativity in these shots is needed. I guarantee you, once you start the culture of taking family portraits with your dog, the tradition will keep going on.
8. Make Use of Some Props and a Background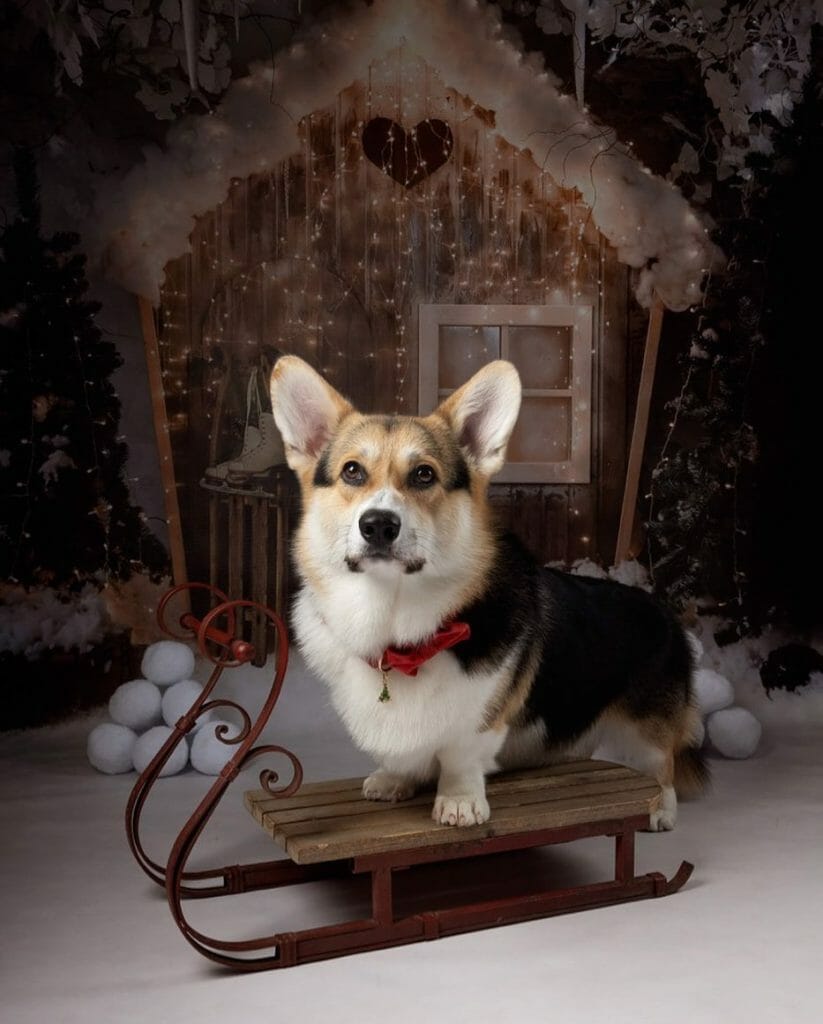 A backdrop costs less than having the actual designs laid out for your dog's Christmas pictorial. Once that's set, your budget can focus on the main props like a sled or anything that carries the Christmas vibe. Get your dog sitting on it or posing along with it.
Direct them so they'd look in a particular direction. Reward them reasonably with treats or praises, so they stay pumped the entire photo session. For a subtle yet attractive touch, get your dog to wear a ribbon around their neck. 
9. Get Them to Help in Decorating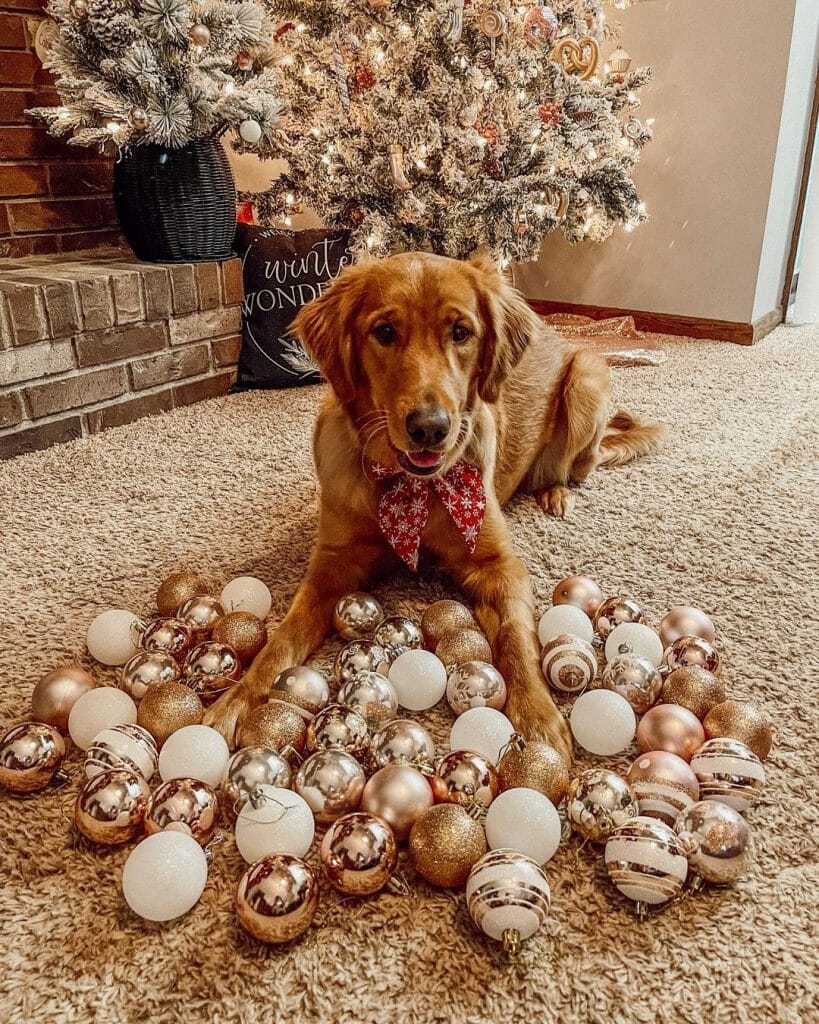 While some dogs prefer to just sit and watch you decorate the house, other pooches love to get involved. As long as they're not chewers, then pouring the decorative balls on the carpet would be fine. Your furry friend would love to sniff and play with these, but they're better off as props for this concept. 
Instruct your four-legged best friend to lay on their stomach and show their smile to the camera. That way, the photo will seem like they're actually helping you during these busy days. 
10. Get Them to Feel the Christmas Mood in the Studio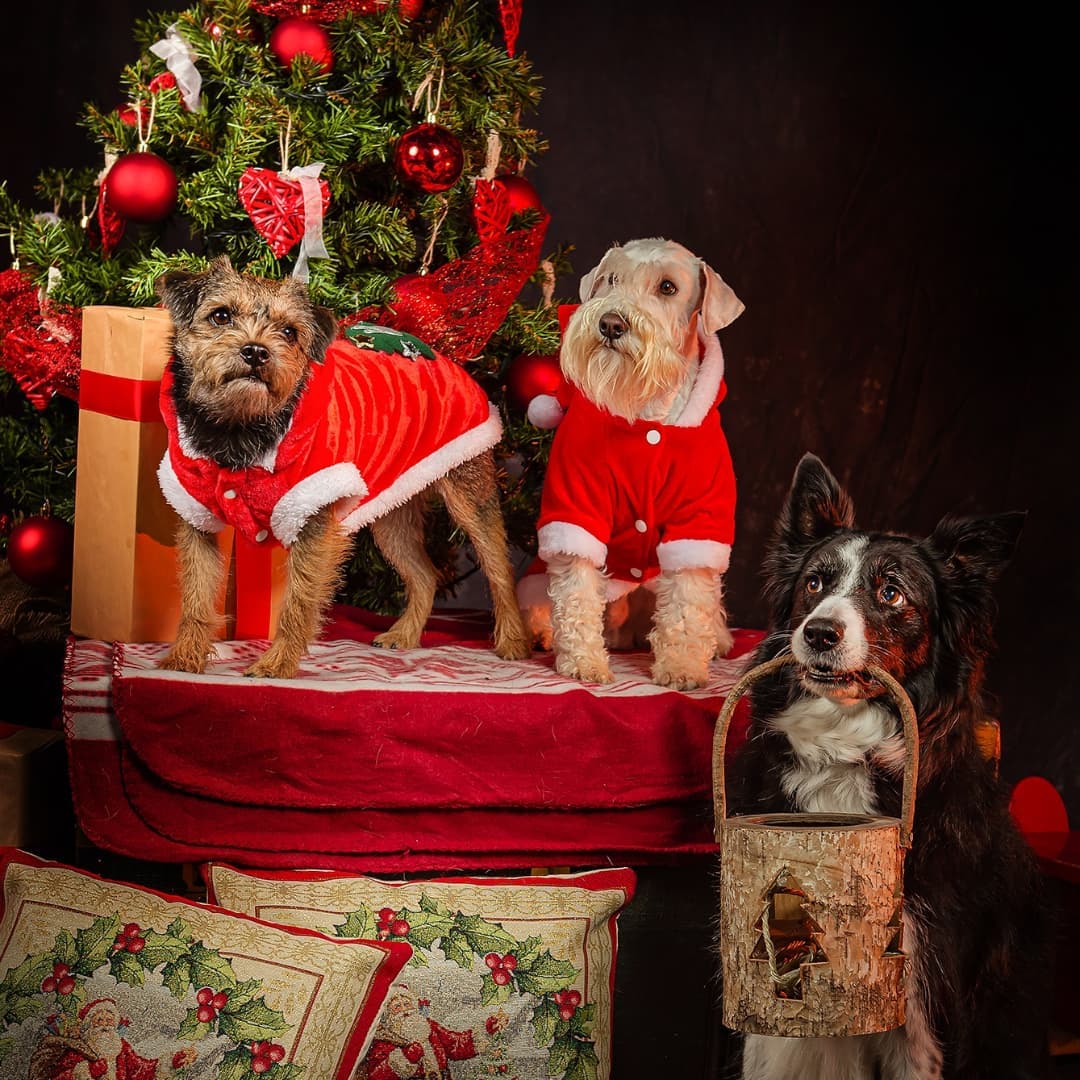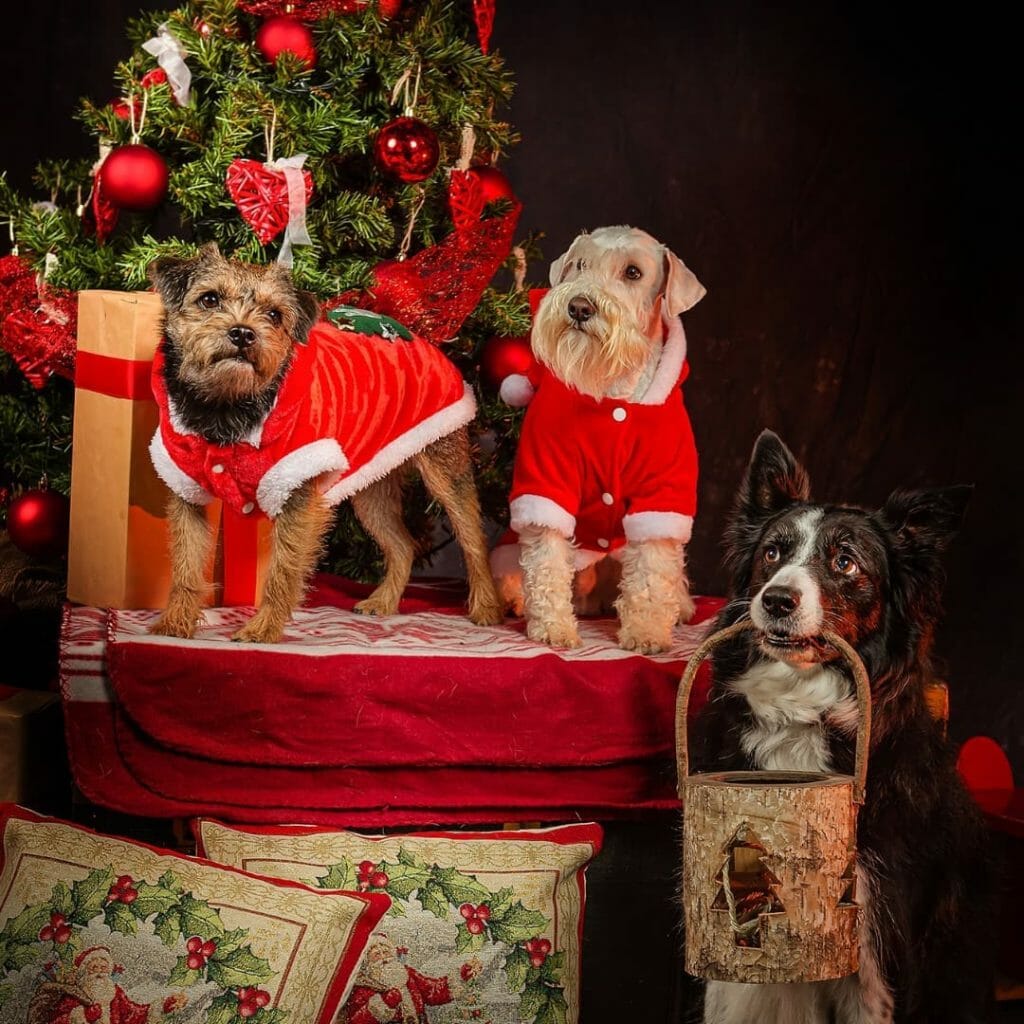 Studios are your number one option if you have no more time to set up a doggy pictorial with all the backgrounds, props, and costumes, to name a few. By hiring the right people, you and your dog will have the best photo card of the season.
Go for vintage-looking gifts with pillows in classic old-school Christmas designs for a warm vibe. Get them to wear their designated outfits and let them sit or stand in front of the Christmas tree. Large dogs don't need to sit on an elevated platform but small and medium dogs can. This provides balance despite their height difference. 
11. Play With Different Perspectives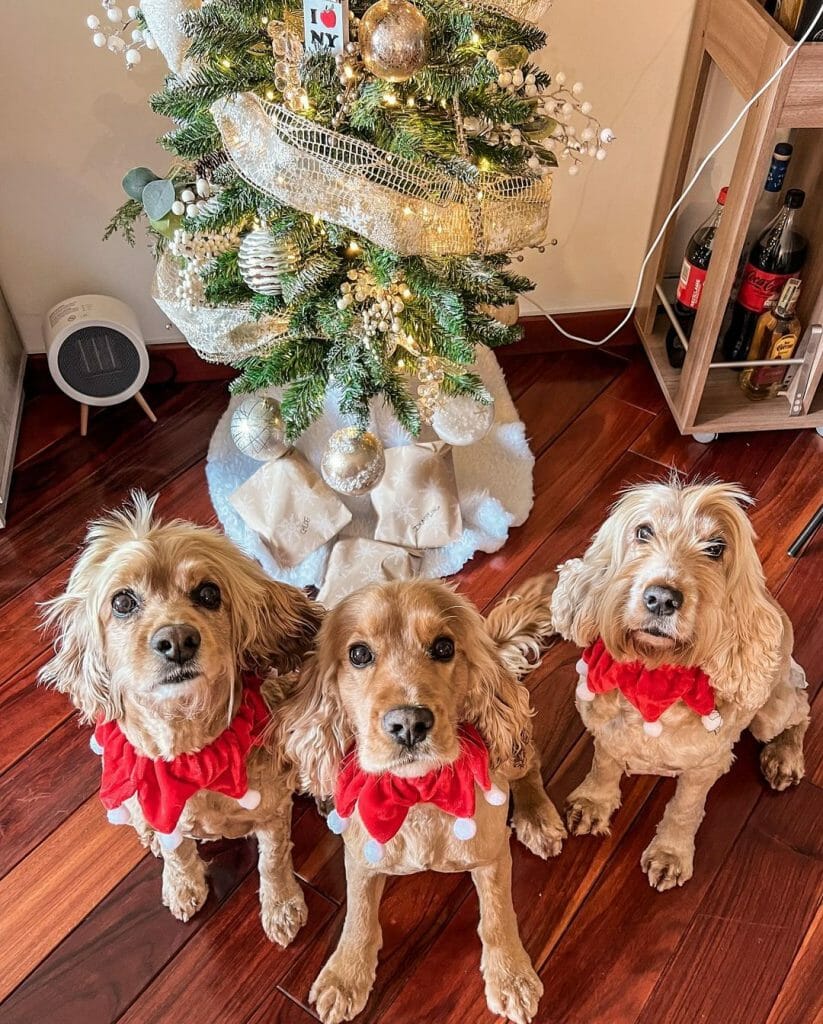 Playing with different perspectives makes your dog's photos unique, fun, or silly. Their big soulful puppy eyes can be emphasized better in a bird's eye view. Show them a treat up in the air and take shots as they gaze at that yummy snack.
Make them wear Christmas collars or decorated headbands and direct them in front of the background you like. You can try other angles like them looking back from their behind or a close-up shot.
12. Make Them Play a Character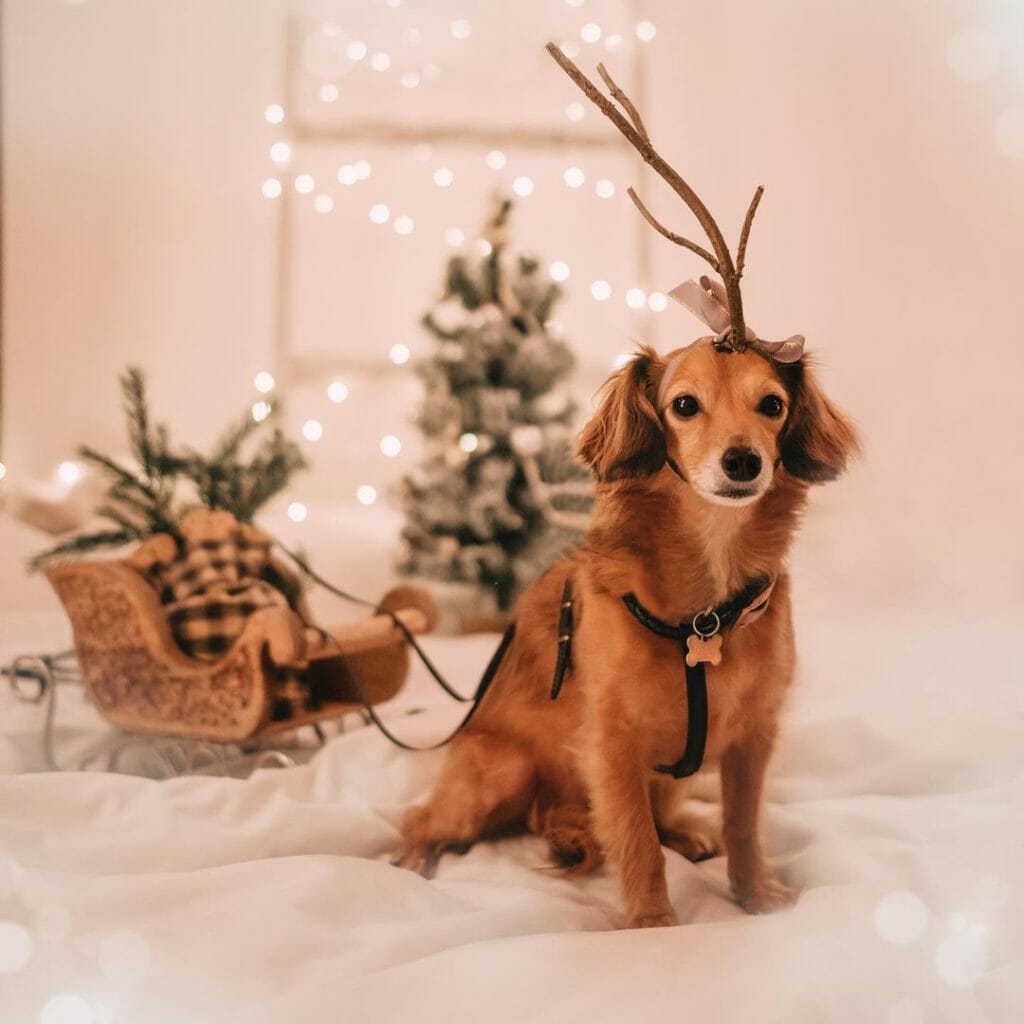 Make your pooch look like a character or a reindeer. There are various antlers headbands from Amazon that might just perfectly fit your furry friend's head. Purchase as well a sled and a harness to perfect the cosplay. 
Go for white blankets for the ground so it'd look like snow, and place mini-pine trees on the side so your dog would look like they're on a mission to deliver gifts in every house. 
5 Tips for a Perfect Christmas Photo
1. Find the perfect spot. Your location is essential for your dog's photo session. It has to have natural lighting, and do avoid using flash as your dog won't like it. The popular spots can be beside the fireplace, in a festive park, on the couch, or near a Christmas tree.
2. Prepare the clothes. Your dog has to be ready in appearance too. You can dress them up or simply use accessories. Make sure that they're not overly dressed for the season. Tone it down in clothes, headbands, and other items. Matching sweatshirts will be ideal if you plan to take pictures of your dog with a family member. 
3. Hold your dog. To avoid your pooch from wandering around, holding or carrying them in your arms will get the photo session to finish early. But, if they're chill, you can just let them relax on the floor. On another note, it'd be great if you give thought to getting a family photo with your pet dog and cat if you have one. 
You might also want to read: 8 Tips on How to Get a Cat to Like a Dog
4. Make your dog look at the camera. Call for their attention by taking advantage of their favorite toy or treat. Hold it near the camera's lens and once they lock their gaze into that object, immediately snap a shot. This will make the picture look as if your puppy is actually looking at the camera. 
5. Have fun! While it's great to plan out every detail for your dog's Christmas photo session, going genuine with the interaction is also priceless and worth documenting. Always be ready for any once in a lifetime silly moments your dog may show, so check if your camera's battery is not dying yet. 
For a family photo, you can all show smiles, laugh, or play with your doggie. Just let the camera capture your natural way of celebrating Christmas, either on the couch or on the chairs with the kids sitting on the floor.