Indoor Dog Kennel Ideas: 11 Styles For Your Dog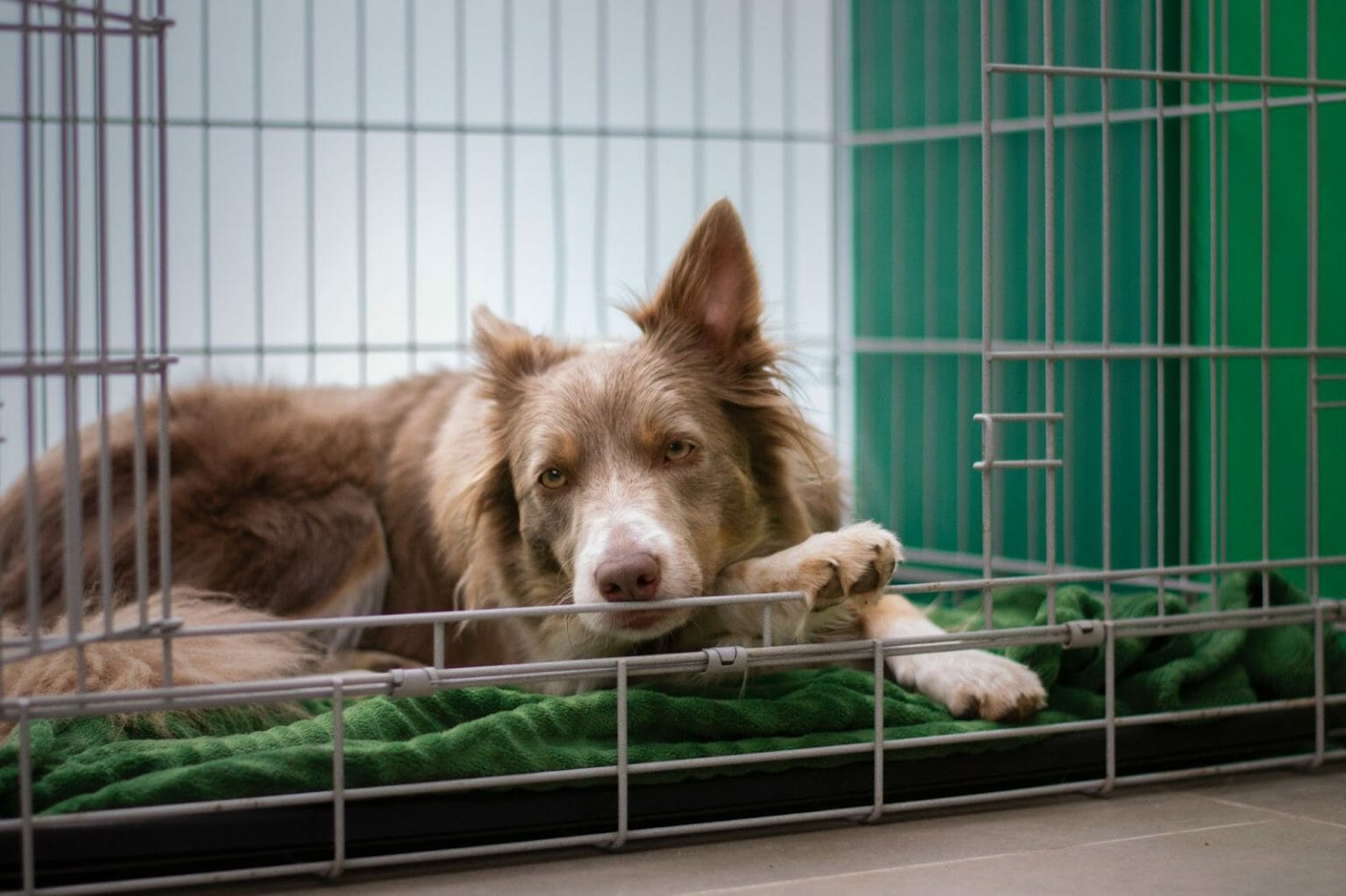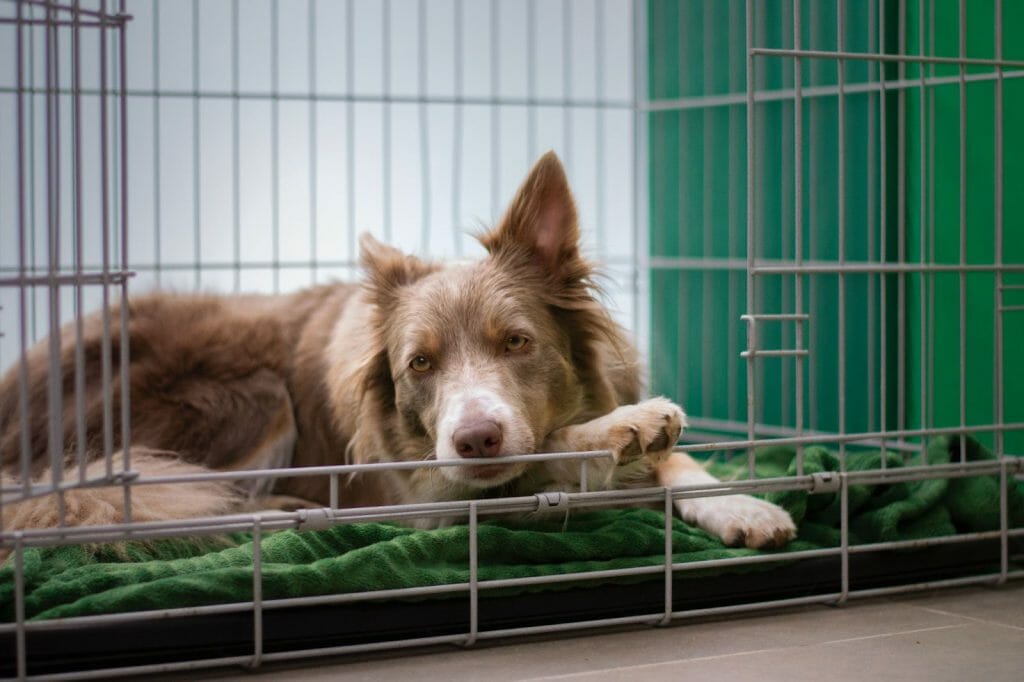 Granting your dog a space to rest is a must. Aside from the crate and their freedom to rest anywhere at home, nothing beats giving them a place they can call their own. Every dog parent has to consider investing in a kennel, and out of that follows the design, function, and overall aesthetics. 
According to Dr. Mary R. Burch of the AKC, a kennel used to be a typical sight; it was mainly made up of wires and was usually placed somewhere the guests couldn't see. However, it's different now. Indoor kennels are possible without, of course, ruining the vibes of your home. 
To avoid getting overwhelmed by all the indoor kennel ideas available on the internet, I have personally picked 11 styles that aren't only timeless but also practical.
1. Monastery Style Kennel House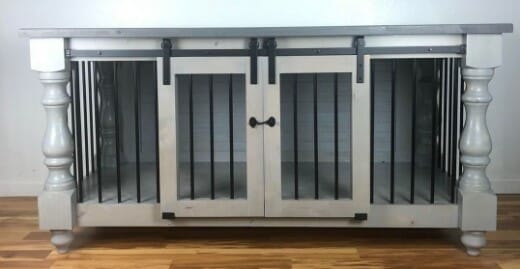 A Buddhist design is ageless. Adding such a cool feature as the monastery legs in the four corners of your pooch's kennel is not a bad idea at all. They add flair and creativity, transforming a simple and boring-looking kennel into something unique. 
Admittingly, you won't find this easily online, so hiring a carpenter is always the best option. Not only would you be able to achieve the design you wanted but as well as get to decide on the materials to be used. This monastery-style kennel can be placed anywhere inside your home, be it in your living room or in the hallway.
2. Double Kennel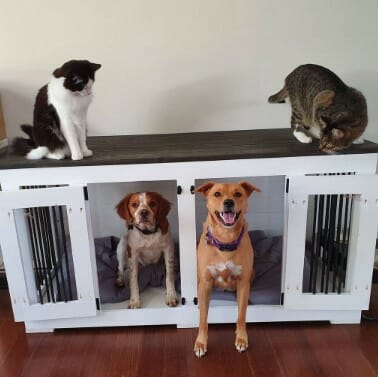 Make use of the space and materials you have. A double kennel will be a great fit if you have two dogs in the house! Such a set-up will also make them develop a much stronger bond, as their distance during rest time is not too far apart. 
It's also helpful if you have an old dog and there's a new one coming. Yet, of course, it still depends on their individual personalities. A double kennel is a true space saver, especially if your canines are quite massive.
3. All-Dark Kennel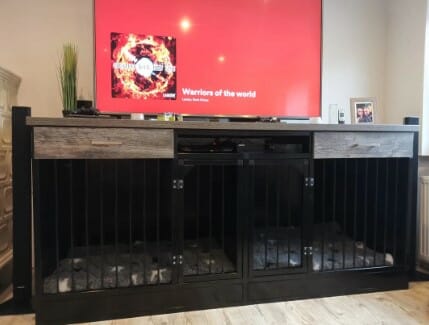 If you have a penchant for dark-colored furniture, the indoor kennel should match it up as well. This is why several dog parents are skeptical about indoor kennels; if you don't carefully plan out your dog's space, your home will end up looking tacky.
Go for practicality, too. Take this one as an example. The indoor kennel of their dog has a dual purpose; it serves as a console for television! With that, you have to invest in durable and sturdy materials. The last thing you want is your TV and other items falling through a thin and poorly-made tabletop and your sleeping dog getting knocked over in the head.
4. Robust Metal Kennel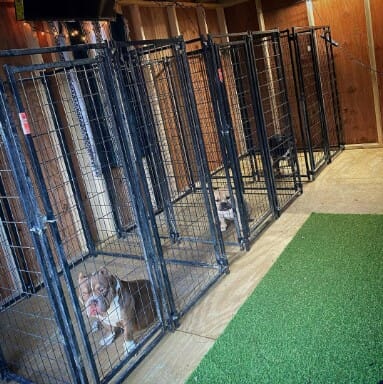 Another idea you can absolutely follow is this robust metal kennel. Though you're sacrificing the aesthetics, the durability, on the other hand, is excellent, making your pooch feel secure at all times. Plus, you can keep more than 2 dogs, provided you have a vast space in your homes like a vacant garage or a spare bedroom.
These metal kennels are best suited for solid canines, especially those who are heavy chewers. You're guaranteed that this indoor kennel type will last as the materials are too impossible to be broken that easily.
You might also be interested to read: Dog House Ideas: Indoor and Outdoor Protection for Your Dog
5. Classic Wooden Kennel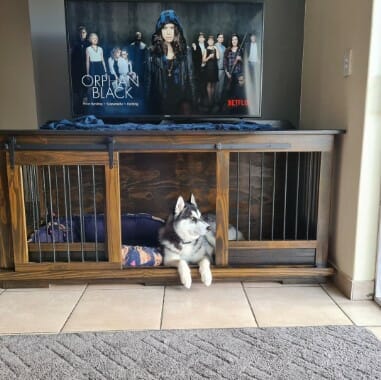 Wooden kennels have a friendly vibe. Get a handyman to make one for your pooch. Be sure that your dog's proportions are well-measured, including their expected adult height and weight, so that the doggy place can grow with them through adulthood.
The wooden-style kennel should be your last resort if your dog loves to bite and chew on things. However, for some, this concern won't be shared. For example, Chihuahuas, Pugs, and Beagles are some of the least dangerous breeds and, therefore, this wooden kennel would be a match made in heaven for them. 
6. Multi-Kennel Idea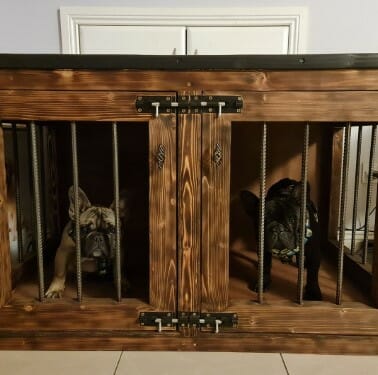 For many dog lovers, owning one dog isn't enough. It's the same case even with two doggies at home. If you're one of those who find happiness in taking care of more than three dogs, and you're thinking about getting an indoor kennel built for them, then the multi-kennel would be the ideal trend for your home.
The style is all up to you. You can go for a square type with 4 divisions for your four dogs or a rectangular shape and get it divided into 3 equal spaces. Be sure to have everything measured and that every dog has enough room to move inside.
7. Stainless Steel Clear Door Kennel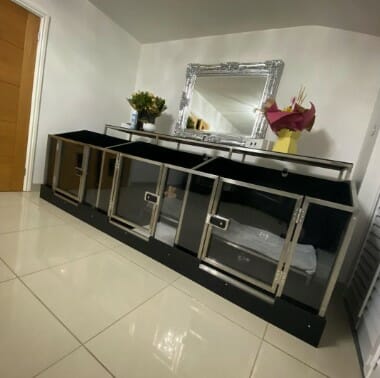 A stainless steel clear door kennel might tick the box for a more modern look. You'll get to see all the movements of your dog inside, and the stainless steel feature ensures that this won't be destroyed in an instant.
Thick and high-grade glass is required. That is unless you have small dogs like the Toy Poodle or a Cheagle. Don't forget to keep the space comfy for your furry buddy. Place several blankets inside to keep them warm and cozy during the night and perhaps a few chew toys if they're in the mood to bite and gnaw.
8. All-White Fashionable Kennel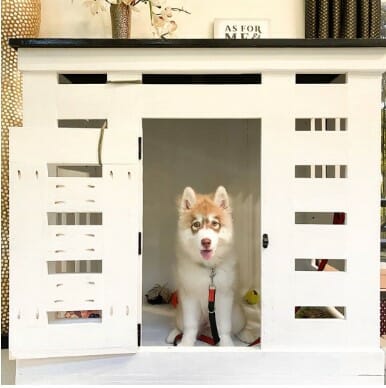 For celestial homes or white lovers out there, an all-white indoor kennel would be a new pleasant sight you'd see. Of course, who doesn't like getting their dogs to match their tastes?
This is perfectly far from boring as you can still put pieces of decorations inside in different colors, so a hint of popping shades can balance out the overpowering looks of such a kennel. Design this in any way that you want, from a mini-apartment down to a literal dog house.
9. Kennel With Built-In Drawers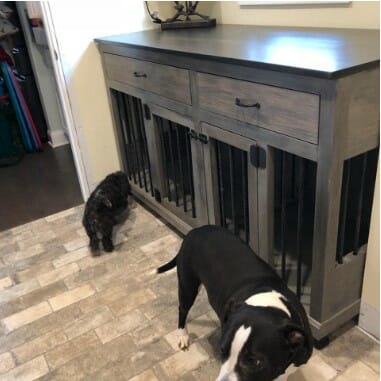 Maximize all the space you have at home. Indeed, putting an indoor kennel requires serious planning, including where to place it. Depending on the size of the kennel, dog parents should look for the appropriate area where to put this dog furniture.
To avoid a cramped up place, avoid getting a kennel and a drawer when you can have both in one single piece. In fact, you can use the drawers and designate them as a space to store all your dog's treats or toys. Whatever works for you! 
10. Crib-Like Kennel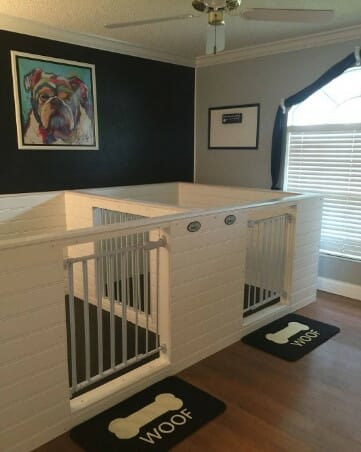 Crib-like kennels are those that don't have any top covering. You just have to make sure they're high enough, so your dog wouldn't be able to jump their way to freedom.
If your dog is persistent, you can utilize a used crib and make the door out of it or go for something more rigid. This kennel will make you spend less, considering that it only has 4 walls without a roof. Should you have more than two dogs, the division for each kennel has to be hardy. 
Poor choice of materials can be chaotic if all the dogs, especially if they're of the same sex, end up in one place with no boundaries and no owner to monitor them.
You might also want to read: Top 10 Dog Door Ideas
11. Under the Stairs Kennel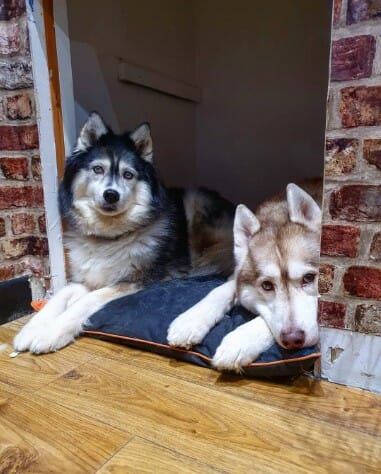 Another practical idea is the under the stairs kennel. Indeed, there's enough space to accommodate dogs from small to large sizes; plus, this means you won't go about looking for other expansive rooms in your home. 
Still, measuring the area is necessary before you start the project. It can be a head-scratching moment if you're done with the indoor kennel and realize late that your dog doesn't entirely fit inside. 
You can consider putting a lampshade near your dog's spot since light doesn't usually reach what's under the stairs. 
5 Factors to Consider in Selecting the Right Indoor Kennel
There's no room for mistakes when choosing the right indoor kennel. That is unless resources aren't a problem. But really, planning your dog's tiny indoor home can be made easy if you consider the 5 things listed below:
1. Age and Breed
Your dog shouldn't feel restricted or contained inside their kennel. If you have a puppy, expect a spurt in their growth. Secure a reasonable allowance in space inside and get to know their average height and weight. 
Breed plays a role in decision-making, too. Little dogs like the Silky Terrier, Dachshund, and Pomeranian won't require a kennel as big as that which can fit a giant Mastiff. 
2. Features to Add
With so many available kennels in the market and thousands of ideas to merge to achieve a perfect doggy house, coming down to the essential factors will save you the headache.
Make sure you think about the kennel's versatility, transportability, and convenience. Also, check which one you'd prefer more: heavyweight kennels or lightweight ones. Lastly, see if this would match your home's interior. 
3. Safety Issues
The primary reason indoor kennels are built is to help make your dog feel safe and comfortable. Get it done by craftsmen or carpenters who don't only have a keen eye for detail but as well as when it comes to safety concerns. 
An ideal kennel shouldn't have any exposed poking wires or metals, or if it's made out of wood, it shouldn't be poor in quality that your pooch can just easily chew on it. This poses a choking hazard, after all.
4. Budget
You should have a budget set before starting your indoor kennel project. This helps you avoid getting below or beyond what's needed. Crush out any less essential features you want in a kennel without losing the critical aspects that make it function efficiently.
With a budget in mind, you'll also be able to see what material to go for and what kennel features you can get. 
5. Material and Design
Some kennels come in plastic, wood, or metal. Some are foldable while the others aren't. With your dog's safety in consideration, avoiding plastic-made kennels gives the environment the favor and keeps your dog from chewing on an easily destructible item.
Going for the sturdiest and most reliable doggy home is the priority when it comes to indoor kennels. 
Read More: Most Affordable and Functional Kennel Ideas for Your Dog