Temporary Dog Fence Ideas: 12 References + 5 Factors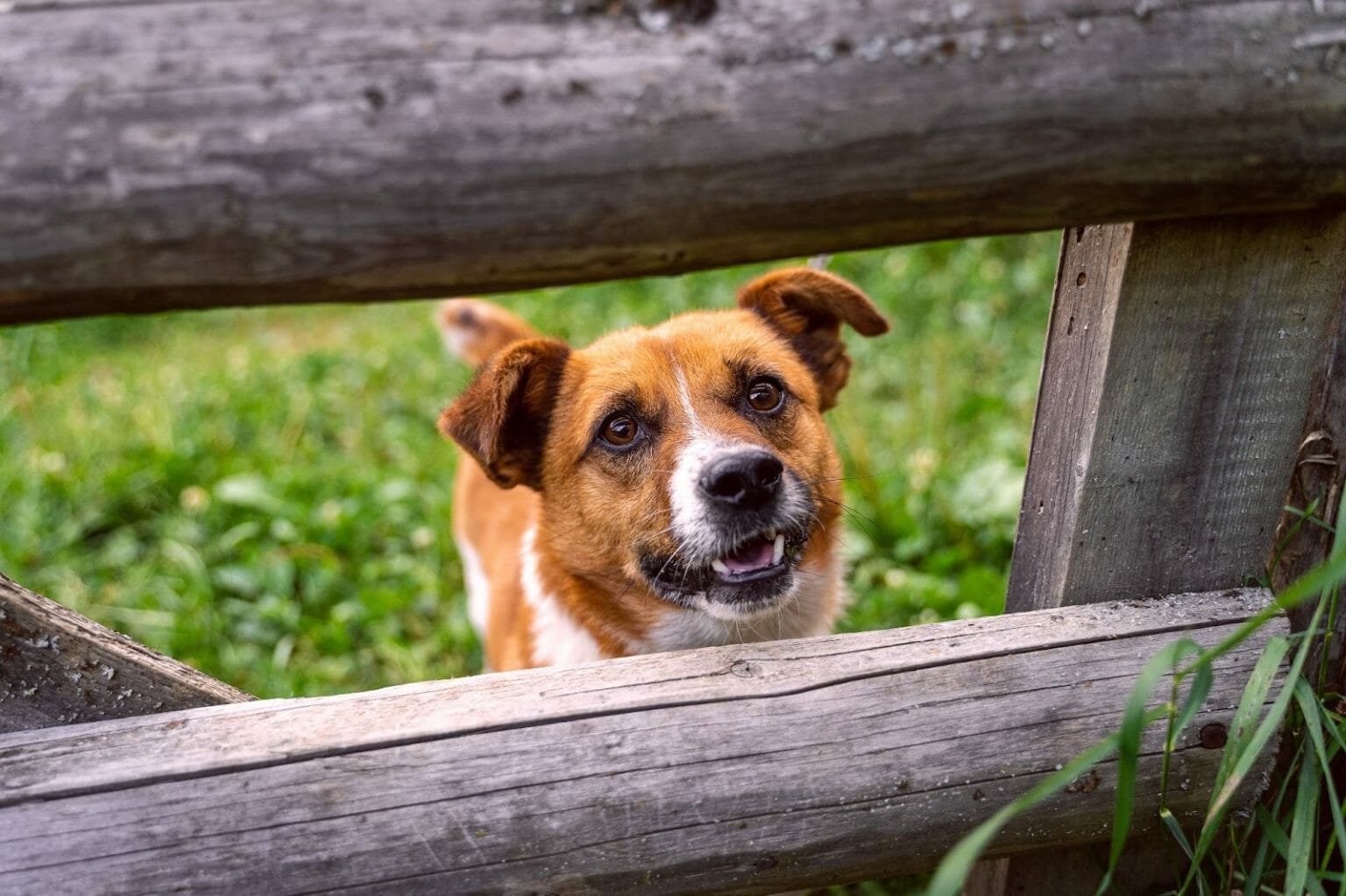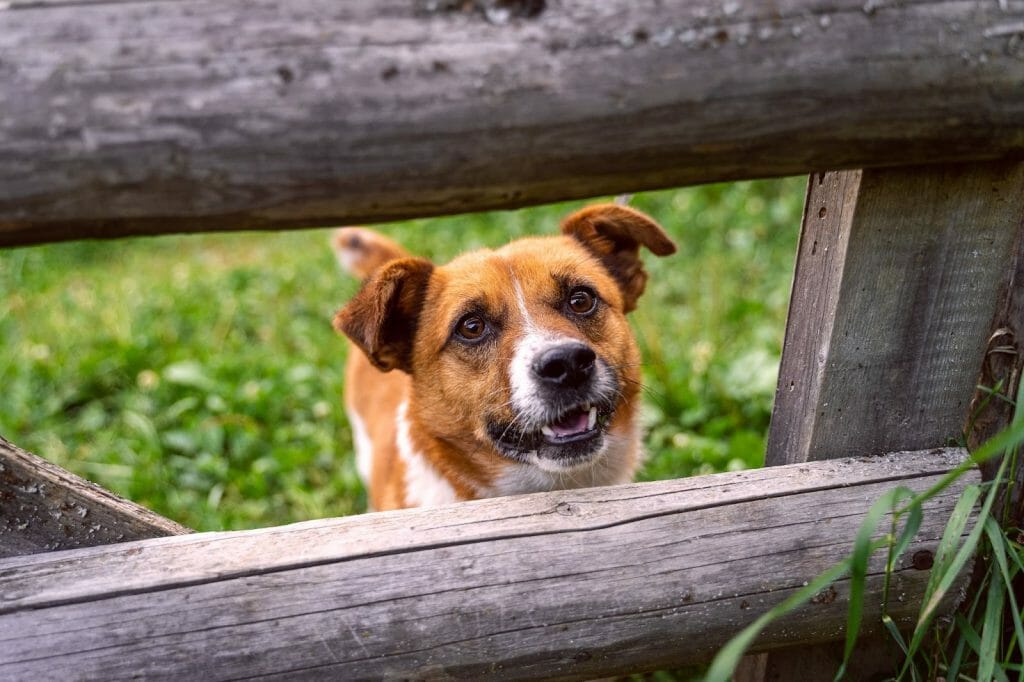 A dog fence comes in handy if you own a notorious escape artist such as a dog. Having an enclosure ensures your dog is safe and sound and away from the busy streets or suspicious strangers.
Don't wait for your dog to escape your property before you decide to install a secure fence. In fact, you don't have to right away go for the real deal that requires a serious amount of budget. I got you 12 temporary dog fence ideas you can refer to in the meantime. Let's start the list.
1. Smart Portable Fence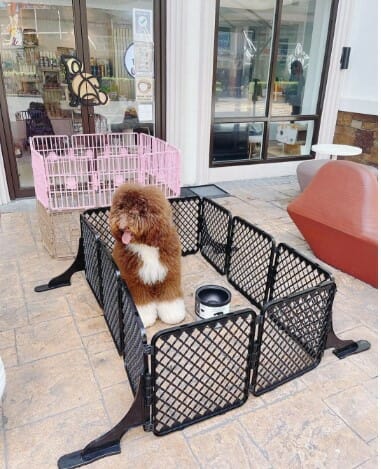 In situations where you don't have the luxury of time to install, hammer, and nail on some fence materials, portable ones that you can buy at a store are your life-saver. Especially when your dog's sitter has a sudden change of plans, all you have to do is get the portable smart fence unfolded and structured to contain your pup correctly.
The materials range from durable plastic to metal fences. Carefully consider your dog's breed, size, and behavior in choosing their temporary dog fence. This has to be tall enough so they won't be able to jump out of it and strong enough that they won't be able to break their way out.
2. Wooden Dog Fence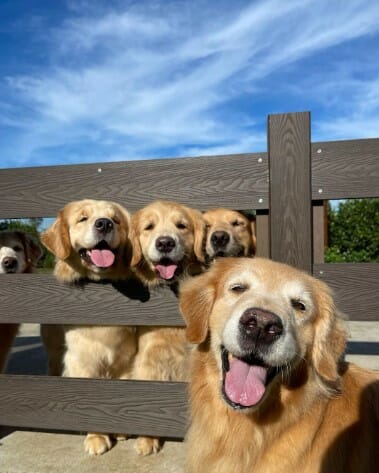 Got some spare wood resting in your backyard? Make use of it and convert them into a fence. With proper polishing and a hand for hitting the nailheads right, your dog won't find a way to get out of their family's premises. 
Since it's temporary, you don't have to pick or purchase the finest wood. Just make sure it's sturdy enough to let your dog know it's hopeless to chew their way out. Should you space out the fence, ensure that it wouldn't be too big of a gap wherein your dog can get through. 
3. Picket Fence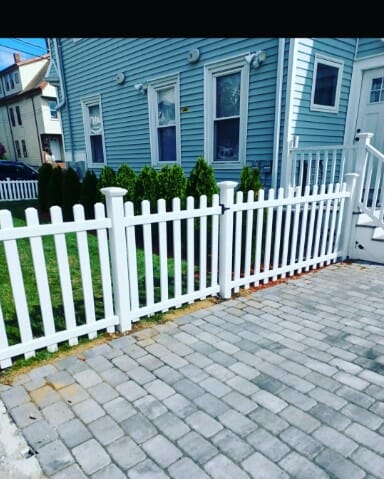 Picket fences are standard in the United States, and you can either DIY or hire someone to do it for you. Since it's made of wood, it won't take long before this temporary dog fence gets done. Another good news is that picket fences, despite the more inexpensive materials used, can last up to 15 years. With maintenance, you can expect it to reach even 20 years.
Picket fences not only put a boundary between your yard and the street but also add beauty and life to your home. Your puppy will be proud to show it off to anyone passing by.
4. Metal Fence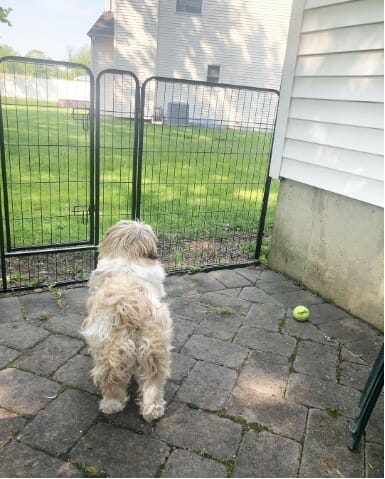 There are also metal fences that are easy to assemble and easy to pull apart. This is your go-to option if you're renting your space and have a small yard that comes with it. Metal fences are hard to break, and they can last very long.
It's a dependable item of choice, especially if you have to go out and do some quick errands. Metal fences are usually built to be tall enough for any dog unless your four-legged buddy is a champion at jumping. 
Usually, metal fences have doors too. So, always check if it's closed or not, as your dog can see every opportunity they have to run to the other side.
5. Wire Dog Fence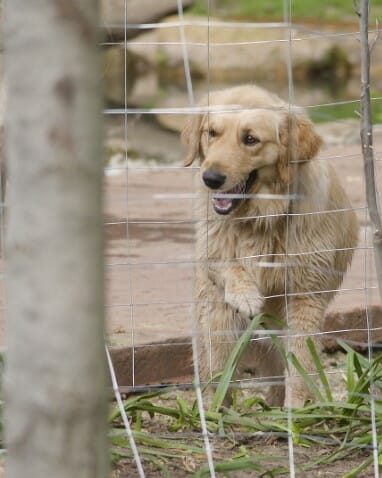 You don't have to splurge all out for a temporary dog fence. Just as long as it'll serve its purpose, such as providing security and ensuring safety for your dog, any dog fence will do. The one made out of wire is a prime example.
Wire fences are cheap, and you can find them available at many stores. You have to place posts with it every few meters to keep it in place. The only time you need to replace this is when it's disfigured to the point that it no longer holds your dog inside your compound.
6. Ladder Fence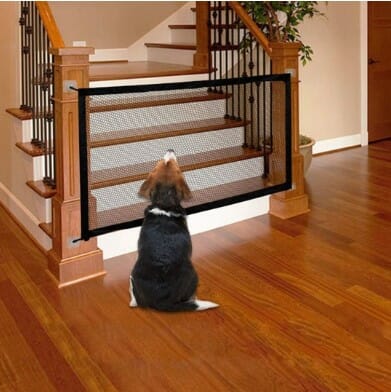 Next up is a ladder fence. This is undoubtedly useful if you limit your dog's area to roam inside your home. Some reasons include having an allergic family member, or you're preventing them from soiling a particular room. 
Get this placed on the ladder or in the doorway to discourage them from entering. A ladder fence is cheap yet effective, so be sure to have one or two ready for use at any time.
7. Split Rail Fence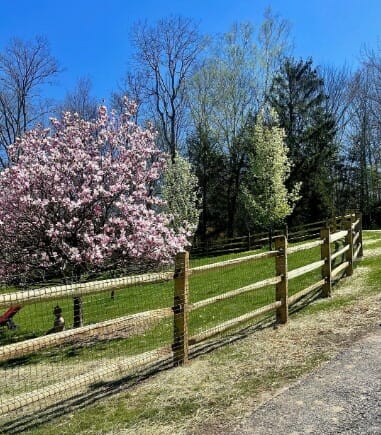 The split rail fence is another choice for dog owners thinking about what temporary dog fence to go for. The gaps may be broad, but the wire that's added and attached to the wood keeps the dog inside your yard. 
It certainly won't require a lot of money to achieve this, but it sure does need effort and commitment to do such a project. Any type of robust wood is ideal. Also, the netted wire should be damage-free. The only downside about this dog fence is that breeds that dig a lot may find their way out of your newly installed gate once your attention is diverted from them.
You might also be interested to read: Dog Run Ideas and 8 Factors To Consider in Choosing One
8. Plastic Mesh Fence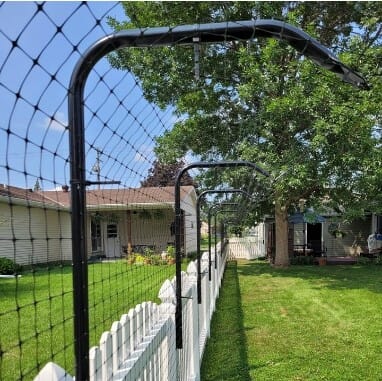 We can't underestimate the power of a plastic mesh fence. They're actually more durable than many of us think. However, it depends on what breed of dog you're keeping. For small to medium pooches, this would be your temporary fence. 
Usually, this is tied to metal posts or even wooden ones. You must constantly check for any big holes and might consider replacing that part immediately before it gets any bigger.
Some dog parents would also utilize this differently. If your gate is too low, setting up posts on top of it and adding in the mesh fence will add height, eliminating any chance of your pooch escaping.
9. Chain Link Dog Fence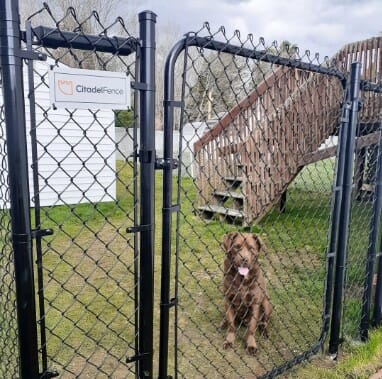 Chain link dog fences are a common sight. Don't fail to include this in your options because rarely does any dog parent end up disappointed with this choice. Chain links are undeniably strong that even the breed with an impressive dog bite won't match their resilience.
The maintenance needed for chain link dog fences includes painting and cleaning them from time to time. They can rust easily if they're not manufactured or appropriately maintained. 
10. Branch Fence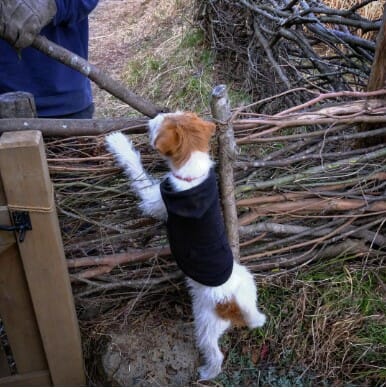 There are so many ideas you can get out of simply being creative. Stacks of branches can be used to create a practical temporary dog fence. However, this isn't the best sight in a community, so this applies more in barns or anywhere guests or neighbors do not easily see that. 
Place double posts around the area and get the branches laid out horizontally between the installed wooden posts. Once the whole yard is covered, the last thing you need to do is test out its resilience. Add up more height to it if deemed necessary.
11. Commercial Dog Fence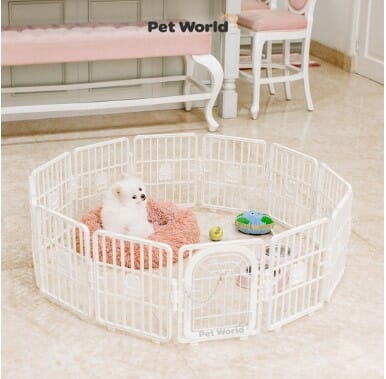 A commercially made fence would be an absolute must-have for a quick and easy fence installment without the need for effort. Get it unfolded, place your pooch inside, and voila, they're safe, secure, and incapable of escaping while your focus is on other things.
To point out, we refer to this as a dog pen. It's versatile enough that it can magically be used as a fence for your furry wanderer. 
You might want to read: Dog Pen Ideas: 14 Inspos You Can Follow
12. Barn-Style Dog Fence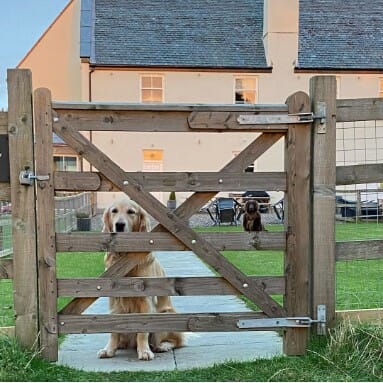 Last but not least, this barn-style dog fence might take your liking. If you have a farm dog, this type of enclosure would be perfect. You only have to invest in wood, nails, and paint (optional).
Your canine that's being trained to protect your livestock won't end up wandering away, especially during the night, if there's a fence that guides them about their territory.
5 Factors in Choosing the Right Temporary Dog Fence
With all these 12 temporary dog fence ideas, it may still seem like a challenge to decide which one is right for your buddy. To help you out, consider these 5 factors before beginning this doggy project:
1. Lastingness
Know what you want to achieve with a particular fence. Are you planning to have it replaced after a few months or in a few years? With plastic mesh wires, wood, and metal fences, you have to determine your expectations for the enclosure's longevity.
2. Your Dog
Of course, your dog's age, proportions, breed, and activity level should also be factored in. Large and strong canines require robust temporary dog fences. Also, these have to be dog-proof. Your pooch shouldn't be able to dig their way out. 
If you have a Beagle, Miniature Schnauzer, or Dachshund, then monitoring their playtime in your yard is crucial.
3. Your Dog's Behavior
Some breeds are quiet and gentle, while others may be perceived as rambunctious, energetic, and infamous for digging. If your pooch shows signs of digging under the fence, it should ring the alarm bells already.
Don't wait until you find out that your dog has already gone out of your backyard.
4. Budget
Knowing your budget helps determine what materials you can use. It's best not to go below the set amount even if this is just temporary or this may compromise your dog fence's function.
5. Area to Cover
Dog fences that are bought from stores or markets need to match the area of your yard. However, there's no need for that if you hire a fencing contractor, which is a better option.
What's the Cheapest Temporary Dog Fence?
The cheapest temporary dog fences are poultry netting, metal wires, wood pallet fences, and PVC fencing nets. However, they don't last that long, so keep that in mind. With their low level of sturdiness, you'll spend more while also compromising your dog's safety.
Read more: Top 13 Fence Ideas to Keep Your Dog Secure at All Times