Dog Pen Ideas: 14 Inspos You Can Follow
Nothing is more secure than knowing that your dog is inside their playpen. This safe space is roomy enough to accommodate runs and plays and even welcomes a few chew toys to keep the dog entertained.
Playpens are what you can use to limit the area of your dog as well. Such an enclosure would mean keeping them from making house-training accidents or ending up in your shoe rack, chewing your favorite sneakers.
For new puppies, dog enclosures are another convenient way of making them feel safer in their new environment. Eventually, this will become an area they'll proudly call their own! 
Grant your dog this wonderful place and if you're unsure how the pen should look, here are 15 suggested inspos that might suit your taste.
1. Classic All-White Dog Pen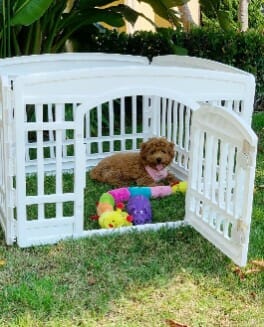 The classic all-white pen is a timeless type several owners go for. It's effortlessly beautiful, and it's clean to look at. There are various types that you can go for, such as this one that's square in shape. 
Determine the size of your pooch and make sure that the playpen's dimensions are enough to make them comfy whilst inside. You can put some of their favorite toys there so they'd have something to chew on while you go about your errands or work. For easier access to your pooch, make sure that the dog pen of your choice has a door. 
2. Modern Glass Dog Enclosure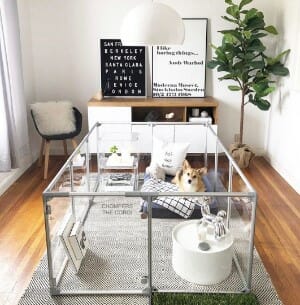 Another dog pen idea you might find worth buying is this modern glass enclosure. It's guaranteed that you can 100% see everything your dog is doing. As suggested by the AKC, the enclosure should have plenty of space to allow running and free movements inside. 
Make the area even more comfortable by placing inside your dog's bed, some pillows, and blankets. Don't forget their toys, so they won't end up becoming bored while your attention is on something else. The only downside of this dog pen is that you may have to regularly clean the glass panels. 
3. Chocolate Plastic Dog Pen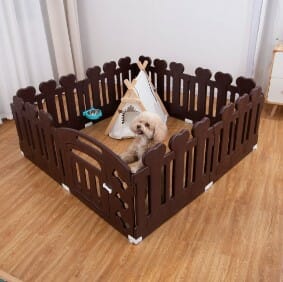 Plastic playpens are more suited for small, non-aggressive, and non-chewers dog breeds. They're not as robust as your standard metal enclosure, but they're durable enough to keep your dog in place. 
Indeed, you can choose the colors you like for this plastic dog pen, so do so while considering the palette that's already present in your home's interior. Do remember as well to make sure that the borders are tall enough, so your dog can't escape. Also, you can keep puppies inside here, too.
4. Metal Playpen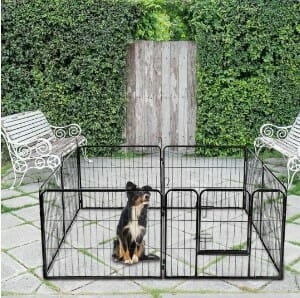 Metal playpens are an absolute savior for dog parents who have strong canines. These are hard to break and difficult to bend, so escaping is not a possibility. What's great is that you can fold these for easier storage. 
Also, metal playpens can be placed indoors or outdoors. Usually, owners opt for metal playpens for outdoor playtime. This is especially useful if your backyard is yet to be fenced. This is truly simple yet very practical in countless situations.
You might also be interested to read: Dog House Ideas: Indoor and Outdoor Protection for Your Dog
5. Doored Fence-Like Enclosure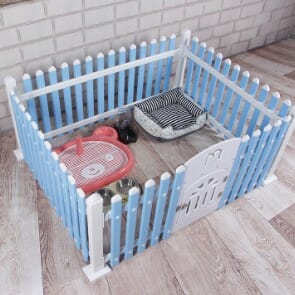 Replicate how your yard looks through your dog's new playpen. You can definitely customize a playpen or simply buy one that's ready-made. What's great about customizing, however, is that you get to design it the way you like. You can also decide on what material to use, and metals or wood are the top choices if you're after a dog pen that's going to last for years. 
For a temporary one, a plastic fence-like enclosure with a door will do justice to its value. Again, small breeds are the ideal settlers here, but other sizes are welcome, provided they won't end up tearing this down with their massive and sharp teeth.
6. Expandable Outdoor Playpen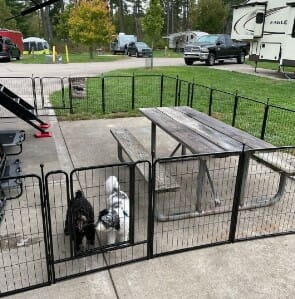 An outdoor playpen is great for socialization training. As long as your pooch is familiar with the other dogs, this enclosure will be an excellent avenue for playtime. A wide one is preferred, so go for something that's expandable and tall. Do consider the height of all the dogs that are inside. 
If there's more than one dog, monitoring their interaction is essential. This outdoor playpen can be placed in your yard or can be brought along for picnics in the park.
7. Rectangular Transparent Dog Enclosure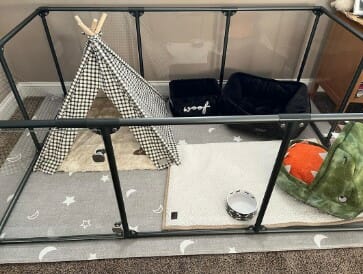 Another enclosure type you can go for is this one. Though sure, it resembles the modern glass structure; the difference would come from what's inside of it. Don't hold back when it comes to styling your dog's personal area. Make it as comfy as possible by throwing in a tent dog bed and their water bowl. 
Whenever it's sleepytime, your pooch will feel relaxed and secured inside but remember not to leave toys there as mishaps might occur while you're snoozing. Do place a pee pad, though; it's very important. 
8. Expandable Panel Playpen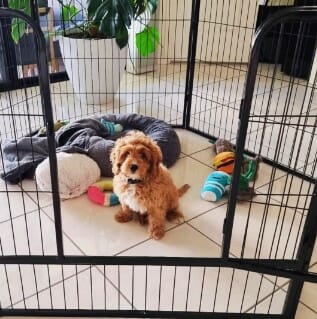 Panel playpens are another popular choice. They're simple but not very easy to destroy. Some can be adjusted in shape, so you can go for a hexagon, square, or rectangular enclosure. It's ideal for homes with small spaces. 
This dog pen will be the one to adjust, but make sure your dog will still actually have space inside. A playpen, as the name suggests, is a place where your dog can have fun while you're in the kitchen cooking or at a work-from-home set-up, taking calls.
9. All-Glass Enclosure
Make your pooch's playpen lavish! If you have an extravagant budget, then why not splurge a bit more on your dog's personal space, which can even be considered their room per se? This all-glass enclosure is attractive, expensive-looking, and admittingly uncommon. Make sure the aesthetics inside match the glamor of this dog pen idea. 
You can transfer your dog's bed inside after placing a furry blanket on the floor. The only disadvantage of this type is that it might break at one point. However, it depends on how rambunctious or clumsy your dog is. 
Also, your furry friend, in their first experience inside, might feel confused. The transparency can make the surroundings look uncanny; the moment your pooch runs to you, they'll end up bumping against the glass wall, instead. 
You might also want to check: Dog Room Ideas About Decorating Your Pooch Bedroom & Pet Proofing the House
10. Playpen Crib with Door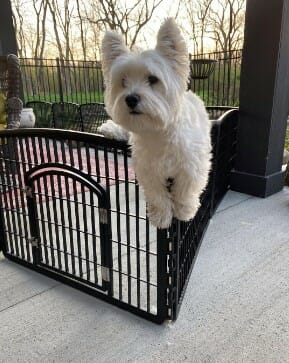 Is your baby graduating from the crib? Make use of this furniture and recreate it into something valuable and practical. Your puppy can make use of it just as long as you make a few tweaks here and there. Let out your carpentry skills and transform them into a playpen for your pooch. 
Wooden ones are preferred as you can efficiently work on the material in comparison to plastic ones. Be sure it's durable and that the nails are well-hammered, because the last thing any dog parent wants to see is their little friend dashing out of their enclosure.
11. Adjustable Wall-Attached Dog Pen
For quick installation, a playpen that's attached to a wall is a convenient idea, more so if your dog requires more space and the enclosure you got isn't large enough. 
Simply look for the best area and get the edge to stick on the first wall. Curve the dog pen up and let the other edge stick to the other wall, so it'll become an enclosed space. Of course, there should be a door installed. It's not easy to reach for your dog if the dog pen is too tall, after all. 
12. Halloween-Inspired Playpen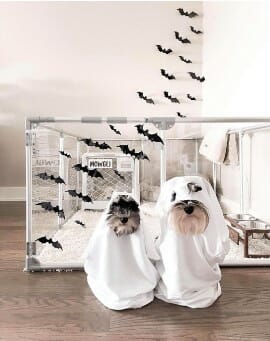 Keep up with the celebrations! A Halloween-inspired dog pen will get your dogs in holiday spirits. Design their space with bats, but make sure that they're done outside to avoid choking hazards. 
Place a jack o'lantern before the entrance and get them filled with dog treats. For your gram, get your adorable pooches dressed up as ghosts. With a pure white blanket, they might bring spookiness to your home and to their online fans.
13. Crate and Dog Pen Combo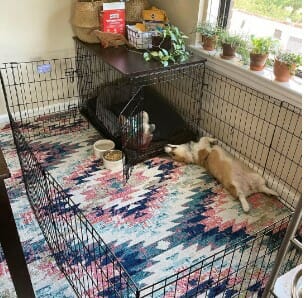 Dog parents want their dogs to have access to everything they need. To make the dog pen even more comfy and secure, place their crate inside. However, this requires the enclosure to be even bigger. Should you go out for a quick errand, your crate-trained dog can ease their anxiety by finding comfort inside the crate. 
And, once you're back, they can get out of the smaller space and perhaps continue playing with their chew toys. Of course, don't forget to reward them for not displaying any unwanted behavior such as barking and excessive chewing.
14. Intricate Playpen With Tall Door
It's undeniably something to be proud of if your dog's playpen's design is out of the ordinary. Get someone to build it up for your pooch, and you won't regret it. This is a playpen for small to medium dogs, but depending on the durability of the material plus the height and space, giant dogs can also enjoy the experience.
A tall door is installed, so you won't have the hassle of constantly picking up your dog from the enclosure and then lifting them back inside. It's for convenience, more so that some pooches are too heavy to be carried. Paint this enclosure according to your preference, but for a more celestial vibe, an all-white is timeless and elegant.
Read next: Most Affordable and Functional Kennel Ideas for Your Dog
How to Choose the Best Dog Pen
Measure your dog's proportions and compare it to your prospective dog pen.
Know your dog's temperament. If they love to jump, a covered dog pen would be preferred. 
Know where to place the dog pen. If indoors, ready some soft mats or blankets. For outdoors, grassy areas are more ideal.