Dog Door Alternatives: 9 Options + Your Dog Door Training Guide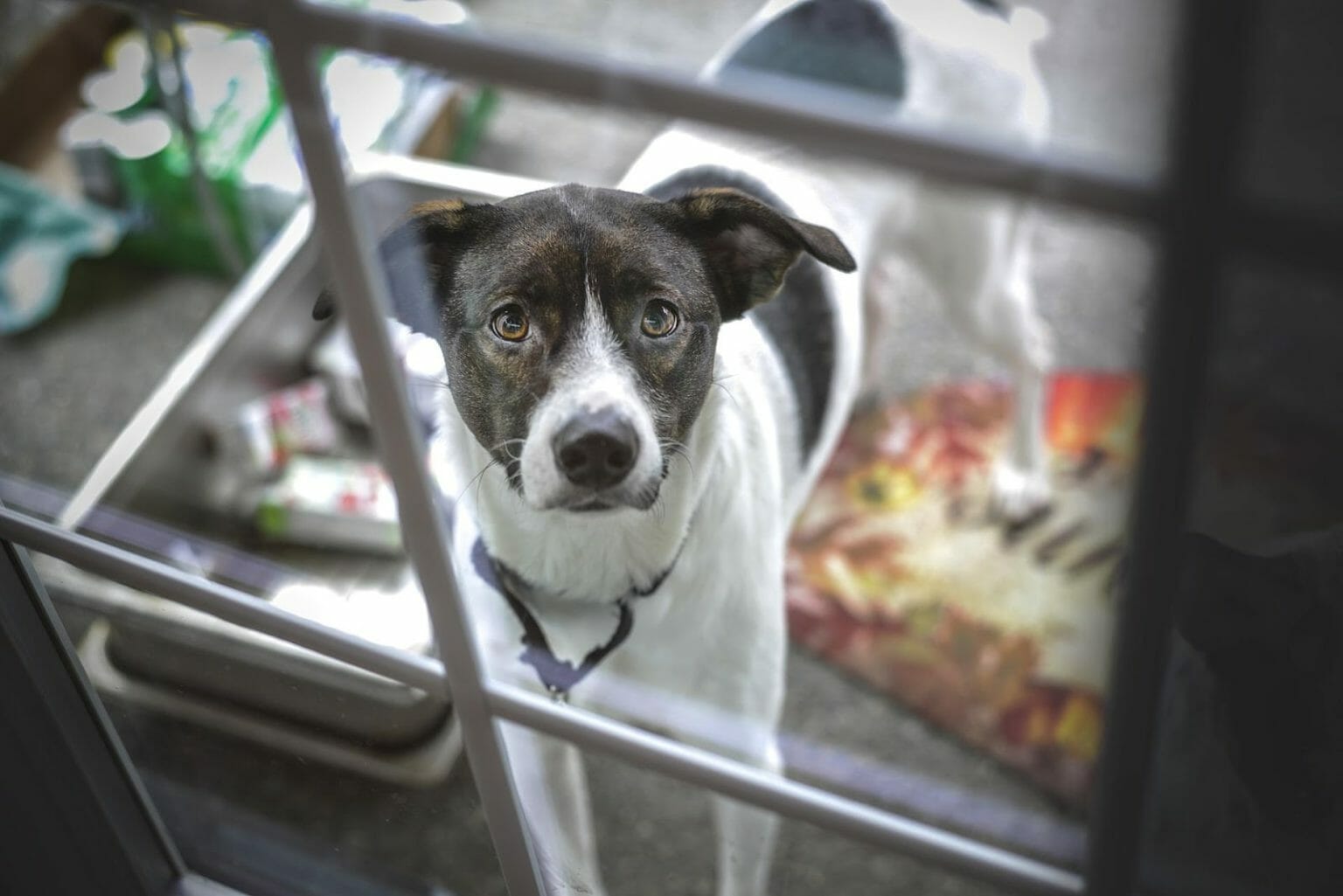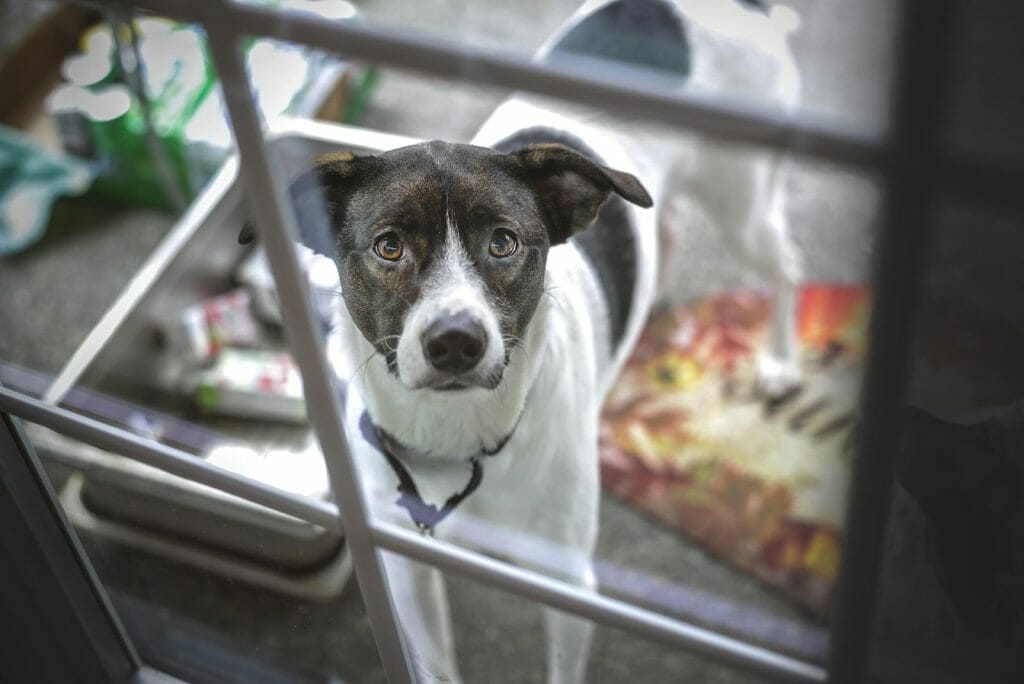 Installing a dog door is a practical idea. Number the days of you being a doorman because a fine pet door will provide access for your dog inside and outside without your assistance. It's versatile, easy to use, and efficient from all angles.
You won't have to get your sleep or rest disrupted every night because your pooch wants to go potty outside. Simply teach them how to get through the installed wall entry, and the following nights you'll have will all be undisturbed.
Today's post covers at least 9 excellent dog door alternatives plus a guide to dog door training your pooch. Let's get started with the list!
1. Flappy Glass Door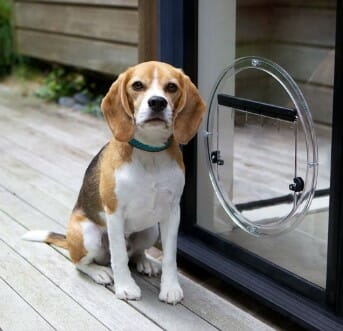 Glass doors are certainly the number one option should you want them installed in your sliding glass door. It'll look like it's not even there; definitely not as evident as any other alternative entries made from different materials. This glass dog door flaps every time your pooch enters or gets out of the house. 
The ideal exit should lead to your yard so your furry friend can explore the environment without any potential danger that's present in the streets. Of course, your garden has to be secured so it won't defeat the purpose of ensuring your dog is safe. This is absolutely easy to install, or you can hire a handyman for this minor renovation.
You might also want to check out: Awesome Backyard Landscaping Ideas for Dogs
2. Replicated Doggy Door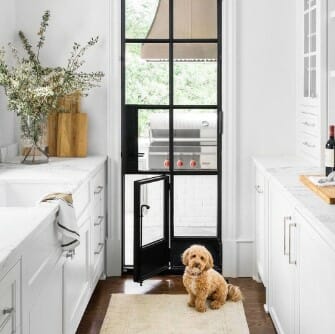 Data from APPA has shown that in 2021 alone, pet owners have spent $123.6 billion on their pets in the United States. Indeed, the love for your dog can make you splurge to guarantee them a good life. One way to get them mentally and physically stimulated is by letting them access a more expansive space in your backyard. 
Of course, it's a hassle to constantly open and close the door for them, and it's a save in effort if the dog door is installed. But this shouldn't be just any simple dog door. Put labor into it by perhaps replicating a mini-door for your pooch. Make it as durable as possible to avoid replacing it after a certain period.
You might want to read: Top 13 Fence Ideas to Keep Your Dog Secure at All Times
3. Mini-Barn Door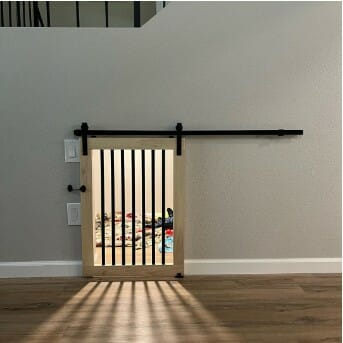 Don't hold yourself back from being creative. Your dog's door can certainly be customized according to your preferences. This time, you can find inspiration by designing the wall entry into something that imitates a barn door. It's an authentic aesthetic that can blend well in most home types. 
It's basically a wooden border with vertical metals installed. You can attach a spring, so it automatically closes, but make sure it's not configured too tightly, so your dog will require the minimum effort in getting through.
4. Sustainable Wooden Dog Door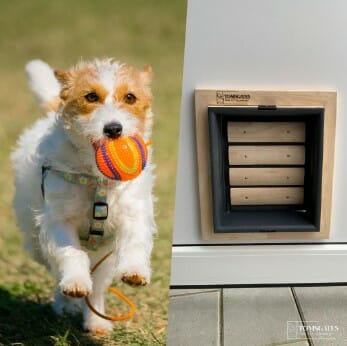 Another dog door alternative you should consider is something that's sustainable. Of course, wood has to be the material for this choice. With this in mind, you can customize it in any way that you like. Make use of bamboo or any robust wood type and make sure it's cured, to keep the mites off. 
Wooden dog doors can be tricky, though, at times. Be picky if you're deciding on your overall materials. It shouldn't be too heavy for your pooch, or they'll find it an intimidating door entry. Make sure it doesn't defeat the purpose of having an actual convenient dog door.
5. Replaceable Flappy Dog Door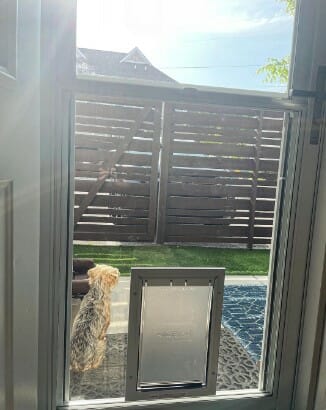 Doggy doors are popular worldwide, and thanks to that, there are several ones you can buy online. This one, for example, is bendable, flexible, and light; it flaps every time a dog enters. After some time of usage, there are flappy entrances you can buy to replace the old ones.
It's undeniably convenient, especially for those who are looking for a more affordable alternative. It's not the best, however, if you live in very hot and humid states in the US as the original form may eventually get distorted by harsh temperatures. 
6. Sliding Mesh Panel Door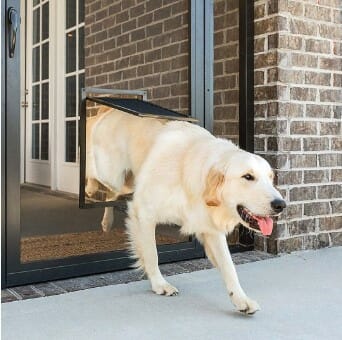 Whether you have a toy, small, medium, or large dog breed, this mesh panel dog door can accommodate any size. It's robust as well, so you certainly will have your money's worth. This can be installed in your glass door; it's more ideal and complementary. 
Now, your pooch can walk outside with ease. Always make sure that it's properly installed and that there are no defects that can lead to the other panel's side falling off. It might be a surprise to your dog and might cause some mishaps. 
7. Tunnel Doggy Door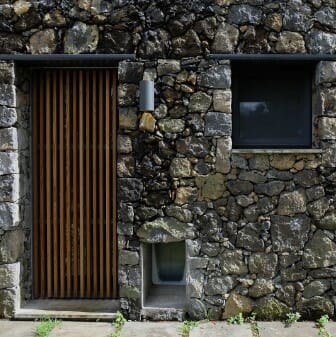 Another idea you can follow is this tunnel doggy door. It's nothing but cool, yet you need more tedious planning before this is achieved. In some houses, this type may already be added as a feature, and for some, they may have to get this included before their house is constructed. 
There are also other more convenient options that you can buy off of Amazon; you'll save heaps both on money and resources.
Whatever works for you. For some, this is an absolute favorite, though it may require some serious work and effort. Nevertheless, getting in will be a great and exciting short-lived experience for your dog.
8. Custom-Made Fancy Dog Door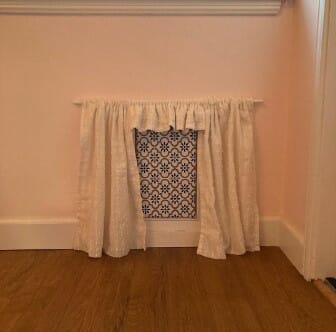 When I mentioned that you could have your dog door customized, I really meant it. You're the captain of your own ship, and you can make a few or several tweaks to transform a regular dog door into something more extraordinary. Make it look fancy! Add in a curtain on both sides and add in some intricate designs on the little door itself. 
It'll look like your pooch has a grand entrance every time they get back home. It's ideal for homes with small dog breeds. It can be pretty tacky if you own a Mastiff and you got such a large dog door with massive curtains on the side of your main one. 
9. Modern Wall Entry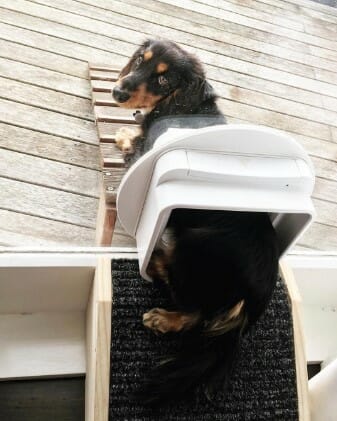 The last one on the list is this modern wall entry. From the name itself, it's built to be installed on your walls. But, defying the rules, you'll find out that this works just fine with your door.
Look for those which have several positive features, such as those with airtight seals to keep the harsh weather out. It's a bit pricey but understandably practical for most homes. Remember, this renovation shouldn't be taken lightly. It's best to start this plan with a considerable amount of budget, so you'll end up having a quality dog door that doesn't need regular maintenance or replacements. 
Read more: Top 10 Dog Door Ideas
How to Avoid Dog Doors From Decreasing Your Home's Value
Point-blank dog doors can decrease your home property's value. But this only happens if your dog's entry is not properly or professionally installed. Before you cut a hole on your main door or even through your wall, make sure that you actually know how to do it and, of course, correctly install the doggy door.
Should you doubt your skills, a handyman or a carpenter can be hired to do the task for you. On average, you'll be paying at least $780 or anything between $100 to $2,000 depending on the complexity of the job, more so if you go for a custom-made doggy entrance. 
Ideally, most homeowners install doggy doors somewhere that's away from the sight of passersby or potential home-buyers. 
There are just two key points to keep in mind before you install a dog entry with your property's value considered:
It should be installed without destroying anything at your house.
It should be quickly taken out or replaced if the need arises, eventually. 
Dog Door Training Guide
After the installation of your dog door of choice, your dog won't instantly know what it is or how it even works. Trainthem to understand the purpose of such a minor renovation or else you'll remain their doorman forever. 
Get them to know how to get in or out through this small door by following the guide below:
1. First, ready your treats. You'll be using it after your dog has successfully walked through the door.
2. Let your dog know that they're about to learn a new trick or lesson.
3. The VCA states that some dogs can be sensitive to noises. If your pooch is scared to walk in, encourage them by making them understand that they're going to be safe.
4. Make use of praises and rewards even for minor signs of progress. 
5. Make your dog test out the door. Gently push their head in so they'd know that they can pass through. 
6. Go to the other side and call for your dog. Do the same when you're inside, and your dog is outside. 
7. Anxious dogs may need more time before they realize what's happening. Don't pressure or force them into something they still find to be uncertain.
8. For non-anxious dogs, let their body get in and let them try to figure things out.
9. Make use of their favorite toys as well. Hold it with you while your pooch is on the other side. Flap the door to show the entrance and let go of it gently every now and then.
10. Your pooch's confidence may have increased by then. Keep encouraging them.
11. In the first week or so, just let your dog go in and out without any tasks to do afterward. Reward them for every successful behavior until this lesson is retained. 
12. After some time, potty-train them using the dog door.
13. Be patient. It'll definitely take a lot of time before your pooch gets accustomed to the newly installed dog door.