Dog House Ideas: Indoor and Outdoor Protection for Your Dog
Our furry friends no matter how big or small they need to have a home for themselves. You can't allow them to just sleep outside without the proper protection from the heat of the sun or the raging storm and snow. Keep your dogs protected and comfortable by building them a dog house. If you are having a hard time choosing a design, then consider all the suggested dog house ideas from modern, classic, or simple houses.
5 Outdoor Dog House Ideas
Be inspired with the following outdoor dog house ideas so that you can secure your dog and give them a cozy and warm home.
1. Simple Dog House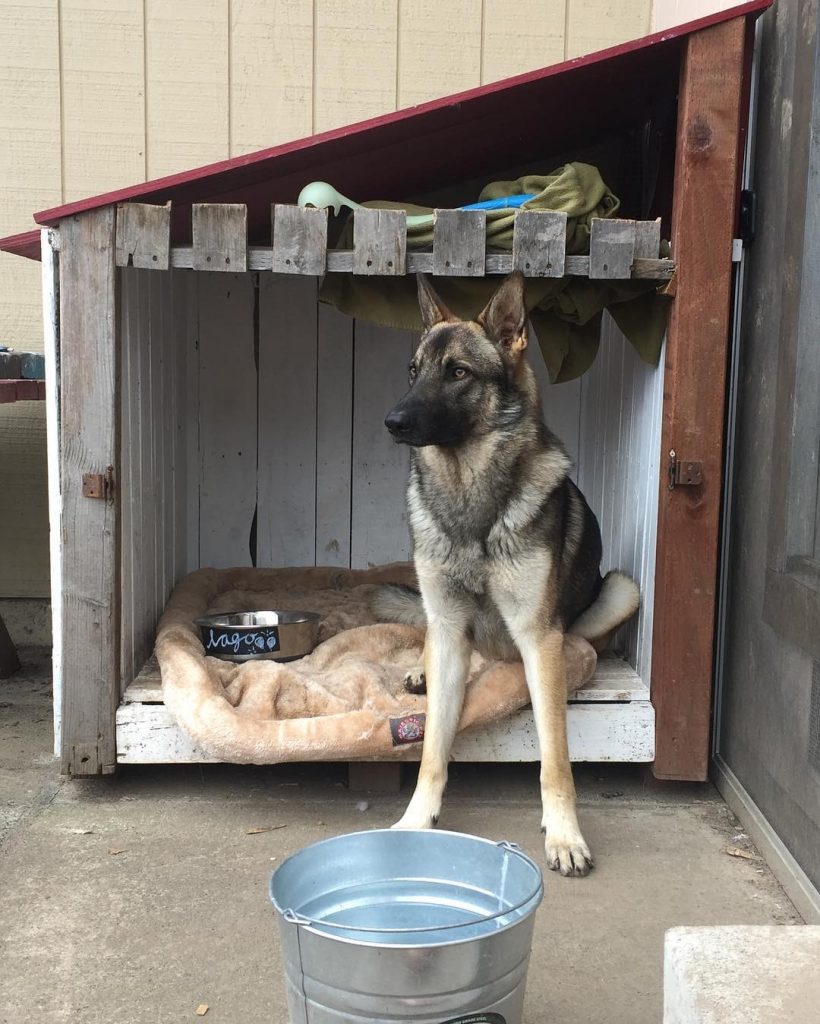 The design is easy to do and would only require you a couple of days to finish the dog house. Find a wall around the house that is a perfect place for your dog. Then you can start to build the house there. All you need is wood pallets, nails, and a slanted roof. Make sure that it is properly sized and measured so that you wouldn't have a problem fitting your dog in the dog house. It is not a typical A-frame dog house but a side house with a wide opening that will allow your dog to chill.
The opening will give your dog enough air and wouldn't limit their view. If you are building a dog house for guard dogs then it would be helpful if they can easily go outside. As you can see the dog house has a ceiling in which you can put all the dog's stuff and toys. It would be more organized if you placed a similar ceiling for the dog. In addition, it will prevent your dog from getting direct heat from the roof. 
To make the stay cozier, give them blankets or a dog bed.
2. Tiny Adorable Dog House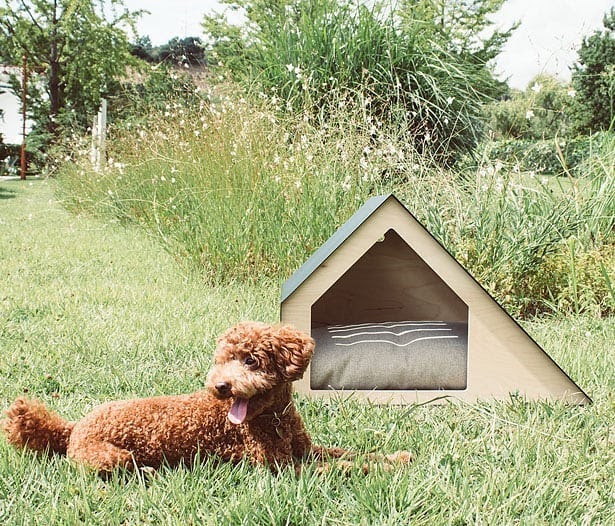 The dog house is perfect for small to medium size dogs. The house design will compliment your yard and will give your dog a shed when it is their time to play outside. Because of the size, you can easily build this type of dog house out of plywood. To make it more fun, you can experiment on angles that make it unique looking than a typical dog house.
When the dog house is finished, paint it with different shades of green that will add beauty to your yard. The house will be more comfortable if you provide a bed for your dog. Imagine your dog enjoying the view outside while feeling secure and peaceful.
3. Wooden A-Frame House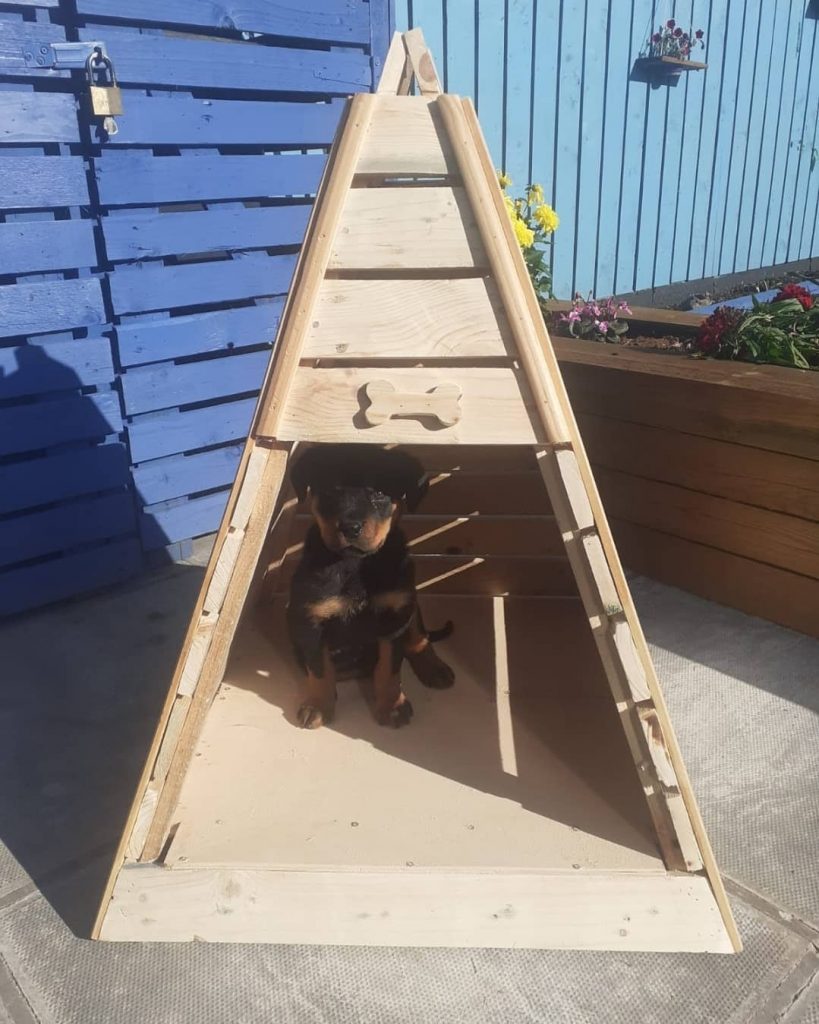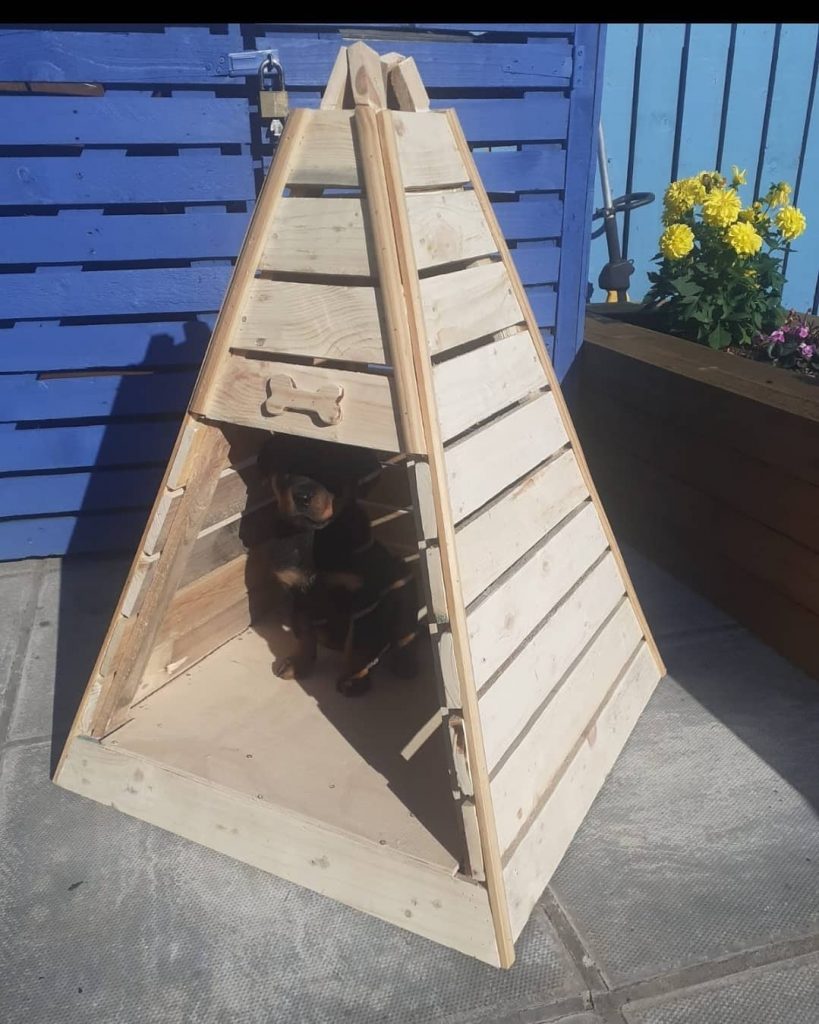 A-frame dog house is easy to do since it looks like a roof on a floor. A wooden A-frame will make it cozier for your dog since wood materials are much cozier and warmer inside the house. As you can see, the dog house is properly ventilated because of the spaces between the wood. It will allow the air to get through but make sure to put it under a tree so that your dog will have a shade and the sunlight will not pass through.
You can design the floor to be made of plywood so that it will be smooth for your dog. Furthermore, make the place more of a home by providing blankets and a bed so that your pooch will want to stay there and not inside the house.
The downside to this is that when it rains your pooch will get wet. Nevertheless, if you are allowing the dog inside the house during rain and winter then it's fine to build a simple a-frame dog house like this one.
4. Wooden Beautiful Dog House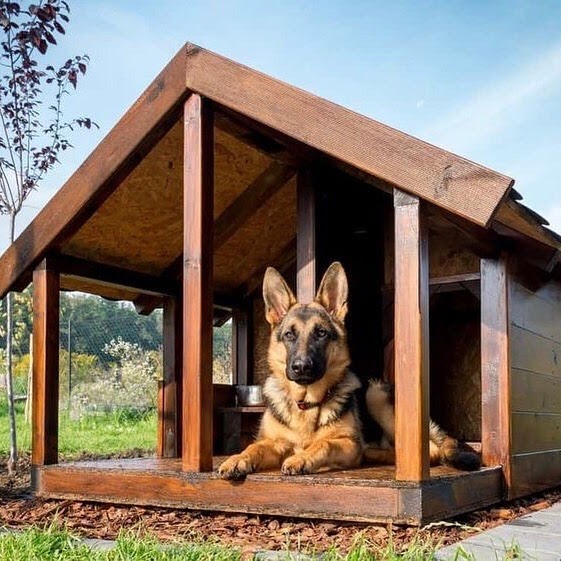 Photo from: (@Herriothomes)
Well, if you can lavish your dogs with toys and accessories then why not make a beautiful dog house for your dog. It's like giving them an actual home with all sorts of designs that make their lives more comfortable. The house consists of wood that was furnished with wood wax to provide an elegant look similar to the pieces of furniture in your home. What's amazing in the house design is that it has an elevated corner for the dog food and water.
The house has spacious floors and lots of openings. It will provide an adequate breeze for your dog to relax and get cozy in their home. Because the house has a balcony, your dog can get all the view that it needs outdoors and can easily get out of the house. 
If you are looking for a house that is durable and can withstand the test of time then build a wooden dog house similar to this one. You can also let others build the house for you so that it will be expertly made.
5. Closed Type Dog House With Balcony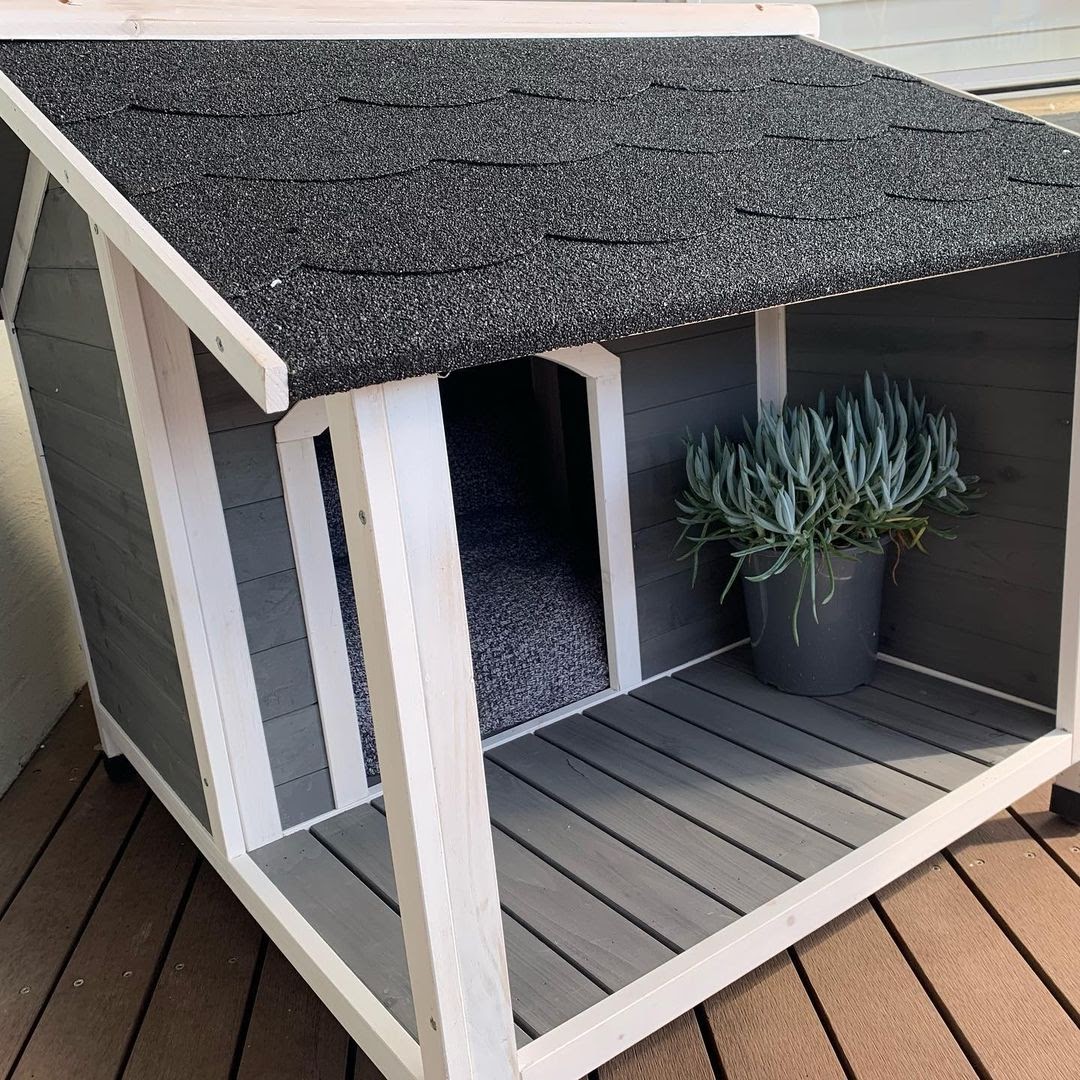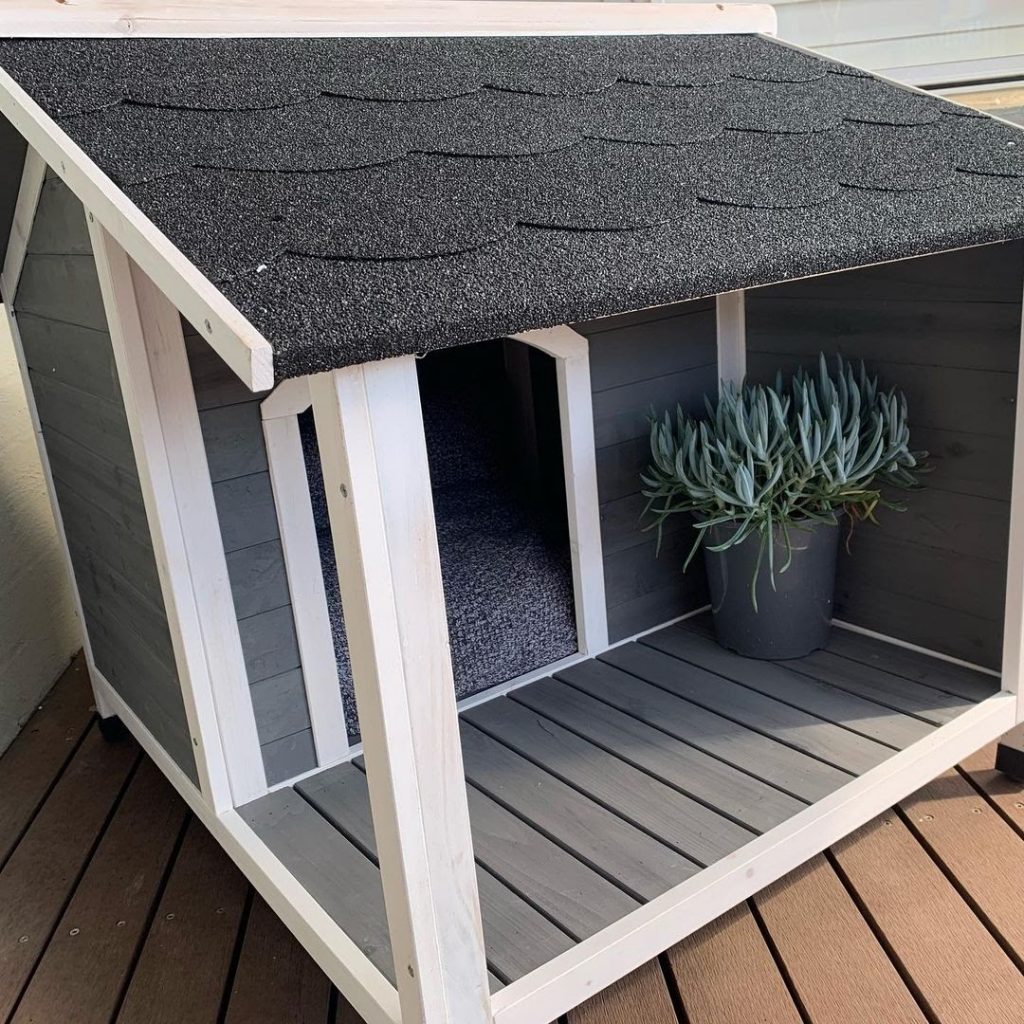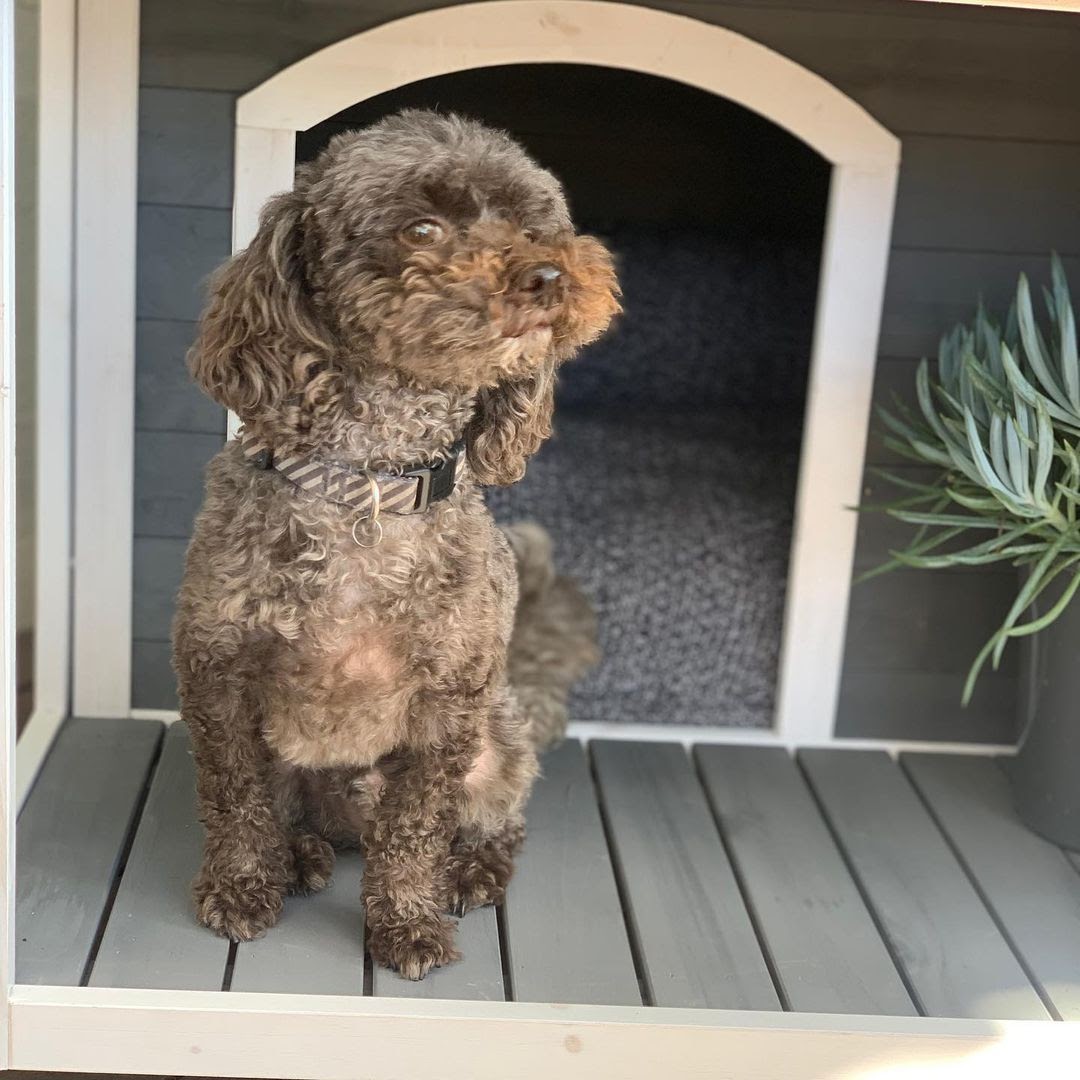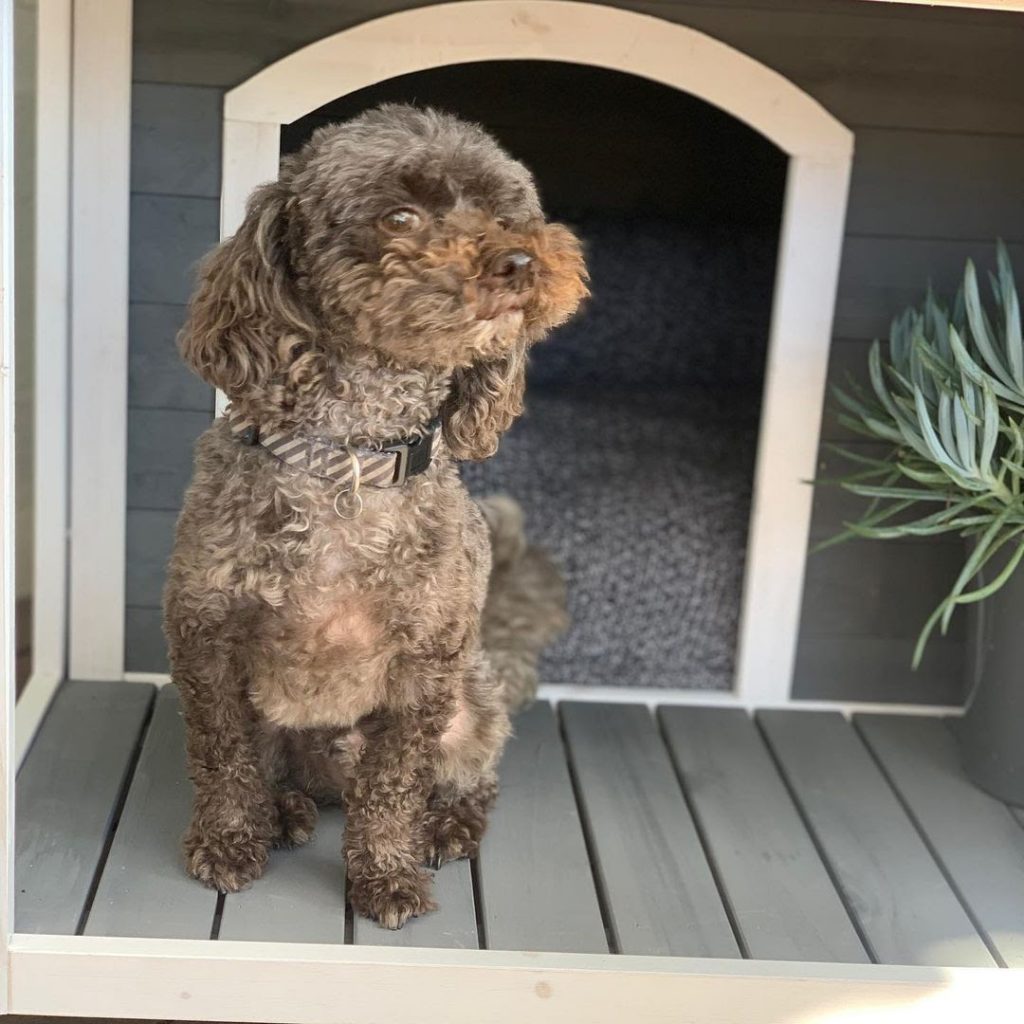 You can build a wholesome dog house for your dog that has a balcony whenever they want to chill but can be protected when they are inside the house. You will not have a problem with them getting too hot inside because they have a balcony for fresh air. To make the house more elegant and expensive, paint it with colors that make it more fresh and elegant. You might as well want to put a plant beside the dog's place to make it more appealing.
If you have the skills then consider making this type of house. However, if you're not familiar with carpentry you can let others build the house for you. Be sure to provide beds and toys for your dog in their dog house, especially if you are transitioning them from living inside the house into living in their place outside.
What's amazing about living outside is that it will allow your dog to play around whenever they want to plus you can avoid stinky odors from the dog's pee and poop. It will encourage a healthy and active lifestyle because they can explore, run and dig outdoors. In addition, make sure that you have a proper fence so that your dog is still protected despite living outside.
5 Indoor Dog House Ideas
Don't just put your dog in a crate but build them a loving home inside your house. In this case, they will have a corner for themselves and a permanent space wherein they can sleep, eat and play.
1. Dog House in a Wall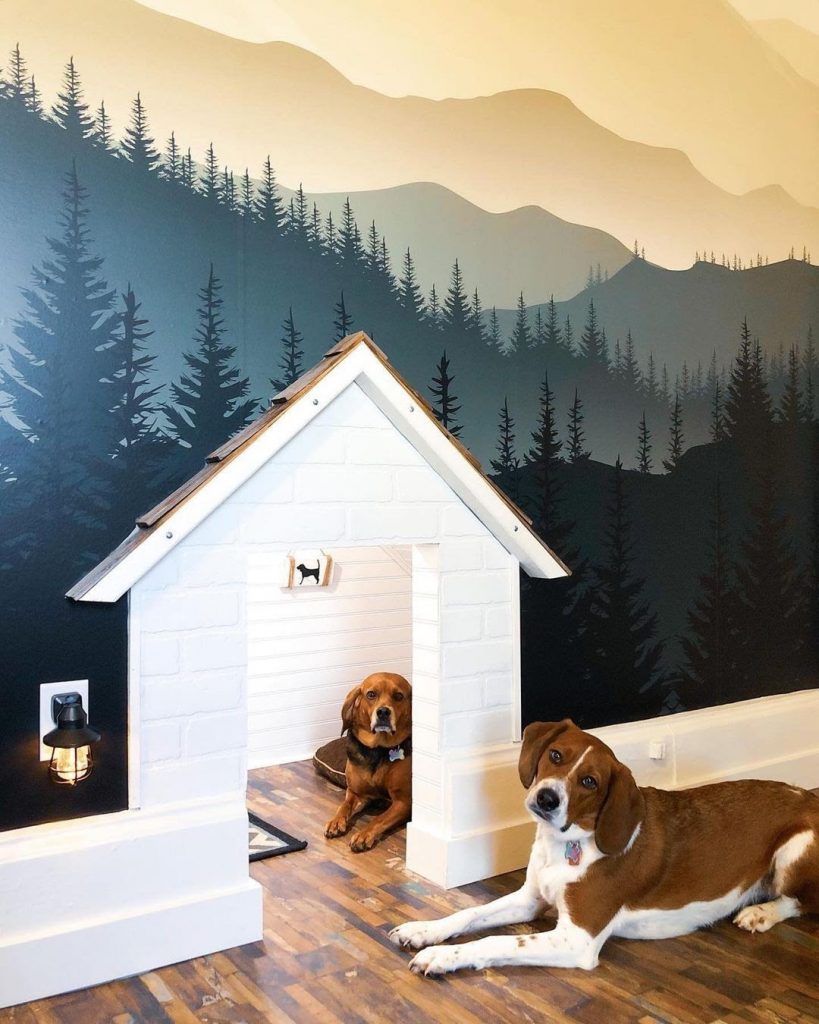 Go on and contact your house contractor so that you can add this amazing touch to your place. It's like giving your dog a secret place for itself in the wall. It will be easier for pet owners that are starting to build a house because they can make the dog house an addition to the place. Nevertheless, one can renovate so that their dog can have this type of house inside the house. 
2. Boho Modern Dog House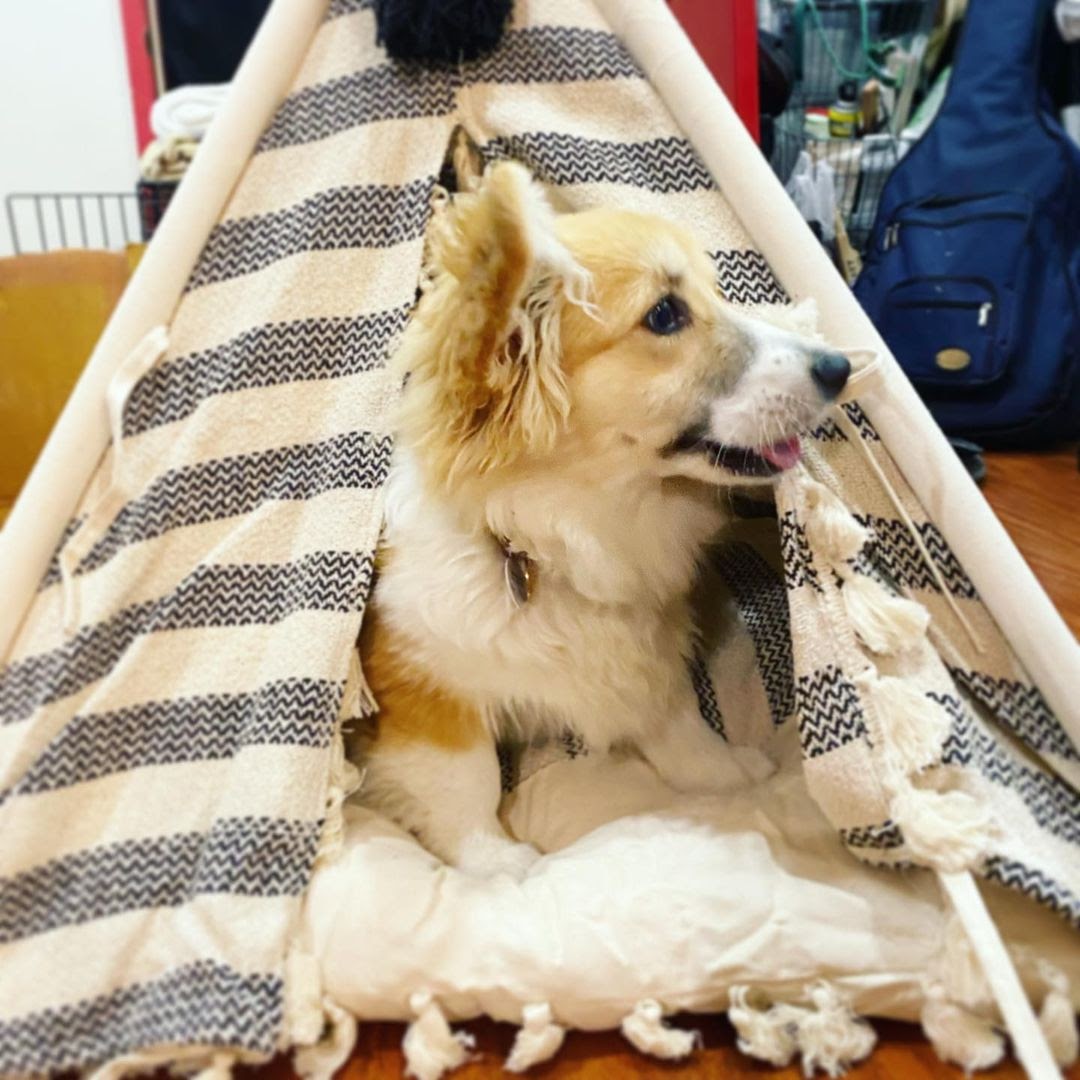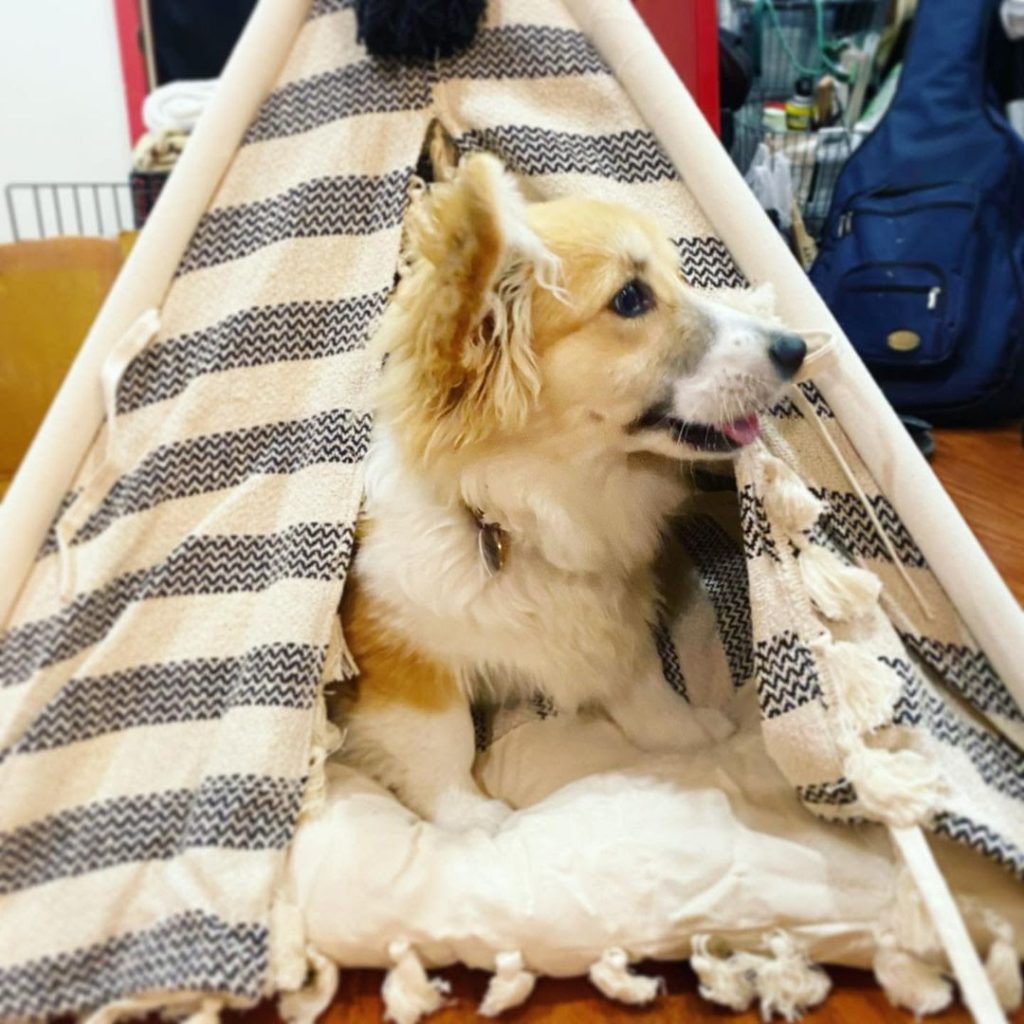 Basically, it looks like a tent but what makes it modern is because of the design and the materials used. You can create a dog house using fabric and a stick. The house is indoor so you will not have a problem with the weather. It will be more of personal space for your pooch so that they can lie around undisturbed. It will keep them away from your bed too.
3. Furniture Dog House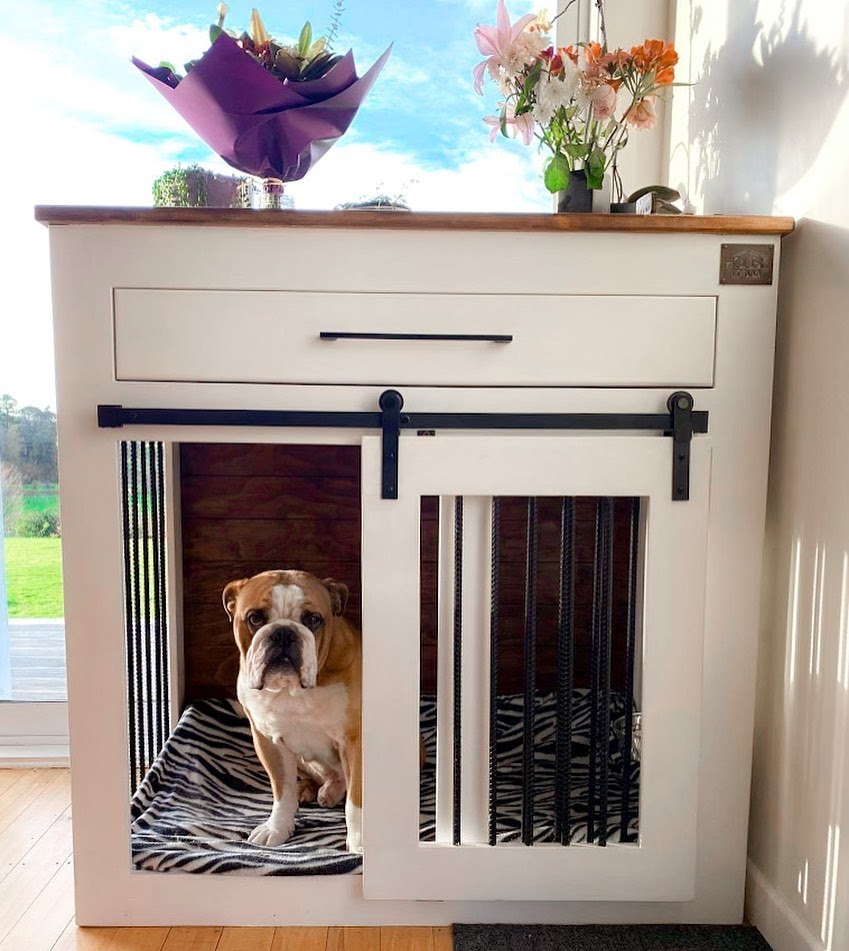 Why not have a dog house and furniture at the same time? You can always maximize your furniture by adding a dog house underneath it or better yet customized this piece of furniture in your home. The sliding doors are equally cute and fun. The dog house is perfect for owners that don't have space to spare but want their dogs to feel comfortable and special by giving them a place of their own.
4. Underneath the Stairs Dog House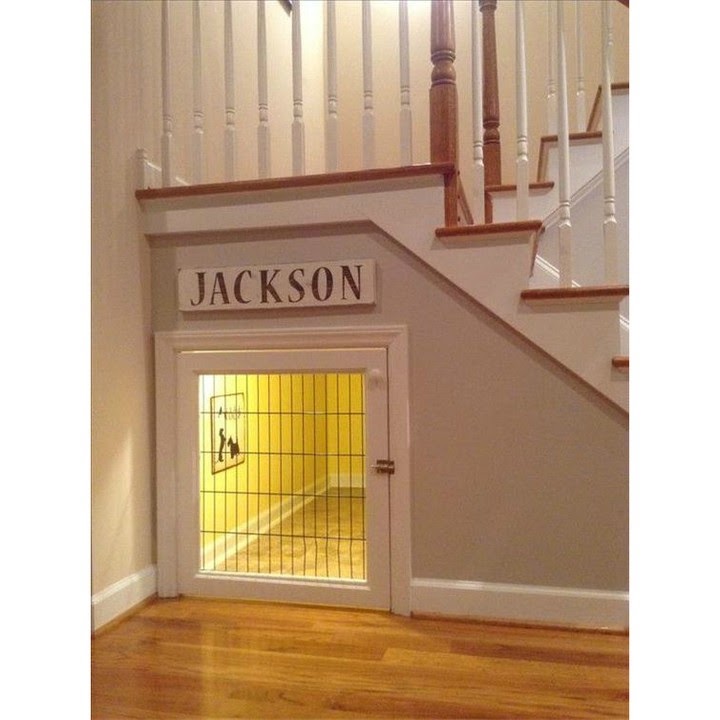 Photo from: (@Remax_action_yukon)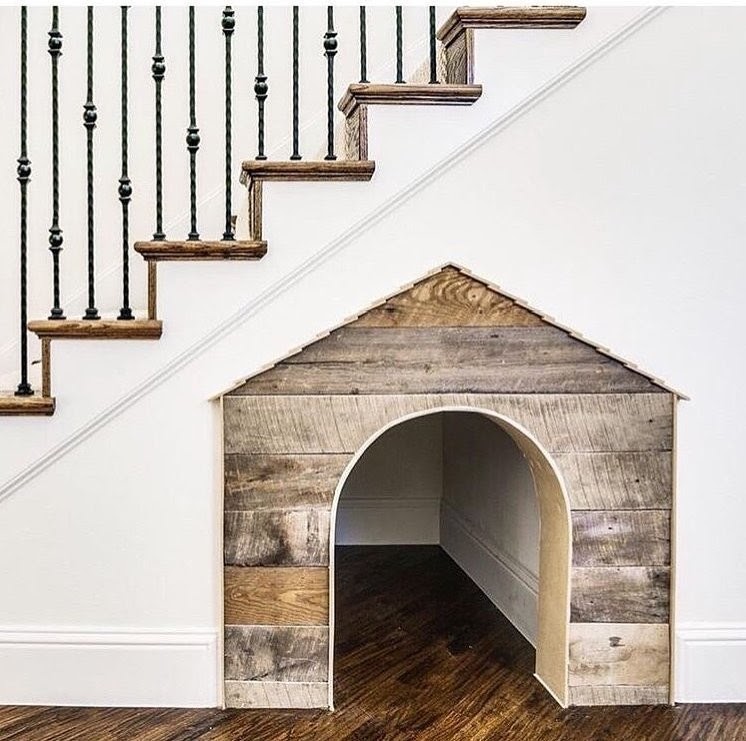 Usually, the cupboard under the stairs cupboard has all the extra stuff in the house like the brooms, brushes, and mops. Why not build it into a beautiful dog house for your loving pooch? The space is perfect for your dog and will give them the luxury to hide their precious bones and toys. It will provide them a den whenever they want to be aloof and stay away from people. It will also be a great place whenever your dog has puppies.
5. Dog House in the Closet
Your closet can also be a dog house for your pooch. You will be sleeping in the same room and you can watch them frequently. However, it's best that you separate their place of food and water and then train them to sleep in their place at the lowest portion of the closet.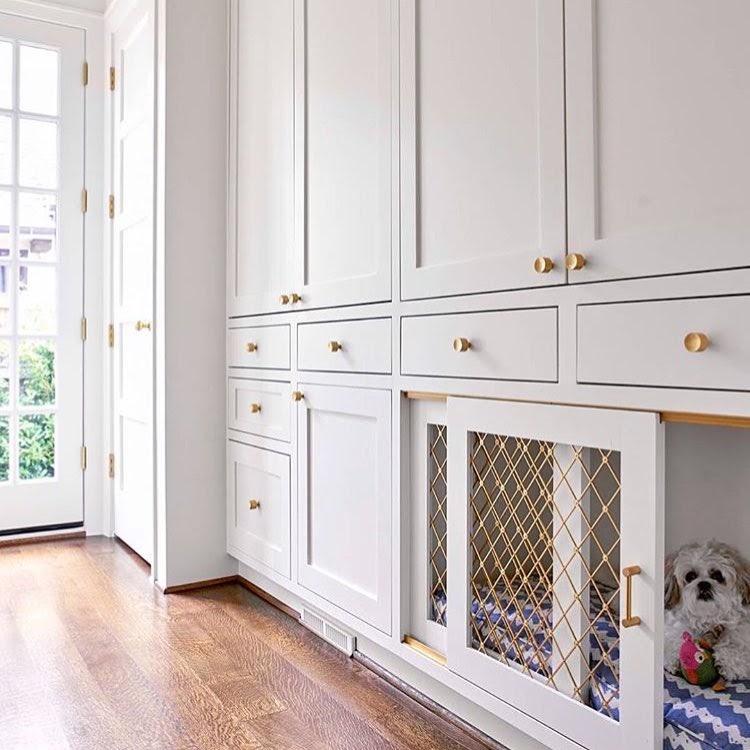 Dog Houses You Can Buy Online
There are available dog houses you can order online. All you have to do is check it out and wait. No hassle pounding nails if you can pay for these dog houses.
As much as your dog will love the dog house, your kids will be in love with this type of dog house too. You can buy it so that your dog and kids will have a bonding time playing on the second floor. It will encourage your dog to have an exercise session with the stairs. The house provides an element of fun and uniqueness that will surely allow your dog to be entertained as well as protected.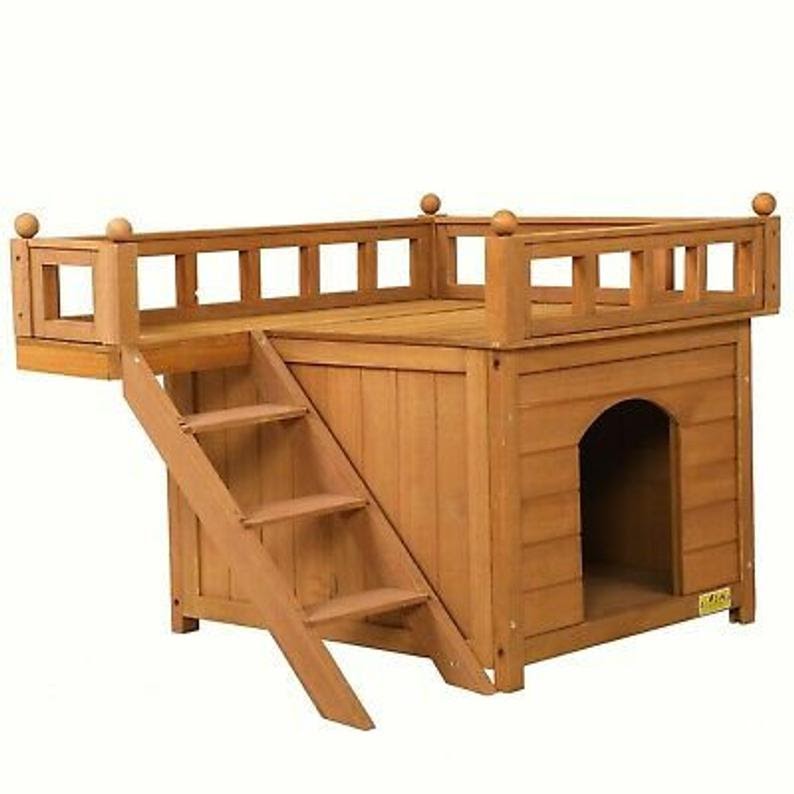 You can also check this enclosed large cabin dog house that will protect your dog from all sorts of climate conditions. The color is good that will be appealing in your outdoor yard plus it is durable and easy to build upon arriving at your place. The dog house can accommodate a 154 lbs dog and the size are:
External Dimension: 3'8″W x 2'5″D x 2'7″H
Internal Dimensions: 3'3″W x 2'1″D x 2'3″H
The house is raised so that air can circulate the floor. In addition, the house is insulated which is important for every dog house.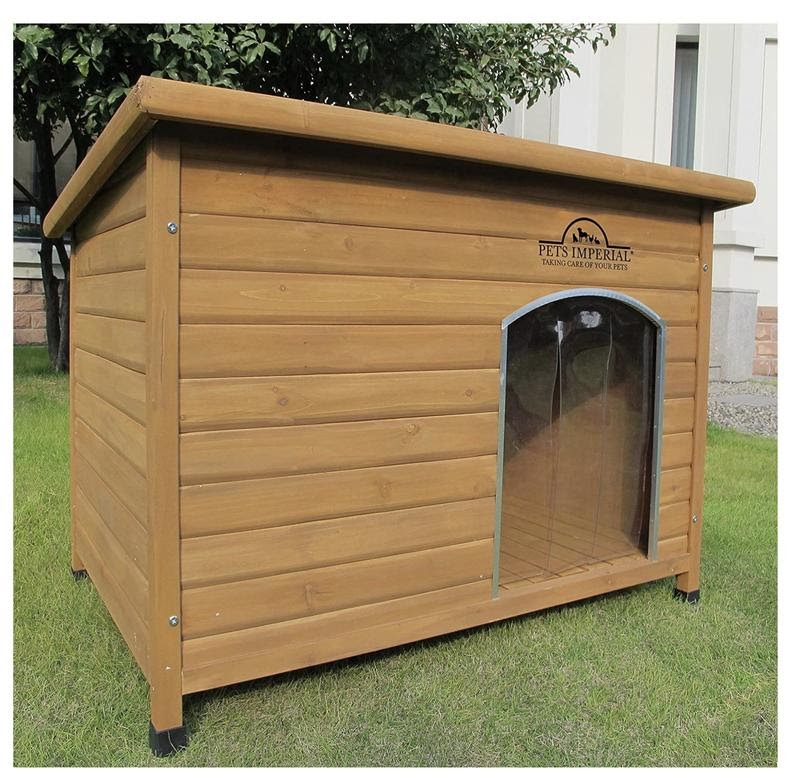 A great modern dog house you can put inside your home or on your balcony. You can also customize your order because the houses come in different sizes depending on the type of dog that you have. The house is made of plywood, with wood wax and non-toxic fabric. The design will be perfect for your home and for your dog.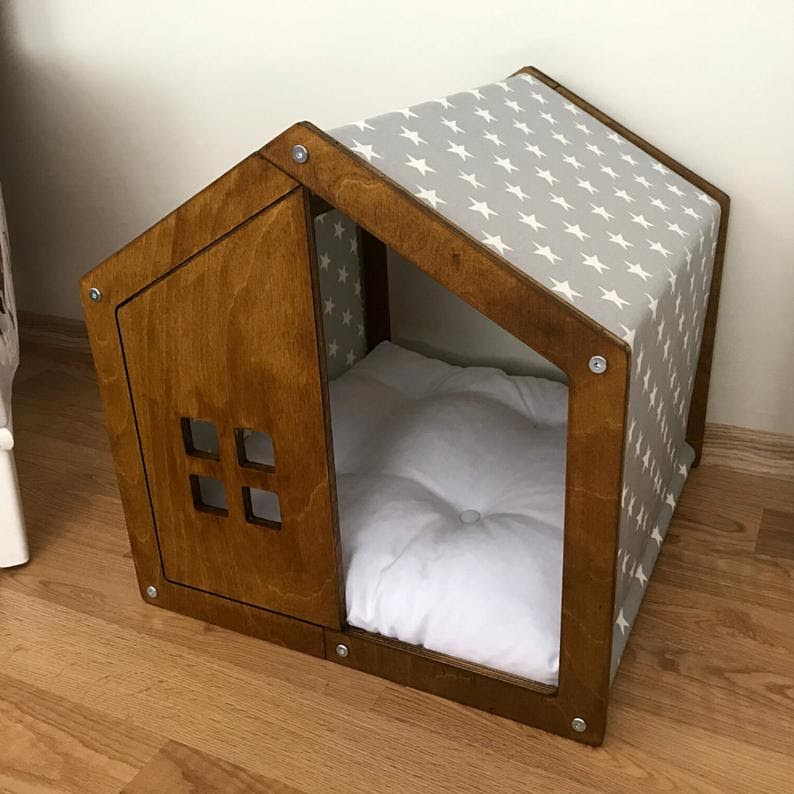 What's amazing about this type of dog house is that it is waterproof and windproof. Ideal dog house to be placed outdoors because it is sturdy and withstands the weather. The house is easy to clean and easy to assemble. In addition, the house is large enough for guard dogs.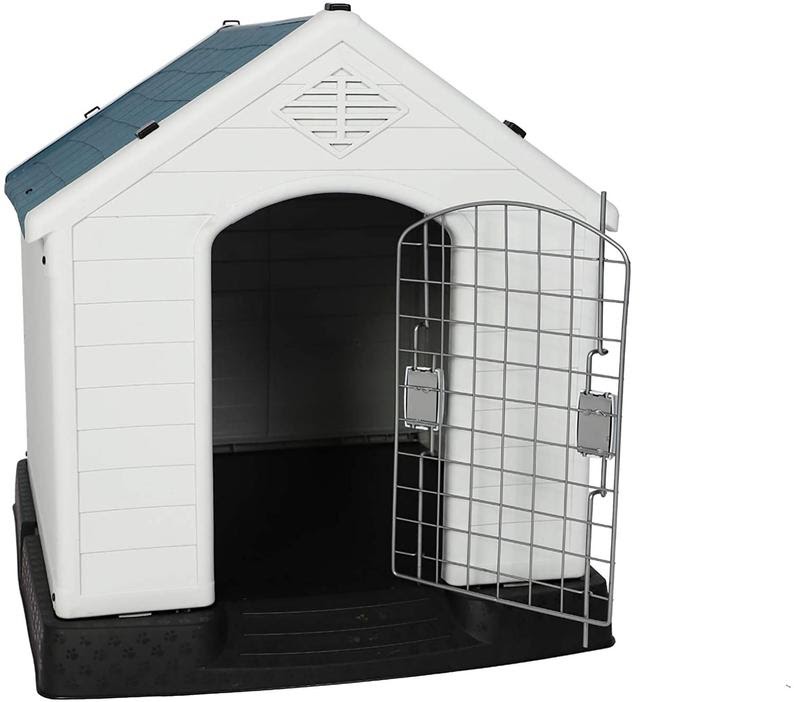 A cute dog house that has a window on the side that will surely make your dog comfortable and happy because the air can circulate properly. The house is made of high-quality wood that is easy to assemble upon arriving at your place. The dog house is durable and waterproof protecting the material from heavy rain or storm.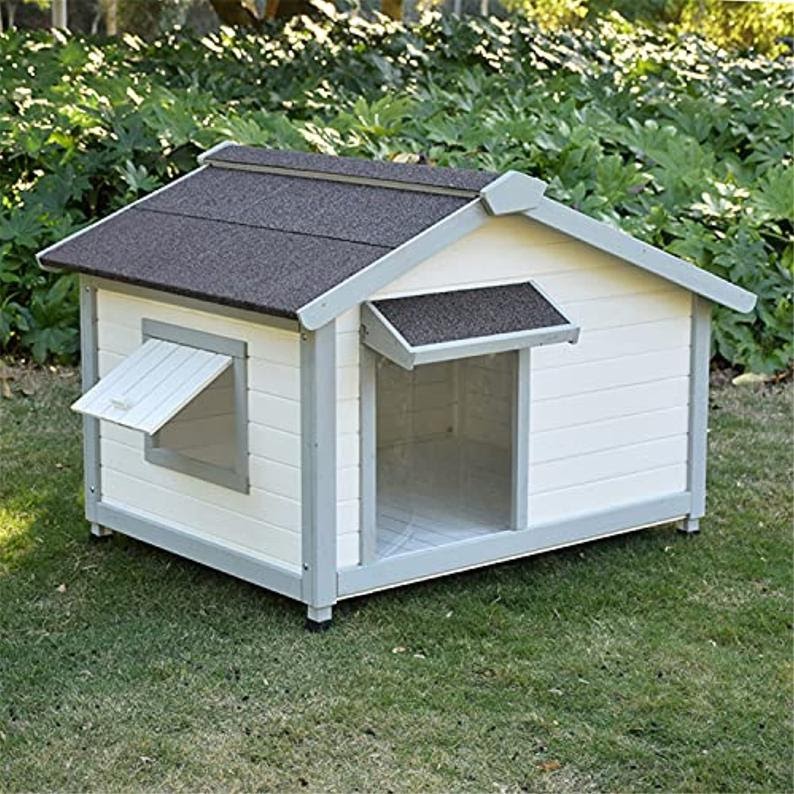 It is a durable dog shelter that has windows for breathable stay for your dog. It has a durable wood material that will allow this dog house to last for a long time. The house design is perfect for owners living in the forest. The design is suitable for all sorts of animals and it will secure your dog from harmful animals and weather.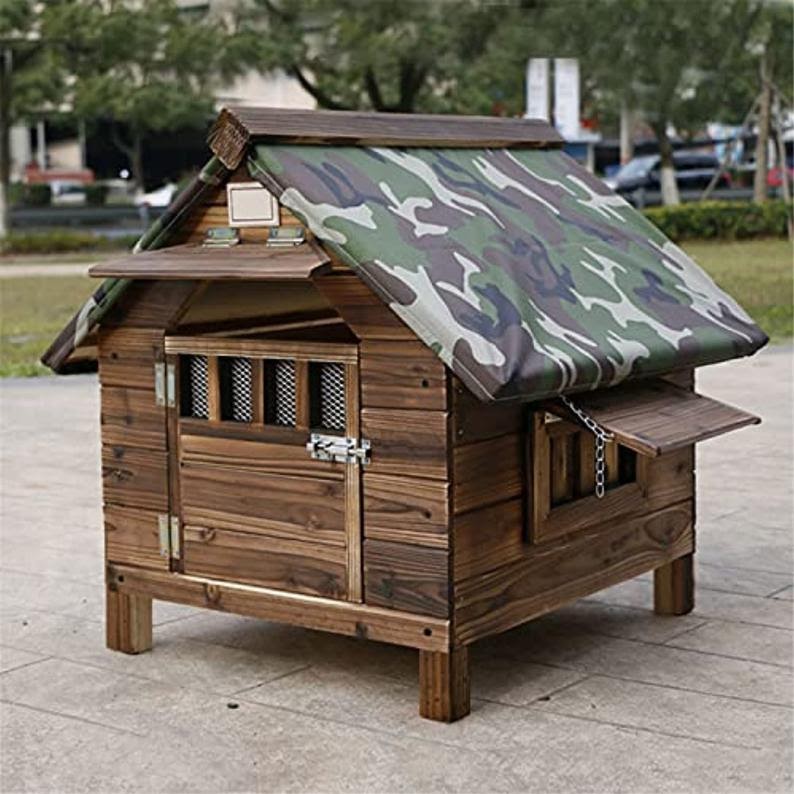 Factors to Consider Before Buying a Dog House
Here is the list of factors to consider before you buy a dog house:
Size
Does it have insulation?
Is it Waterproof?
Can the house withstand winter, summer, or rain?
Roof Type and House Materials.
Price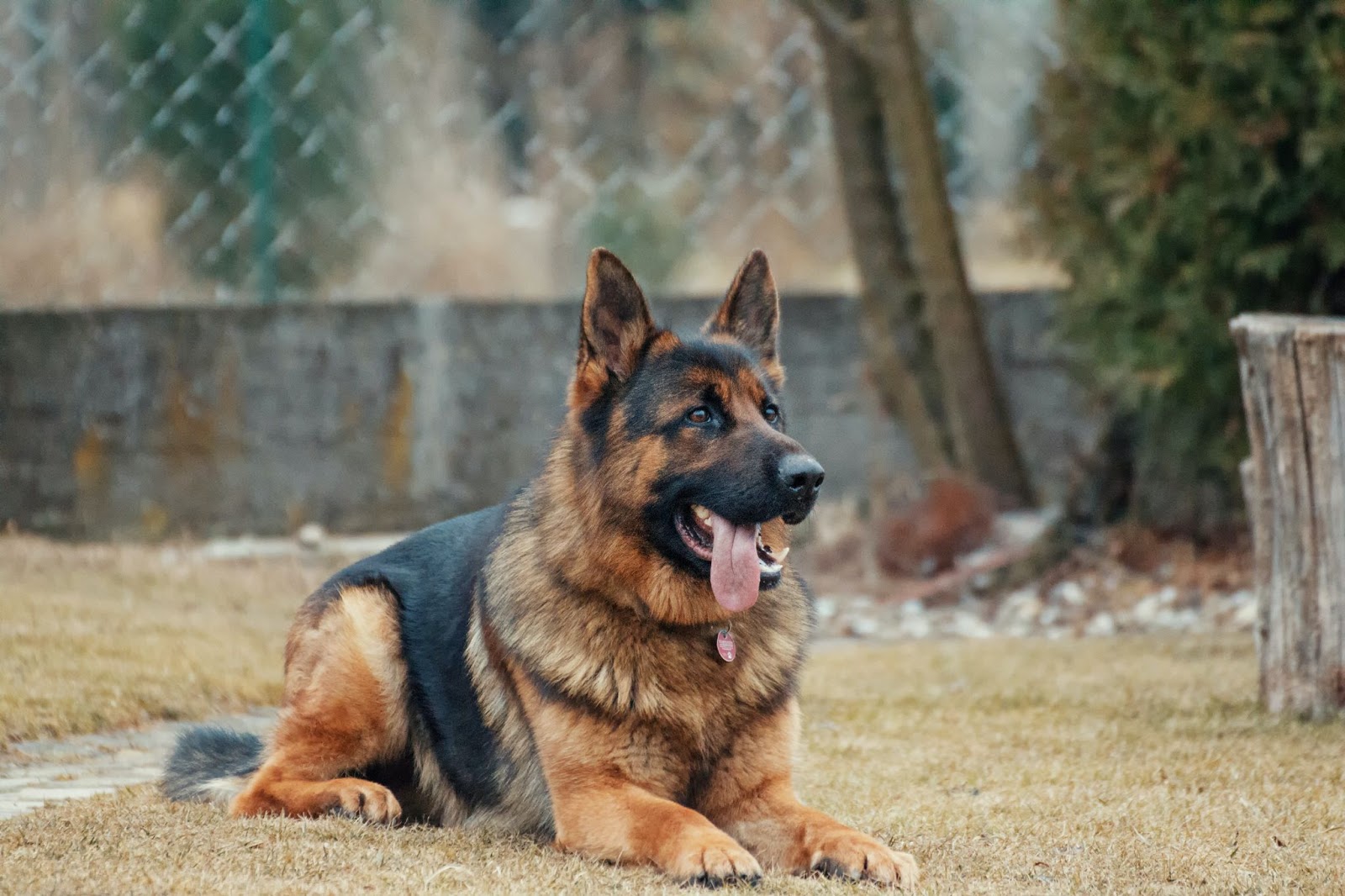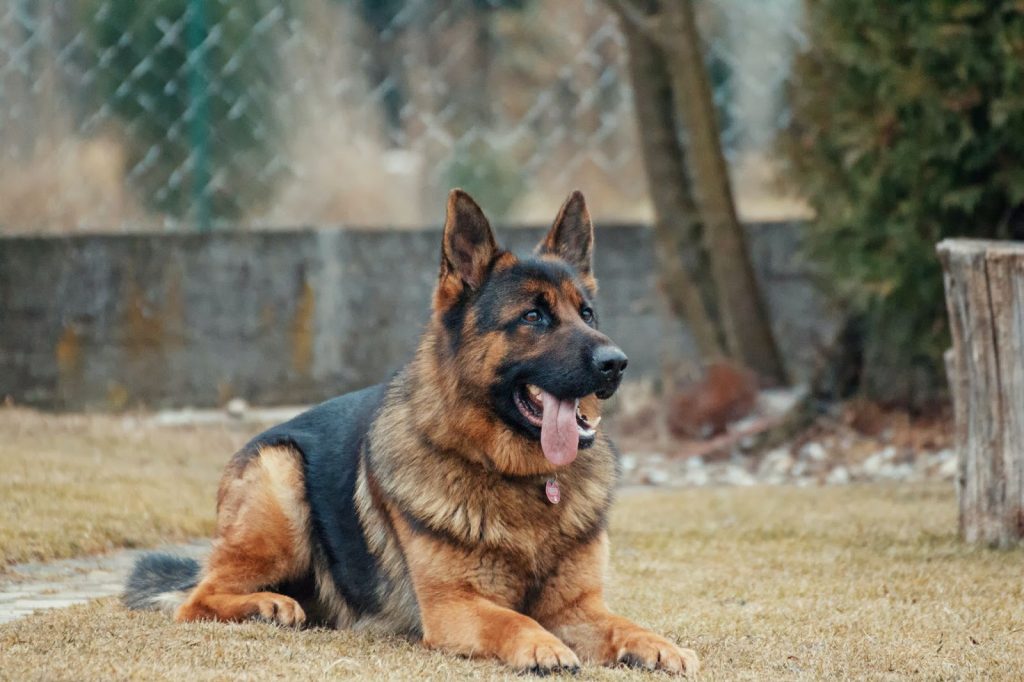 A dog house can be a wonderful place for your dog. It is important that they also have a place wherein they can rest and enjoy a cozy spot. However, you have to be aware that dogs don't easily start to use the dog house. They are not like children that will be excited when you build or buy them a dog house. You still need to train them to be familiar with their new dog house for them to use it. Provide treats whenever they stay in their new place and praise them for it.