Dog Toy Storage Ideas: 13 Ways To Store Dog Toys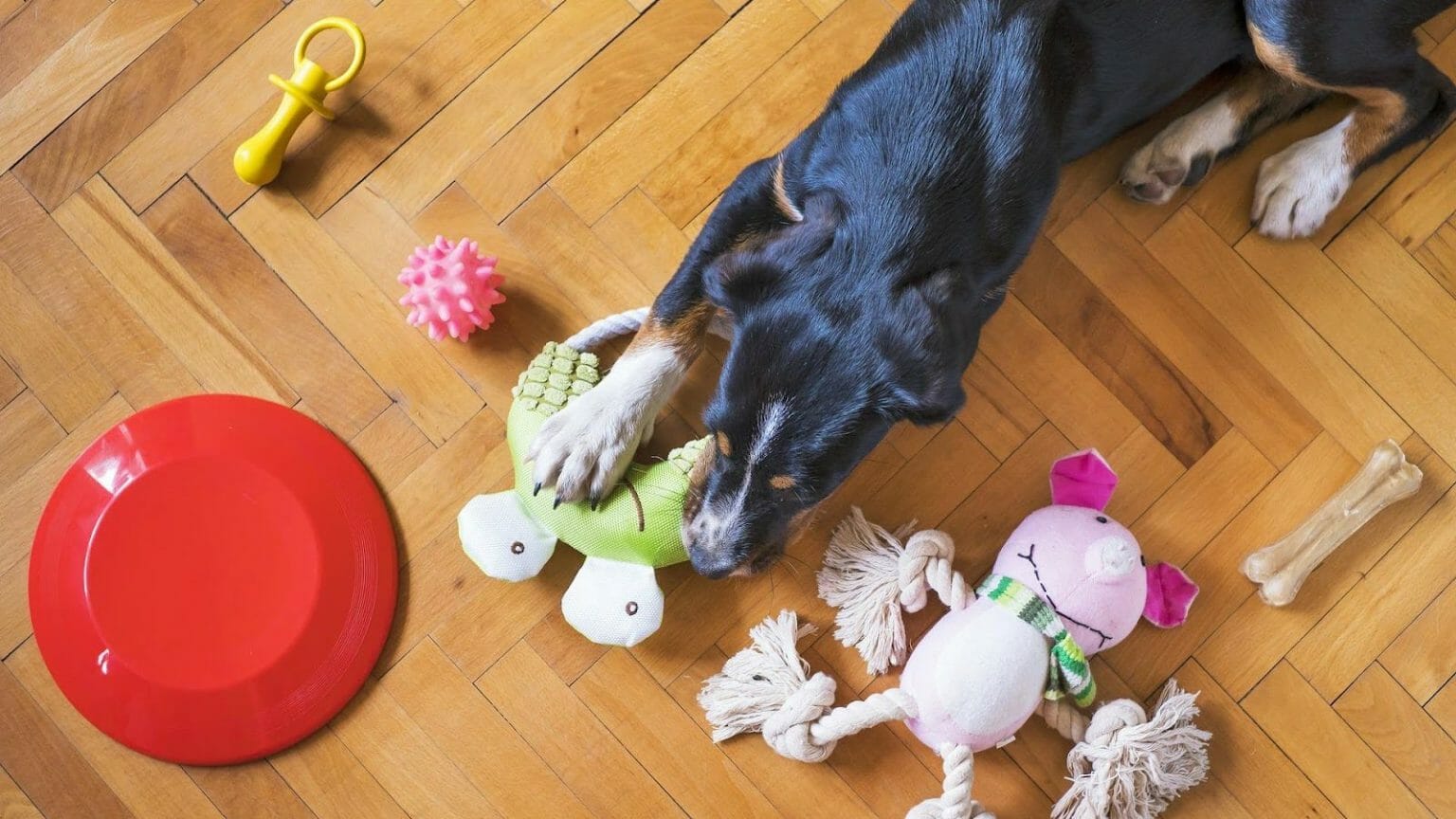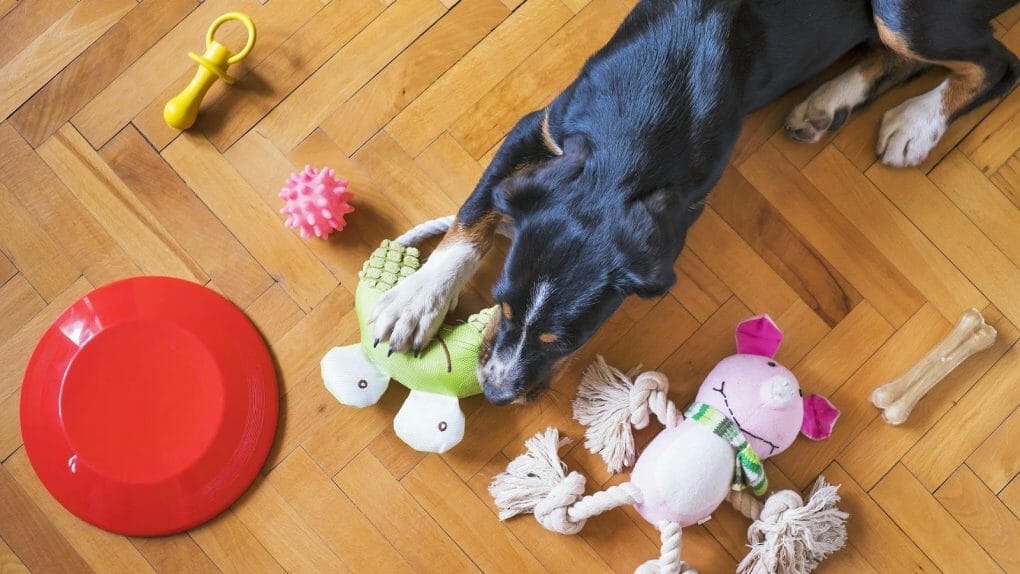 Toys help provide your dogs with an active and happy lifestyle, keeping them from boredom and developing destructive behaviors. But what if their stuffed toys and ropes are already making a massive clutter inside your house? 
Well, check out these 13 toy storage ideas so you can keep on spoiling your pooch with new fun toys without sacrificing the tidiness of your home.
1. Custom-Made Nesting Crate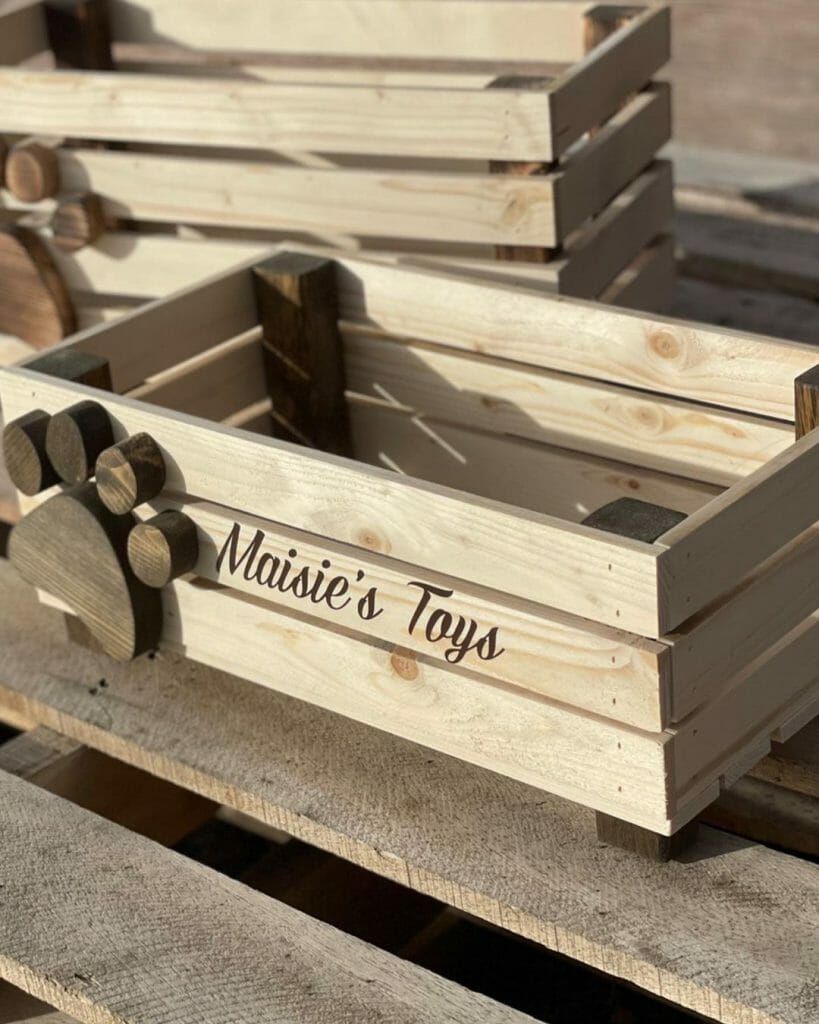 Wooden crates come in several sizes, and it's a great thing because they can accommodate your dog's toys no matter how big or how many there are at your home's disposal. The rustic charm is present, making it a worthy add-on decoration to your home. 
Some can be custom-made, and they usually would have a board name attached to the crate. Designate one for your dog's toys, another for their grooming supplies, and another one for their treats. On another note, you have to regularly check the expiration of your treats no matter how proper you store them.
You might also be interested to read: Do Dog Treats Expire? 7 Tips to Make them Last
2. A Dog Toy Hammock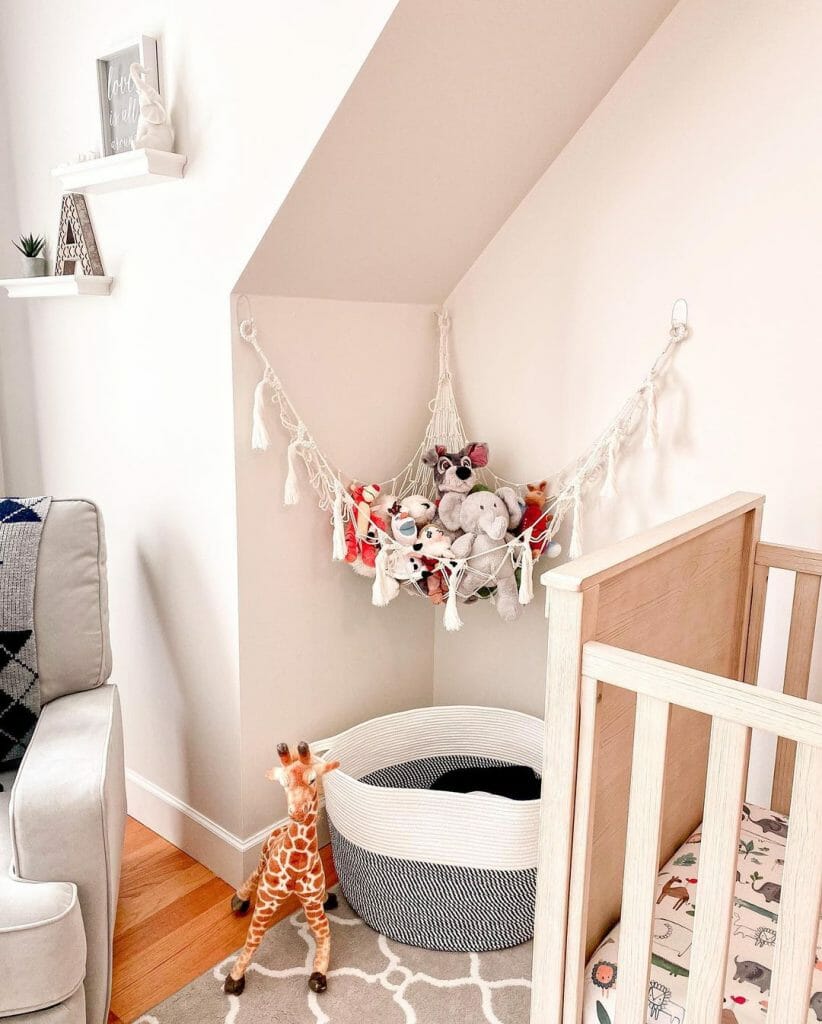 Got no space below? Hang them instead. A dog toy hammock will undoubtedly add a unique aesthetic inside your room, plus your pooch wouldn't be able to rummage on their toys and create a mess freely. 
Look for a corner at your home and install it against a wall. Estimate first the size of your dog's toys overall, so you'd know what size of hammock you'd need. Anytime your pooch needs entertainment, you can just show them each toy and let them decide which one they want to play with.
VCA suggests that toys, after all, redirect their energy, which keeps them from feeling the symptoms of separation anxiety.
3. Dog Toy Storage Bin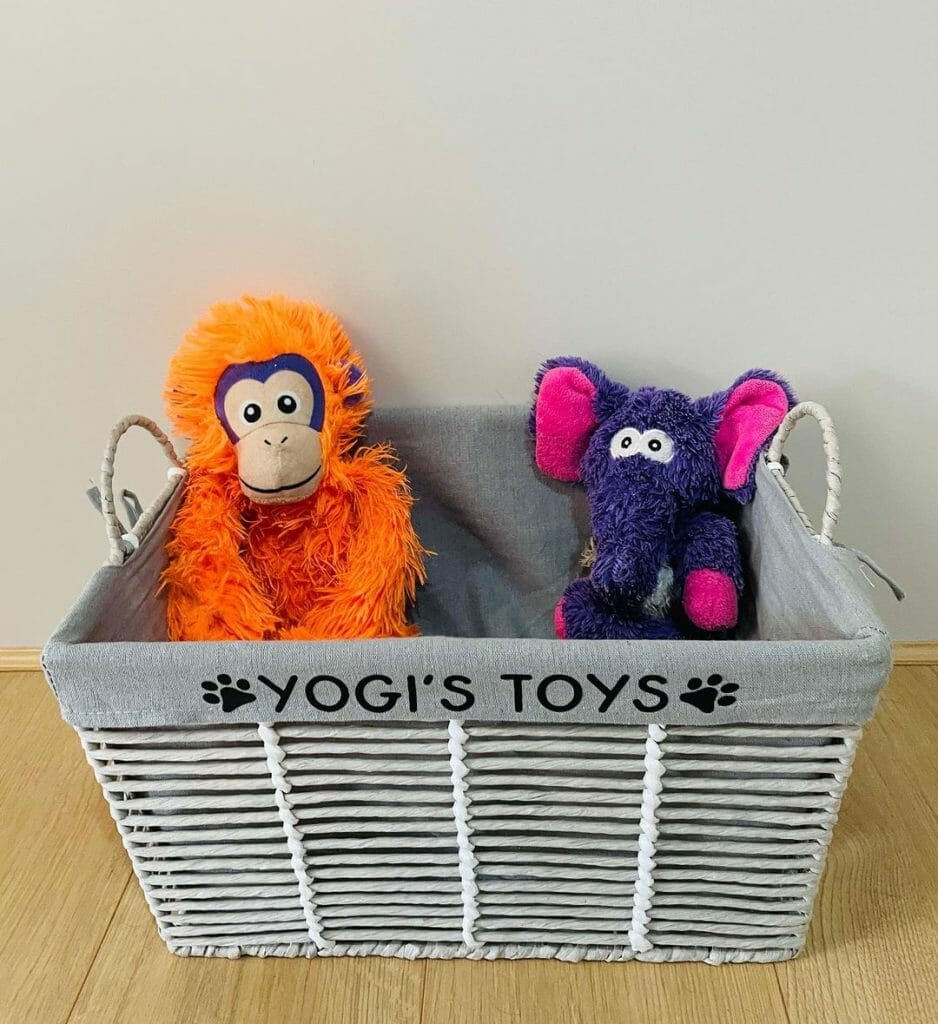 A storage bin may come in a square or cylinder form; choose according to your preference. They're a convenient option for storing your dog's stuff as you can just throw their chew toys inside and place the whole bin on a shelf.
They usually come in fun colors with attractive designs, and they are durable enough to last a long time. You can get it personalized as well by getting your dog's name printed on it, a property only they can access, well, including you as you're the one who can get the toys for them. 
4. Toy Room Organizer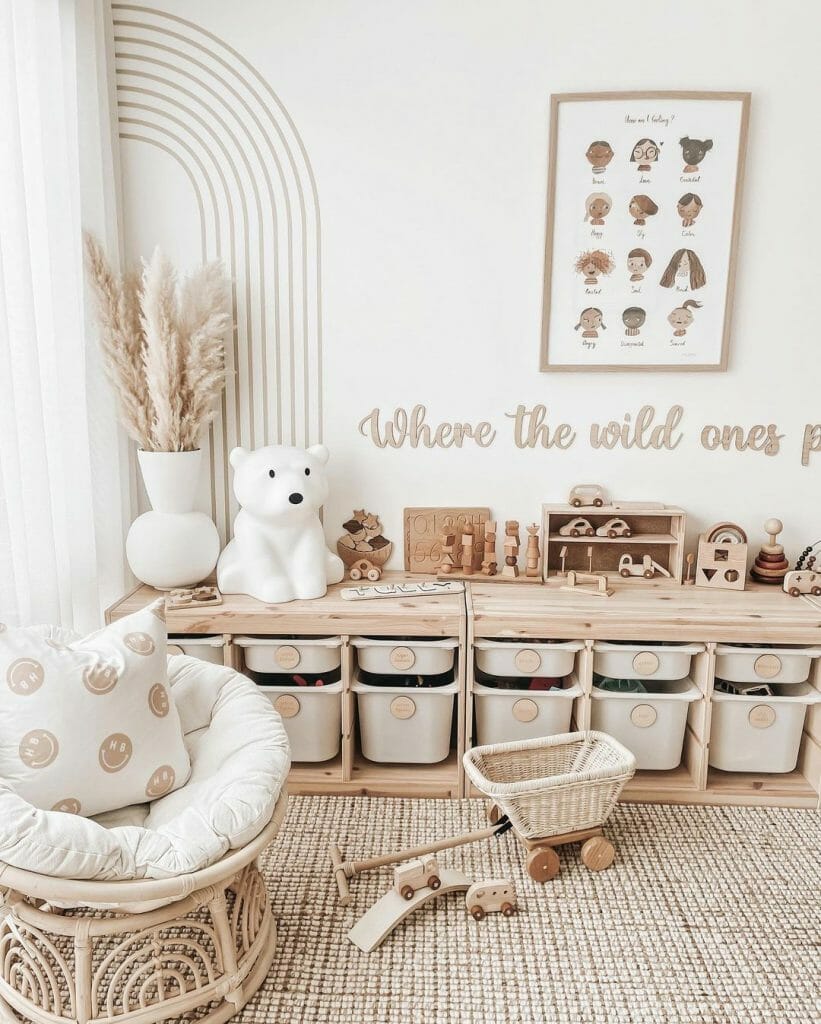 You may want to invest in a robust organizer, especially if you own more than 1 dog and their toys are abundant. For every column, you can designate it to every one of your pooch.
With an organizer, you will no longer have trouble looking for your old dog's favorite toy or, worse, have to deal with 2 dogs fighting over one tennis ball. Any empty spaces can be used for other items like your dog's treats, food, clothes, or leashes, provided they're secured and that your pooch wouldn't be able to access them easily.
To add, don't buy toys that can be harmful to your dog's teeth, as they can cause irreversible oral damage that would require the attention of a licensed vet.
Learn more about: How Strong Are Dogs Teeth? All the Facts You Need
5. Rattan Storage Basket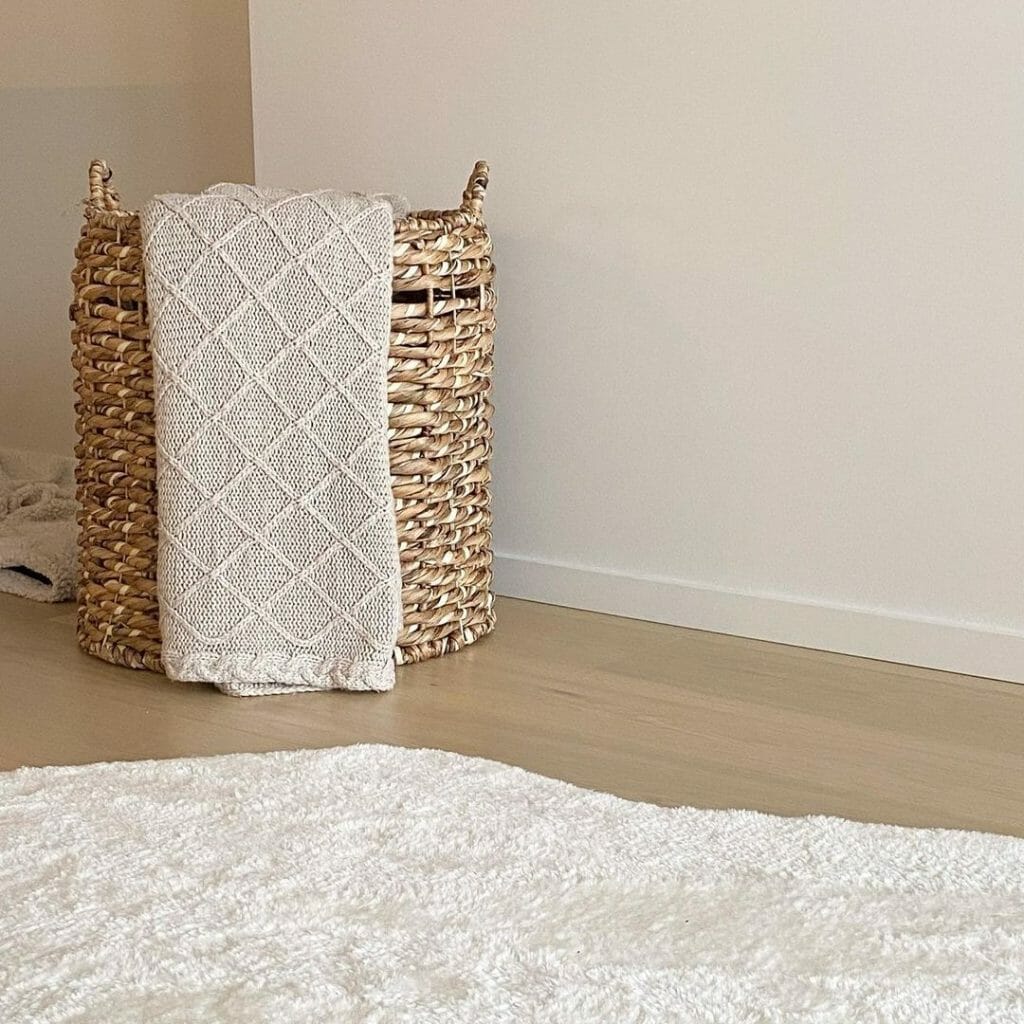 Rattan storage baskets are sturdy and pleasing to look at. If you're getting one for yourself, don't forget to get another for your furry friend. They come in various sizes and shapes, so carefully choose which one would ideally contain all your dog's items. 
The only downside about this type of storage idea is that your dog may feel the urge to gnaw on its material, while cats may use this as their scratch post. So, to avoid having its beauty ruined, ensure that this gets hidden from them and draw it out only when it's playtime. 
6. Storage Tower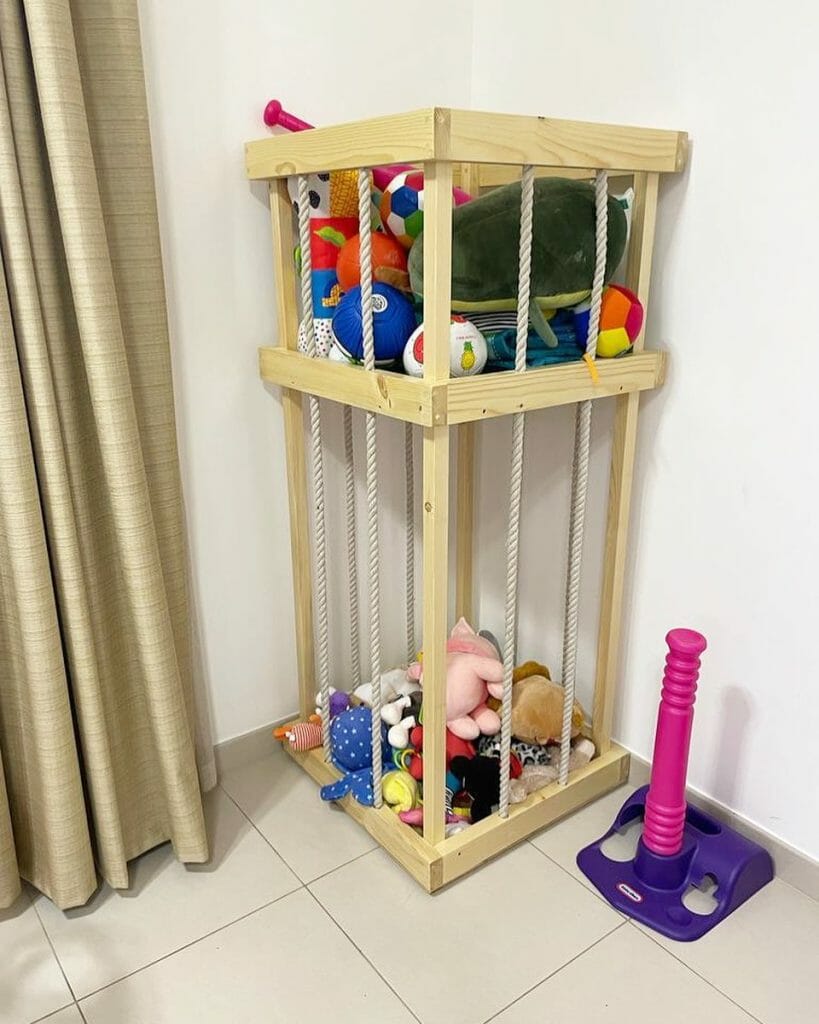 A storage tower provides easy access to toys for your puppy. It basically has borders around it, but ropes only secure the sides. The toys thrown inside can be taken out instantly at any time. However, leaving your dog with toys that can easily break or fall apart is not good. So the ones you store at the bottom should be guaranteed to be too tough to be considered a choking hazard. 
Another area at the top can be used for more space, or simply utilize it as your dog's storage room for their favorite snacks.
7. Metal Basket Toy Organizer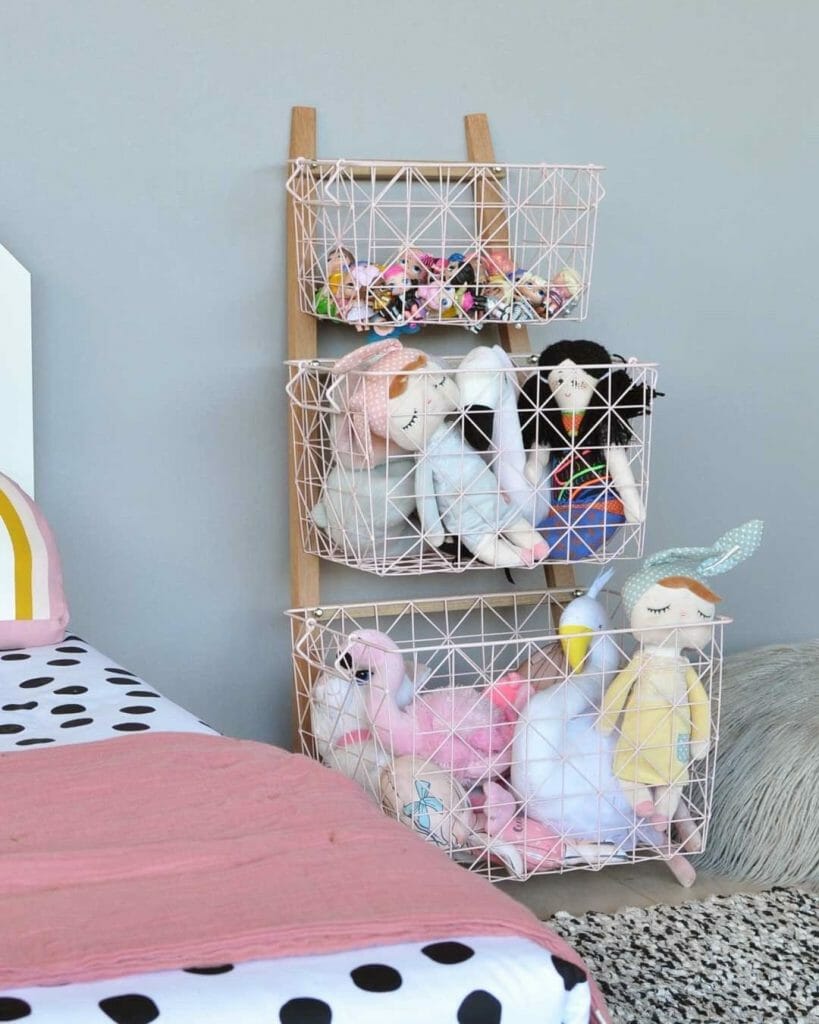 Metal or steel baskets are the way to go if you're not into cutesy decors. These industrial-looking storage items are definitely going to store your dog's toys without taking up too much space in the room, as they're your ultimate space-savers. 
With its material, you know these will last long, only that you may have to get it maintained and check if there are any areas where the paint is falling off. Stack up these metal baskets on top of each other using a rack and categorize your dog's toys from small to large. 
8. A Dog Wardrobe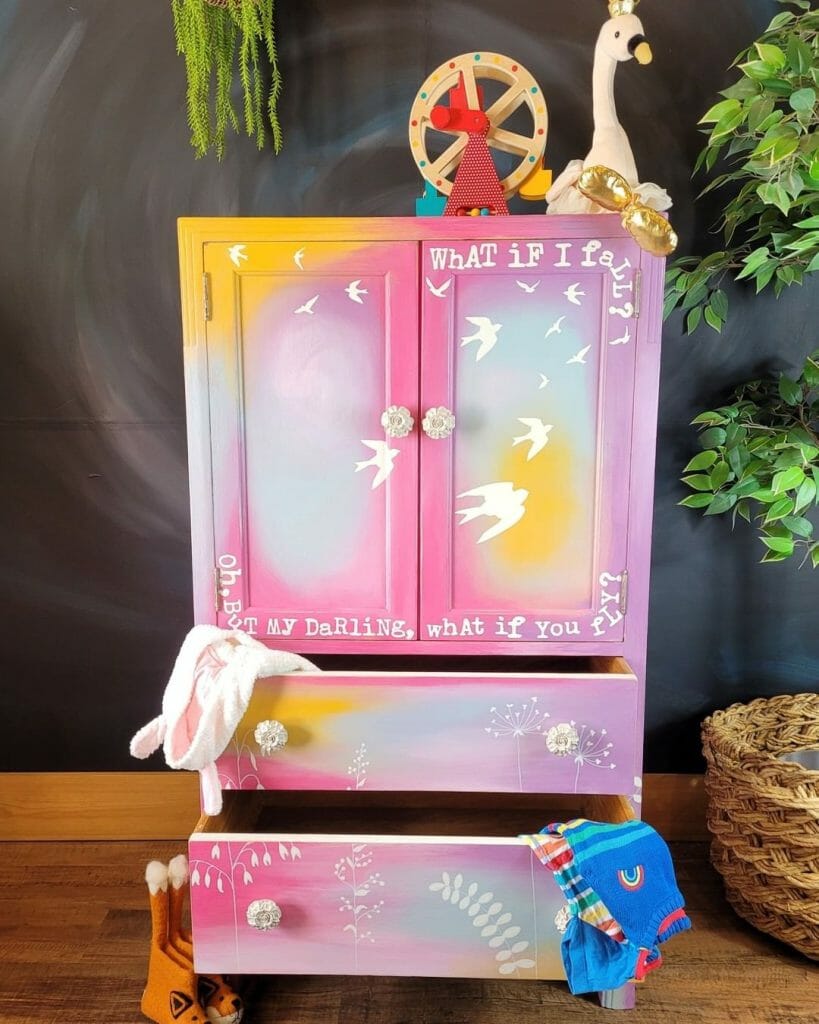 Nothing is cuter than getting your dog a wardrobe of their own. Not only would you be able to store their clothes inside but also make use of the drawers for their fun-sized playthings. However, the practicality of this idea depends on how large the wardrobe will be.
Also, it may take up some space in your home, but it's a plus in making it look fabulous. Plan out where to get this placed as you may not be able to transfer this to another room without a helping hand.
9. Rolling Toy Carts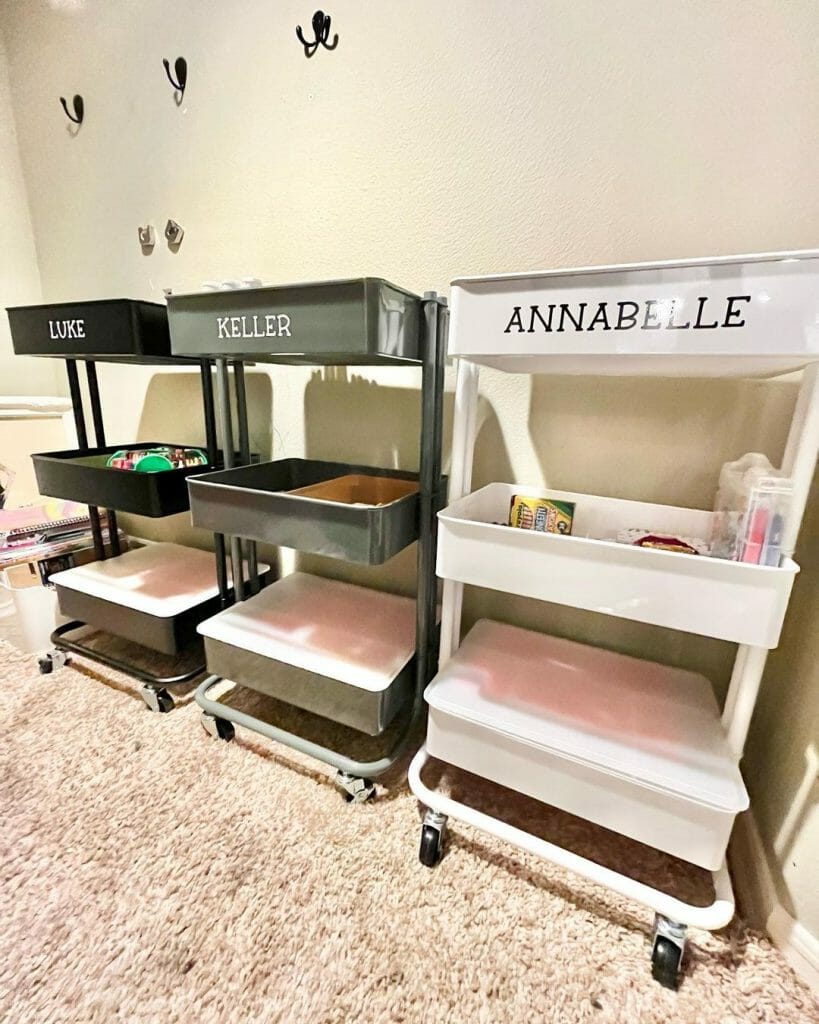 Rolling carts also have adequate space for whatever your pooch owns. From stuffed toys to balls and chew toys to ropes, this one has rooms for these things. Rolling carts have several layers, which means you can store loads without requiring too much space. 
As the name suggests, this has wheels so you can transfer it from one place to another. Got more than 2 dogs in the house? Then allocate one rolling cart for each of them. It makes things more organized and proper.
10. Toy Shelf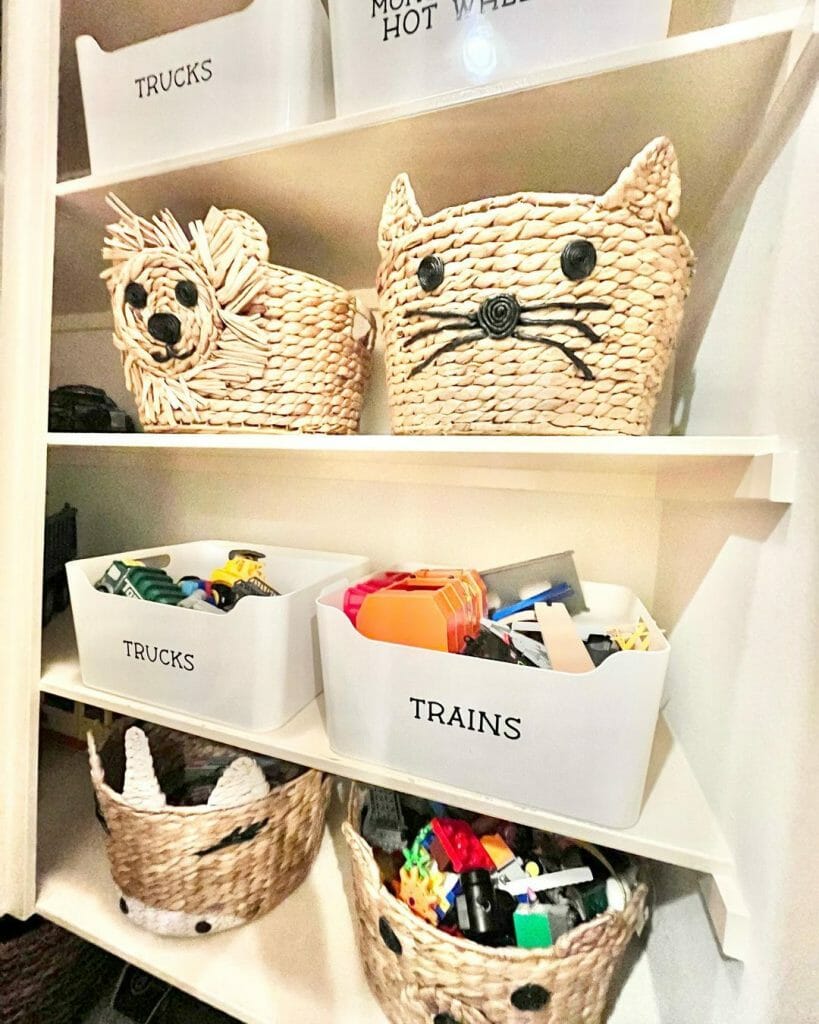 Toy shelves are another storage idea you should consider. It's relatively simple to use. You can store your dog's toys in a basket and place them in all available spaces in a closet or anywhere where the shelves are located.
In order for you to keep track on which basket contains which, make sure to label them. You can get custom-made trays or boxes with printed names on them like "stuffed toys," "balls," and "puzzle toys" so you'd instantly know which basket to pull out.
11. Storage Box Chair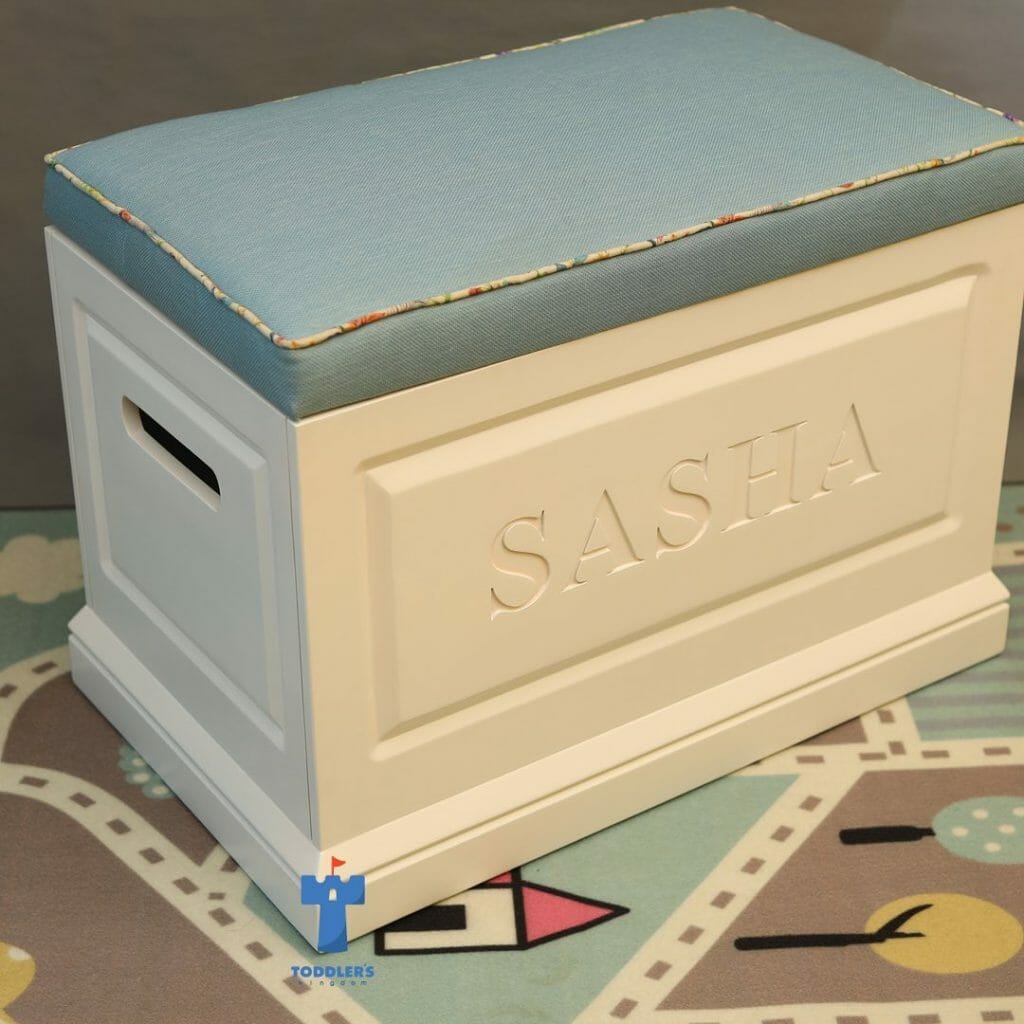 Another space-saving method for storing your dog's toys is investing in a box chair. They're hollow on the inside, so you can put random items in them. Basically, this has a dual purpose. 
When you have guests, you can make them feel at home and sit in this comfy chair while they entertain your pooch. Meanwhile, when your dog has no task to do, lifting the lid up of this furniture will reveal toys your dog will happily choose from.
It's an efficient piece, especially if you're fond of keeping things minimal inside your apartment.
12. Shoe Cubbies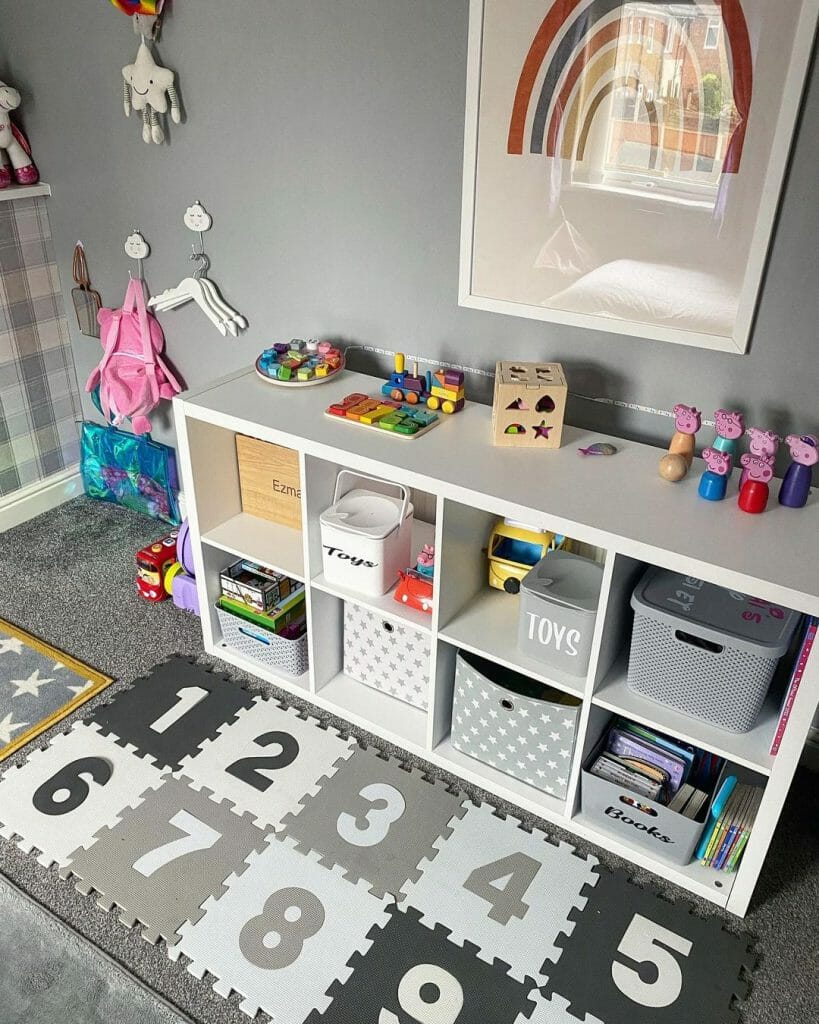 Shoe cubbies are not only meant for shoes, more so if not all of the cubbies are occupied with items. You can draw in your dog's toys after their playtime, and to ensure they don't go about the organizer, make use of baskets or boxes and not just directly place the toys in the shoe organizer. Doing this would keep away the possibility of them destroying their toys. 
It's a common storage idea that thousands of dog owners opted for since it has several spaces and divisions. To keep things in order, designate a column for your dog and another for your personal items.
You might also want to read: How to Teach Dogs Not to Destroy Toys: A Guide to Proper Behavior
13. Canvas Storage Bin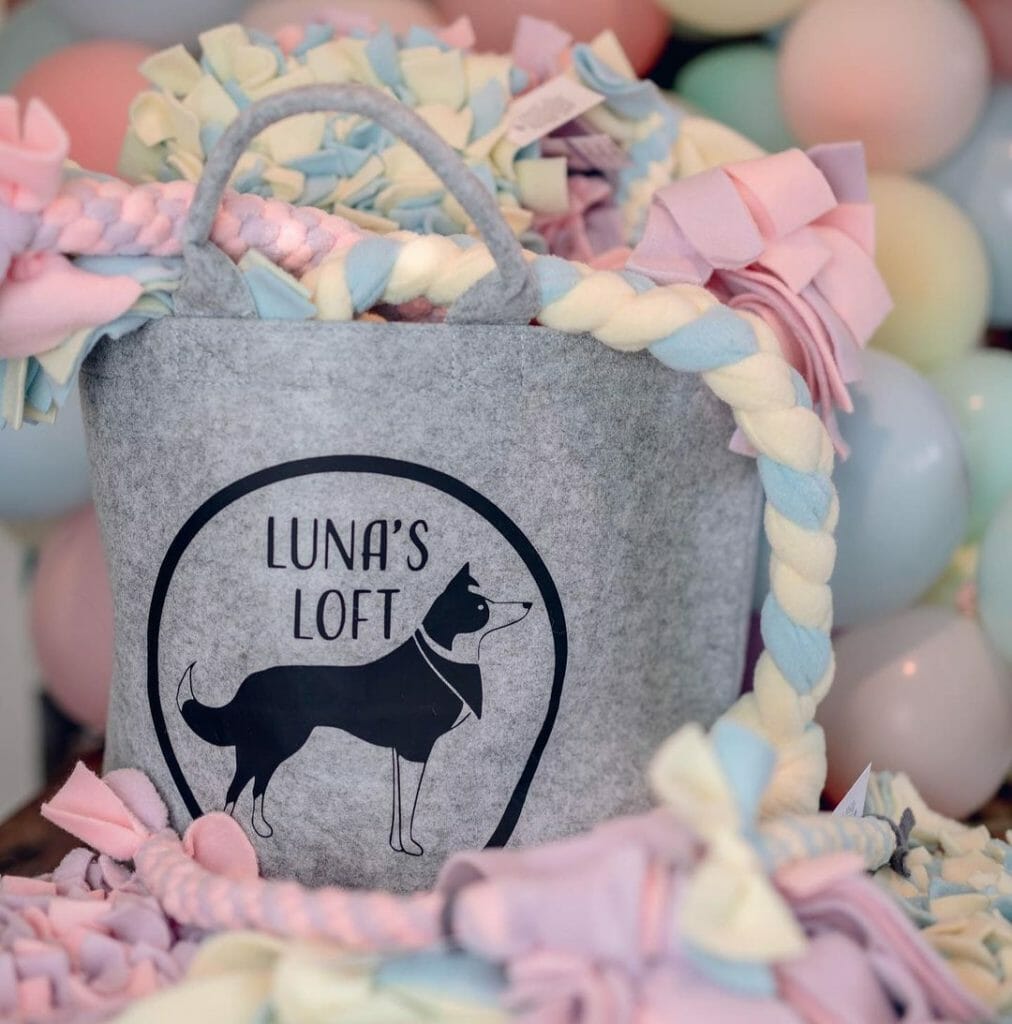 A canvas storage bin proves to be helpful to delve into your dog's toys without any hassle quickly. It's stylish and usable for all sorts. You can even use this as part of your home decoration since it has different prints, colors, and designs. 
It's pretty much a low-maintenance choice. Getting this cleaned only requires baby wipes to remove dirt and dust. In moments where this gets emptied because your dog wants to play with all their toys, the most preferred type would be the collapsible canvas storage bin so you can store this without requiring much space. 
3 Things to Look For in a Dog Toy Storage
Are you struggling to choose the best storage item for your dog's toys? Indeed, you won't be able to notice how fast your dog's items add up, so make sure the bin can catch up to it well. Bear in mind these 3 things in selecting the ideal depot to keep you from stumbling across your dog's toys.
1. Size
Check out your dog's collection and determine how ample the storage should be. However, do not go for those that are too deep, as you may have difficulty finding a suitable toy if it's down at the bottom.
I suggest that you purchase several bins instead and categorize the toys, may it be according to size, type, or frequency in use. Also, if your pooch no longer plays with some toys, consider donating them instead.
2. Material
Storage items come in plastic, metal, wood, or fabric. Plastic containers are easiest to clean as you only have to rub them inside and out with a washcloth. The only downside is that they can be prone to scratches. On the other hand, fabric containers can be tossed in the washing machine, yet you may have to store them with caution as your dog can easily chew them up.
As for metal ones, regular checks for rusts would be needed to prevent them from staining your dog's favorite stuffed animals.
3. Convenience 
The last thing you may have to look for in a dog toy storage is if it's convenient for you. Do you want to keep the toys hidden? Then go for those that have lids on. A bin with a handle is preferred if you want to move it around. 
Meanwhile, the storage chair would satisfy your expectations if you're into practical ones. The folding ones are for those who love to travel with their dogs. Of course, you may have to carry a few of their toys, so a collapsible bin would be the most space-saving item on the list.