Dog Grooming Salon Ideas: 7 Themes for Your Business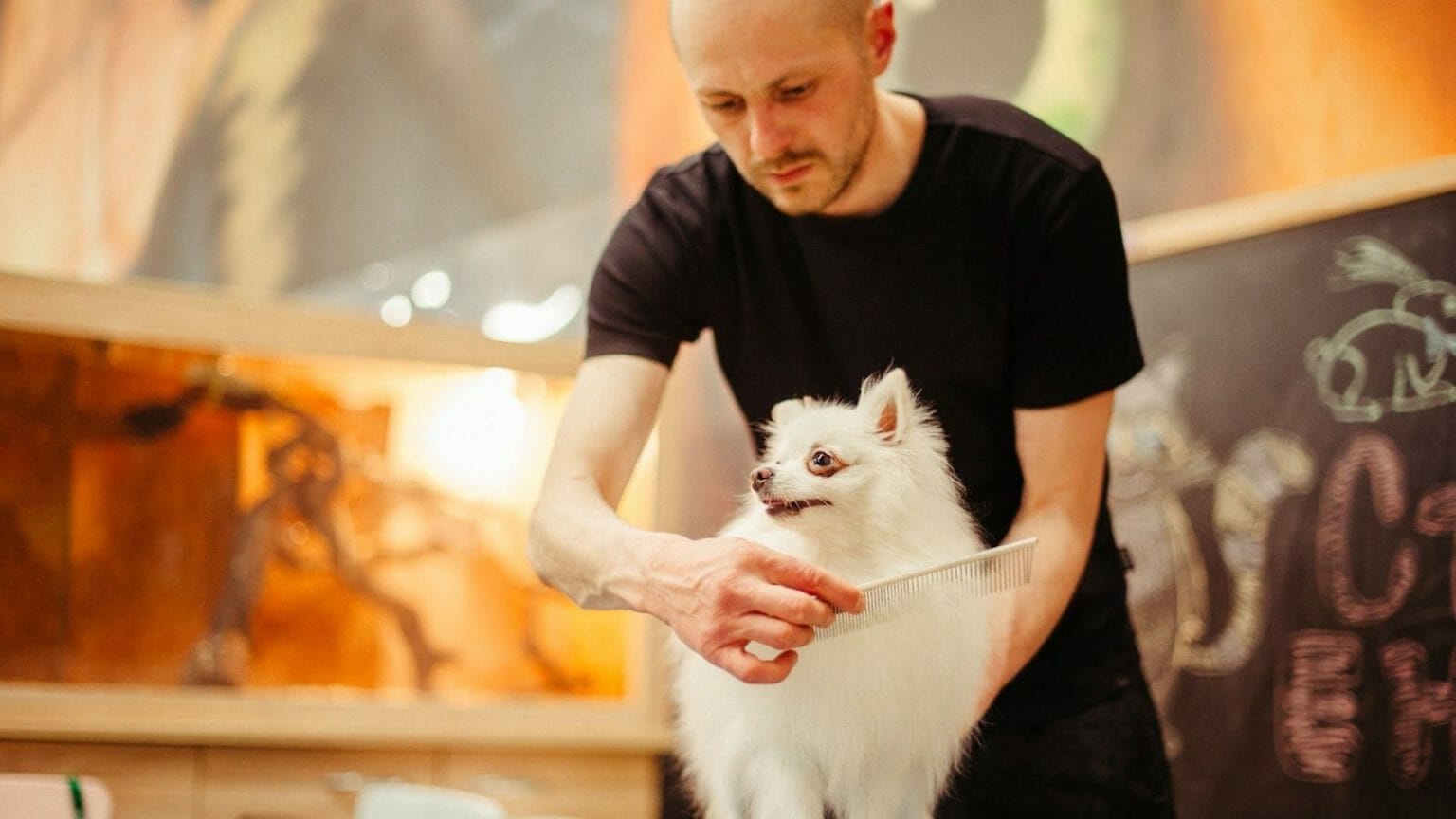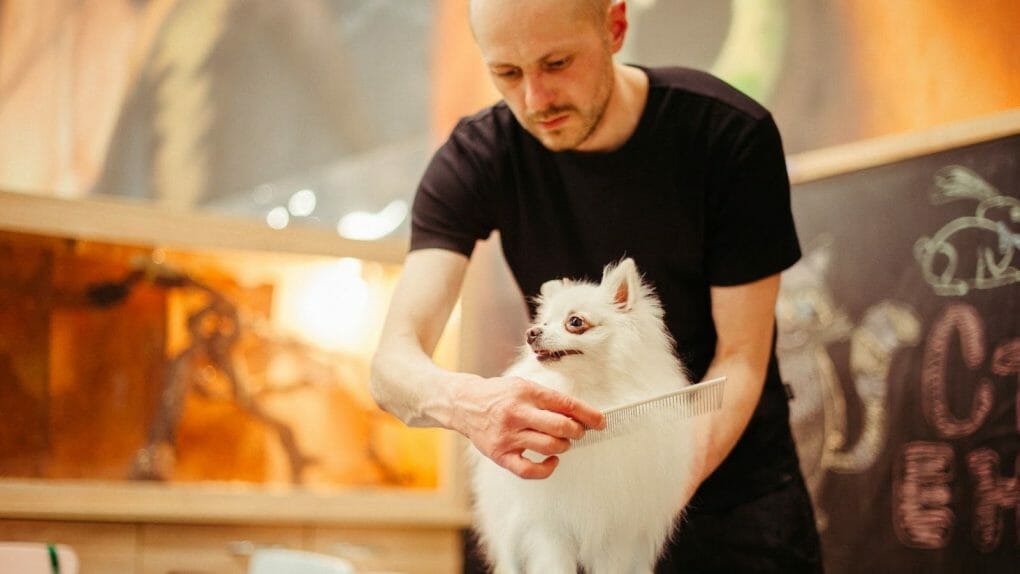 With over 69 million households that own a dog in the US, it's just ideal for a dog lover like you to start a dog grooming salon as a business, especially if it aligns with your passion.
Despite the current pandemic and economic fluctuations, dog parents are still willing to spend on their pets. It makes it highly plausible for the US pet industry to rise in value, more so that more and more dogs are being adopted and purchased from breeders.
If you're having trouble searching for the right idea to take on for your envisioned dog grooming parlor, we have listed 7 themes for you to emulate. Included are tips and ways to bear in mind for a successful start. Let's get started!
1. Woody Theme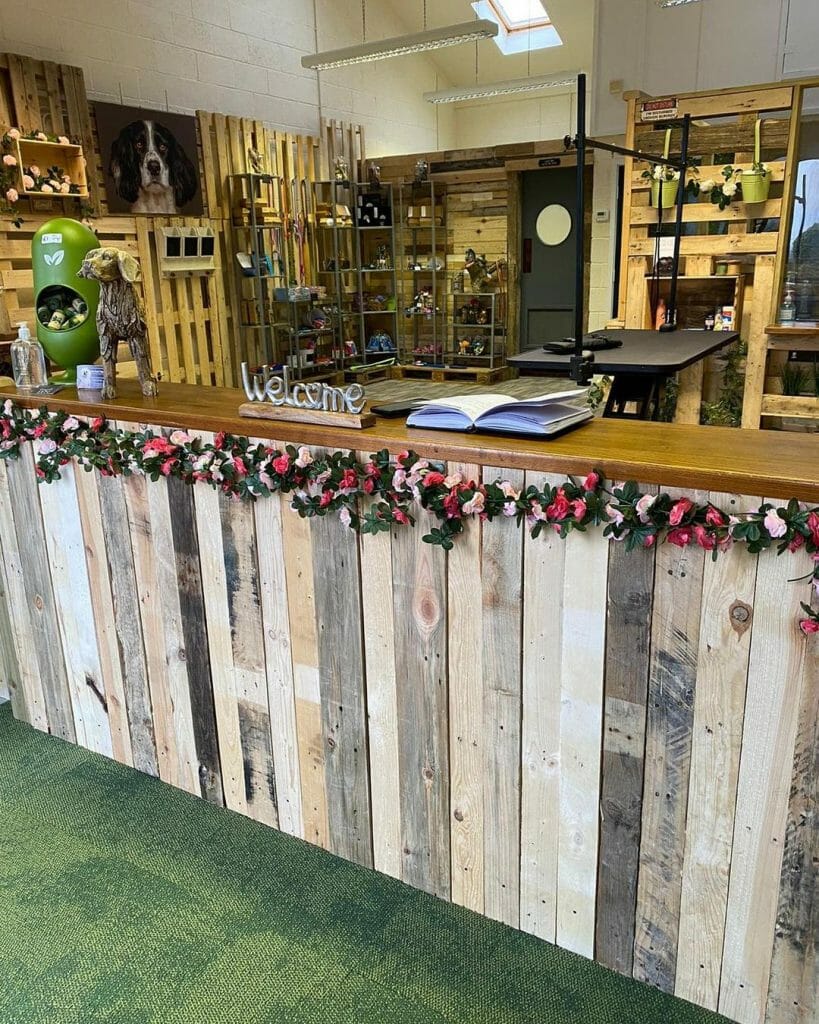 Your dog grooming salon has to exude a friendly and warm atmosphere. Getting your customer's pooch to feel relaxed and calm is a great start before the grooming session. A rustic vibe is pleasing to the eyes; it's very homey and non-intimidating, especially if this is the dog's first time visiting the place.
Going for a wooden interior and embracing the natural colors of the wood is ideal. Preferably, it's best to stick with certain complementary tones without using too many shades. Keep it neutral and neat. Be creative with the way the woods are designed as decors. Hire a carpenter for it to ensure they're robust and not prone to mites.
2. Minimalist Theme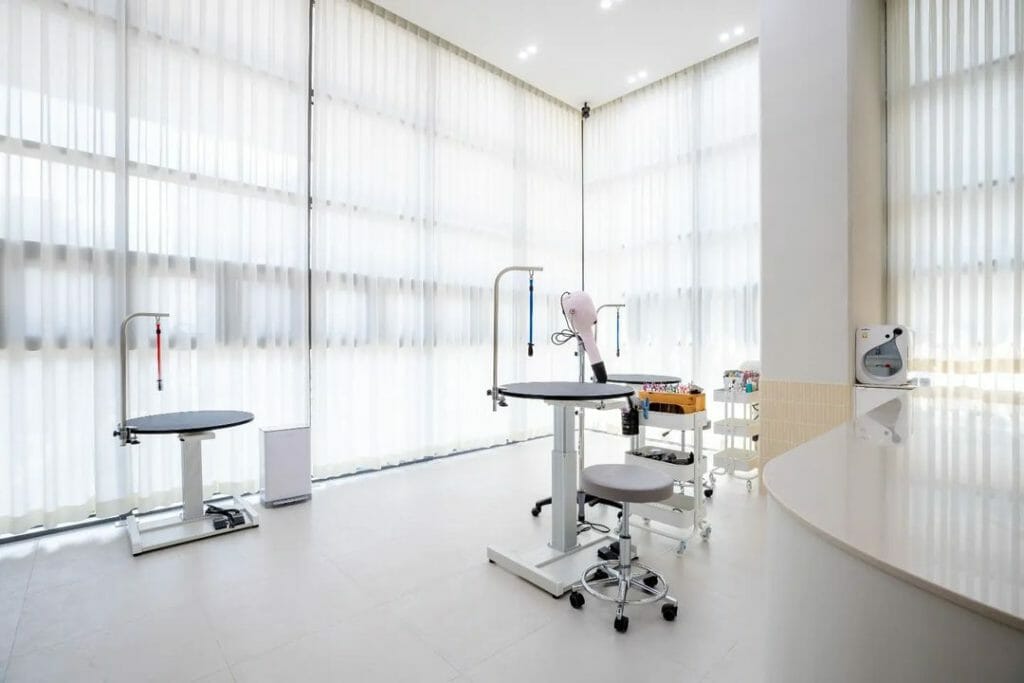 Sometimes, less is more. Despite the simplicity of such a minimalist theme, how it looks states a lot of artistry and aesthetics. Plus, selecting this theme would mean a lesser budget as you won't have to do too much in beautifying the place.
You must know the touches needed to perfect your dog grooming salon. Going all cream or white with the place is classic for a seraphic mood. Various clinics follow this simple theme. Select your drapes carefully and purchase grooming tables that predominantly come in your chosen color.
Add a hint of other colors to keep your customers from the monochrome overload. Of course, include the essential furniture, clock, and other items to complete your objective. 
3. Black & White Theme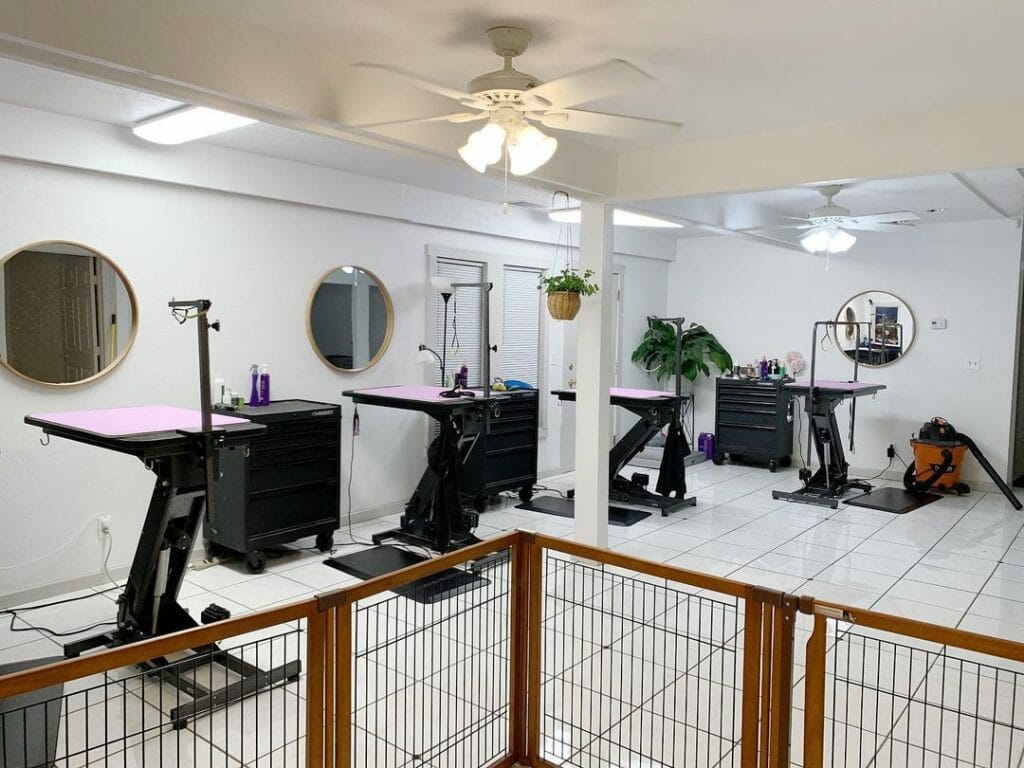 Going for a black and white motif might suit your taste if the all-white theme doesn't impress you. These two color combinations are not too much nor too few in anyone's optics. You can either go for white walls with black furniture and equipment or vice versa.
However, the salon's aesthetics should also depend on how your future customers and dogs feel about the place. Keep things in moderation, and don't forget to aim for a friendly atmosphere. You can place mirrors at the front of the grooming table to help you see how proportionate the cut is. 
A table on the side for the needed products would be convenient for a professional groomer, so invest in having as many as needed.
4. Modern Edgy Theme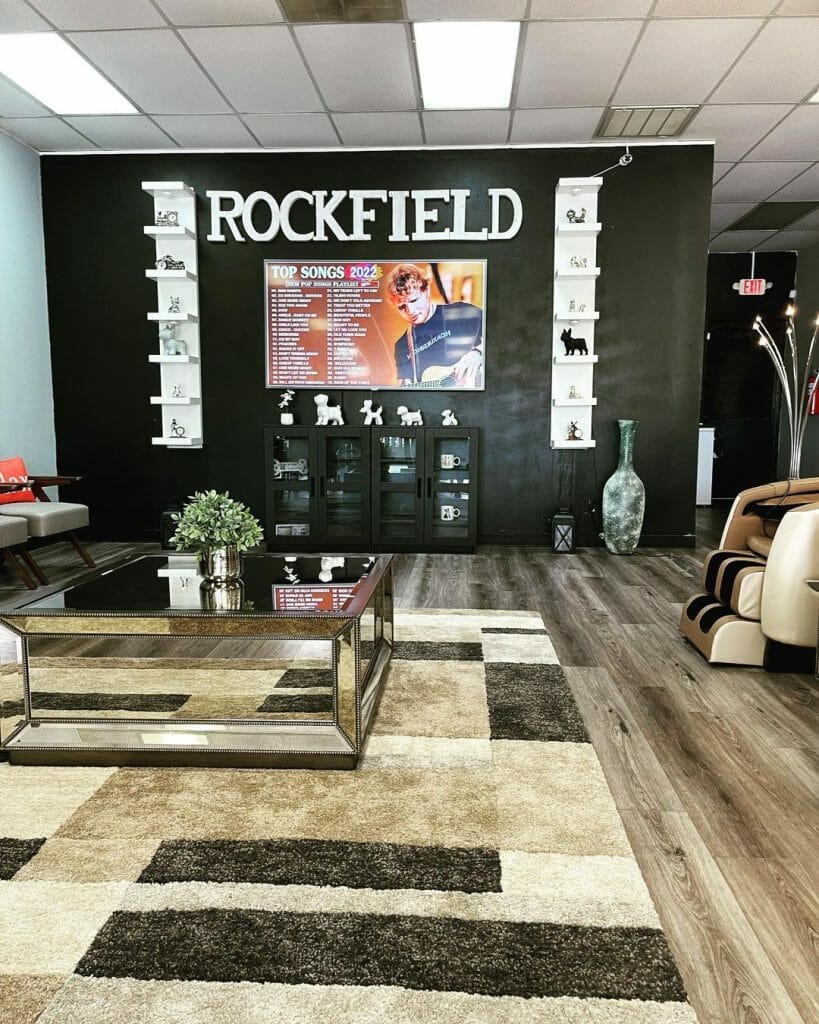 Opt for a modern theme that's worth taking a shot for your dog's gram. Here it would help if you had patterns, color combinations, and updated furniture to fulfill the goal. While it's nice to experiment with colors, it's still best if you stick to using those in the same preferred palette. 
Maintain the theme from the receiving area to the grooming station or choose a different variety for every room. You can dedicate the waiting area's design for the dog's parents and the actual stations for the dogs to help make them feel safe, secure, and less anxious.
5. The Trendy Theme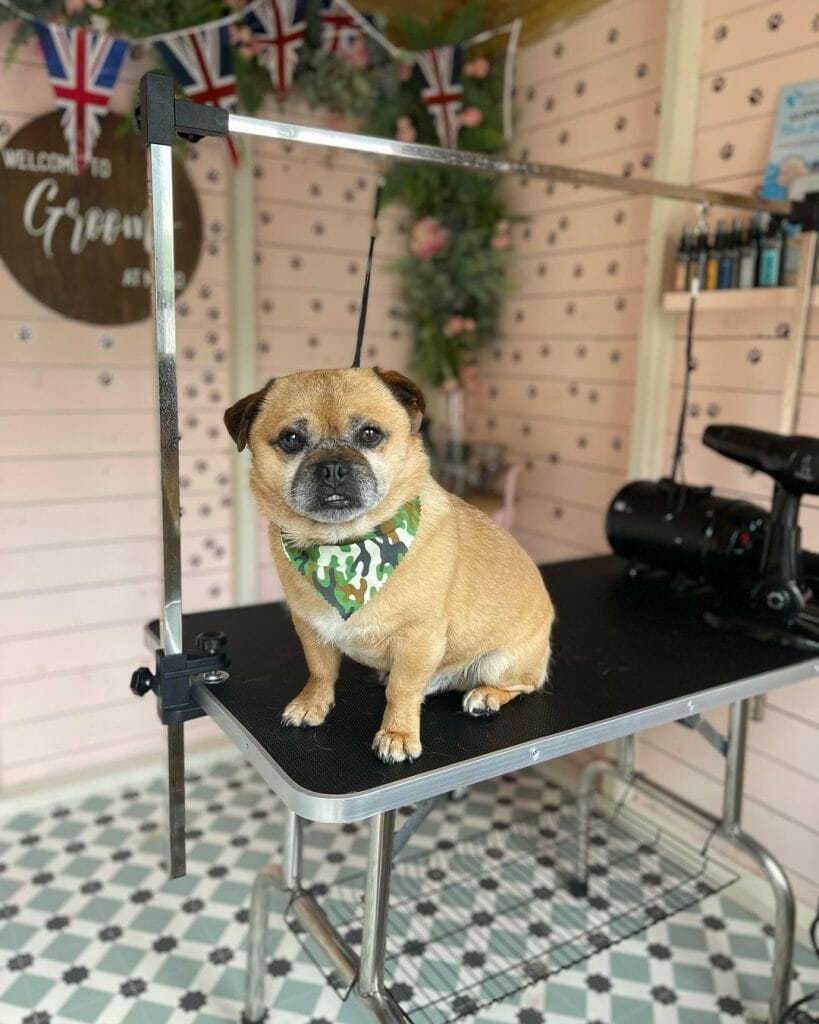 Make everything look cute and trendy. From the pinkish walls down to the quirky floor tiles, you'll surely attract several dog parents who are in dire need of keeping their pooches maintained. Get the wall in your receiving area painted by an artist with designs or paw prints and attractive messages in readable fonts. 
Furniture is also crucial; you have to carefully choose those that don't go beyond your color preferences. Do a festive corner dedicated to dogs so dog parents can take an after picture or add certain twists like displaying pet products.
6. Green Theme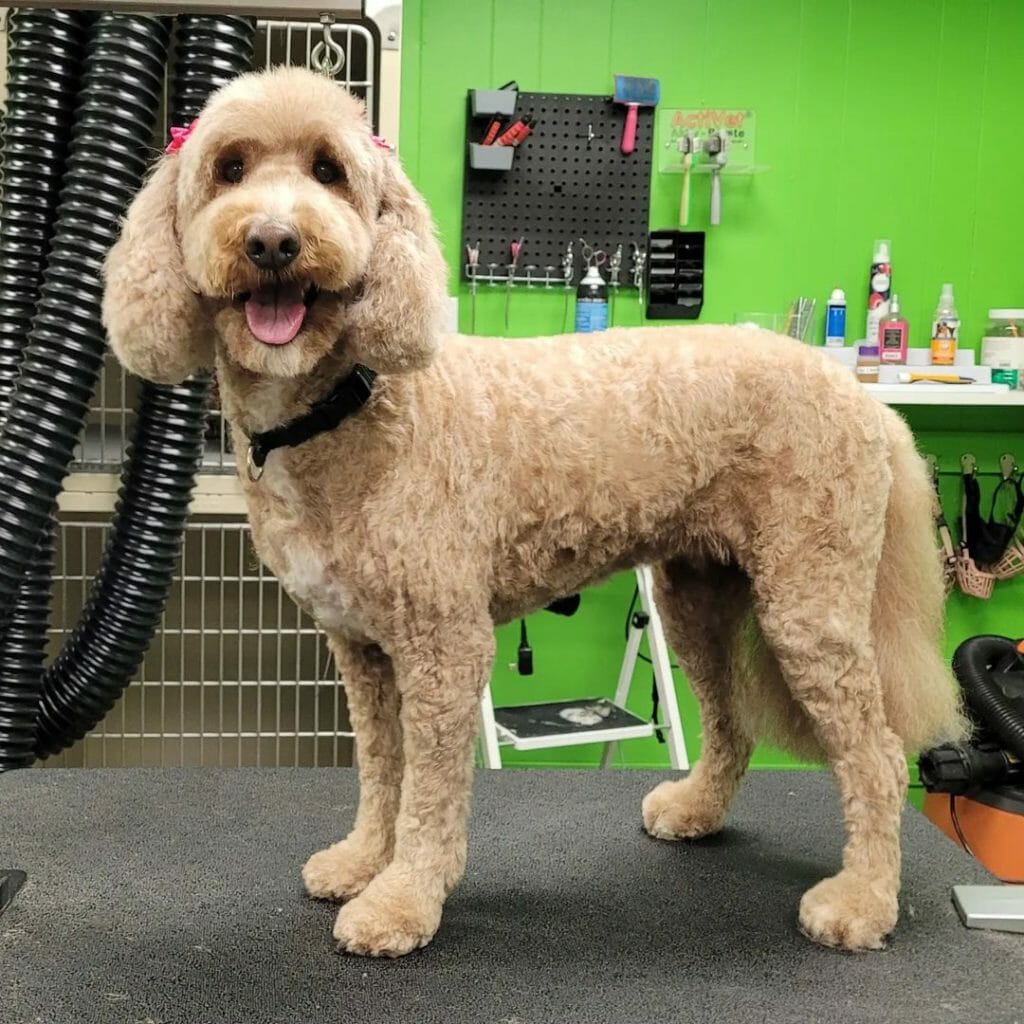 Have a penchant for green? Building your dog salon using this color would be immaculate. Have certain portions of the wall turn green and splash your furniture with the same shade. Purchase scissors with green handles and transfer the pet products in sustainable jars with labels in green print. 
The sky's the limit when designing your grooming salon. A keen eye for detail and perhaps a perfectionist attitude on how things should be are vital to achieving what you have envisioned.  
7. A Salon Truck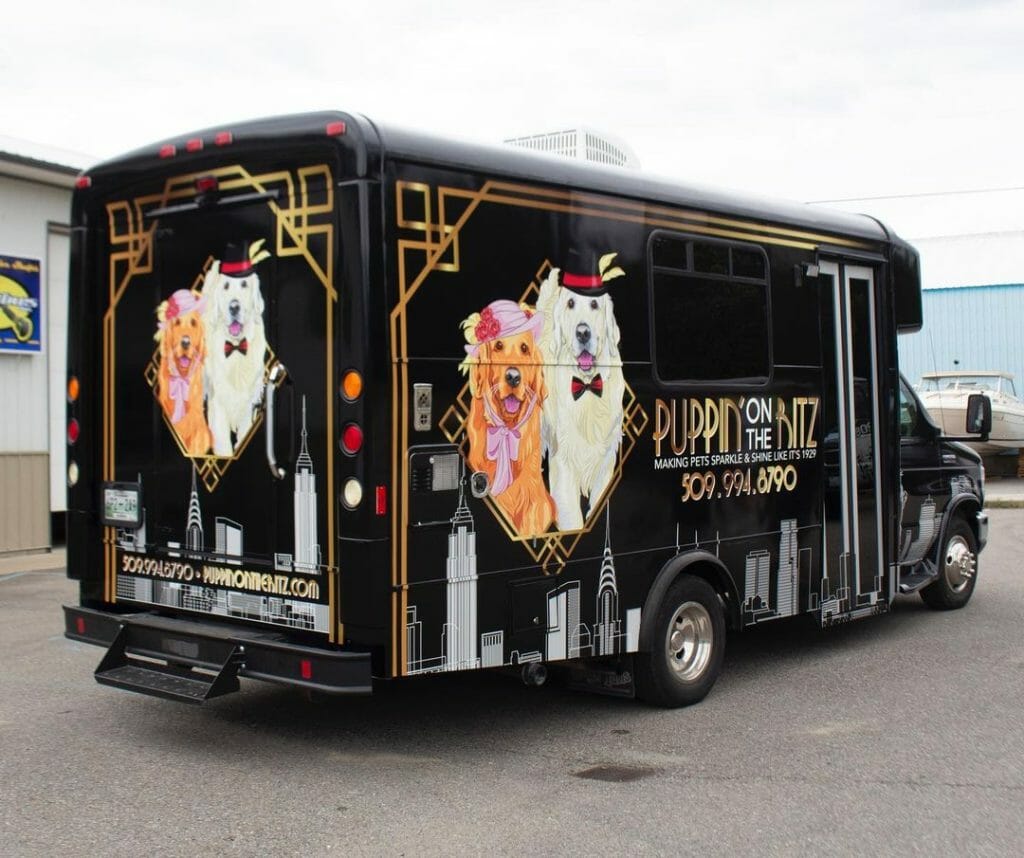 In all honesty, not all dog parents have the luxury of time to get their dogs to go as frequently as they should in the grooming salon. Although opting for a DIY method is an alternative, that only applies to experienced dog owners. With that in mind, you can consider a dog grooming salon truck that would enable you to roam around, offering services to people.
Though it may not accommodate as many dogs as an actual parlor could, this still has several pros, such as mobility and convenient public advertisement. And, though a salon truck doesn't stay in one place, your potential clients still won't have a hard time searching for it as they can contact you using the number that's displayed on the vehicle. 
5 Tips on How to Decorate Your Dog Grooming Salon
Whether you're renovating or opening up your dog salon for the first time, knowing how to decorate is a required skill to achieve that professional-looking workplace that's calm, comforting, and friendly for every pet and their owners. 
Here are 5 practical tips for that:
1. Choose Dog-Friendly Colors
While it's nice to go for pastel, monochrome, and warm colors to elevate the ambiance of your grooming salon, you may also have to consider going for the ones that a dog can see.
As you know, they don't see things the way we do. Everything is just dull and not that visually jarring for these pooches. According to AAHA, the colors visible to dogs are purple, blue, and green. Anything else is better off as accent colors.
2. Add in Boards, Plants, and Decors
You can add so many fun things as decors for your dog parlor. All these can upgrade and make the place built for dogs, from bone-shaped boards to pet-friendly plants.
Add a play area for them as well to make them feel even more comfortable, or they'd be preoccupied while waiting for their turn to get groomed.  
3. Beautify Your Reception
The first thing your customer sees in your salon is vital. Put effort into how your reception looks so that your clients will revisit and others would be inclined to have an optimistic impression of your place.
Have some treats ready at the arrival of a pooch so they'd associate going to your salon with something positive. Present portfolios of your previous clients to build trust and reputation with customers as well.  
4. Get Equipped
While first impressions are vital for your dog grooming business, the service you give to people is second to none. All the needed equipment has to be available in your place. Some of the things required are:
Sprays.
Dryers.
Shampoo.
Conditioner.
Nail clippers. 
Grooming table.
Shears & scissors.
Ear cleaning products.
5. Display Products
Of course, another add-on decor is shelves filled with products your clients can buy. You can have anything displayed, from dog bowls, shampoos, and wipes to treats; it's your call.
You'll be able to gain more income this way, and dog parents who visit you won't have to go elsewhere to get the needed items for their dogs. 
11 Ways on How to Have a Successful Dog Salon Business
1. Build a Concept
You may not be the sole dog grooming salon owner in town, so before starting your own business, make sure you have a vision and a concept of how yours will be different. 
First things first, you have to know what a client would need. Take a good look at the dogs in your city. Do most of them require a bath or grooming? Also, you have to see your options; whether you should go for a mobile grooming salon, a storefront, or the franchise one. 
Do include the location in your planning as well. It must be somewhere that's not isolated but relatively quickly spotted and visited.
2. Choose Your Business Name
Think of a business name that's catchy, interesting, and easy to remember. Ensure that it's available on major social media platforms and that it's not taken by any website yet in case you're planning to build one to expand your business to the online world. 
3. Acquire Training and Certifications
Your workers should have adequate experience in grooming and taking care of dogs. Training and certifications add up to your salon's reputation. Also, owners would be more confident that their puppies are in good hands. 
Certificates legitimize the practice that's going on in your doggy parlor, plus continuous development in skills can boost even more the kind of service you offer to your customers. 
4. Do Business Management Planning
Starting a business should be taken seriously. Plan out your employee's pay, if you want to set up a rewards program, how clients can contact you, keep track of the budget, and how people can get appointments. 
Ideally, it would help if you consider ditching the pen and paper technique but rather take advantage of software and apps that can make the process go more smoothly.
5. Set up the Price
Keep the prices honest and reasonable. Though clients would usually prefer cheaper dog grooming salons, yours have to stay competent and sensible. 
Consider the cost of your equipment's maintenance and other bills, as well as the service they'll get. Offer them a high-quality experience at a price they'll find worth paying.
6. Advertise
Social media is not just a trend anymore. According to a study, it's also a medium to communicate with a much larger audience with more ease in communication. You can advertise your business for free or upgrade your account for a premium experience in marketing.
Also, you'd be able to get in touch with influencers who own dogs, and working with them can expand your horizon even more!
7. Build Relationship With Customers
Customer loyalty should be taken as a gem. Ensure that your present clients return to your store when their pooch needs grooming or baths. The crew must be friendly, and the greeting every time a pooch and their owner comes in must be warm and welcoming.
8. Prepare All the Equipment 
You can't start a business if you don't have the things needed ready like you can't shower a dog if the water supply hasn't been fully worked on yet. Ensure the bits and pieces of your dog grooming salon are completed, and the equipment necessary is all purchased. 
9. Continuous Development
Keep improving your dog salon. One major mistake some other business owners make is they don't update their place. Keep up with the trends. If you're new to this kind of market, keep learning things such as the managerial process and whatnot. 
In that way, people will endlessly get hooked on your service and look nowhere else for nothing else regarding their dogs' needs.