English Mastiff vs Wolf: Who Has the Upper Hand?
In scrutinizing which between the two has the edge, it highly depends on the habitat, skills, and set of features in question. The English Mastiff is a better domestic pet while the wolf thrives best in the wild.
For so long, people have thought that wolves and dogs are of different species. However, scientists just recently discovered that both animals are of the same genus. One explanation behind this is because, unlike dogs and foxes, dogs and wolves can reproduce. If both latter canines mate and the offspring live successfully, then the parents are of the same species.
Breaking down the outcome caused by nature will take an extensive amount of time for us to process the relation of dogs and the ancient wild. However, we'll specifically focus on the English Mastiff versus the wolf so we'd have a clearer image in the end.
Physical Attributes
English Mastiff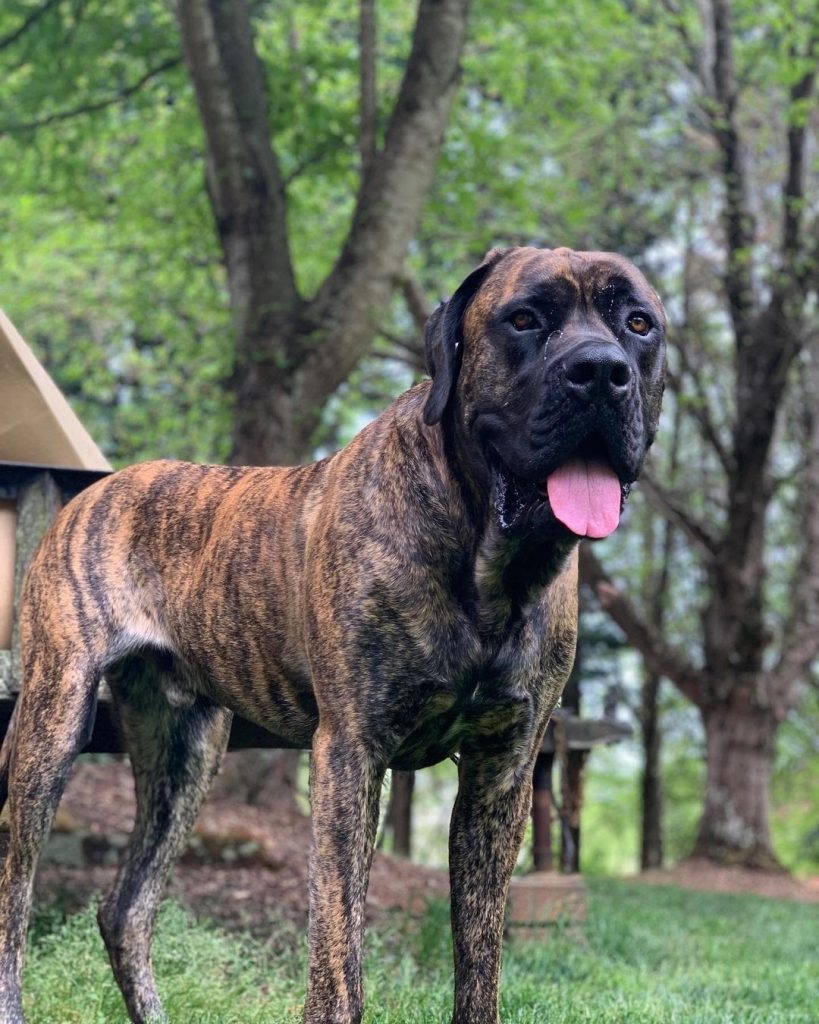 The overall appearance of the English Mastiff is enough to make anyone think twice before plunging himself against this colossal dog. A human doesn't have a high chance of winning against a canine who's well-equipped with several dangerous and strong features. However, it can't be ignored that this dog is even-tempered and calm by nature.
Let's see exactly what the physical features are that makes the English Mastiff a magnificent dog:
Body Size. The American Kennel Club (AKC) hasn't set any maximum height for the English Mastiff breed. They acknowledge that this dog can grow massively with Zorba, the English Mastiff, as proof. There are ideal minimum measurements, however. Check the table below:
| | | |
| --- | --- | --- |
| Gender | Height | Weight |
| Female | 27.5 inches up | 120-170 pounds |
| Male | 30 inches up | 160-230 pounds |
Head. The English Mastiff has a broad and heavy head. Considering how powerful this dog is, he can maneuver and tilt his head in the directions he prefers.
Teeth & Mouth. Powerful. That's one word to describe the English Mastiff's muzzle. He has a bite force of 550 PSI and that's near as painful as getting bitten by a lion. 
Legs. Muscular, thick, and robust. Both forequarters and hindquarters are capable of supporting his heavy body. The front legs are straight and sturdy while the ones at the back are slightly angular.
Tail. This is set moderately high on the back. While some English Mastiffs are docked, dog fanciers suggest never to follow the culture if it's going to be done for cosmetic purposes.
Eyes & Ears. The English Mastiff might not be comparable with the sighthounds when it comes to vision, yet his eyes are not to be underestimated. He is great at observing anyone from guests to intruders. On the other hand, his ears are small, but these are sufficient in making him alert.
Wolf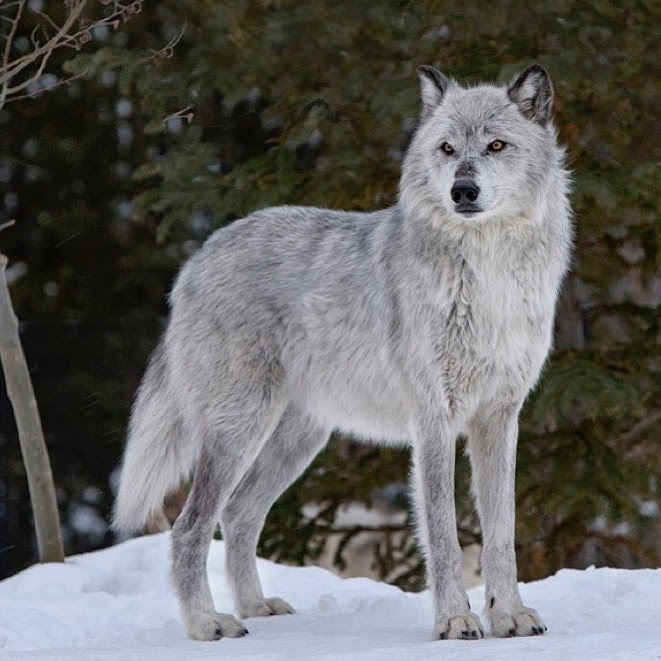 At the sight of a wolf, a person will end up shaking and thinking fast about how to deal with the situation. Truly, no matter how splendid this wild animal is, the level of intimidation he exudes is immeasurable. The features are enough to let anyone know that he is mostly not a friend, but mainly can be a foe.
Body Size. Wolves are typically large but their sizes will vary from one region to another. Averagely, their body lengths will range from 3 to 5 feet long and can weigh from 60 to 145 pounds. 
Head. Wolves have large heads and pointed snouts. It is strong enough to resist anyone who will try to control how he moves it.
Teeth & Mouth. It is estimated that wolves generally have 42 teeth: 20 in the upper jaw and 22 on the lower jaw. Scientists believe that their biting force ranges from 660 to 1,200 PSI.
Legs. Compared to dogs, the wolf has longer legs making him capable of taking larger steps and running faster. His forequarters are bigger than the ones on the hind and all have non-retractable claws.
Tail. The tail is a visual indicator of the wolf's current mood. A wagging tail exhibits friendliness, a raised, fluffy tail conveys dominance, and a stiff tail signals an upcoming attack.
Eyes & Ears. The mesmerizing eyes of the wolf can be frightening. While some suggest never to look a wild animal in the eye, it is necessary to maintain eye contact while trying to escape the unfortunate incident of meeting him. His ears are erect and almost triangular in shape, alert and sensitive in picking up noises.
Temperamental Difference
English Mastiff
Predicting the behavior of an English Mastiff is not that difficult. Since this is a domesticated canine, you can right away set some expectations regarding his personality based on his parents and the way you treat him as a puppy. Generally, the English Mastiff is described to be dignified, calm, and good-natured.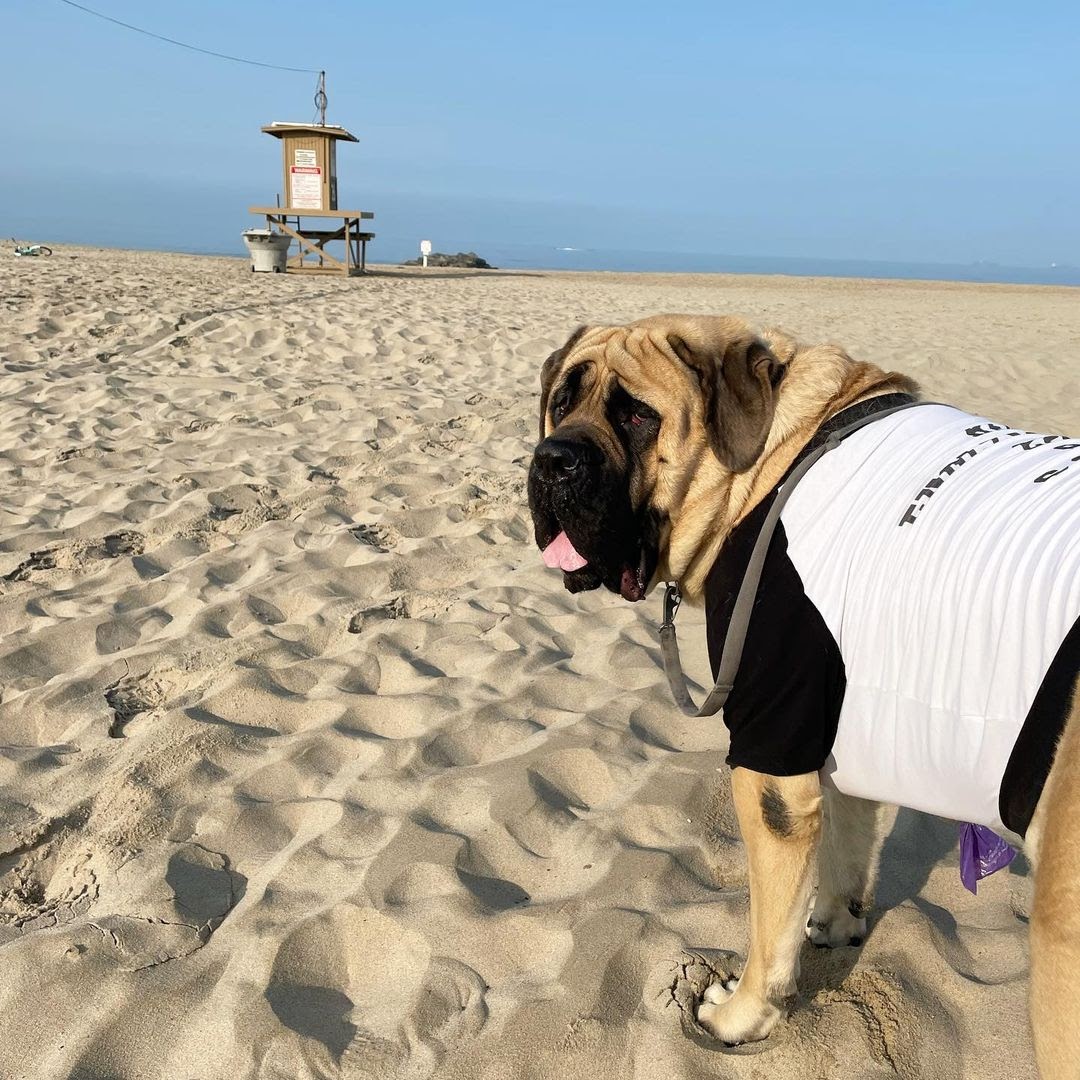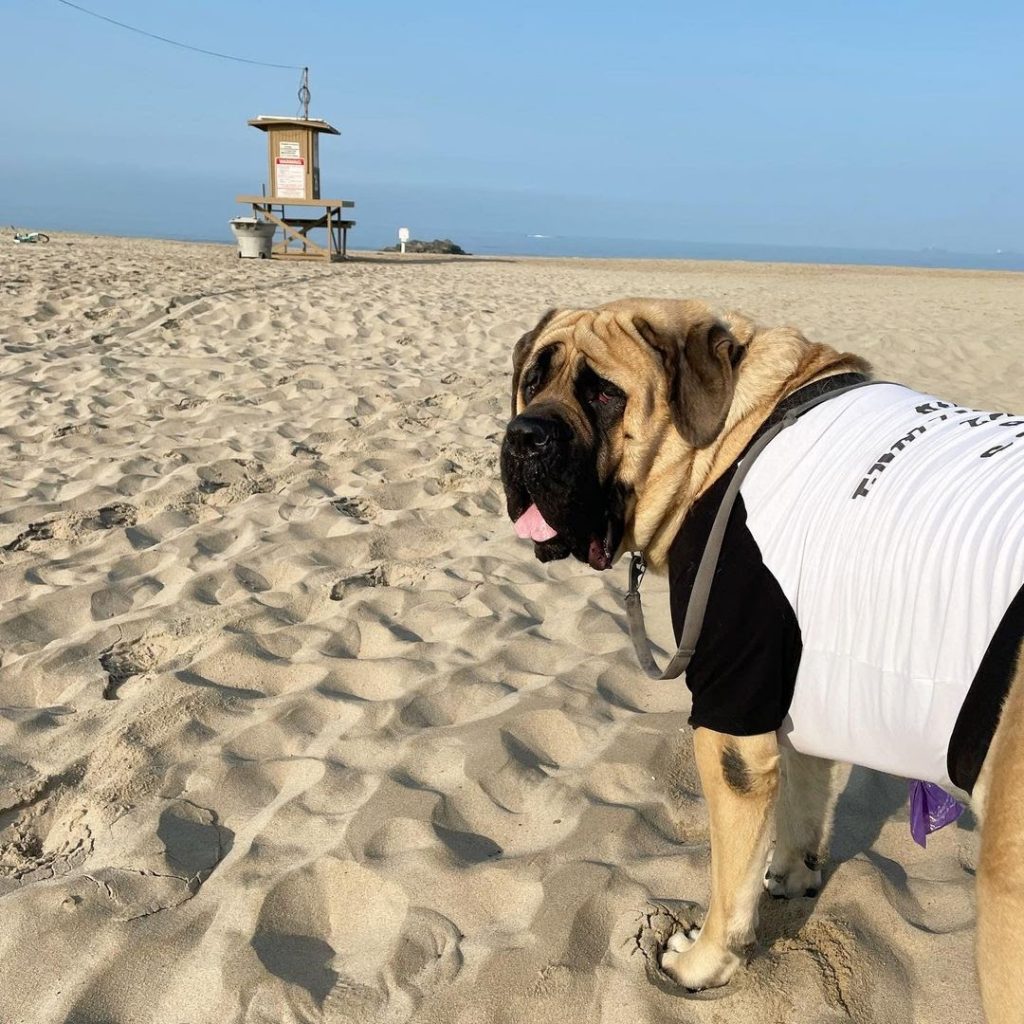 Being in company makes him cheerful as he loves to play and spend time with people. He may not have high energy levels, but he sure can allocate a fraction of his time being with your frisky kids. Being with other dogs and pets won't be a problem for him as long as they are all properly socialized with each other.
Due to his pack mentality, the English Mastiff won't thrive in a lonely environment making him prone to separation anxiety. If ever symptoms arise, you'll witness him turn his boredom into chaos. 
Wolf
Despite how movies such as The Chronicles of Narnia: The Lion, The Witch, and The Wardrobe portray wolves as evil, research shows that these animals are non-aggressive, friendly, and capable of forming strong emotional attachments. These are social creatures who secure relationships among other wolves or even pups.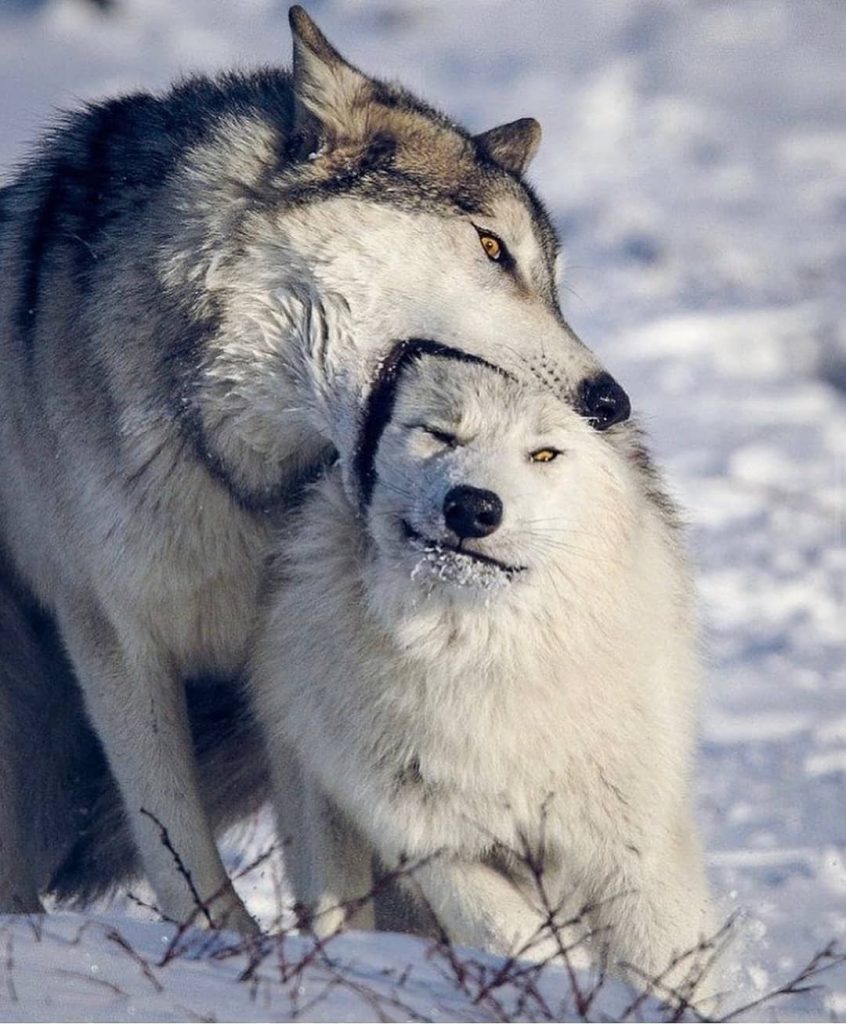 Considering that, loyalty is a prominent trait for them. There is a wide array of personalities that aren't widely known about wolves. They do have individual characters, but one thing we should be aware of is that wolves have a strong disinclination toward aggression. A tame wolf will show signs of discomfort upon witnessing dogfights! Being distressed will eventually encourage him to stop the fight by pulling the aggressor off by its tail.
Despite these findings, never mistake a wolf as a 100% aggression-free beast nor is he never gentle. 
Trainability Level
English Mastiff
Known for being-hard headed, the English Mastiff would tend to disobey commands from an inexperienced owner. However, if proper training is done and the Mastiff parent knows how to encourage his dog to follow, the canine will eventually give in.
He might need patience in learning things as the process with him is slow. This doesn't mean that he's not intelligent. Try to observe what keeps him motivated and use that to your advantage. It could be food, pets, or other forms of reward.
Wolf
Hard to influence, yet trainable. They are high in intelligence, but training them can be a challenge. It is because these creatures couldn't care less about humans. After all, these aren't tamed animals who grew up receiving commands.
They can still acquire habits, but the process isn't the same as you do it with the dogs. Training a wolf is harder work. They don't respond well to voice but rather to hand gestures. Even if they follow a certain pattern, expect them to ultimately get bored and ignore your commands. Anyhow, these wolves do best on training where there is positive reinforcement and rewards. 
Life Expectancy
English Mastiff
Size is a huge factor for the English Mastiff. He grows rapidly and so does his maturation. Since his body ages too fast, the average guesstimate for his life span ranges from 6 to 10 years. Some dogs live more than a decade, but this depends on their lifestyle and health.
Wolf
The life expectancy of a wolf highly depends on the kind of habitat he's in. Wolves who live in the wild live an average of 7 years not due to genetically predisposed problems but rather due to human conflict, intolerance, loss of habitat, and vehicular collisions. Those who live in captivity live longer for up to 15 years since they are mostly not going to experience the threats from the outside environment. 
Hunting Ability
English Mastiff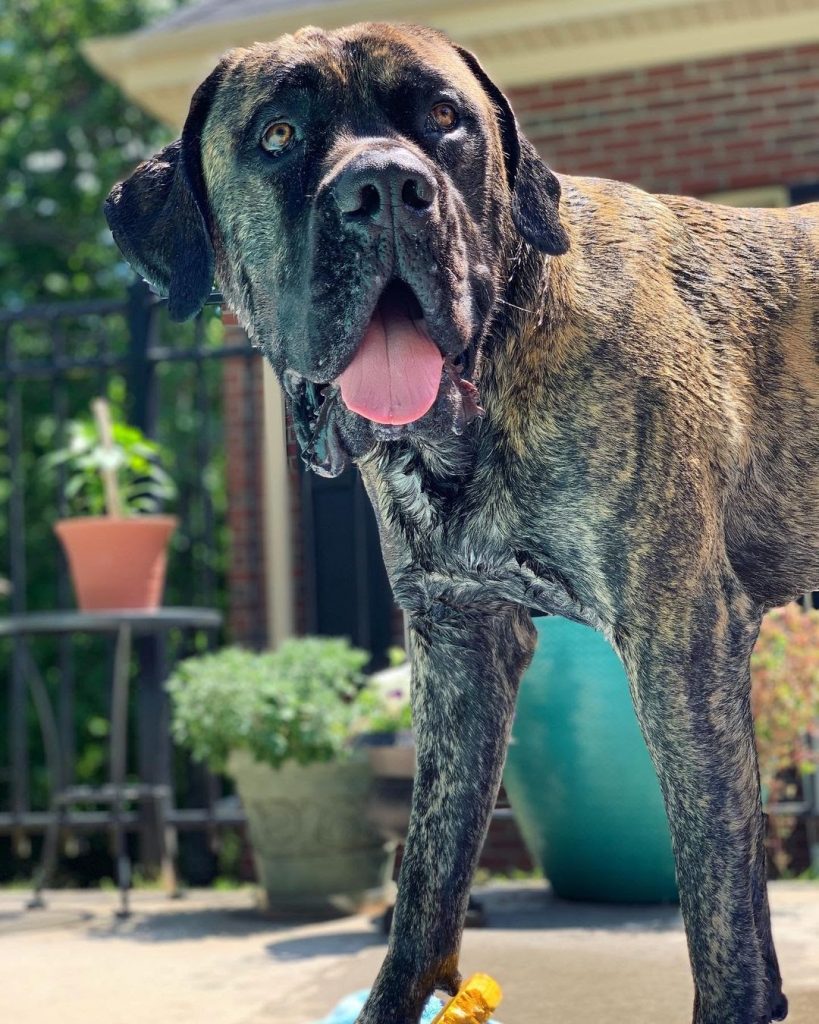 The English Mastiff was primarily bred to hunt, unfortunately, the modern ones we have today are no longer the demand in hunting sports. The breed has insufficient endurance to last hours of following trails and going after faster prey. However, the prey drive remains at its peak and his ability to take down strong quarries stays excellent.
Wolf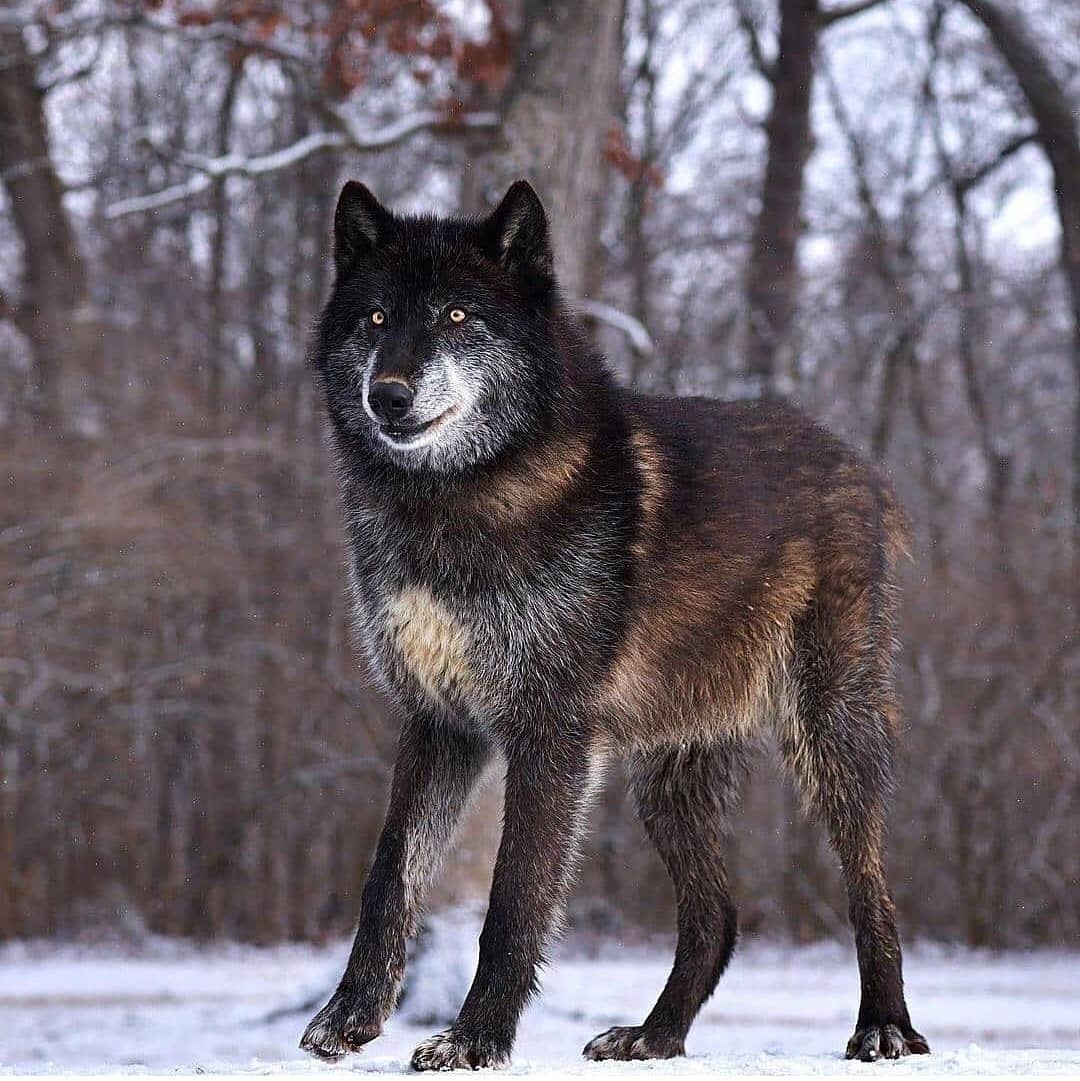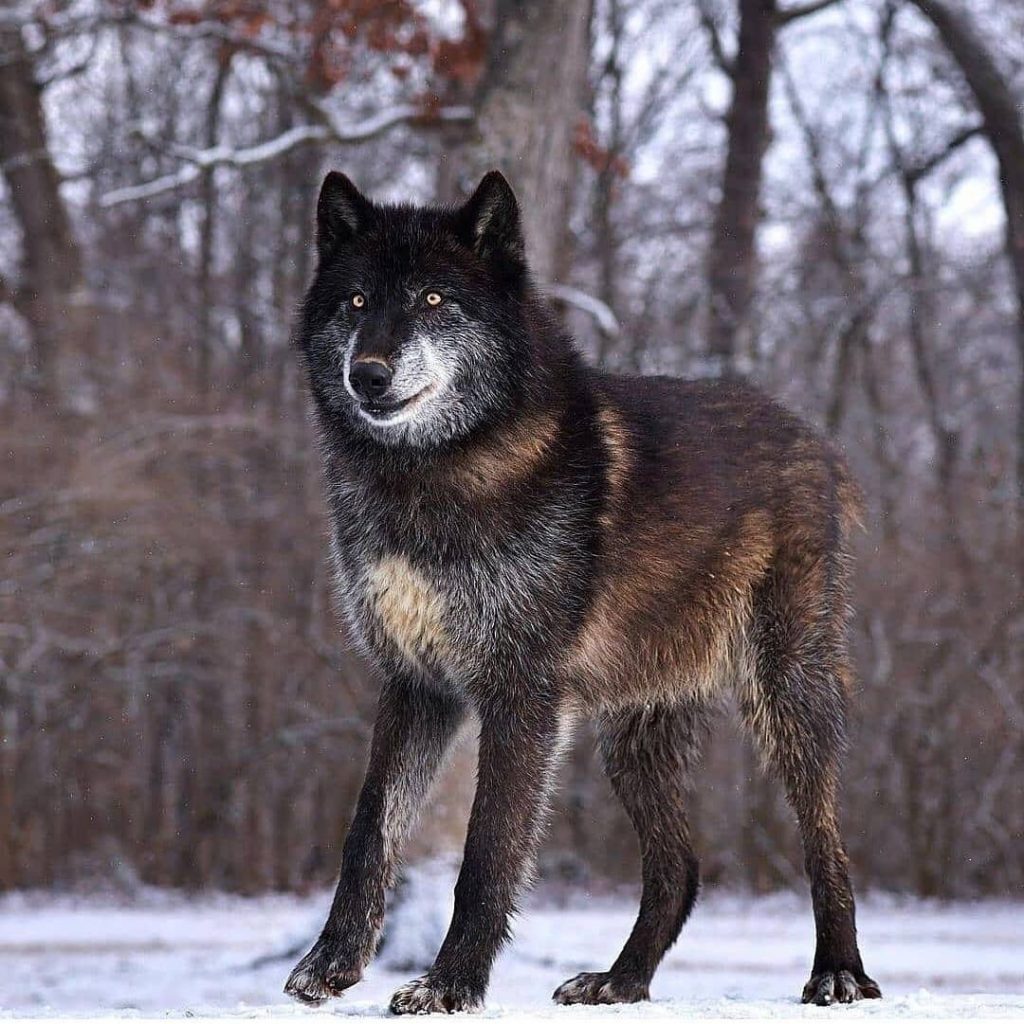 Wolves don't usually attack their prey by surprise. Rather, they're deemed to be endurance or coursing predators. They'd often go after a small animal over long distances and at the same time look for other opportunities or calculate when the right time would be in ramming the quarry down the ground. Although they're good hunters, their success rate is low.
Need for Space
English Mastiff
The English Mastiff is no ordinary dog. His size and weight would require any potential dog owner to have a spacious room in the house for him. A yard is ideal too so he can roam around and sniff on trees and flowers. A home where there is limited space is a recipe for accidents and mess. A simple turn of this giant might knock off your favorite vase from the table.
Wolf
Depending on the size of the pack, the wolf will need a wider space as a territory ranging from 50 to 1000 square miles. Although he's deemed to be social, an adult wolf can survive being alone. With that, his need for space will radically change.
Protective Instinct
English Mastiff
If the family is threatened by an intruder, the inner reserve of protective instinct from the English Mastiff is unleashed. To put it simply, this breed will only defend when the situation calls for it and not be overly obsessed about securing the property or its owners. He is observant and ready to jump in events where he thinks he's needed.
Wolf
A wolf may feel the need to protect depending on what's at risk for him. If his food is taunted to be taken away either by humans or another animal, he will do his best to avoid it from happening. Alpha male wolves, in particular, have an insurmountable instinct to protect their pack or resources. Despite the potential aggression they may show, they are tender and nurturing toward their group.
Frequently Asked Questions
Are Wolves Considered Dogs Like the English Mastiff?
There is no absolute answer to that. So far, what we know is that the wolf is the progenitor of all dogs including the ever-resembling Siberian Husky. They are closely related species but far different in various aspects like temperament.
Can a Wolf Become a Pet?
Unfortunately, no you can't. Domestication is a result of years of breeding. Recently, a study shows that even a wolf raised by humans can have a sort of attachment to its owners, he can never replicate the behavior of a dog. Furthermore, the author recommends letting the wolf be a wild animal.
My Final Thoughts: Who Would Win the Fight?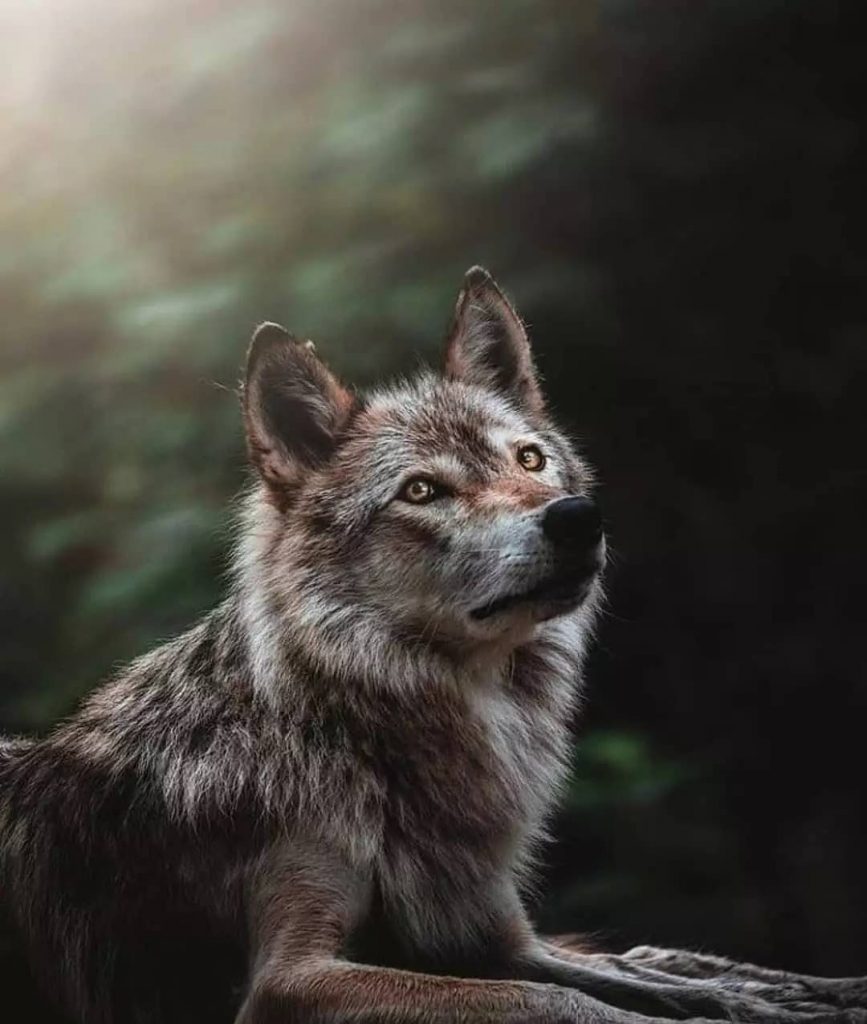 English Mastiff fanciers would think that due to the size of this dog, he would undoubtedly win the fight, but the favor goes to the wolf. Those Mastiffs from the past were leaner and smaller, while the ones we have today are oversized and not that functional anymore. Their stamina can't match that of the wolf as well. Meanwhile, the wild creature has a stronger bite force, more cunning, fitter, and faster. He'll win the fight easily, but he won't walk away bruise-free.