Halo Collar Review: The Ultimate Smart Collar in the Market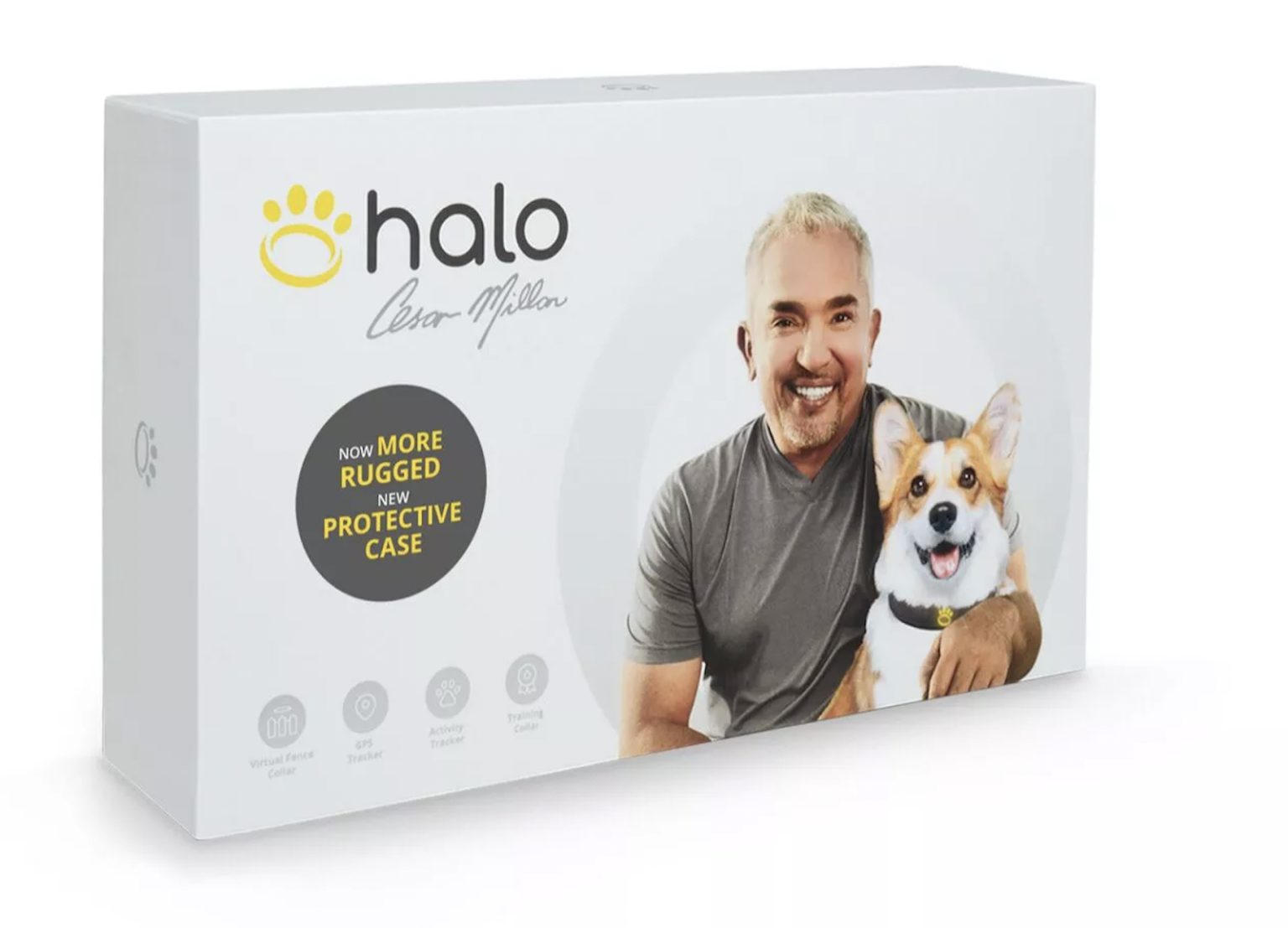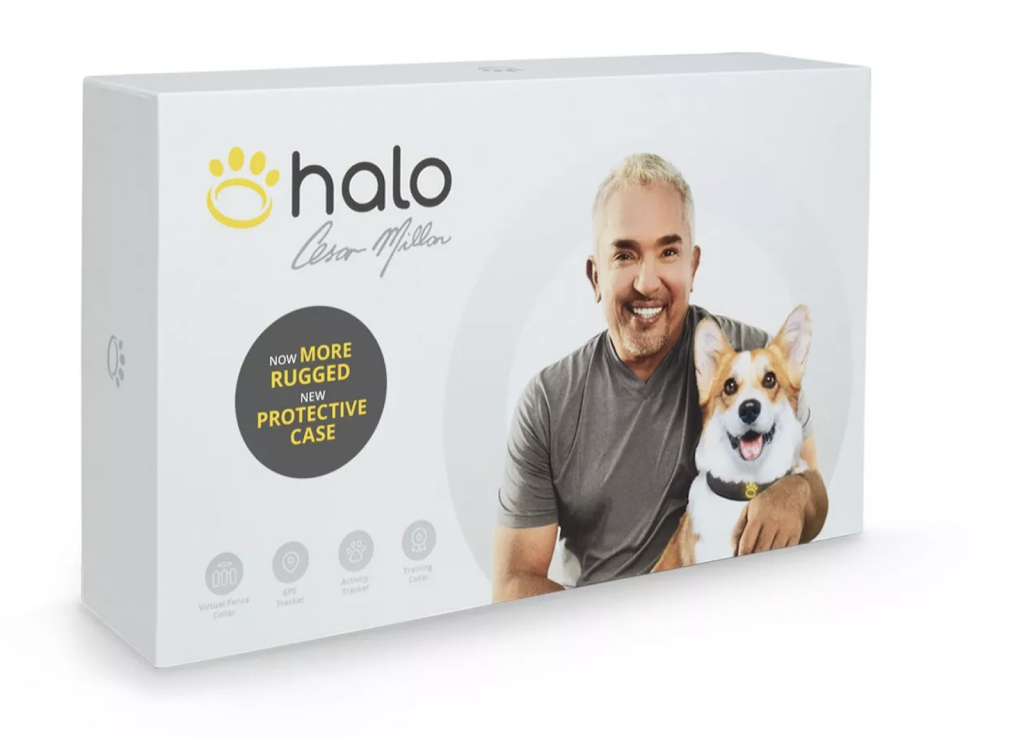 Dogs can wander off anywhere, and keeping a record of their whereabouts is no easy task. Even if you secure their space with a fence, escape artists can find their way out, putting themselves in risky situations. 
With the recently introduced Halo collar, dog owners are promised a more convenient gandering on their dog's safety. It's a collar without the leash, but it keeps their dogs safe and secure. But how does it work?
Cesar Milan and Ken Erhman are both innovators of pet technology. The new Halo collar acts as a wireless fencing alternative that keeps you informed about your dog's locations, limiting their access to areas by giving them feedback and tracking their activities. 
It also acts as a training tool, teaching your dog about virtual boundaries. Many perks come with this world-class smart collar. We'll take a closer look at it through this Hallo collar review and as to why all dogs need it for their security. 
What Is a Halo Collar Used For?
A Halo collar is specially designed to keep your dog safe and secure. Its hi-tech equipment features a fence without having to dig deep around your yard as it's virtual. 
It's your aid in reminding your dog to stay within the permitted areas through a stimulation effect or an electric current. It will quickly twitch the muscle if they're going beyond the boundary.
What I find particularly interesting about the Halo Collar are its highly-advanced characteristics. It uses the following:
Along with those is an IP-67 Water-Resistant Rating feature, so the collar keeps working without getting damaged if your Fido plays in the pool.
Just a note, don't charge the collar unless the USB port is dry.
What Makes a Halo Collar Unique?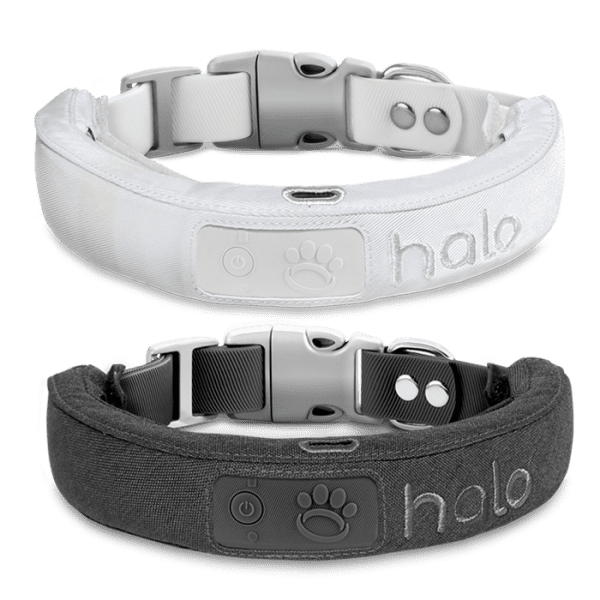 Halo collar is the only pet technology in the market that allows you to create 20 fences with just a few taps on the app. It also regularly updates satellites to improve GPS accuracy, giving you a real-time record of your dog. 
Simply put, it's your dog's gateway to freedom without getting connected to a leash or restricted through a fence. At the same time, you no longer have to worry about them as it notifies you through the app concerning your dog's activity and safety status. 
A Halo collar is more than just a piece of equipment that's worn around your dog's neck. It has gap-free coverage for seamless communication and added customization settings to give way to your preferences.
You'll learn more about it as you read on.  
Weighing the Difference: Halo vs Halo 2+
While the Halo collar has left an excellent impression on many dog owners, a new version, the Halo 2+, was released this 2022. This state-of-the-art technology has been made tougher to chew on, and has an improved battery life, Wi-Fi, Bluetooth, and an enhanced GPS.
The latest Halo 2+ was based primarily on customer feedback. When the first Halo collar was released, the firm received mixed reactions from dog owners. Some have complained about false-positive warnings, inaccurate GPS positions, and easy-to-break collar quality. 
In short, there was a bit of inconsistency in the product's performance. Hence the launch of a new and improved Halo 2+, the upgraded variant of the original collar. 
Key Features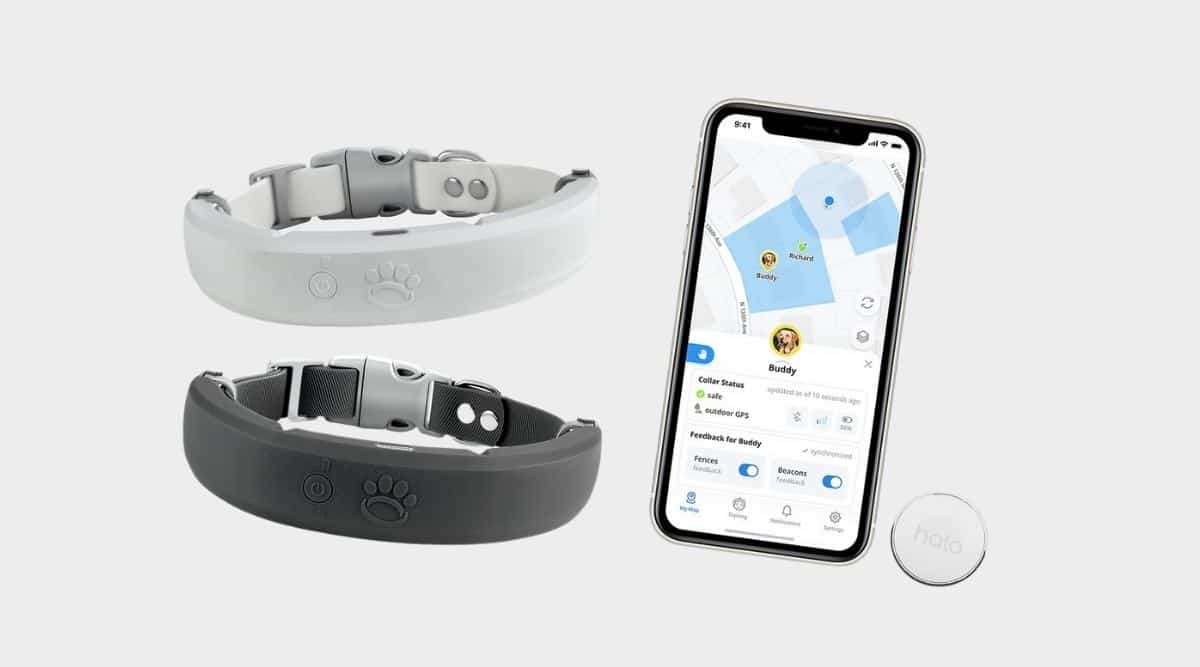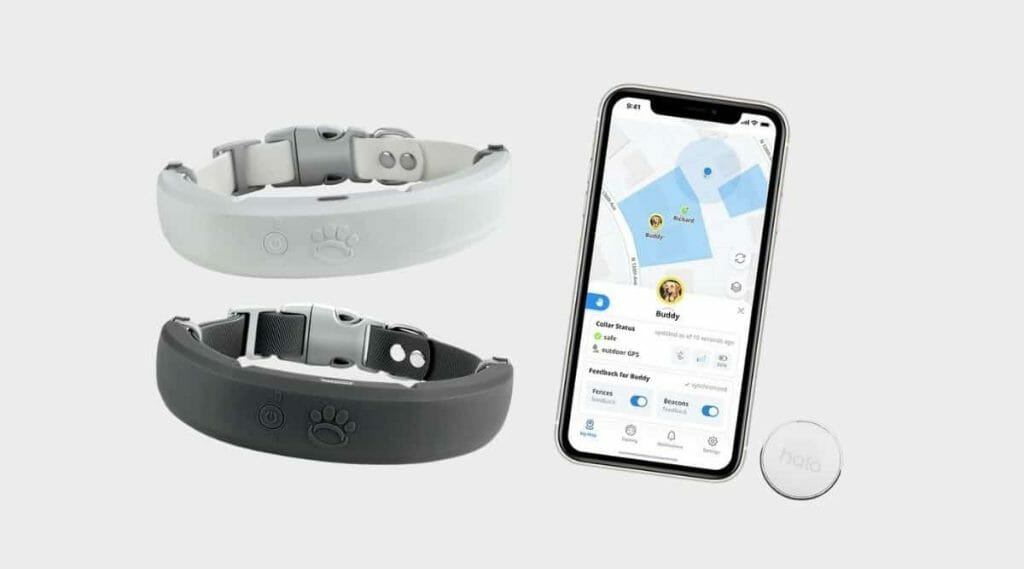 Halo Fence
The Halo fence is, by far, a groundbreaking feature available through the Halo collar, and this is what I love about it. You can set up virtual fences, customize them through the app, and have the peace of mind that your dog is free from danger. 
With its GPS feature, you can easily make the collar become familiar with the perimeters and act automatically if your dog attempts to go out of the set boundary. 
Your fence may form any shape you want, but I find it better if the boundaries are set far apart to avoid confusing the Halo system. That said, the Halo fence is best set up in wide or open areas where they can freely run and roam. 
Additionally, since the app is capable of making 20 fences, you can include making virtual fences in the park or other places where you and your dog frequently go to. 
Even without a phone connection, the GPS data continues to function on your dog's collar, keeping them safe and eliminating your worries. 
Customized Settings
Customized settings don't just refer to your preferences in setting the wireless fence. It also gives you the freedom to configure feedback. Since not every dog owner agrees it's right for their dogs to experience a quick shocking effect from the collar, they needed more options. 
The Halo collar enables you to opt either for:
All of these teach your dog to stay within the boundary. Once your puppy approaches one of the fences, you can go for a gentle buzzing vibration or a static sound if they keep on going. 
Remember, your dog must be trained and taught what the sounds are for, too. The collar is a great, intelligent tool that would also need human efforts to make it even more effective.
Even Cesar Milan has said that practicing safety begins with the dog owner who teaches it. 
No Installation 
With a Halo collar, there's no need for wire installation as it has smart fences. You're saving yourself from many unnecessary efforts, such as building a physical fence that offers no assurance in keeping your dog within your property.
Plus, you're cutting off costs as a traditional wood fence can be over a thousand dollars. 
The Halo collar is a complete package that serves modern problems. All you need is the collar and your phone, and that's it. 
Universal Fit
The problem with the typical collars is that they usually come in particular sizes, and you must accurately measure your dog's neck proportions before deciding which one to buy. 
You won't go through that hassle with the Halo collar.  It comes in three primary sizes: small, medium, and large; each of them has many adjustments to cater to any dog shape and size of 11 to 30.5 inches.
Ideally, the collar is for dogs that are 5 months and older and are at least 20 pounds in weight or more.
Automated Feedback
As technologically advanced pet equipment, the Halo collar won't disappoint you regarding expectations.
There are 2 types of automated feedback from this product:
The prevention feedback
The encouragement feedback
The first one includes emergency or warning feedback once the collar detects that your dog is nearing the zone line. 
Meanwhile, the other automated feedback is part of its intelligence, giving your dog words of encouragement to stay within the virtual Halo fence.
It's a great tool overall. You don't have to be there with your dog all the time to give them words of praise whenever they stay within the set boundaries. The smart collar will do it for you instead. 
To add, the collar also lets you know the data regarding your dog's patterns and behavioral changes during their interaction with the smart collar. This way, you'd know what areas to improve during your dog's next training. 
Real-Time Tracking
Another thing that makes the Halo collar an in-demand item with over 10,000 dog owners already using it across the US is its real-time tracking feature. 
There's no need to leave your home office room and look for your Fido when you can grab your phone, open the Halo app and find out what your dog is on about.
The activity tracking also works like your typical Apple Watch. You'll have records regarding your dog's movement day and night for as long as the battery lasts.  
In the app's dashboard, you'll particularly see the length of time your dog has been resting or sleeping and their steps so far. Plus, you can also get a notification in case your pooch dashes off toward an area in which you don't want them to end up going. 
Easy Fence and Beacon Adjustments
Just like how it is with setting up the virtual Halo fences, adjusting them wouldn't also mean hard work. You need to access your Halo app to re-customize the boundaries. 
Halo beacons can be adjusted too. This multi-functional portable device acts as a support to your boundary goals. There are 3 types you need:
Outdoor beacons, which can be practically used anywhere outside
USB beacons, which can be plugged anywhere where there's an outlet
Indoor beacons, which can be used indoors, away from harsh weather conditions
Regardless of the type of beacon you have, all of them have two functionalities. You can either opt for the "keep away" setting, which triggers warning alerts to signal your dog that they're nearing a fence, or the "ignore fence" setting, which doesn't give your dog fence feedback whether they're in or out of the boundary. 
They're also customizable in terms of the size of the radius. 
Do bear in mind that the radius size of the beacons is spherical. If they go up to another floor of your house, that may trigger feedback from the collar if the settings are put on high. 
Pros and Cons of Using a Halo Collar
Pros
Cons
✔ Universal fit
✔ Halo Beacons
✔ Customizable
✔ Virtual fences
✔ Automatic feedback
✔ Real-time tracking feature
✔ IP-67 Water-Resistant Rating
✔ LTE, Wi-Fi, and GPS-compatible
✔ Comes with a 21-day training program
? Pricey
? Requires premium subscription for premium features
? Not intended for very small dog breeds
Halo Collar Reviews: What Do People Think?
While many people find the Halo collar as indeed revolutionary, it's still yet to make more improvements. It works excellently for some but may not perform that well for others, which I said earlier about product consistency or in case the owner of the dog doesn't know how to use it. 
With so many Halo collar buyers, the firm did have its fair share of criticisms and feedback. But, with their proven solid tech support, the problems users have had were resolved, and the feedback was even considered in making the newly improved, redesigned Halo 2+.
Users have then found satisfaction with the better cellular connection, indoor beacons, additional Halo fences, data storage, and longer battery life. 
Nonetheless, both versions excel in their rights. Though the original Halo collar may cause issues, not all users experience it. If there's any problem, customer service will be happy to assist and resolve any issues.
Here's what people have to say about Halo: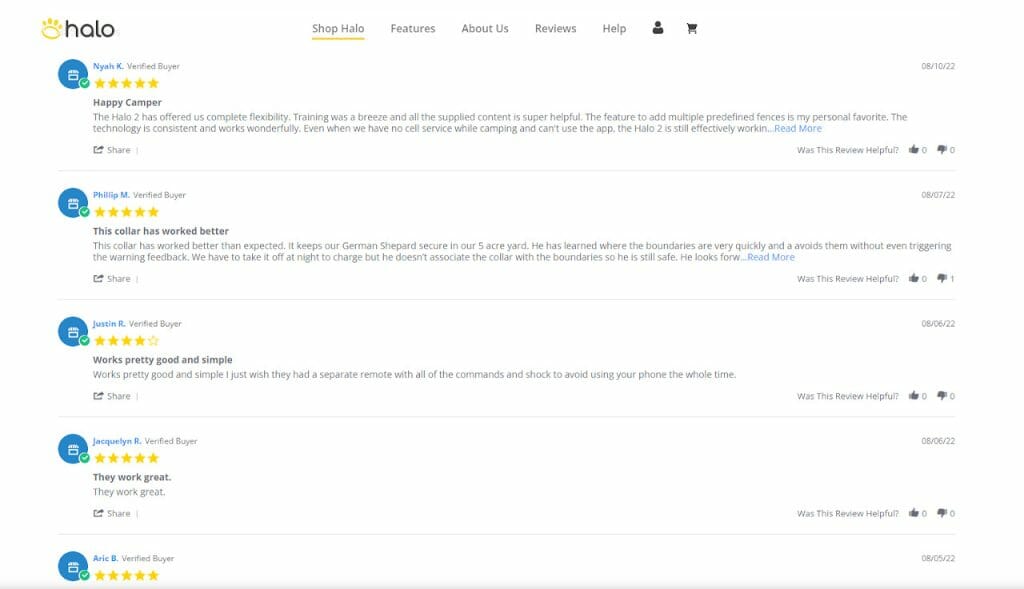 Halo Collar Cost
Halo Collars lean on the expensive side, yet that comes with the assurance that your dog is safe even without you monitoring their every action. It's currently sold at $999, but you can catch up with their promo and buy it for only $699!
If the price is steep for you, you can also pay for it monthly at $39 or $64 if you pre-qualify with affirm.
Halo Collar Warranty and Protection Plan
Of course, paying $999 for a Halo collar should have a warranty and protection plan. You can heavily rely on the firm on this one as they give you a one-year warranty for the product as long as you have the receipt and purchased it from Halo or its authorized sellers. 
This is only exclusive to new Halo collars and not the refurbished ones. In case the original item has components that are no longer available, then that would mean you'll receive a replacement that is similar to what you purchased. 
On the other hand, refurbished Halo collars also have their warranty program; suppose they've been purchased directly from www.hallocollar.com. In that case, users are entitled to a one-year warranty period based on the date of purchase of the original initial product or 6 months on the refurbished unit's purchase date. 
Halo Collar Subscription Plans
To experience a host of amazing features from the Halo collar, a monthly subscription is required. Any plan is needed to activate the cellular data and GPS services, and create, edit, and use the wireless fence. 
Basic Plan ($4.49/month): All the basic things you need from the Halo collar are provided. Aside from 20 automated wireless fences, the plan will also allow you access to data, storage, basic tracking, and training content.
Silver Plan ($9.99/month): Go beyond the basic features through Halo's Silver Plan. Aside from the perks you'd get from the basic plan, you also have more customizable features, advanced dog tracking, historical data, and logs where you can check your dog's behavioral progress regarding Halo feedback.
Gold Plan ($29.99/month): For the ultimate premium experience with Halo, the Gold Plan allows you access to the Silver plan with more benefits. Receive top-quality training lessons released monthly, access to live sessions with the experts, and Q and A sessions for a more personalized training experience and support. 
How the Halo Collar Works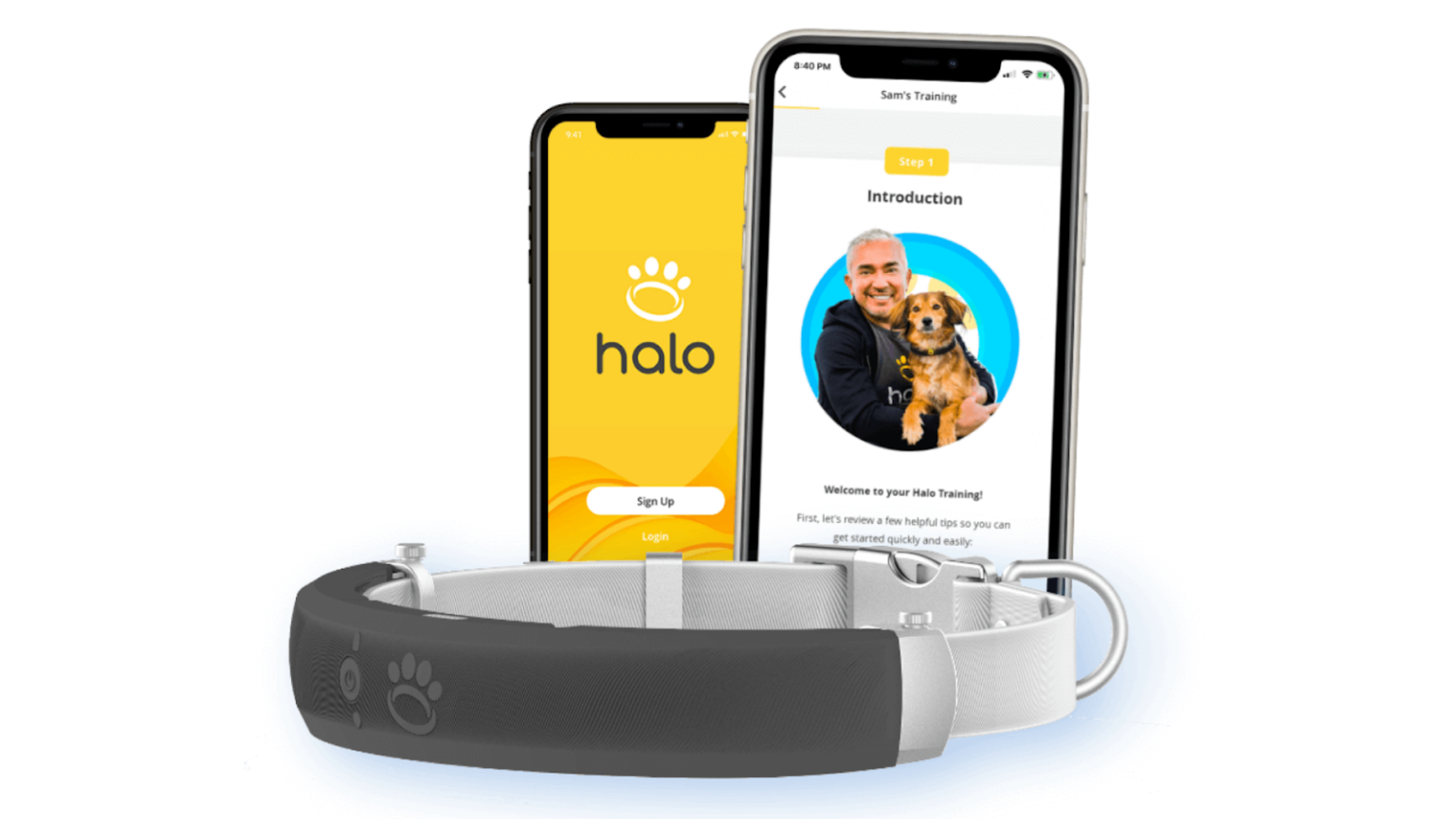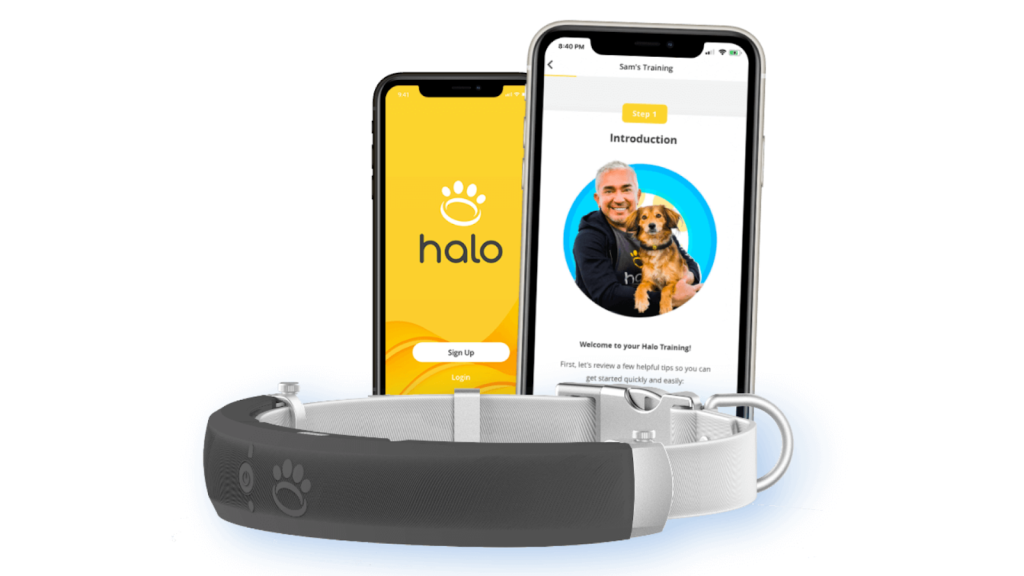 Halo collar isn't as complicated as you might expect. This innovation has a few easy steps to follow to get it working. Here's what you have to do for its complete set-up:
Download the Halo Collar App
Using your phone's play store, search for the Halo collar app. Download and install it. If you don't have an existing account, tap sign up and create an account or log in if you already have one. 
Next, add your profile information, such as your photo and name. 
Once prompted to "Allow Halo to use your location," click "allow while using the app" so you can see your dog's location, activity, create fences, and more. 
Also, allow the Halo app to send you notifications. These are sent in real-time but receiving them depends on your network connection. 
After all these, you'll see your "My Map" on the screen. 
Additional set-ups include charging the collar in a convenient outlet with a good Wi-Fi connection. This is necessary for the firmware updates. Afterward, you can add your first pet, connect the Halo collar to the app, and then the collar to the Wi-Fi.
Check Out User Training
Before using the collar, first, check the User Training on the app. This will walk you through safety information and guidelines, such as how to attach the collar to the detachable strap or correctly position it.
Enroll in a 21-Day Halo Collar Training Program
Next up, get access to the Halo collar 21-day training program under the training tab. Right after, tap the user profile to start the training and learn everything you need to know about pet equipment. 
For an overview, you'll learn the following about the training program:
Day 1: Set-up and User Training on how to create fences and the methods on how to effectively become a pack leader. 
Day 2: Includes pet training. You'll introduce the collar to your dog and figure out how to fit it properly around the neck. Included are tips on how to let your dog build a positive association with the collar.
Day 3-10: Learn Indoor Training. This stage lets you learn how to customize feedback, teach your dog to avoid getting near the Halo beacons and how they can come back to their safe space. 
Day 11-21: Learn Outdoor Training. Use and get familiarized with the same mechanics you've learned during indoor training. 
Set up the Halo Wireless Fence
After fully setting your Halo collar and accessing the training program, next up is the wireless fence. Navigate on your "My Map" screen and drag the navigation upwards until you find the "Find and Manage Fences" then tap on "Add Fence." 
Follow the prompted instructions to set up the boundaries properly. 
Frequently Asked Questions
Is Halo Collar Safe to Use?
Hallo collar is a safe, smart technology. It's made to ensure your dog is within the boundaries, and it's not made to cause harm.
Of course, any good equipment can only become effective and safe depending on how the dog owner uses it. The User Training feature is included in the Halo app to let dog owners know how to calibrate it properly. 
It's recommended that you reposition the collar every 6-8 hours for your dog's comfort and to avoid skin irritation or remove it for 8 hours every 24 hours. 
Can All Dogs Use the Halo Collar?
Dogs that are 5 months and older can use the Halo collar. Regardless of the breed, as long as the dog's neck dimensions are within the collar's range, they can certainly use one. 
For reference, three Halo collar sizes are available. It can cater to small dogs with neck sizes of 11 to 15 inches, medium dogs with neck sizes of 15 to 20.5 inches, and large dogs with neck sizes of  20 to 30.5 inches. 
Is Halo Collar's GPS accurate?
The Halo collar's GPS is accurate as it collects ephemeris data from the GPS satellites. This includes the timing and location. The data gathered is accumulated over time for a continuously improved tracking precision. 
However, the GPS's accuracy can be compromised based on two scenarios:
If there's a firmware upgrade.
The Halo collar is off for 5 to 10 hours. (The firm recommends that you keep it on)
To know if the Halo collar has lost the needed data for an accurate GPS, the GPS light will emit a red blink every 3 seconds. You'll also be notified that the app needs to adjust your GPS.
To recalibrate the GPS, you have to go outside to an area where you can have a full or unobstructed view of the sky. Shake the collar to stimulate its motion sensors and wait until the equipment blinks blue. This usually only takes 1 to 2 minutes before it's ready for use again.
For How Long Do Halo Collar Batteries Last?
If you have updated firmware and don't use the app too often, the Halo collar is expected to last up to 20 hours on a single charge. 
To add, the best time to recharge it is every night. Remove it from your dog's neck and charge it for 2 hours if it's completely depleted so you can use it again the next day.
Are Halo Collar Batteries Replaceable?
Halo collar batteries are not replaceable. They contain non-replaceable lithium-ion batteries, and their performance remains top-notch as long as it's used and charged daily. 
The batteries have a typical life that lasts you 3 to 5 years. 
What to Do if the Halo Collar Isn't Working?
If your Halo collar isn't working, the battery could be critically low or empty and needs to be charged. 
There are 2 more possibilities listed below:
Your phone has no network service, or if it's paired via Bluetooth, the phone and the collar are away from each other (exceeding 100 feet). 
The GPS status is not correctly represented on the Pet Card. If the indoor or outdoor sensing is inconsistent, the Halo collar will not function properly. 
Does a Halo Collar Work with iPhones and Androids?
Halo collars work well with iPhones and Android phones (version 7.0 and higher). Just download the Halo app through the App Store or Google Play Store. 
Are Halo Collars Shipped Internationally?
The firm is currently not shipping Halo collars internationally, but this might change in the near future. 
Is There a Halo Return Policy?
Halo has a return policy which is only eligible if the Halo collar has been purchased from www.halocollar.com. It has to be postmarked within 60 days or 75 days in any circumstance. 
The product has to be free from animal or human damage and is still good in its working condition. You must also request a Return Merchandise Authorization (RMA) if you return the Halo collar.  
The Final Say: Is the Halo Collar Worth It?
The Halo collar seems to be worth the cost and effort. It's an unprecedented smart pet technology that effectively keeps your dog safe even when you're not around. 
Not only is it a cheaper alternative compared to static fences and way more effective than traditional boundaries, but you're also saving yourself from all the work as you don't have to dig the ground for the installations. 
Overall, the Halo collar is the ultimate choice if you're looking for a more advanced solution: to create virtual boundaries by making a few taps on your phone.
Get your dog safe at all times through the Halo collar. Buy it now by clicking here and enjoy its wide range of benefits!