Best Dog Bed for English Mastiff: 9 Top-Sellers You'll Love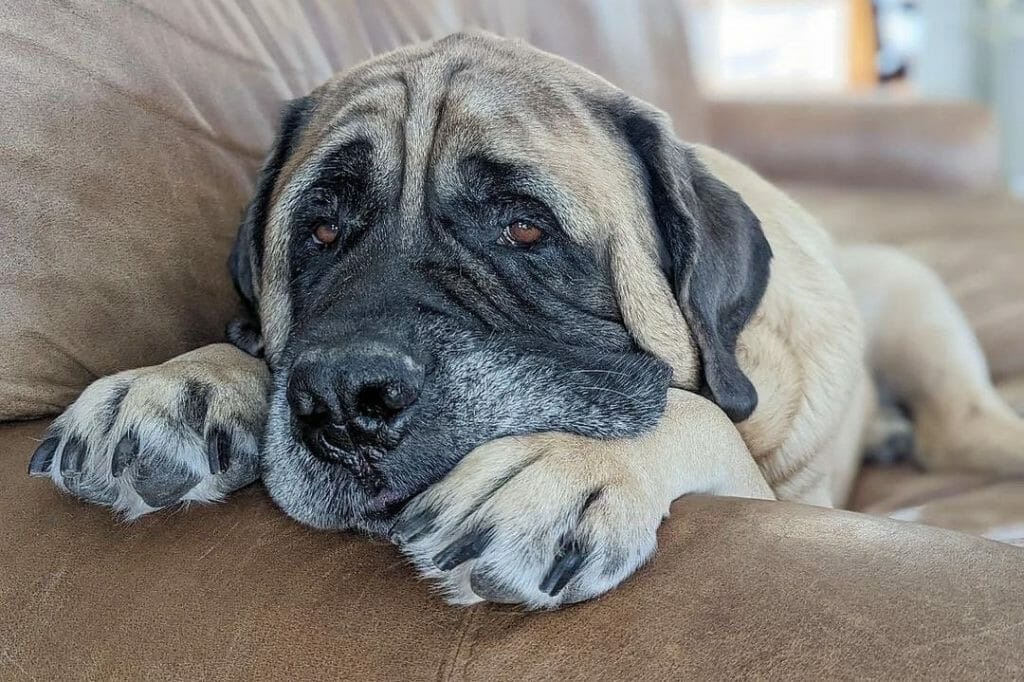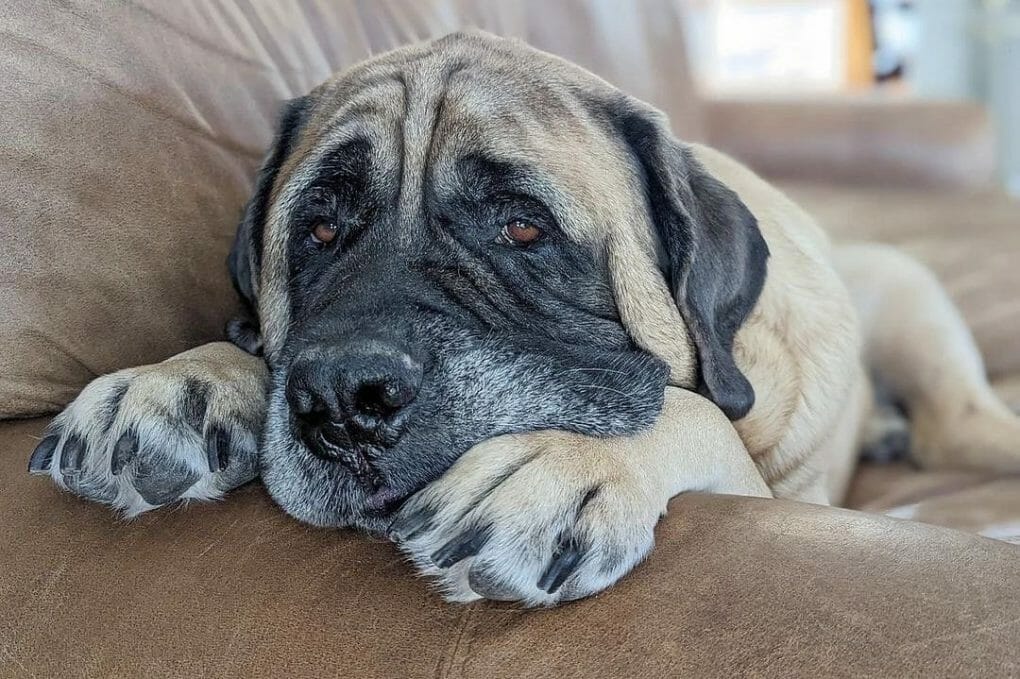 English Mastiffs need sleep. But unlike humans, they snooze at around 10-12 hours at night and during the day. Whether it's a whole night's sleep or a quick daytime nap, your dog deserves only the best dog bed in the world. 
A soft, comfortable, and warm bed to lay on reinforces a better sleep experience. This, in turn, grants your English Mastiff a better brain development, memory, learning capacity, and immune system, according to Dr. Joan C. Hendricks.
However, finding the right dog bed definitely isn't easy. Consider the cost, durability, quality, material, and more before you pick one for your English Mastiff. For such a large dog, it's going to be a king-sized bed they need.
A Quick Ranking of Our Best Dog Beds for English Mastiffs
9 Best Dog Beds for English Mastiffs
1. PetMedics Calming Plush Dog Bed – For an All-Year-Round Choice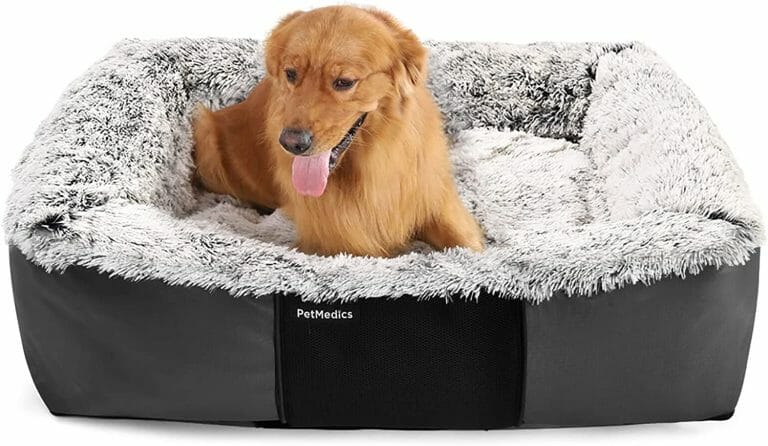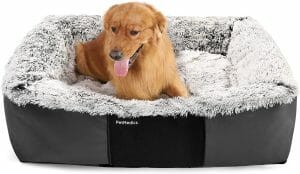 Why We Like It:
The go-to choice no matter how temperatures shift throughout the year!
Specs:
Size: Small to extra large
Material: Polyester
Dimension: 42 x 34 x 12 inches
Petmedics has a warm and cooling feature with heavy-filled bolsters. It's certainly a great choice, thanks to its all-year-round quality. Switch the pillow to the faux fur side of the mattress to keep your English Mastiff warm, or go for the microsuede for a cooling sensation.
Inside is a memory foam that shapes according to your dog's body. There's an ease in movement while laying on it without experiencing body pains due to wrong sleeping positions. It's your dog's ultimate orthopedic bed.
The anti-skid surface also makes this dog bed ideal for active pups. No scratches will show no matter how they dig into it. Ease your doggo's separation anxiety as well through the side mesh panel that exudes a sound soother effect.
Pros
Packed with bolsters for support

Can be used during winter and summer

Anti-slip properties for dogs that move a lot

Ideal for English Mastiffs with hip dysplasia and joint issues
Cons
Needs to be assembled first

It comes a bit pricey compared to other dog beds
2. Amazon Basics Cooling Elevated Pet Bed – For Frequent Movers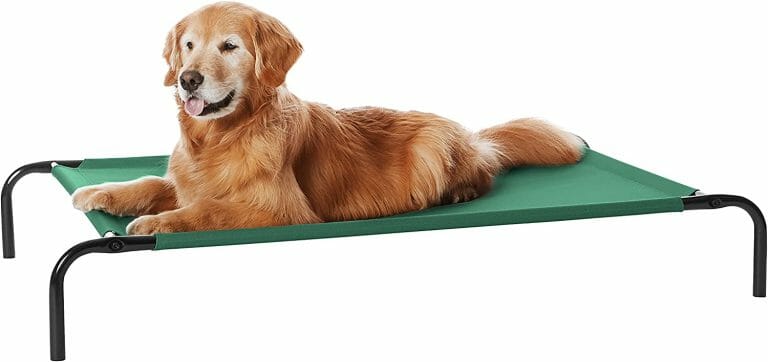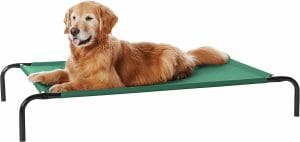 Why We Like It:
Easy to lift and to move around
Specs:
Size: Extra small to extra large
Material: Breathable mesh fabric
Dimension: 51.3 x 31.5 x 7.6 inches
An elevated dog bed from Amazon Basics has continuously satisfied thousands of dog owners worldwide. It's a premium choice for outdoor napping or when your English Mastiff wants to be 7 inches higher.
Worry less about how heavy your four-legged friend is; this elevated dog bed has a sturdy frame and hole-free, robust mesh fabric for the cot. Nothing matches its terrific price than its excellent product quality. 
It's truly recommended for big dogs. Transferring your canine's dog bed is easy, too, as it's lightweight, easy to dismantle, and easy to assemble. It doesn't wiggle no matter how much movement your dog makes. 
Pros
It's a more affordable option

Lightweight and easy to carry around

Has a sturdy structure and a reliably strong cot fabric

It can accommodate approximately 110 pounds of weight
Cons
It needs to be assembled first 

Not an ideal choice for cold temperatures
3. Windracing Orthopedic Dog Bed – For Added Comfort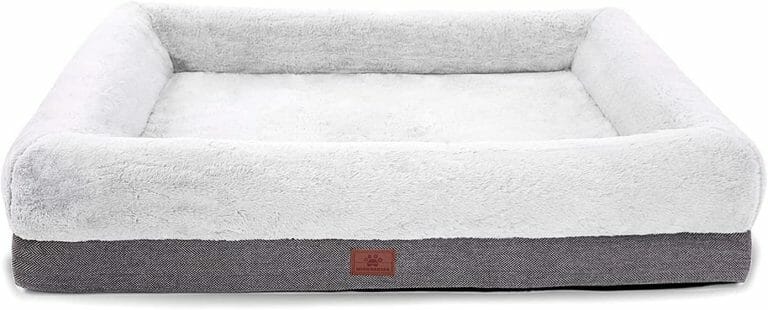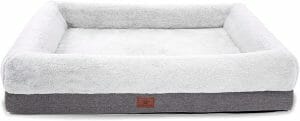 Why We Like It:
Many swears by the supreme softness and comfort this dog bed offers
Specs:
Size: Medium to extra large
Material: Thermoplastic polyurethane
Dimension: 47 x 33 x 4 inches
There has been so much thought into designing this orthopedic dog bed. The 4-sided pillow is meant to support the neck, head, and hips for a more restful sleep. The liner pad in it is waterproof, all thanks to the TPU cover, which resists any soaking experience. 
Also, it's an excellent choice for English Mastiffs as it provides comfort for those with arthritis or joint pains. The product is made from high-density egg-crate foam, and it's breathable to the touch.
It's great only for indoor use to avoid getting it soiled quickly. But, if it gets dirty, maintaining this dog bed would only require removing the covers and tossing it in your washing machine.
Pros
Easy to wash and clean

Features a head support area through the borders

Great as an orthopedic reinforcement treatment for dogs with arthritis 
Cons
It's to be used indoors in clean areas

The cover may take a long time to dry when washed
4. Bedsure Waterproof Dog Bed – For All Seasons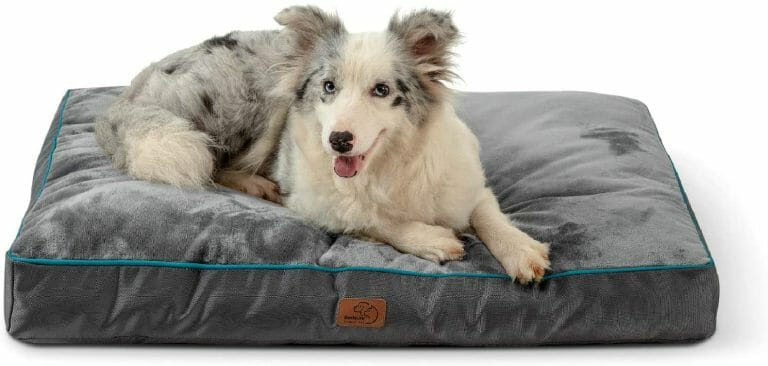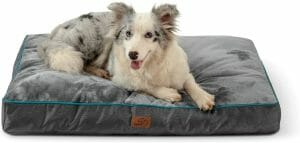 Why We Like It:
An ideal all-seasons dog bed that promises a waterproof quality
Specs:
Size: Medium to extra large
Material: Plush and polyester fiber
Dimension: 44 x 32 x 4 inches
If you kennel or crate-train your English Mastiff, the set-up won't be complete without making their space comfy. This Bedsure waterproof bed is faultless in every way, which is why it's another ideal pick to guarantee comfort.
The inner lining is waterproof and fully stuffed for maximum support; your doggo won't feel the hard surface of the ground. This bed can also be placed anywhere. It doesn't matter if the floor is rough or smooth, as the cover has a non-skid bottom. 
To add, it features a 2-way design great for the heat and cold. Switch anywhere between the fleece top and the oxford bottom, depending on the temperature.
Pros
Excellent for kennels

It comes as a waterproof pillow

Highly recommended by dog owners

Heavily stuffed, so the dog bed doesn't get thin
Cons
Not an ideal choice for chewers

It has to be used with care, so it lasts long
5. Teodty Dog Bed – For Massive Dog Breeds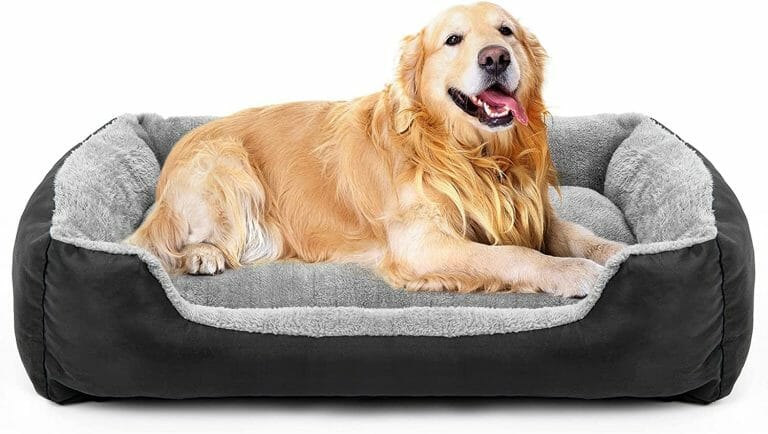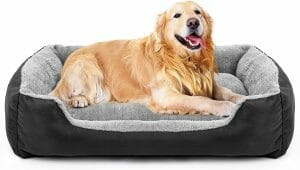 Why We Like It:
The last resort of giant dog breeds thanks to its incredible dimensions
Specs:
Size: Medium to Jumbo
Material: Polypropylene
Dimension: 55 in x 38 in
What's fit for the king is the Teodty dog bed, and no one rules the dog world in your house other than your English Mastiff. With its available medium to jumbo size, you'll have the assurance that your large Mastiff can fit its entire body in this plushy crib.
The moment your canine gets to feel the supreme comfort of this bed, you'll have a hard time making them leave this spot. This bed is absolute dog heaven. Your dog napping here often shouldn't come as a surprise at all.
Notice that the surrounding borders provide security while your dog slumbers.
Pros
It comes in large sizes and dimensions

The corners serve as a comfortable spot for headrests

Features non-slip, supportive, secure, and comfort quality
Cons
Stuffing satisfaction varies from one dog to another

You may have to size up your order for giant dogs
6. Laifug Orthopedic Memory Foam Dog Bed – For Extra Support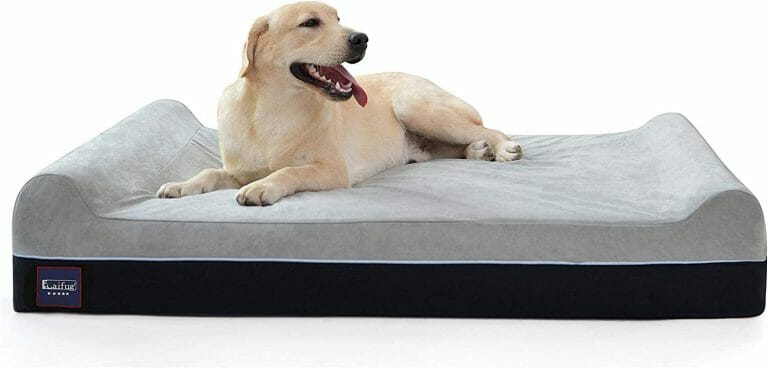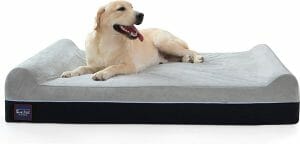 Why We Like It:
It's every dog's choice if extra support is what we're talking about
Specs:
Size: Medium to jumbo
Material: Memory foam
Dimension: 50 x 36 x 10 inches
The Laifug orthopedic dog bed is all about smart designs. The pillow headrest rises 3 inches above, and the footrest elevates to 1.8 inches for a perfect and complete night's sleep. The memory foam that's been utilized aids dogs in getting the right amount of support as it molds according to their body.
It won't quickly flatten out as all materials are high-grade; at least 90% of the bed's original structure can be retained even after 3 years of use. Additionally, the waterproof liner is made of a 100% microfiber fabric, which is also tear resistant.
Maintain its sparkly clean condition by machine-washing the covers and tumble-drying them on a gentle setting. All Laifug orthopedic beds usually come in dual colors. 
Pros
Features a headrest and a footrest

Made only from high-grade materials

Guaranteed to be tear and water-resistant

A perfect choice for dogs with joint issues
Cons
Requires extra care in washing

The inner lining needs to be checked regularly for moisture
7. PetFusion Ultimate Dog Bed – For Heavy Dog Breeds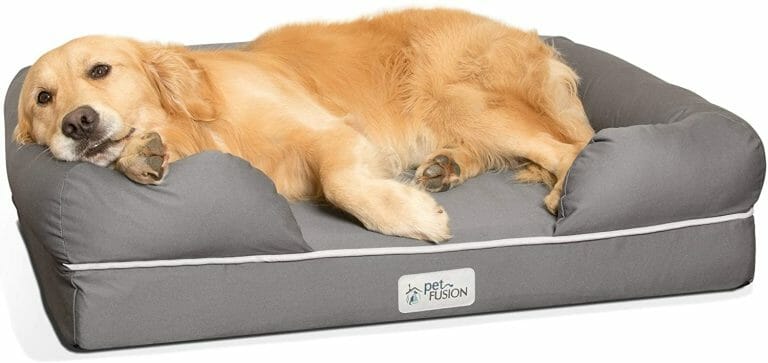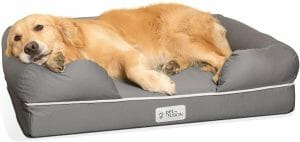 Why We Like It:
Offers nothing but excellence in support and experience
Specs:
Size: Small to XXL Jumbo
Material: Polyester, cotton, twill, polyfill bolsters, memory foam base
Dimension: 50 x 40 inches
There's really no reason not to like orthopedic dog beds. But while there are many in the market, not all of them can satisfy your English Mastiff dog's high standards for beds. Luckily, PetFusion, among others, has emerged.
Inside is 6-inch solid memory foam with recycled bolsters composed of polyester, twill, and cotton. The combination effectively eases joint pains and anxiety, a sure haven for dogs when you're not at home.
The brand also boasts that it passes the European regulation's REACH standards, making it a safe choice for all four-legged companions.
Pros
Eco-friendly with its recycled bolsters

It doesn't cause skin irritations and other skin issues

Guaranteed safe to use as it passes REACH standards

A supreme orthopedic dog bed for dogs with arthritis and hip dysplasia
Cons
Zippers need to be handled with care

Not an excellent choice of dog bed for dogs who love to dig
8. Sleemon Memory Foam Dog Bed – For Mild Chewers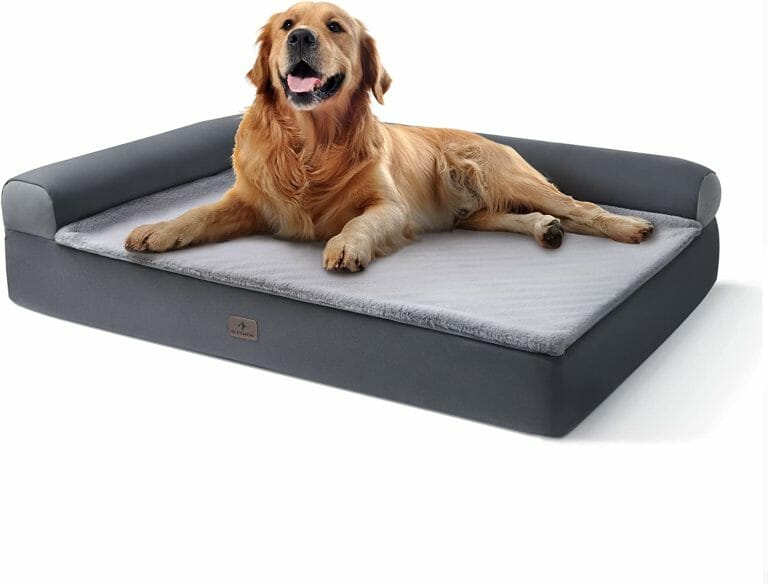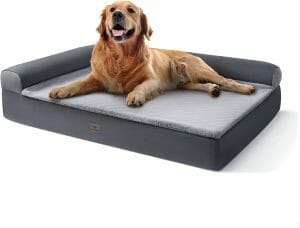 Why We Like It:
Built to be durable to withstand even the heaviest of chewers
Specs:
Size: Medium to Large
Material: Memory foam
Dimension: 30 x 20 x 4 inches
Sleemon dog bed is practically engineered for your dog's comfort. Inside are many layers that grant a peaceful sleep, giving your dog a lighter mood during the day.
A removable coral fleece on the cot can be taken off for a more relaxed experience, and there's bite-resistant sofa linen which is great for chewers. Still, it's crucial to eliminate chewing behaviors to maintain the dog bed's condition.
Underneath is an egg-crate orthopedic support foam and a non-slip rubber bottom for a clumsy English Mastiff. These are all covered by a breathable flat panel cloth, premium quality, and easy to wash. 
Pros
It can be used either during summer or winter

Doesn't easily slip or move around when in use

It uses a breathable panel cloth for easy washing

Features bite-resistant linen, perfect for massive chewers
Cons
Zipper handles require extra care

Comes a bit expensive compared to other dog beds
9. Kopeks Orthopedic Dog Bed – For a Premium Therapeutic Experience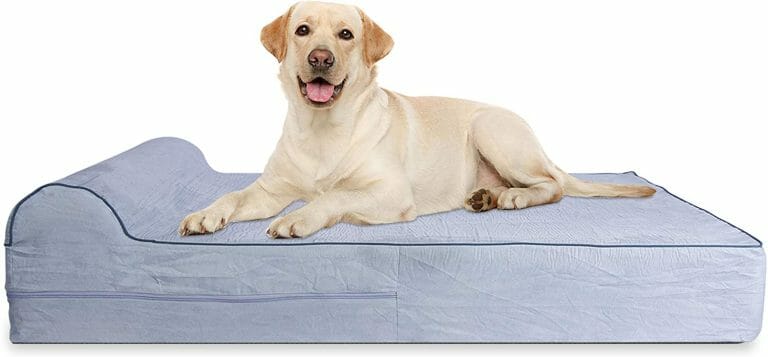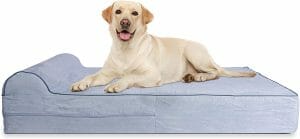 Why We Like It:
Recommended by many; this satisfies dogs with orthopedic issues
Specs:
Size: Extra large
Material: Polyester, memory foam, suede
Dimension: 50 x 34 x 7 inches
Also, with its 3 inches thick pillow, it's highly impossible to feel the floor's surface. The premium and therapeutic memory foam are hypoallergenic. It's better than those you find in stores!
With your English Mastiff spending half of their day napping, their sleeping spot should be ideally soft, comforting, and tempting. Another orthopedic dog bed that makes thousands of dog owners go gaga is one from Kopeks. 
The excellence with its price comes with a water-resistant double-layered protection cover that has an anti-slip feature. Teach your English Mastiff how to use the headrest for a better sleeping experience.
Pros
It has an anti-slip quality

It comes with a 3-inches thick pillow

Highly functional with its water-resistant property

Features a hypoallergenic memory foam; great for dogs with sensitive skin
Cons
It's expensive compared to other dog beds sold on the market

Maintaining the excellence of the cover requires gentle washing