Best Harness for English Mastiffs:  A Review of All Bestsellers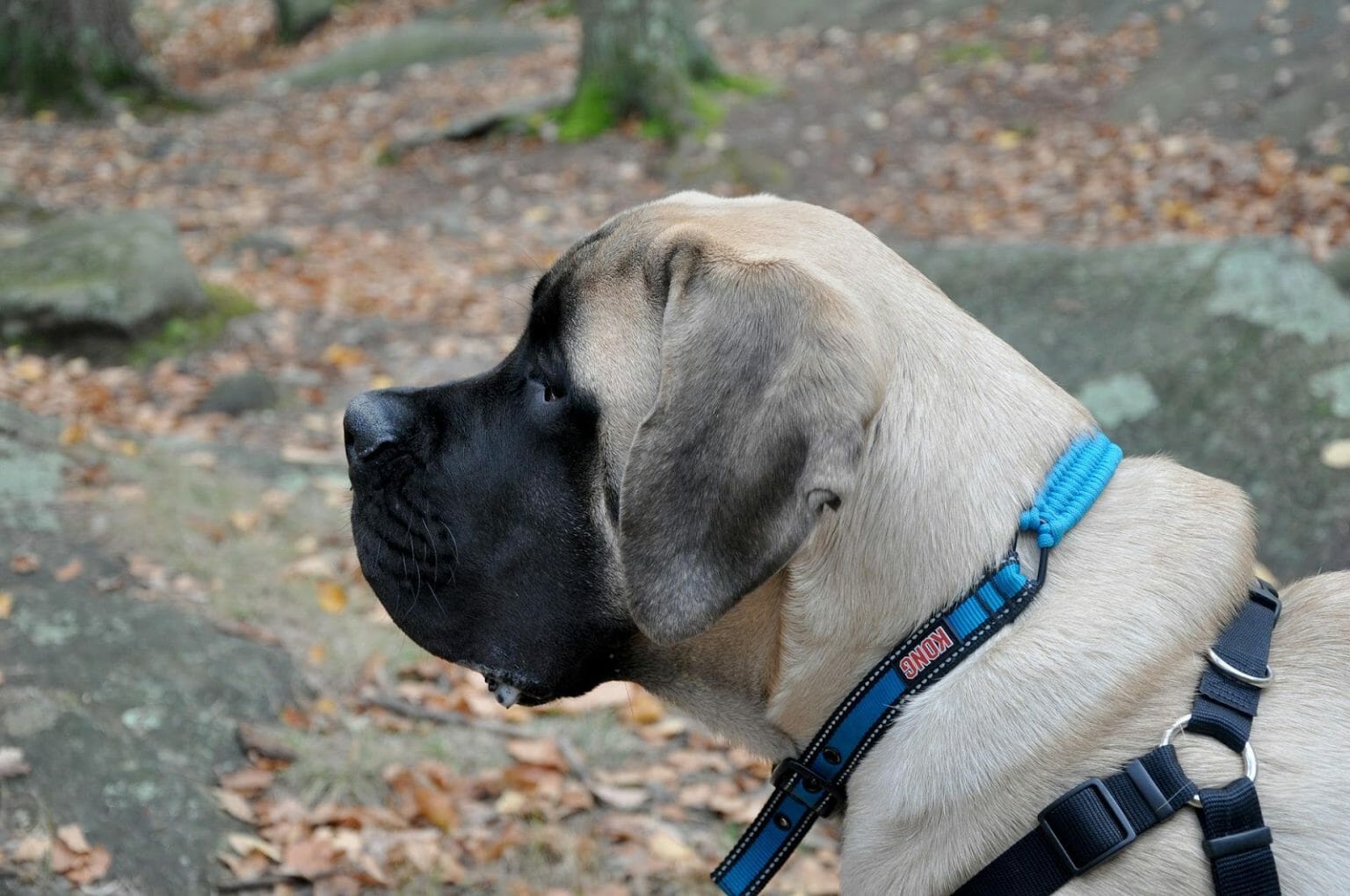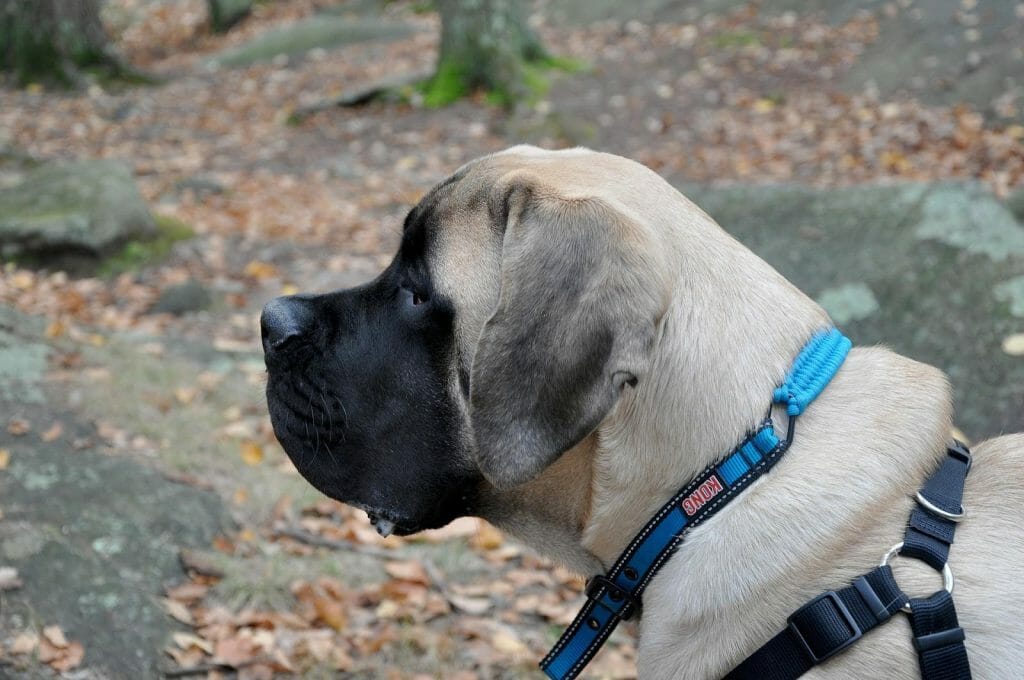 Safety, security, and comfort are priorities when you walk big dogs like the English Mastiff. A massive dog like this requires extra-strong equipment, and the harness's design makes it the most ideal.
This is even more true if your dog has a pulling behavior. Collars can feel confining as they put a lot of stress around the neck. With a harness, everything is kept on balance as the structure wraps nicely around the neck and body. 
Not all are worth buying, though. You must ensure that the harness complements your Mastiff's size and measurements. To help you out, we've cherry-picked only the best harness for English Mastiffs.
A Quick Ranking of Our Top Harnesses for English Mastiffs
9 Best Harness for English Mastiffs
1. Auroth Tactical Dog Harness – Great Overall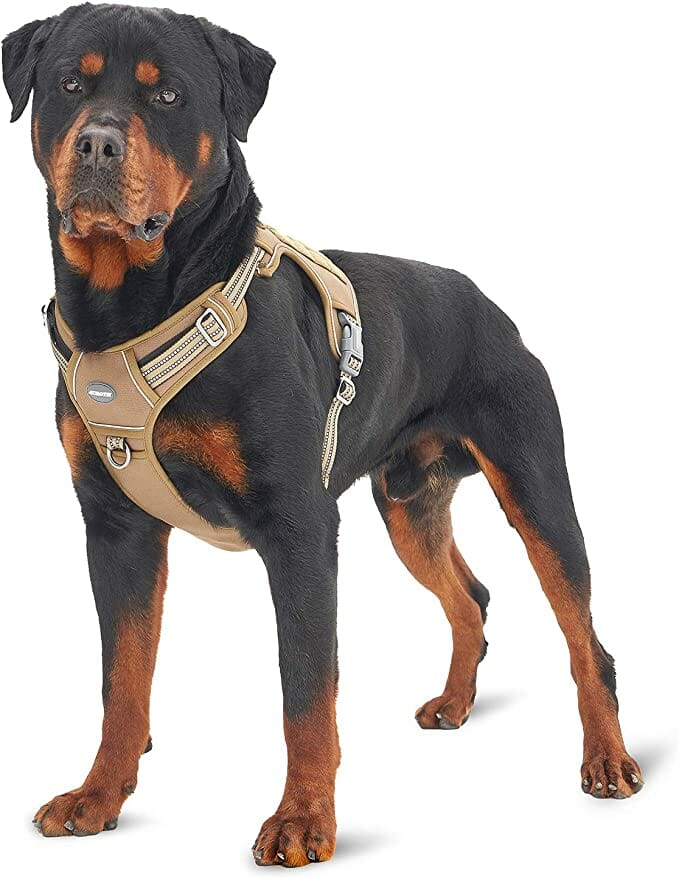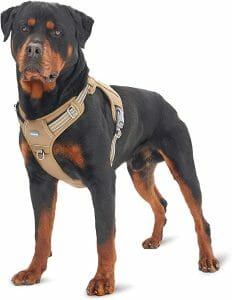 Why We Like It:
A complete package that embodies durability, withstanding any dog's strength
Specs:
Size: 14-31 inches (neck girth) and 20-42 inches (chest girth)
Color: Army Yellow
Material: Plastic, air mesh, cotton cushion, metal ring, and water-resistant nylon surface
Auroth's tactical dog harness is PawCited's top choice for English Mastiff owners who want to ensure their dogs walk outside without compromising safety and security. It is multi-purpose; attached are D rings for easy leash attachments, secure adjustable steel rings to get the fit right, and a military-grade kevron for reliable durability.
What's more, there are patchy velcro systems to let out your English Mastiff's personality. You can design the harness with various patches or with a label signifying they're a service dog if they are. Putting this on is done in 3 easy steps: 1) Slide the harness over the head; 2) Adjust the harness over the back or spine; 3) And secure the straps under the chest.
This comes in small to extra-large, and they've posted their harness's measurements for your reference.
Pros
Very affordable.

Extremely durable. 

Compatible with MOLLE.

Guaranteed no-pull quality.
Cons
MOLLE strips may come a bit small.
2. OneTigris Tactical Dog Harness – Great in Durability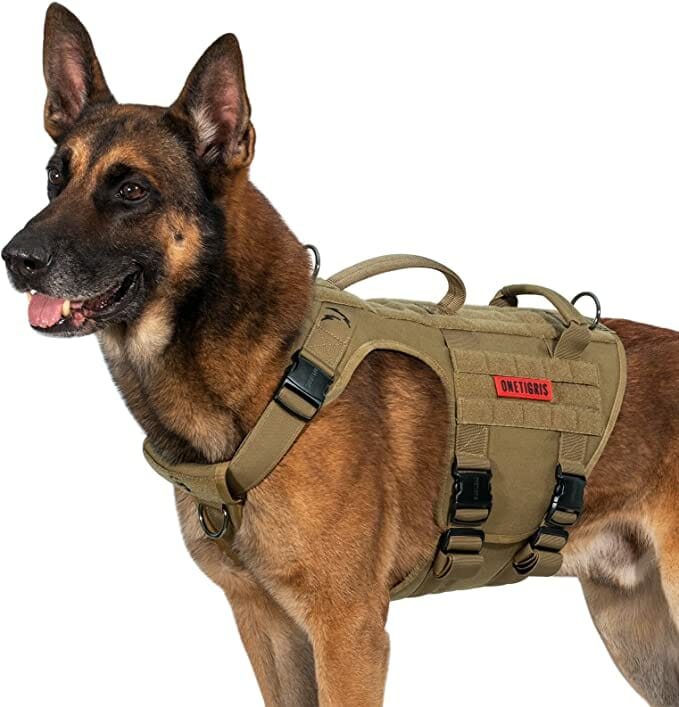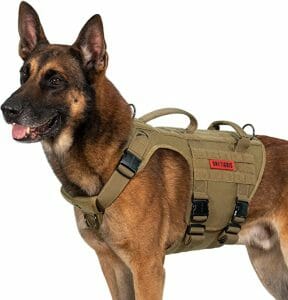 Why We Like It:
Comes with a handy MOLLE system for all dog essentials
Specs:
Size: 16-29 inches (neck girth), 24-40 inches (chest girth), and 13-17 inches (back length)
Color: Brown
Material: Nylon and metal
Product Weight: 30.8 oz
As English Mastiffs are known for their brute force, the harness you should use has to keep up with it. Not many harness products come close to OneTigris tactical dog harnesses as their metal hardware is strength-tested. The 1000 denier nylon used also adds up more resilience for a more controllable dog during your daily walks in the park.
There are 2 heavy-duty handles to maneuver and control your English Mastiff seamlessly. A MOLLE system is also added to the features for your dog's essentials, from water bottles to treat totes. D-rings are located in the front and back of the neck and on the spine for leash attachment options during hikes or runs. 
For most large breed owners, OneTigress harness is a must-have for versatile dogs that are always set for missions.
Pros
Adjustable straps for your growing Mastiff

Comfortable to wear without movement restrictions

Multiple patch panel designs to show your dog's personality
Cons
Getting it fitted can be a challenge
3. Forestpaw Tactical Dog Vest Harness – Great in Control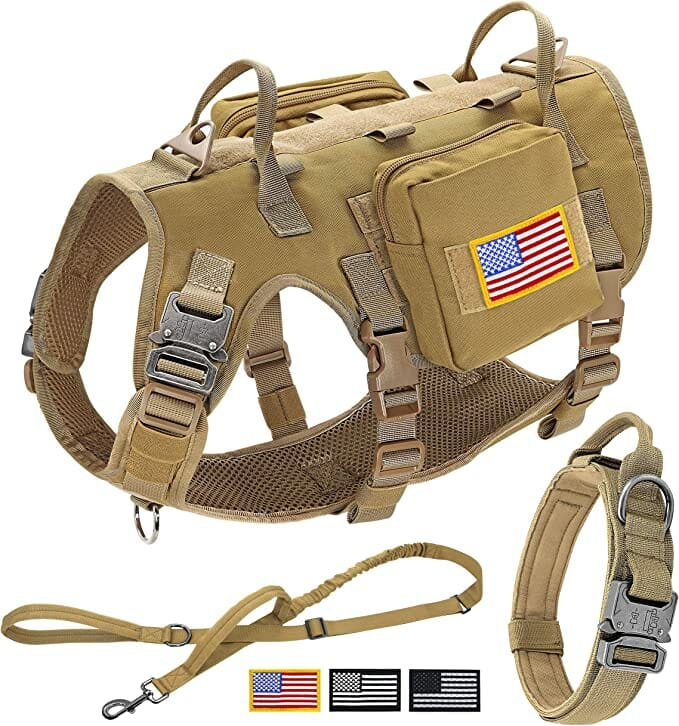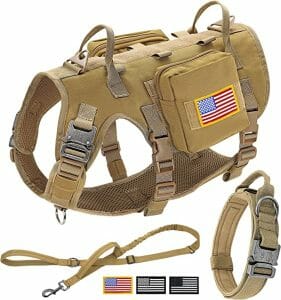 Why We Like It:
Top-notch in features and practical designs
Specs:
Size: 15-24.5 inches (neck girth), 16-28.5 inches (chest girth), and 12-14 inches (back length)
Color: Coyote brown
Material: Cotton
Closure Type: Buckle
ForestPaw is a top-quality harness with multiple features to satisfy your high standards. English Mastiffs are gentle dogs yet have an incredible hidden strength that can't be underestimated. With ForestPaw, you'll have better control of your dog, primarily when you utilize the D rings. This is great when you want to lead them in a direction. 
The harness has a back loop for hooking accessories and an attachment system for 2 travel pouches. Design your English Mastiff's harness freely as well as the item has 2 side and 1 top designated patch site. Considering the largest measurements available, this harness is ideal for adolescent Mastiffs.
Pros
Tactical and multi-functional

Secures a no-pull experience

Loaded with valuable features like carrying your dog's essentials

Has a high-quality, 360-degree rotating hook for a more convenient usage
Cons
It's more expensive than other brands

Comes a bit smaller than other standard sizes
4. Rabbitgoo Military Dog Harness – Great in Functions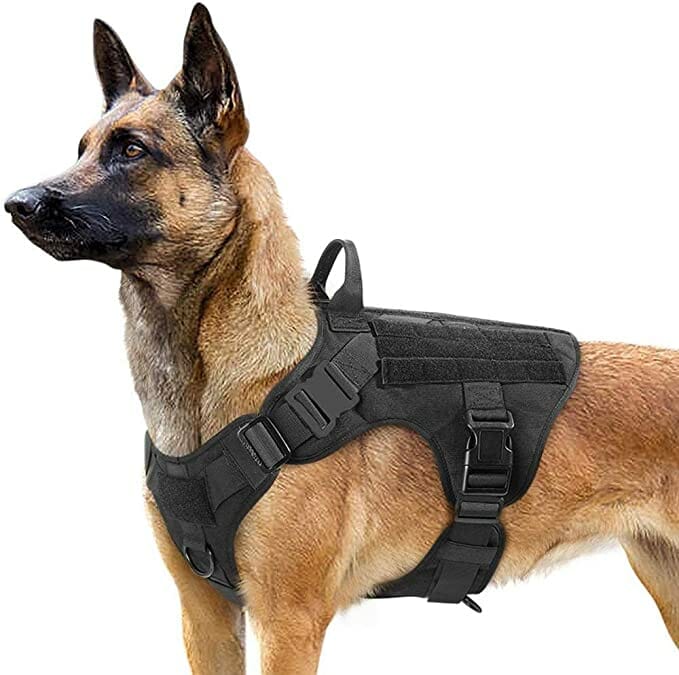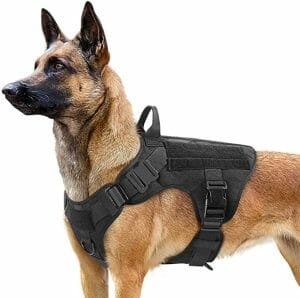 Why We Like It:
Supreme in comfort and lasts longer than expected
Specs:
Size: 12.4-37.4 inches (neck girth), 20.2-46.4 inches (chest girth), and 9.1-13.3 inches (back length)
Color: Available in black, tan, blue, green, gray, and red
Material: Made of durable nylon material and sturdy alloy metal hardware
Rabbitgoo harness is another premium choice for an outgoing English Mastiff. It practically features superior robustness to the point that it can last for years, has optimum comfort, and has impressive functionality to make every trip outside complete and perfect. 
The neck circumference is fully adjustable, with more room for growth, and the material is padded for more movement ease. Hook and panels are also present for badges and designs, a MOLLE system for water bottles and treat pouches, a top-mounted handle for quick lifts when encountering obstacles, and various rings for leash attachments. 
Whether your English Mastiff is a hunting dog, a service dog, a military dog, or a family companion, dog parents find this vest great for any adventure or experience.
Pros
High-quality and functional

Comes at a quality price point

Made of 1050 denier nylon material

Complete in needed features and designs
Cons
Finding the right fit can be challenging
5. Lesure Escape-Proof Harness – Great in Security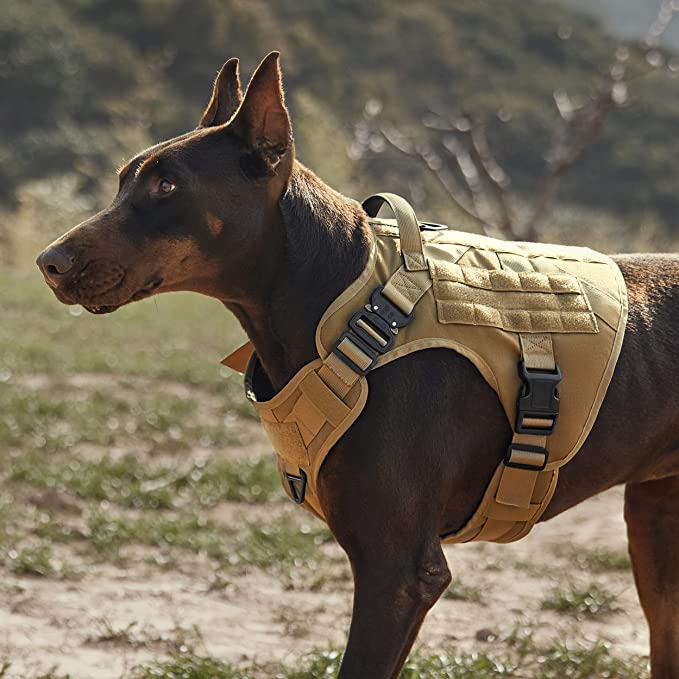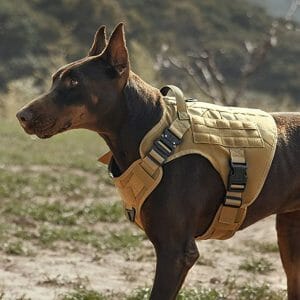 Why We Like It:
Sworn by many as a practical, escape-proof harness
Specs:
Size: 14-28 inches (neck girth), 22-39 inches (chest girth), and 9.5-13 inches (back length)
Color: Khaki
Material: Quality nylon
A quality harness lasts for years, and Lesure lives up to that standard. Not only is it made from top-grade materials, but the design also ensures that it's multi-functional. It fits dogs of any breed, from Beagles to Mastiffs; you must choose the right size and measurements. 
The straps are pretty adjustable and along with it is a comfortable pad on the back as well as a handle to take complete control of your English Mastiff whenever necessary. The heavy metal buckles also ensure a secure fit and grip to eliminate any chances of compromise every time you're out for a walk. 
Compared to other harnesses, this one from Lesure has impressive stitchings, and it's 100% escape-proof no matter how big your English Mastiff is.
Pros
Worth it and affordable

Easy to clean and wash

Excellent choice for massive dogs

Has several features for attachments and control options

Made of mostly metallic buckle rings and breathable yet robust fabrics
Cons
The back length can be a bit shorter, but it's not much of an issue for some
6. Embark Adventure Large Dog Harness – Great for Pullers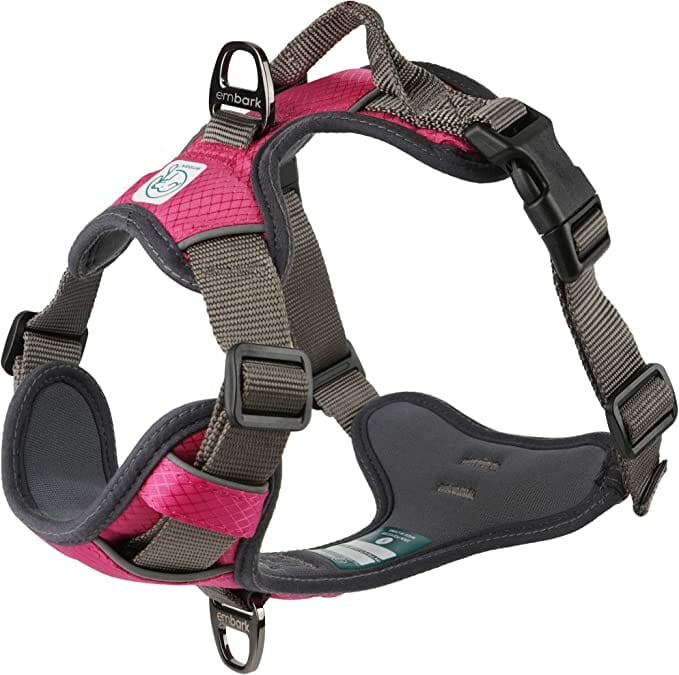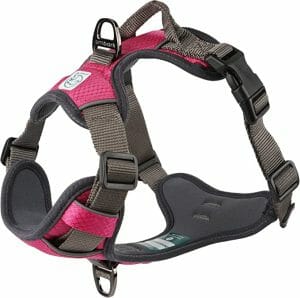 Why We Like It:
A real one-size-fits-all harness at an affordable price
Specs:
Size: 17-35 inches (chest girth)
Color: Available in black, pink, orange, and teal blue
Material: Rip-stop nylon
Tensile strength: 667-782
The Adventure harness has everything you're looking for, especially if you're more into something that's not overly covering. It's made from military-grade rip-stop nylon for anti-easy wearing off. It also has easy sliders for convenient adjustments, heavy and durable buckles, front and back leash attachment, and a control handle should your dog get off the track in their direction.
This is your ultimate choice when dealing with an English Mastiff with a pulling behavior. This harness allows you to take full command whenever necessary or get the dog in a secure spot outside without the chances of them rushing off to a busy highway road. Just as long as the buckles are checked and well-placed, the Adventure harness will live up to your high standards.
Pros
It comes in vibrant colors

It's safe, comfy, and easy to use

The D rings are not easy to break

All materials used are reliable and strong

The harness can fit a small up to an extra large dog
Cons
Matching the size of the harness and the proportions of your English Mastiff can be a challenge
7. JVA Pro Pets ProMax – Tactical Dog Harness – Great for Big Dogs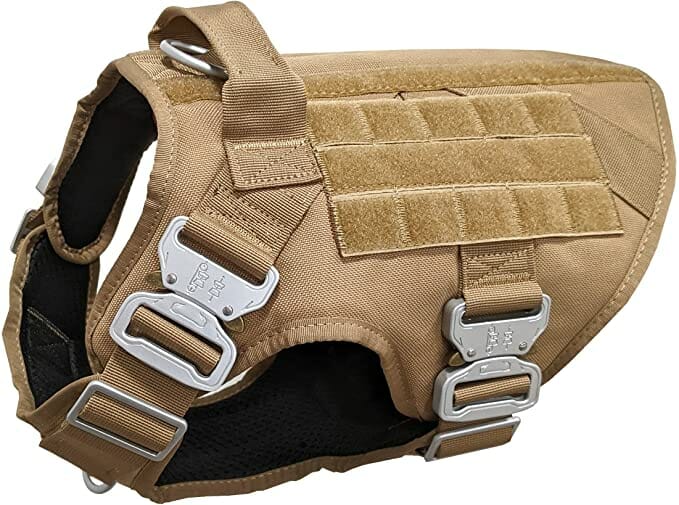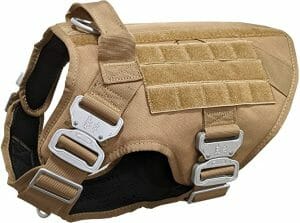 Why We Like It:
It's an absolute best-selling hardy harness for tough dogs
Specs:
Size: 15-30 inches (neck girth), 23-40 inches (chest girth), and 10-12 inches (back length)
Color: Available in coyote brown and black
Material: Made from mesh, military-grade materials, 1050D nylon, and solid metal for the buckles
The JVA harness offers comfort, design, and assurance to any English Mastiff parent. It's thick, quite heavy, and sturdy in every way. The metal buckles guarantee a secure and non-loose fit, making it impossible for your dog to break free.
There are clips both in front and back so the harness can disallow your dog from successfully pulling away. This harness is specifically designed for professional dogs or any massive breeds, including Rottweilers, Akitas, and Siberian Huskies. Always ensure you've measured your dog's neck and chest proportions and don't rely on guesses.
Pros
Has a no-pull feature

Heavy-duty all the way

A combination of excellent buckle and sturdy material

A military tactical harness made for professional dogs
Cons
The strap webbing and quality need to be reinforced
8. Noyal Reflective Harness – Great For High-Visibility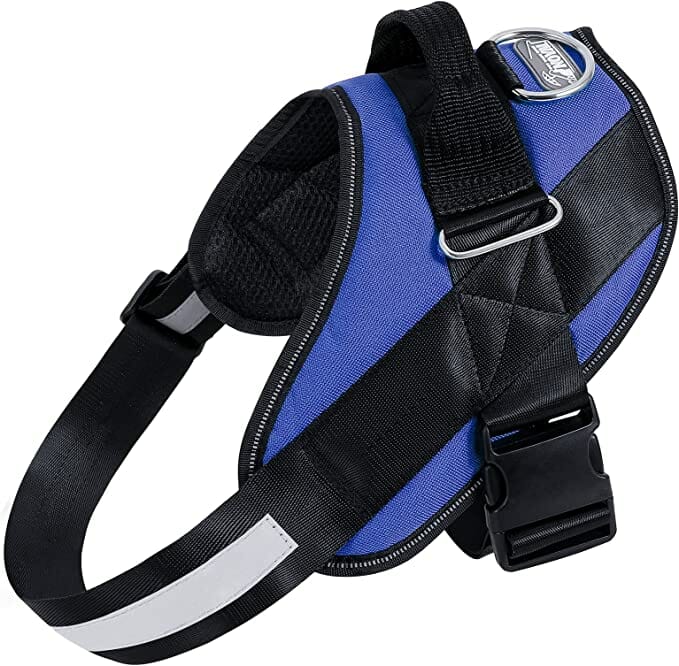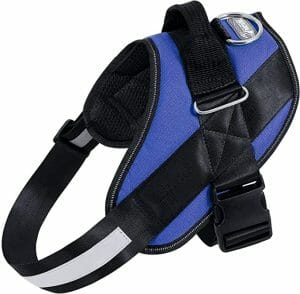 Why We Like It:
Perfect as a dog vest reflector for safe walks in dim areas
Specs:
Size: 12-33 inches (neck girth) and 16-35 inches (chest girth)
Color: Rose red
Material: Nylon
Closure Type: Buckle
The Noyal harness is an excellent choice for late-night walks. The equipment features a reflective design, increasing your dog's safety as it keeps them visible in low lights. The harness is easy to take off or put on since the buckle must only be pressed on the sides to let go of the grip. The fabric is soft and breathable, too, perfect for all kinds of weather.
A top handle can be utilized whenever needed for English Mastiffs that like to pull. When worn, your English Mastiff will feel comfortable without feeling restricted in their movements unless they lose track of their direction. Though the buckles are minimal, the harness still lives up to the expectations of many dog owners regardless of the size of their pooch.
Pros
Extremely affordable

Comfortable, safe, and secure to wear

Has reflective straps to keep the dog visible at night
Cons
Oftentimes not suitable for small dogs due to size
9. ThinkPet No Pull Harness – Great for Comfort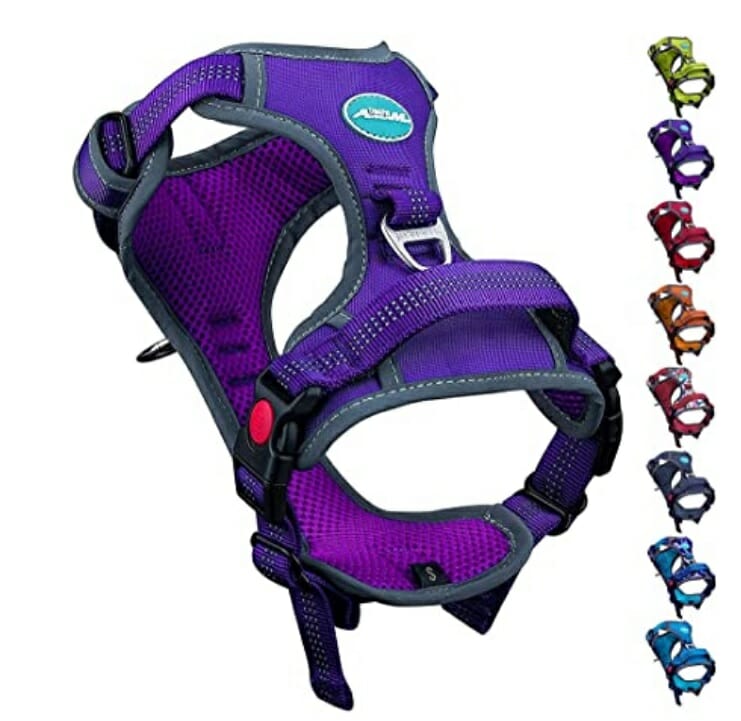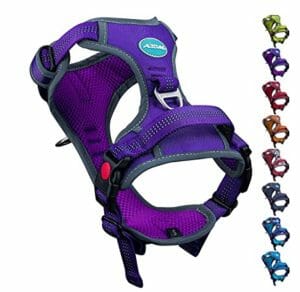 Why We Like It:
Equipped with all needed features for any situation
Specs:
Size: 13-40 inches (neck girth) and 13-42 inches (chest girth)
Color: Available in black, orange, teal, blue, green, pink, purple, and more
Material: Nylon, Oxford fabric, soft EVA
Closure Type: Buckle
ThinkPet had one goal when they created a dog harness: to discourage leash pulling. This is dependable equipment that's easy to put on, thanks to the buckles that are made to be easy to operate. The lock designs for the whole harness guarantee the product to be escape-proof and the straps that come along with it are adjustable; you can get it tight or loose depending on your English Mastiff's size.
The harness is also covered with mesh panels, creating a soft, cozy, skin and coat-friendly feeling. The other features required from a great piece of dog harness can also be found on ThinkPet harness, making it a complete choice for dog owners who have a hard time choosing what to purchase.
Pros
Complete harness features

Incredibly soft and comfortable

Has an emergency control handle
Cons
The harness may not be ideal for dogs who openly display their strength