Best Dog Food for Poop Eaters: 9 Dog Food You Need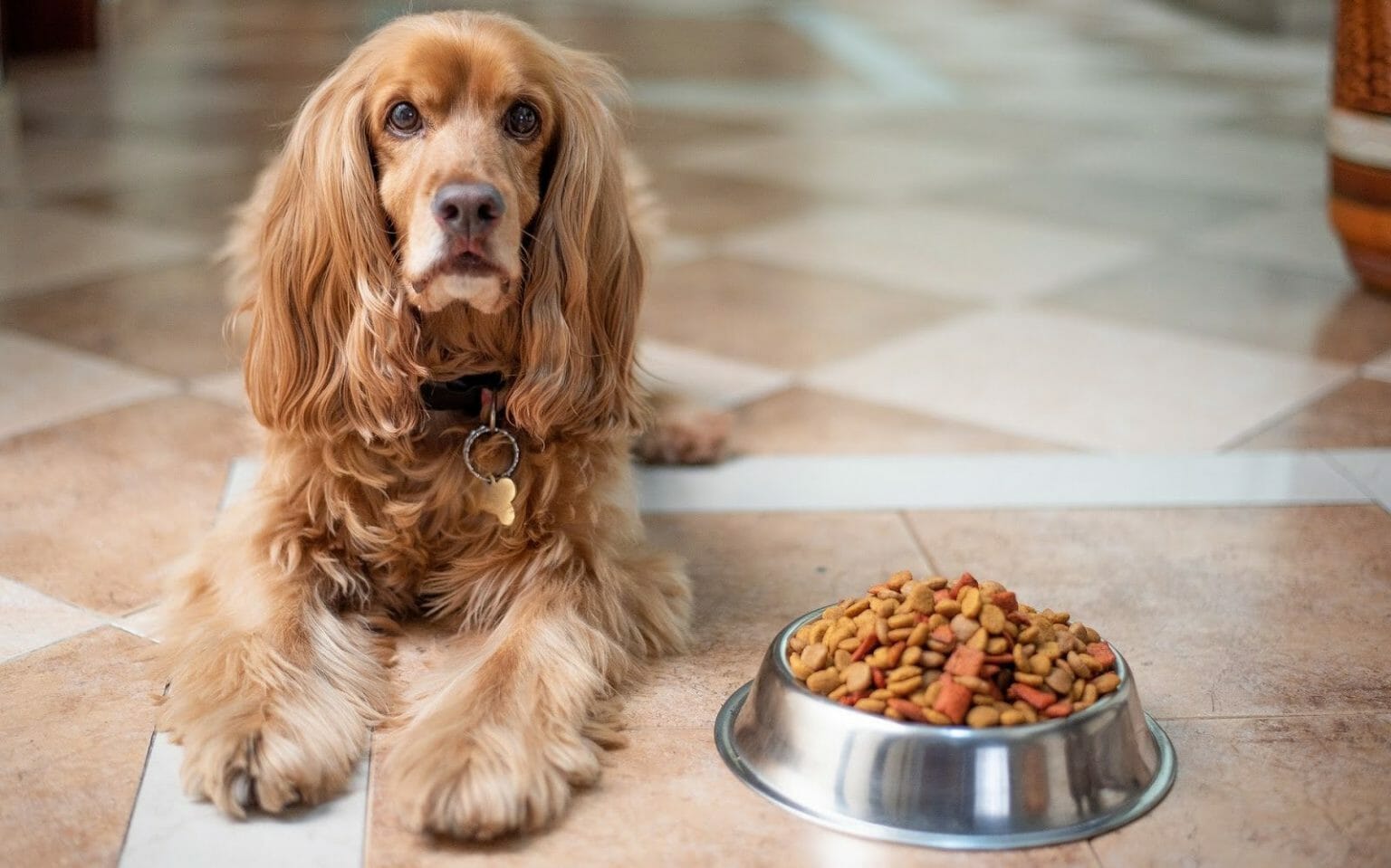 So, your dog has started eating poop. Out of all the repulsive habits they have, like rolling in the mud, the most revolting is seeing them devour the turd in your yard.
While vets would say that this is normal behavior and that puppies will eventually outgrow it, you should still consider the diet-based factors.
It could be that the diet plan doesn't provide him with complete nutrients, or your dog might not feel full after a meal; therefore, feeling the urge to digest the fecal matter to satisfy what's lacking.
This is only one of the reasons why poop-eating or coprophagia occurs in many dogs. I still suggest that you visit your vet just in case there are more underlying causes behind it.
If it's a confirmed diet-related case, I recommend that you go about on this list of best dog food for poop eaters. These will help in discouraging your dog from showing the same disgusting behavior.
A Quick Ranking of Our Best Dog Food for Poop Eaters
9 Best Dog Food for Poop Eaters
1. Purina Pro Plan High Protein Dog Food – Best Recommended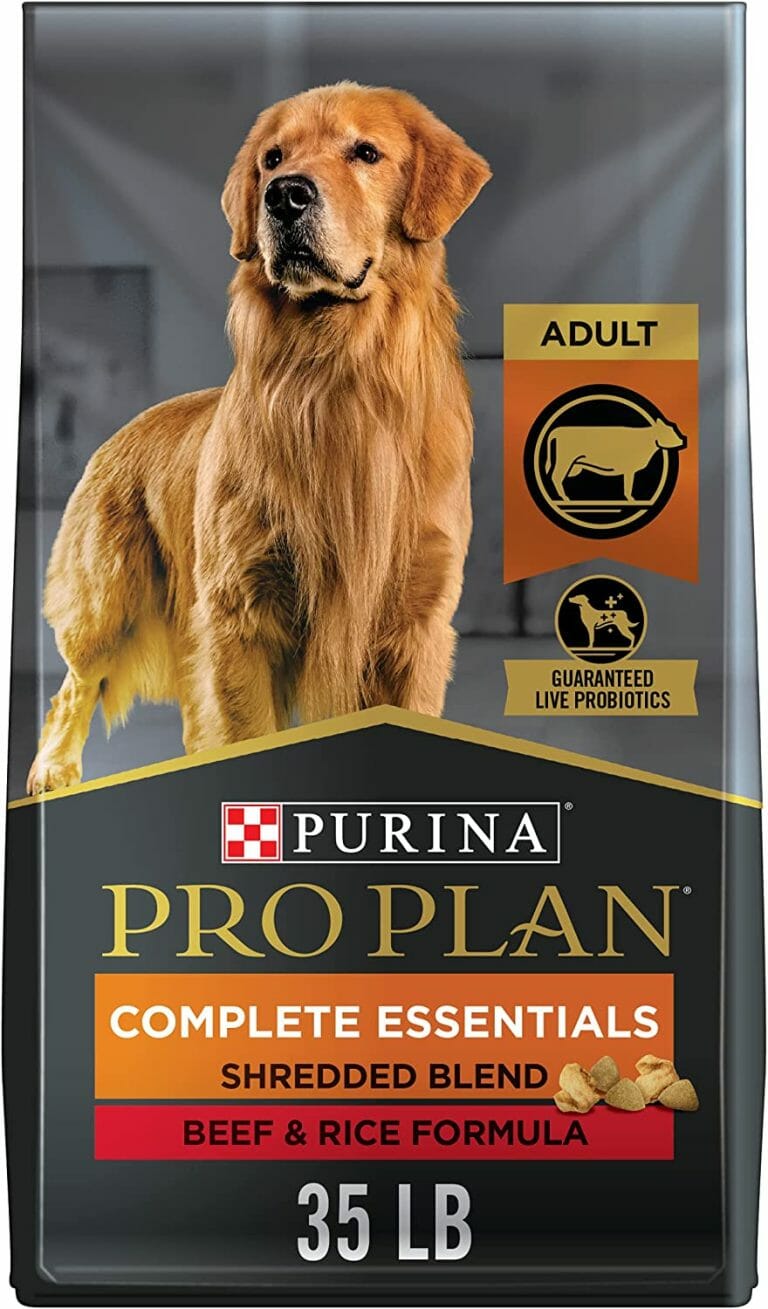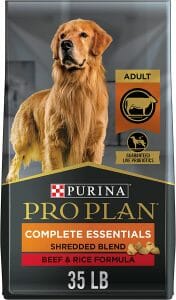 Why We Like It:
A premium brand that offers the right amount of nutrition
Specs:
Weight: 5-47 lbs per bag
Flavor: Beef and rice
Added benefits: Vitamin A and Omega-6 fatty acids for healthy coat, skin, and eyesight
Purina Pro Plan is my top choice when it comes to dealing with dogs that poop. Experts say poop-eating is caused by malabsorption syndromes or nutritional deficiency. With Purina Pro Plan, you won't have to worry about whether your dog gets the right amount of nutrition or not.
This is because it's a beef and rice formula packed with beneficial bacteria for good digestion. Vitamin A and omega-6 fatty acids are added, which target your dog's coat and skin condition and improve the immune system. 
With every meal, your dog won't have to look for other sources of food or, in their behavioral case, poop to fill up their stomach.
Pros
Reasonably-priced

Cures diet deficiencies

Incredible taste and texture in every kibble
Cons
May contain certain ingredients dogs may negatively react to
2. Nutro Ultra High Protein Natural Dog Food – Top in Quality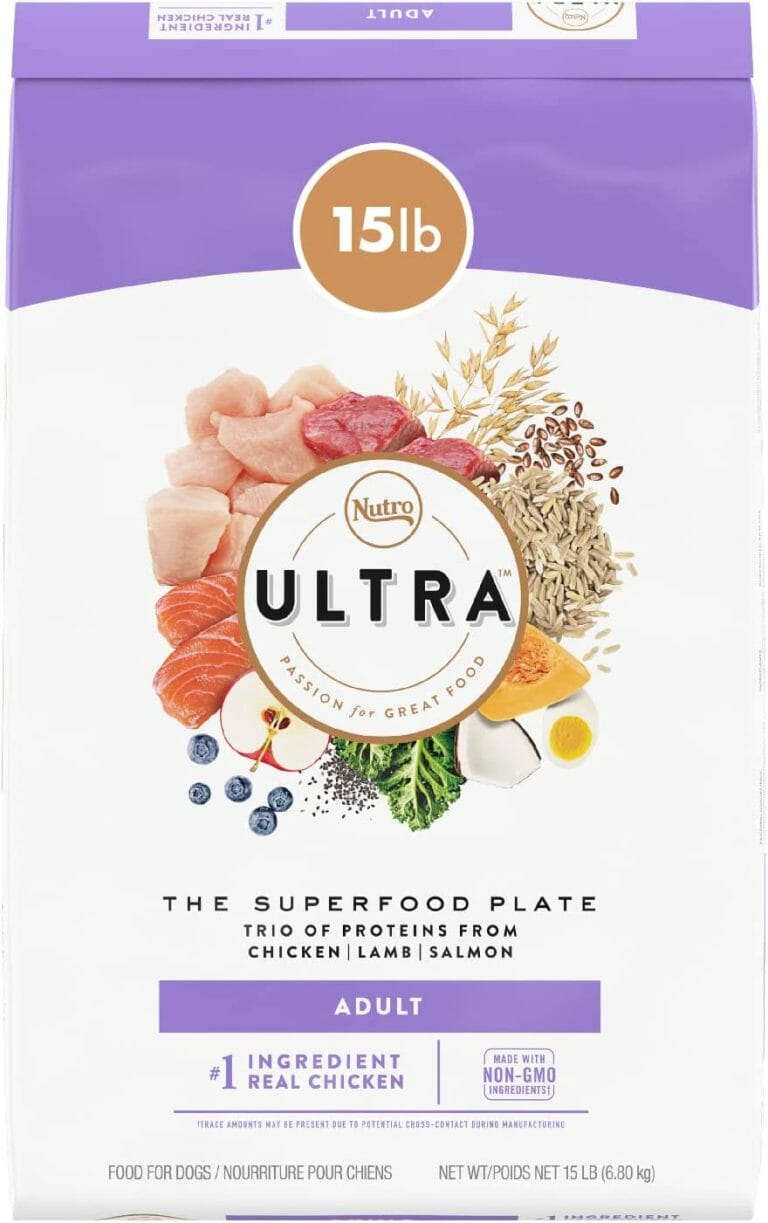 Why We Like It:
Supreme in meeting your dog's nutritional needs
Specs:
Weight: 15-30 lbs per bag
Flavor: Chicken, lamb, and salmon
Added benefits: Contains superfoods that are rich in vitamins and antioxidants
High-quality food often comes with a high price, but I'd tell you never to hold your pocket when it comes to your dog's food. To refrain your pooch from eating their poop again, Nutro Ultra will do the job.
It's made from premium chicken, lamb, and salmon. With these packed in every kibble, your furry companion won't feel hungry for hours. That would keep them from scavenging your garden for dog poop.
The formula includes 15 vibrant superfoods like blueberries and chia for more health benefits. Also, you won't get non-essential ingredients like fillers, GMO, and artificial flavors and preservatives. 
Every penny that you pay equates to high-grade standard dog food with Nutro Ultra. 
Pros
Contains 15 superfoods

Loaded with high-quality protein

Free from fillers, preservatives, and artificial flavors
Cons
A bit expensive compared to other brands

Not fit for dogs who are allergic to chicken
3. Wellness Complete Health Dog Food – Great for Overall Health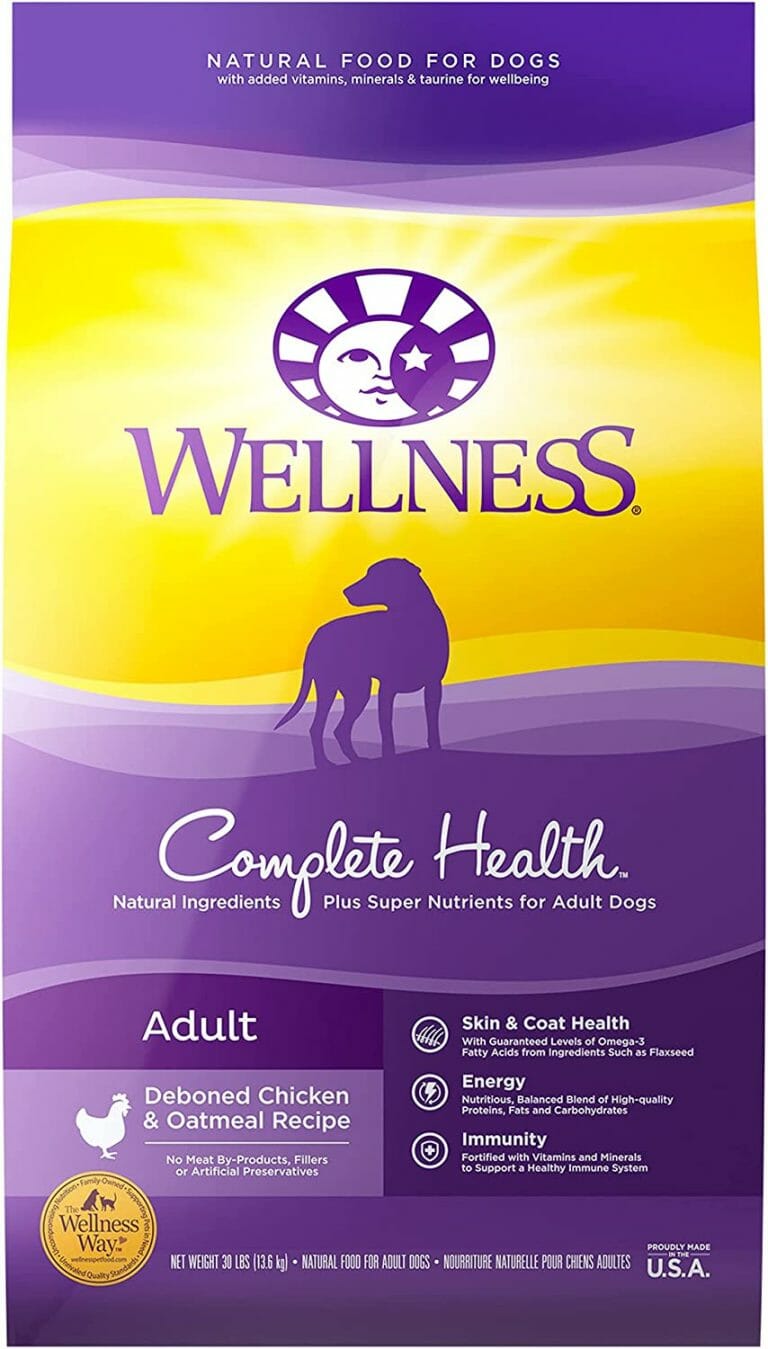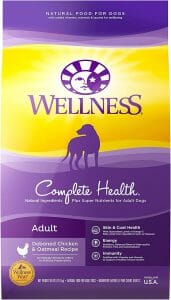 Why We Like It:
Offers top-grade ingredients at an affordable price
Specs:
Weight: 5-30 lbs per bag
Flavor: Chicken and oatmeal
Added benefits: Features antioxidants, omega fatty acids, and protein
For a more affordable option when it comes to curing your dog's diet-related poop-eating habit, Wellness Complete is what I recommend. This ensures quality when it comes to providing nutrients to support your dog's development.
There are no by-products, fillers, and artificial preservatives. Getting your dog to consume the suggested daily intake will make no room for disgusting fecal matters. Your pup will feel full throughout the day until the next meal comes.
It's a deboned chicken and oatmeal recipe that serves a vital purpose in transforming your dog's diet. The recipe also helps improve joint and bone health, energy levels, immune health, and skin condition.
Pros
Aids in dog's development

Provides enough protein and nutrients

Contains no by-products and other unwanted ingredients
Cons
Product quality can be inconsistent
4. Canidae Pure Goodness Dog Food – Best for Grain Allergies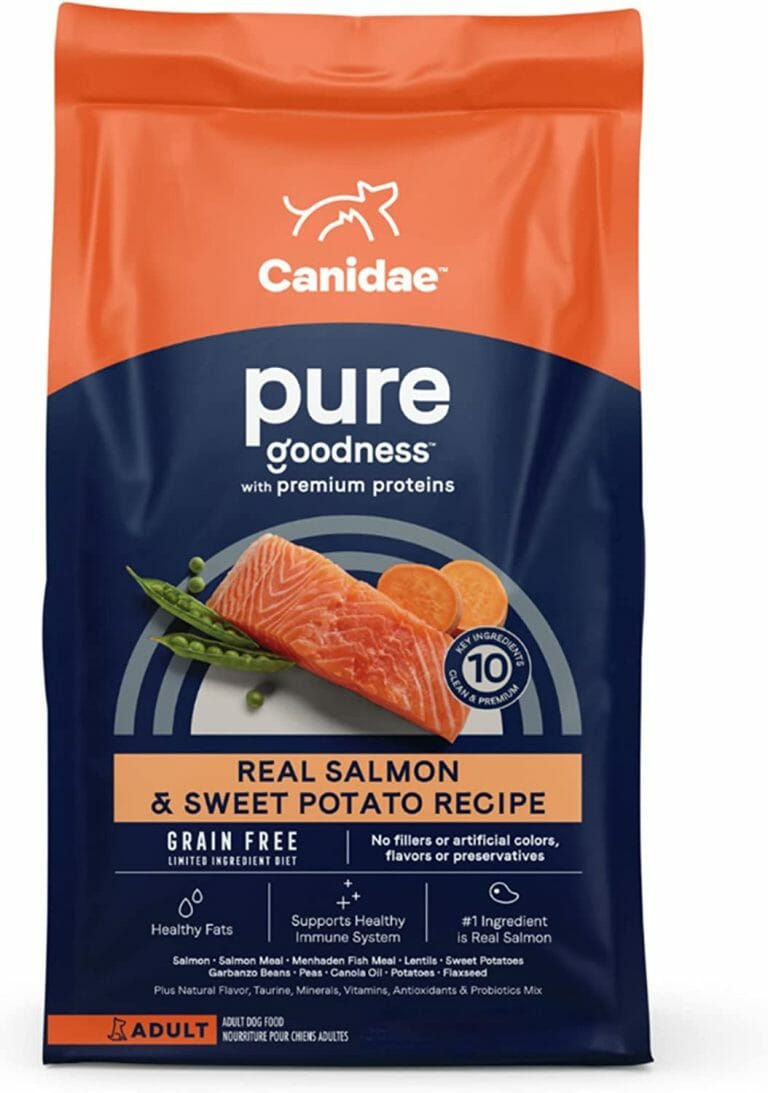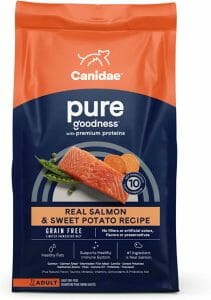 Why We Like It:
Provides complete and balanced nutrition for grain-allergic dogs
Specs:
Weight: 4-24 lbs per bag
Flavor: Salmon and sweet potato
Added benefits: Rich in Omega-3 and 6, antioxidants, glucosamine, and chondroitin
As I emphasize the fact that dogs need meals high in protein and fiber, another dog food that comes to mind is Canidae Pure Goodness. You have to see for yourself how the poop-eating behavior stops once you try this.
Being rich in protein thanks to salmon, and being rich in fiber thanks to sweet potatoes, your puppy will grow with a lean body mass. There's no possibility for them to feel like there's food inadequacy provided it's given in the right amounts.
It's grain-free, too. While not all dogs will benefit from this kind, those with grain-allergy will. There are added nutrients incorporated in the Canidae formula such as antioxidants, probiotics, vitamins, and minerals. 
To note, peas are included. While they do have nutritional advantages, some cases link peas to health issues. Consult with your veterinarian and see if they approve of this formula first. 
Pros
Rich in protein

Helps dogs with obnoxious gas

Great for dogs with grain allergies
Cons
The recipe can be inconsistent in quality
4. Stella & Chewy's Wild Red Raw Blend – Exceptional in Taste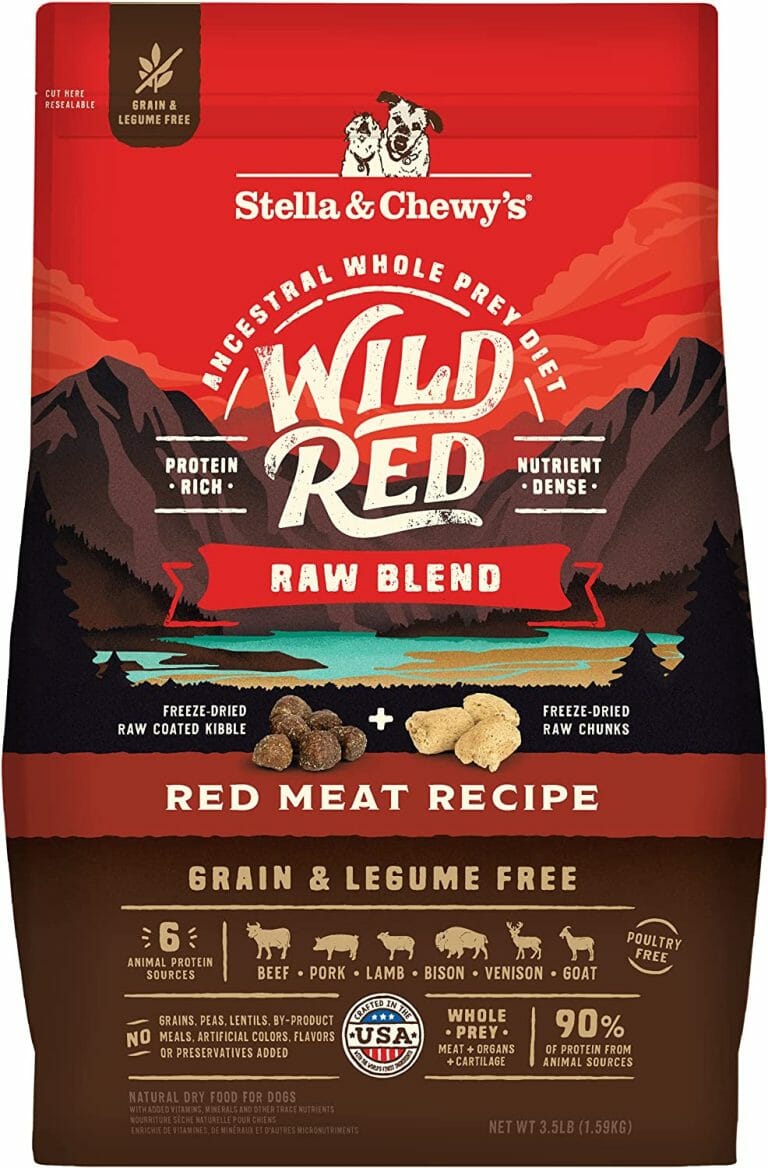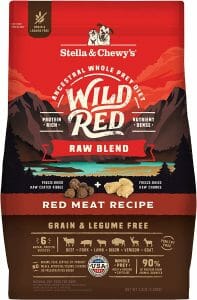 Why We Like It:
Satisfies your dog's cravings for meat-flavored meals
Specs:
Weight: 3.5-21 lbs per bag
Flavor: Read meat
Added benefits: Fortified with vitamins, minerals, and amino acids
Another go-to brand I'd urge you to try is Stella & Chewy's Wild Red Raw Blend. It's made from quality ingredients, with 6 animal protein sources as its primary components for every kibble. 
Added are sweet potatoes, organic carrots, pumpkin, blueberries, salmon oil, and more for your dog's needed nutritional package. With all these combined plus more unmentioned vital ingredients, your dog won't have to look elsewhere for added calories.
That means not seeing them gobble up the feces of other dogs. The flavor will awaken their wild instincts, excluding their undesirable behavior to eat what they shouldn't eat. A bag may cost more compared to other brands, but it's worth it if it means seeing your dog ditch their old gross habit. 
Pros
Satisfying in every meal

Made from 6 protein sources

Helps improve your dog's well-being
Cons
Not recommended for dogs that are diagnosed with canine dilated cardiomyopathy
6. Blue Buffalo Life Protection Formula – Best in Nutrient-Deficiencies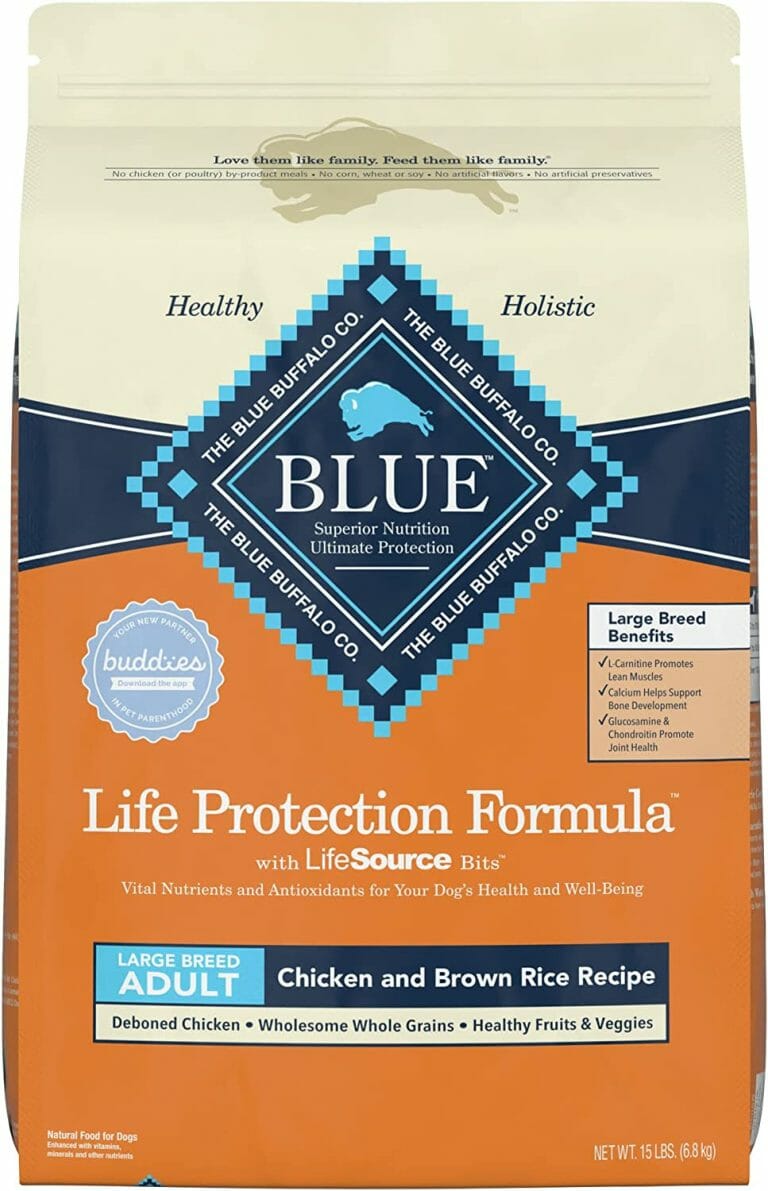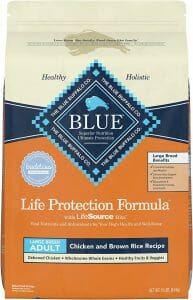 Why We Like It:
The alternative you're looking for to cope with your dog's nutrient requirements
Specs:
Weight: 15-34 lbs per bag
Flavor: Chicken and brown rice
Added benefits: Antioxidant-rich with vitamins and minerals
Blue Buffalo Life Protection Formula is another affordable dog food product. Thousands of dog owners trust it for various reasons. This includes providing your dog only the best ingredients that burst in every kibble.
What I love about it is its buffalo ingredient and chicken additions for sufficient protein. The food also contains chondroitin and glucosamine for overall mobility and joint health. 
Antioxidants, vitamins, and minerals are also present, so your dog doesn't lack anything and would, therefore, not be looking for anything else to fill up their nutritional needs. You can depend well on Blue Buffalo, especially in this certain poop-eating case you're concerned about.
Pros
Reasonably priced

Meets dog's nutritional needs

Eliminates diet-related poop-eating habit

Contains chondroitin and glucosamine for joint health
Cons
Powdery substance in every bite, making it too messy to eat
7. Nulo Salmon Dog Food – Recommended for Small Dogs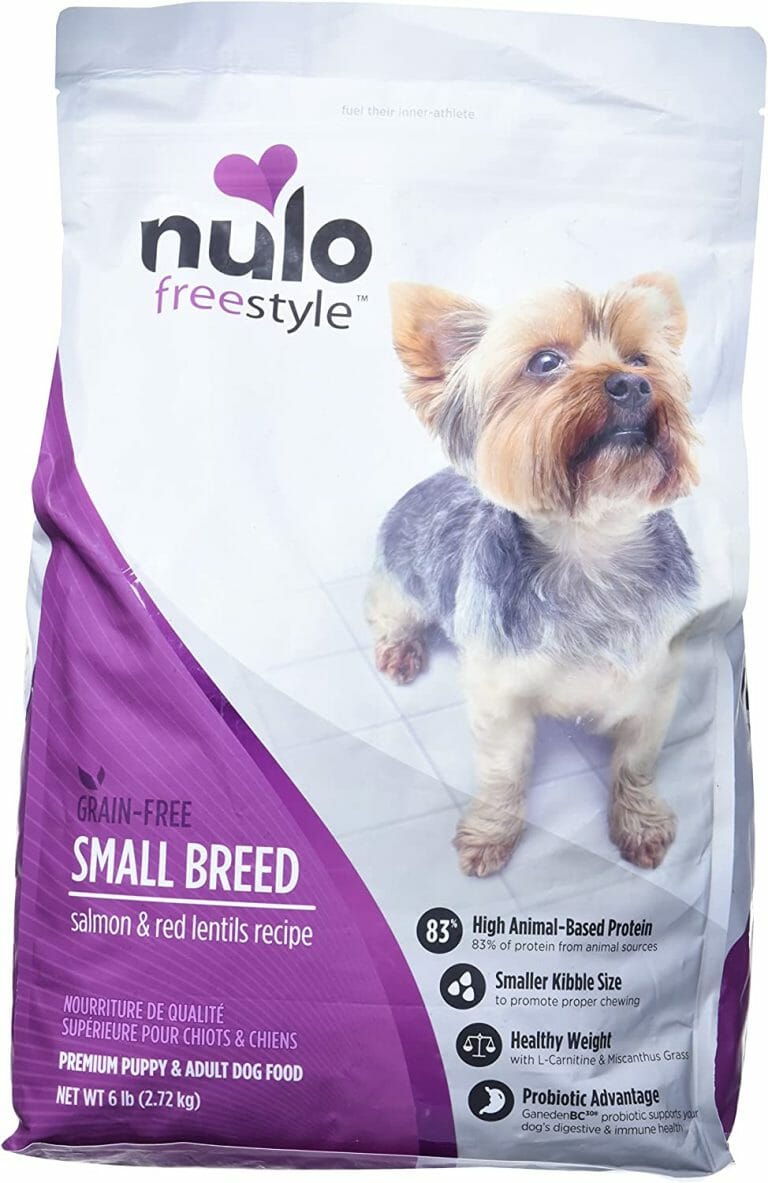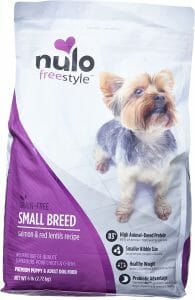 Why We Like It:
Has probiotic advantage for dogs with sensitive stomachs
Specs:
Weight: 4.5-14 lbs per bag
Flavor: Salmon
Added benefits: Contains vitamins C and E, natural fibers, and protein
One of the things you have to check once your dog eats poop is if their meals are adequate. Additionally, in households with 3 dogs, food competition might result in one or two not eating the right amount due to a greedy dog. 
Without intervention, your dog will look for other ways to satisfy its hunger. So, by conducting proper meal behavior and incorporating Nulo Salmon dog food, your dog would be less likely to repeat the same horrid behavior. 
Grain-free Nulo is protein-rich, infused with probiotics, and made only from the highest-quality ingredients. There are no fillers such as starch or potatoes that would quickly make the stomach grumble.
Pros
Grain-free

Contains probiotics that help

bloated dogs

Has no fillers and other low-quality ingredients
Cons
Kibble size can be inappropriate for small dog breeds

Doesn't contain certain nutrients that can be taken from grains
8. Purina One True Instinct Formula – Vet-Approved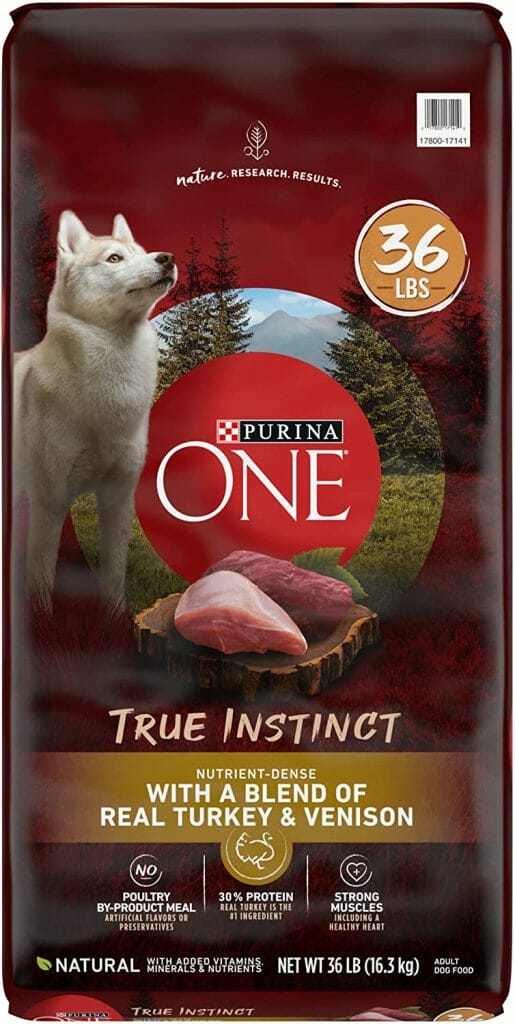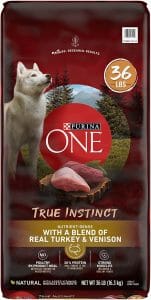 Why We Like It:
The number one brand when it comes to aiding your dog's health
Specs:
Weight: 3.8-36 lbs per bag
Flavor: Turkey and venison
Added benefits: Have added vitamins, minerals, and nutrients
Another vet-recommended dog food for poop eaters is Purina One True Instinct. It's a nutrient-dense blend of real turkey and venison without the poultry by-product. 
It's 30% chicken protein, and every meal is easy to digest. This low-calorie diet promotes healthy lean muscle mass, and the good news is that this comes from the right sources instead of dirty matters.
There are nutrients and minerals to promote a healthy coat, superb immune system, and increased energy levels, so your four-legged companion dedicates its vigor to playing rather than finding other food or poop sources.
Pros
Promotes healthy skin and coat

Ensures a filled-up stomach with low calories

Contains no by-products, fillers, and artificial coloring
Cons
The formula may be inconsistent in quality
9. Castor & Pollux Pristine Dog Food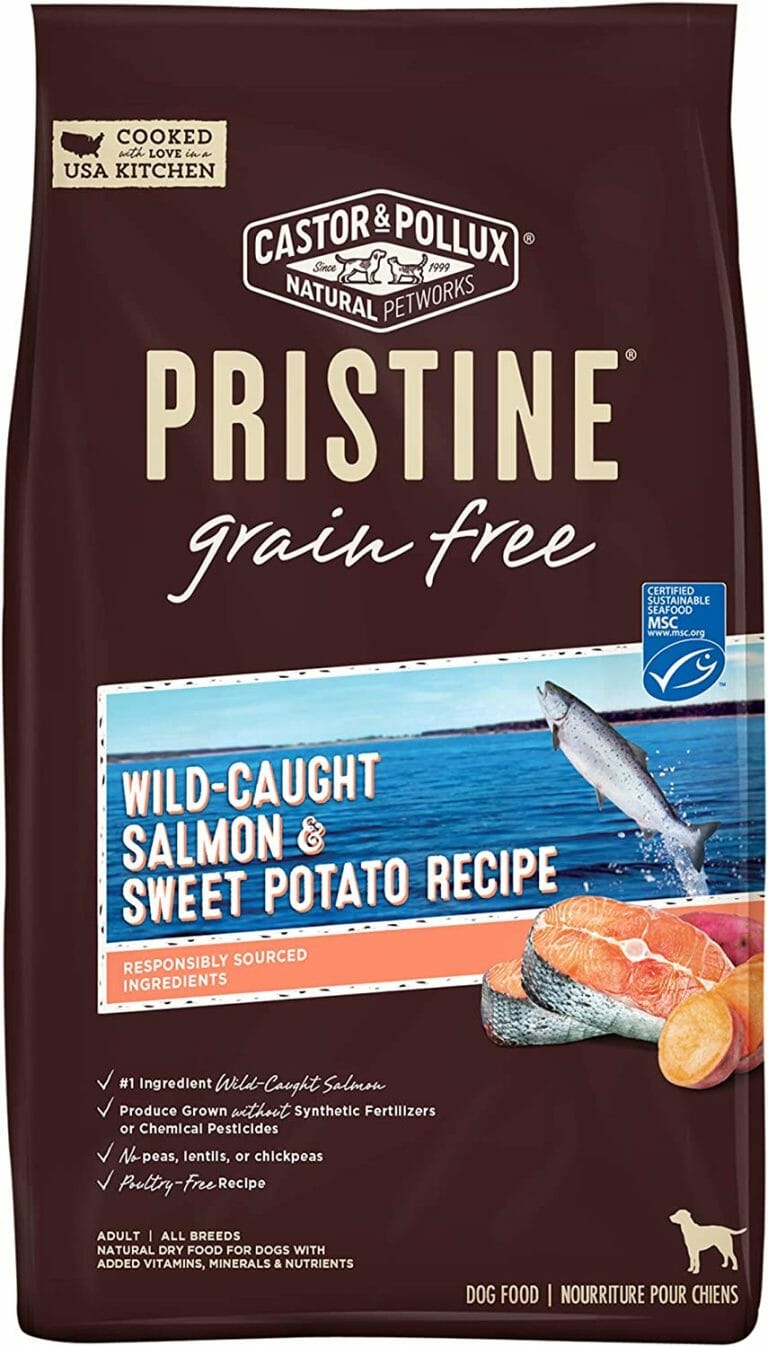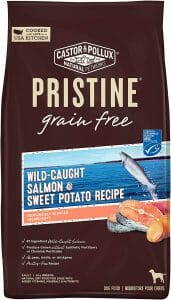 Why We Like It:
For All Dog Breeds
Specs:
Weight: 4-18 lbs per bag
Flavor: Wild-caught salmon
Added benefits: Packed with vitamins, zinc, minerals, iron, and fiber
What's great about salmon-based dog food is that you get protein and healthy oils in one source alone. That's the pride of Castor & Pollux Pristine Dog Food that's worth noting.
What I like about it is that it contains no poultry ingredients, lowering the risk of salmonella. It also doesn't have peas, lentils, or chickpeas to avoid developing dog health issues.
Now, what makes Castor & Pollux dog food an even more worth-considering choice for a dog owner with a poop-eating dog is the quality and benefits it offers. The responsibly-sourced ingredients directly provide the nutrients to your dogs, such as healthy fats, protein, Omega-3 fatty acids, vitamins, and minerals. It's a bit pricey, but your dog deserves nothing less. It's worth every dollar if it means eliminating coprophagia.
Pros
Protein and healthy oil-rich

Doesn't contain peas, lentils, or chickpeas

Helps in dealing with coprophagia
Cons
Costs more than other brands

The formula may not click with other dogs